Brandon Jones leads Toyota 1-2-3 in Phoenix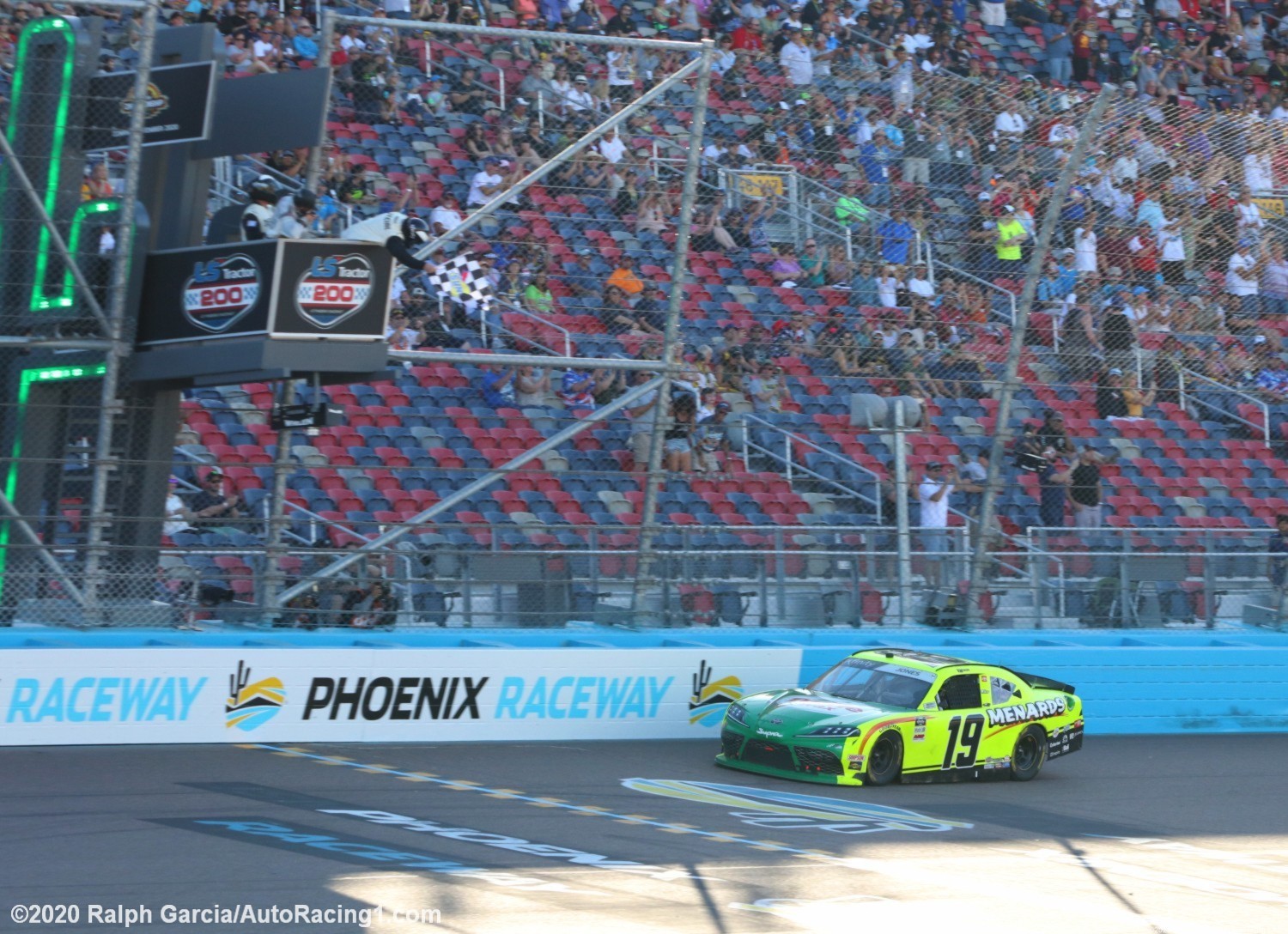 Brandon Jones takes the checkered flag
Ralph Garcia/AR1.com
Buoyed by a strong run through Turns 3 and 4, Brandon Jones shot past fellow Toyota driver Kyle Busch into the lead on the frontstretch on Lap 181 and pulled away to win by 3.556 seconds over Joe Gibbs Racing teammate Harrison Burton, who passed Busch on Lap 190 for the NASCAR Xfinity Series LS Tractor 200 runner-up position.
Next weekend at Atlanta Motor Speedway, there will be a $100,000 bounty on Busch in the NASCAR Gander RV & Outdoors Truck Series race, courtesy of NASCAR Cup Series veteran Kevin Harvick and Marcus Lemonis, chairman and CEO of Camping World.
On Saturday, Jones had to be content with the satisfaction of beating the career leader in NASCAR Xfinity Series victories, who rolled home third without adding to his 96 wins in the series. Jones was happy to settle for the trip to Victory Lane — after beating Busch and fellow NASCAR Cup Series champion Brad Keselowski, who ran fourth.
[adinserter name="GOOGLE AD"]"These are two of arguably the best in the business," Jones said. "We just had a car to beat 'em today. These guys just did an incredible job."
Crucial to the win was a quick pit stop on Lap 130 that got Jones second off pit road and fourth in the running order for a restart on Lap 134.
"I told (crew chief) Jeff (Meendering) kind of early in the race… I'm like, 'Man, I'm just lacking track position — that's the only thing I'm lacking,'" Jones said. "The pit crew did a heck of a job, and they said, 'There you go. There's your track position,' and it paid off at the end."
The 1-2-3 finish for JGR was the sixth in company history. More important, Jones' second victory in the series and first at Phoenix was the 500th win for Toyota in NASCAR's top three national series combined.
Burton's No. 20 Toyota improved throughout the afternoon, as the 19-year-old driver — fresh from his maiden win at Auto Club Speedway last week — posted his fourth straight top-five finish to start the season.
"Early in the day, we weren't good enough at all," Burton said. "We were running ninth, 10th, somewhere back there. We fought really hard and got a lot better by the end. The 19 (Jones) kind of did the same thing.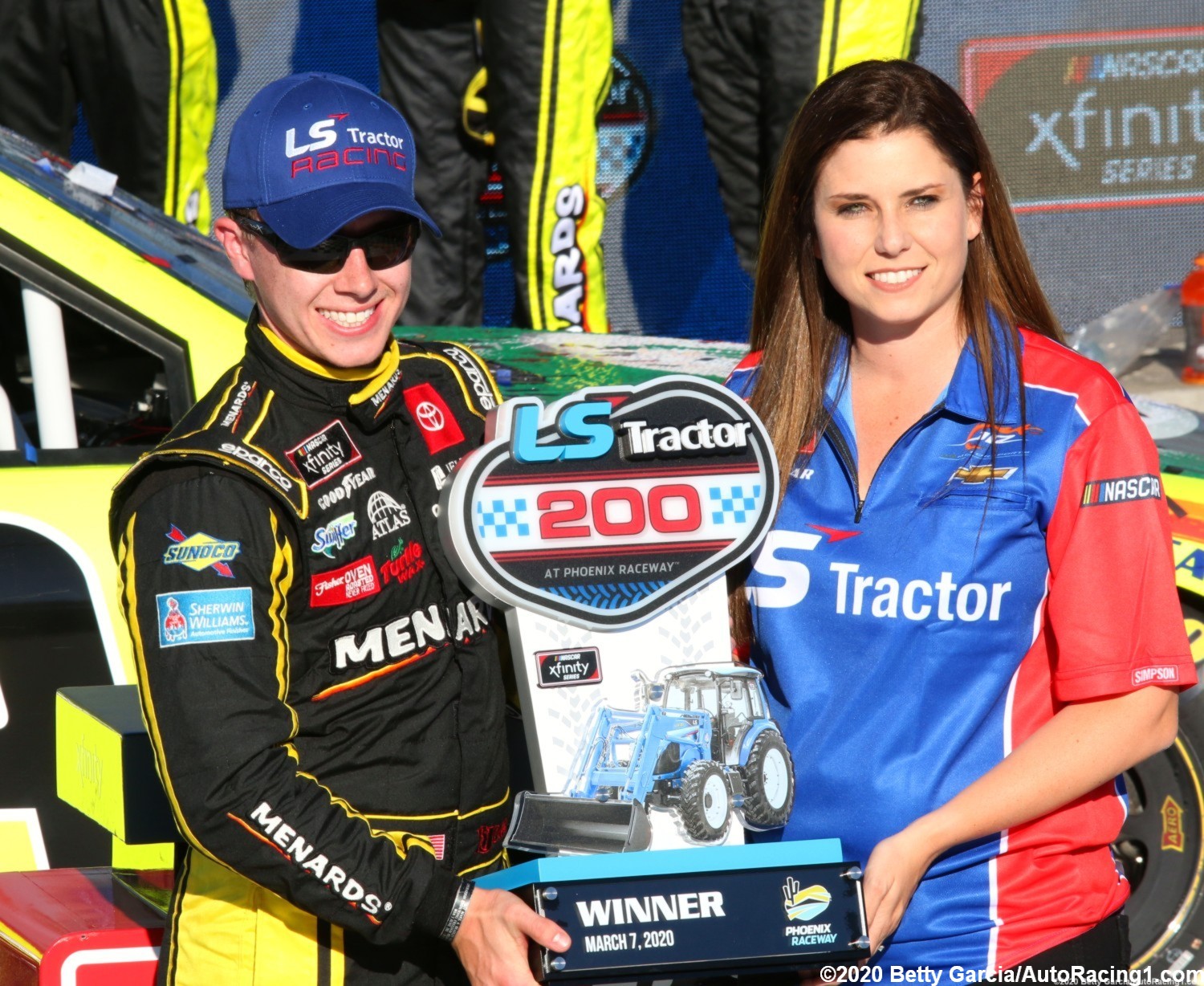 Brandon Jones
Betty Garcia/AR1.com
"We got better and better and better as the race went on, so I'm really proud of that. That was Toyota's 500th victory, so that's really cool. Good to have a 1-2-3 when we do it. Proud of our guys. Proud of our effort. Not quite enough, but we'll be back (at Phoenix in November), hopefully with a chance to win the championship."
Keselowski recovered from an off-sequence pit stop and a brush with the outside wall to finish fourth, followed by Xfinity regulars Justin Haley, Chase Briscoe, Noah Gragson, Austin Cindric, Ross Chastain (who overcame a power-steering issue that put him a lap down) and Riley Herbst.
Justin Allgaier had perhaps the fastest car in the race, but the driver of the No. 7 JR Motorsports Chevrolet was trapped in a pit-stop zugzwang after staying on the track under caution early in Stage 3. Subsequently, Allgaier pitted for fuel only under the sixth yellow on Lap 139, but he failed to get a timely caution late in the race that would have allowed him to use his final set of new tires. He ultimately finished 13th.
Allgaier, who led 51 laps and won Stage 1, stood by crew chief Jason Burdett's pit call.
"I'm good with the decision," Allgaier said. "Obviously, it didn't work out, and to say that I'm not disappointed would be lying to you. We had a fast, fast Camaro today. I thought we made the right call. I told him (Burdett) multiple times that I thought we made the right call."
BRANDON JONES, No. 19 Menards/Turtle Wax Toyota Supra, Joe Gibbs Racing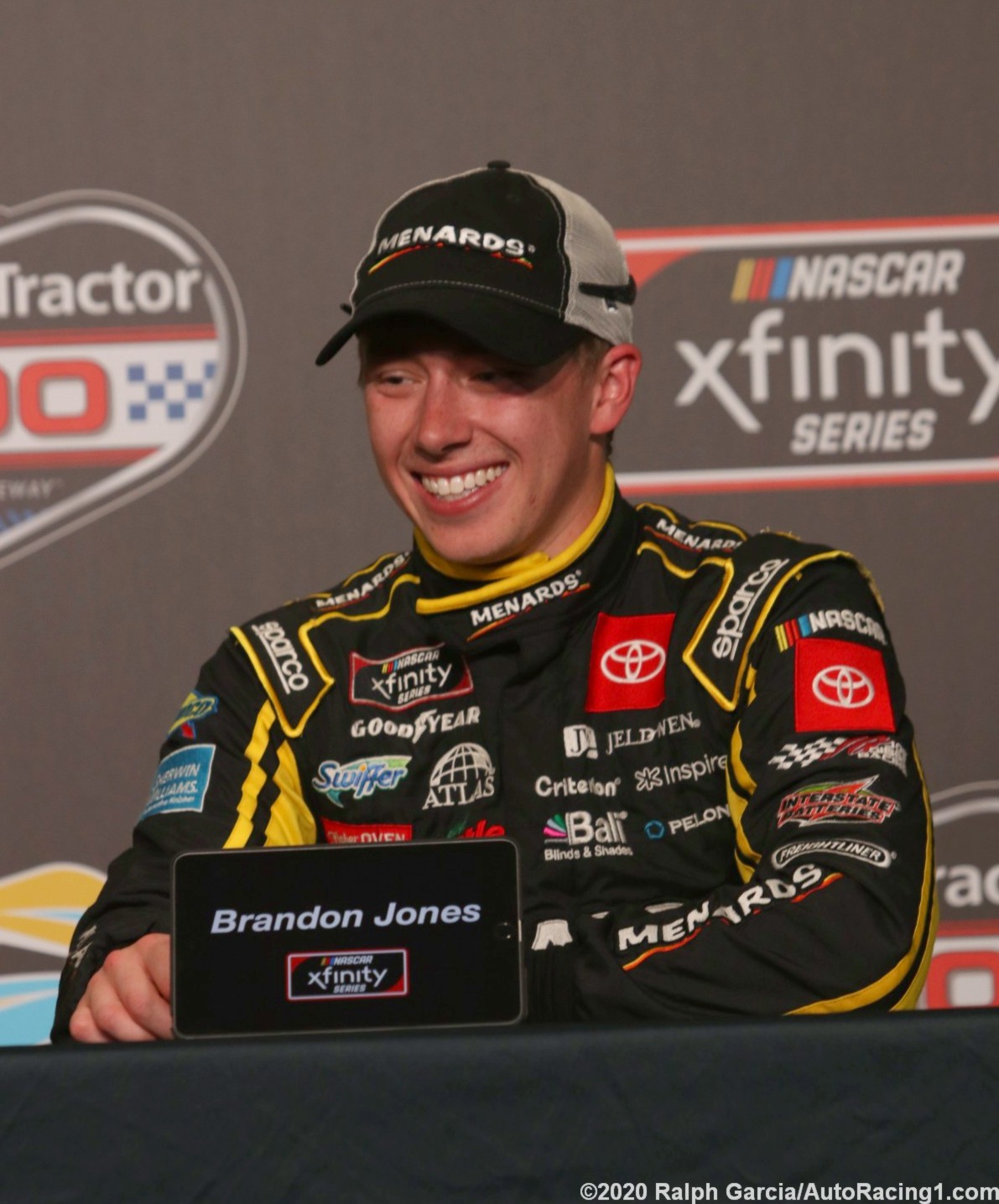 Brandon Jones
Finishing Position: 1st
How special is this win, especially since you passed Kyle Busch in the closing laps?
"I cannot believe he left the door open. We were so strong on that top plain. Toyota is the manufacturer to be with – I love these guys so much. It's like a family working with them. Coach Gibbs is great. We had Turtle Wax and Menards is so big for us. They sponsor us so much and we are going to get big results because of it."
What were the last laps like for you?
"It just looked like his (Kyle Busch) stuff didn't hold on very good. He drove to the bottom and I looked at him and thought there's no way he just went to the bottom since I was so strong on the top. That just gave us the position to do it. Man, I cannot believe the lead we ended up getting. These guys put in a lot of work. This is a new car we brought to the track this week. This is big for us. This is obviously a championship race at the end of the year. We have something to bring back and compete with them. If we continue to put in the work, we're going to be there at the end of this thing."
Are you ready to go battle all year with these guys?
"Absolutely man. If we keep bringing stuff like this, I would not want to go into battle with anybody but the guys I have behind me right now. We have a family on the 19 team and we can see it right now in victory lane."
How does it feel to get Toyota their 500th NASCAR national series win?
"How about that. They prove themselves when they come to the race track to the week. We bring amazing chassis, amazing engines – everything that Toyota does. I enjoy spending time with them and being a part of this group."
Is this win bigger than your first Xfinity Series victory because Kyle Busch and Brad Keselowski were in the field?
"Absolutely, these are two of arguably the best in the business. We just had the car to beat them today. These guys did an incredible job. I told Jeff (Meendering, crew chief) kind of early in the race, 'Man, I'm just lacking track position, that's the only thing we're lacking.' The pit crew did a heck of a job and he said, 'There you go, there's your track position.' It paid off at the end. Found the PJ1 kind of early on there and had a lot of grip this time for whatever reason. Used it pretty much the entire race. The bottom went away pretty much the last end of the race and it was obvious that the middle to top line was the best. Couldn't believe the 54 (Kyle Busch) dove down to the bottom when there was no lapped traffic in front of us and I took advantage. This was a big day. We pulled away from the field by a good bit, had an amazing race car and I'm looking forward to many more here. I came into this race thinking Phoenix is maybe not my best track and we win the race. I've got a lot better tracks on the schedule and it's going to look pretty good for us."
Did the Kansas win make a difference today with how to hold the lead and get the victory?
"My stats are obvious, I've been in the series for a while now. Up until Kansas it's been a lot of ups and just could never close the final laps in a bunch of races. To finally see that it could come together in Kansas and that we could win a race, that had a lot of hope coming into this year. I knew what I had to do. I was putting a lot of work in last year, but I'm putting in overtime this year just studying these races and using the resources that we have. We've got more stuff this year that we can look at, that's really playing a key role into the success that I'm having. I feel like being able to see the SMT stuff that we've got now, being able to watch films a little closer – I know exactly what I need to watch for on film. Working out like no other. It's been good, it's been Monday to Sunday work and I'm having fun doing it. This is only the start."
What data have you been looking at and did you look at Kyle Busch specifically?
"Coming here before, I just flipped through the majority of the top five best drivers that were good in the race. You're comparing your practice, your qualifying, your race and how the car is going at the start of the race and how it's ending and what's changing during the run throughout that. That's kind of what I'm using it for. It's pointed out obvious things now that I can see pretty easy and you can see when you're getting beat on entry, when you're not arcing the corner enough and those little things is what takes you to that next step. That' exactly what it's showing us. It's an extremely helpful tool and we're putting it to use."
JEFF MEENDERING, crew chief, No. 19 Menards/Turtle Wax Toyota Supra, Joe Gibbs Racing
How much did you improve the car during the race?
"We've seen some of this in practice yesterday. Our car was really good on long runs in practice and it showed again today in the race. Obviously, the first stages are pretty short so I don't know that we had the opportunity to really show what we could do. We lacked some track position. Our pit crew did an awesome job like Brandon (Jones) said. They got us the track position we needed. I had confidence in this car and it showed speed in practice. I'm really excited about the rest of the year now. I was a little nervous about Phoenix being the last race in the Playoffs and now I'm not."
Is there internal rivalry between the crew chiefs at Joe Gibbs Racing?
"I've worked at several different companies and a lot of companies are that way, there's a lot of internal competition. I feel like that's what's different about Joe Gibbs Racing and I'm sure Joe (Gibbs) pushes that more than anybody. I feel like these teams work together so close and our cars are so close each week. We do a lot of debrief and the drivers work really well together. That's the reason for a lot of the success that our company has. I feel like it's an open book between all of our teams. Obviously, you want to beat everybody on the track, but I feel like we work together really well."
What made you push yourself more for this season?
"I kind of came into this year with a mindset of, if I'm not doing it, someone else is doing it. That includes anything outside of this and it includes everything at the track and includes studying and everything. I'm exhausting myself doing it and at the same time, the reward is so big that it doesn't matter to me. This is what it's about. There's times that I'm like, 'no, I'm not going to watch it.' Then I'm like, 'someone's probably doing it.' I get down and sit there and I'm starting to write down things too. In the past I was watching maybe a little bit and I'd pickup on something, but maybe not note it down, but I'm a learner that way so I have to write things down. I've got to visually see it so any little thing that stands out to me that could be something as crazy as he barely arced the corner out wider this lap and he was a little quicker so I'll note it down. That's what I'm doing to help and its working so far and I'm going to keep after it and stay with that mentality for the rest of the year."
JOE GIBBS, team owner, Joe Gibbs Racing
How special is it for Joe Gibbs Racing to earn Toyota's 500th NASCAR victory?
"I think everybody in this room knows how important our manufacturers are and Toyota has just been a great partner for us, we love it. Our sport is geared around our sponsors and certainly today for John Menard, I called him on the phone and it was awesome. To have him to be a part of the series and the ARCA Series, all the things that he does. Obviously Brandon (Jones) has a great relationship with John and so does JR, Brandon's Dad. All of this kind of ties togther and I'm glad that you mentioned that. To have Toyota win 500 in NASCAR is awesome. They're a great partner. All of our manufacturers are so important to us so we appreciate all of them. It's a thrill for us and to be truthful, this year I thought our Xfinity program this year, was really young. Brandon is our leader there so I kind of felt like – I told Coy (Gibbs) when the year started, 'This could be a struggle.' It's a thrill for us to get off to this kind of a start and have Harrison (Burton) win one already and Riley (Herbst), we feel did another good job today. We're thrilled with our program right now."
DAVID WILSON, President, TRD, USA (Toyota Racing Development)
What does it mean for Toyota to get their 500th NASCAR win?
"It's been quite the journey. I remember our first win and that was with Travis Kvapil on July 31, 2004 at Michigan. But, I couldn't tell you who our second win or arguably this win isn't more important than our 499th or our 501st hopefully tomorrow. It is a special milestone and it's a nice big round number. To think of how many drivers, team partners were a part of this. It's been really special. We're greatful to be here today celebrating such a nice round number."
How do you feel about Brandon Jones in the Xfinity Series?
"I'm remissed in not calling out Brandon (Jones) to start with because we're incredibly proud of what he's done, what he did today to pass Kyle Busch. No easy feat. You're right, Brandon has been in this sport for a while. Last year was a real turning point for him. You could see the weight lifted off his shoulder when he won that race in Kansas. He holds his head a little taller and he has a measure of confidence that really speaks for itself. I was kidding with Joe (Gibbs) and Coy (Gibbs) a few minutes ago. When we were looking at this season, honestly we had humble expectations. We lost Christopher Bell, he graduated to the next level. We have some young people with Harrison (Burton) and Riley (Herbst) and we honestly looked at Brandon as kind of the anchor, the journeyman race car driver who had the experience. He's really impressed us. Harrison has really impressed us. To think we're four races in and we've won two out of four, honestly exceeded our expectations."
HARRISON BURTON, No. 20 DEX Imaging Toyota Supra, Joe Gibbs Racing
Finishing Position: 2nd
How was your race?
"I felt like we were – I don't know. Early in the day we weren't good enough at all. We were running ninth, 10th somewhere back there. We faught really hard and clawed our way and got a lot better by the end. The 19 (Riley Herbst) kind of did the same thing, got better and better as the race went on, so I was really happy we never quit. That was Toyota's 500th victory, so that's really cool. Good to be a one-two-three is how we could do it. Proud of our guys, proud of our effort. Wasn't quite enough, but we'll be back with the DEX Imaging Supra. Hopefully we'll win the championship."
What were you able to learn on the track for the rest of the season??
"I don't know. It's tough. Today is a tough day because we went through a really long run and kind of did something we haven't done in practice. A lot of rubber went down and we got in the PJ1 and I think that was the biggest lesson, using the PJ1 and for my personal notebook how to get better in that. I think earlier in the race I didn't do a good job up there as I could have, but by the end I felt like I was hitting my marks and making my strides. We were close, just not quite good enough."
KYLE BUSCH, No. 54 Twix Cookes & Cream Toyota Supra, Joe Gibbs Racing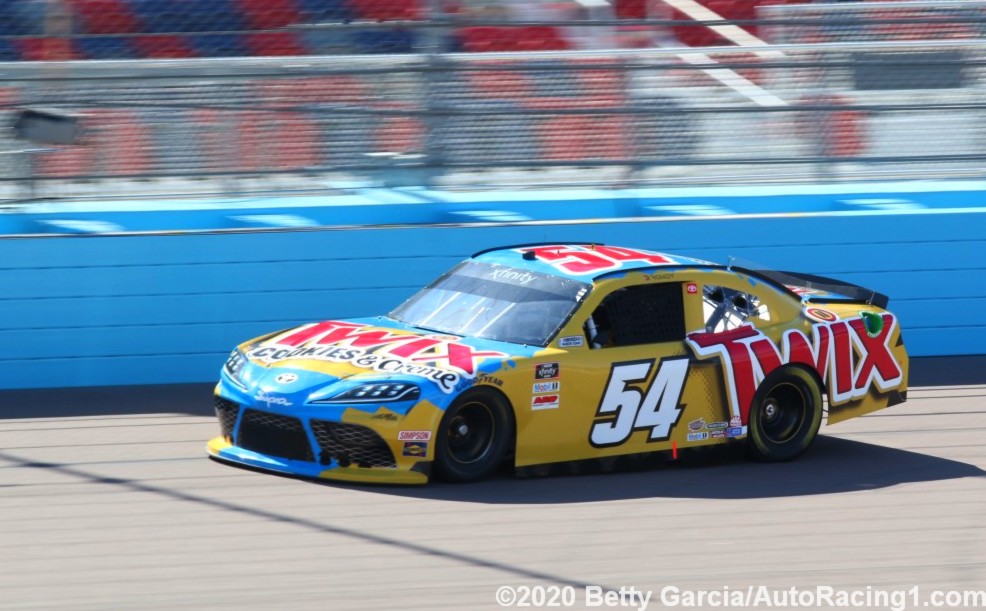 Kyle Busch could not convert his pole into victory
Finishing Position: 3rd
What was the biggest challenge in the race?
"Keeping the front tires on it. Just killed the front tires. I've complained about the same things since we unloaded here and we arrived here to get it better and we just never did anything to make it any better. It's just the group I got and we're kind of behind the eightball a bit. Thanks to the JGR Xfinity shop for giving me a good piece here. Came out here to ride, but just missed the setup."
What are your expectations of the PJ1 in tomorrow's Cup race?
"One groove race track."
Did you think you had the chance to win?
"I thought we were going to run 10th today, but we got third."
How aggressive was the race?
Some of the restarts were pretty interesting with guys staying out and whatnot with track position and tire strategy and stages. Guess to be expected. I don't know what happened there at the end. The seven (Justin Allgaier) just misjudged the pits I guess and got stuck out and sucked for him."
Race Results
| | | | | | | |
| --- | --- | --- | --- | --- | --- | --- |
| Fin | Str | No. | Driver | Team | Laps | Status |
| 1 | 8 | 19 | Brandon Jones | Menards/Turtle Wax Toyota | 200 | Running |
| 2 | 3 | 20 | Harrison Burton # | Dex Imaging Toyota | 200 | Running |
| 3 | 1 | 54 | Kyle Busch(i) | Twix Cookies & Cream Toyota | 200 | Running |
| 4 | 4 | 12 | Brad Keselowski(i) | XPEL Ford | 200 | Running |
| 5 | 14 | 11 | Justin Haley | LeafFilter Gutter Protection Chevrolet | 200 | Running |
| 6 | 9 | 98 | Chase Briscoe | Ford Performance Racing School Ford | 200 | Running |
| 7 | 7 | 9 | Noah Gragson | Nationwide Children's Chevrolet | 200 | Running |
| 8 | 2 | 22 | Austin Cindric | MoneyLion Ford | 200 | Running |
| 9 | 5 | 10 | Ross Chastain | Nutrien Ag Solutions Chevrolet | 200 | Running |
| 10 | 11 | 18 | Riley Herbst # | Monster Toyota | 200 | Running |
| 11 | 10 | 39 | Ryan Sieg | CMRRoofing.com Chevrolet | 200 | Running |
| 12 | 13 | 68 | Brandon Brown | Mid Atlantic Wrecker Service Chevrolet | 200 | Running |
| 13 | 6 | 7 | Justin Allgaier | BRANDT Chevrolet | 200 | Running |
| 14 | 15 | 21 | Myatt Snider | TaxSlayer Chevrolet | 200 | Running |
| 15 | 29 | 93 | Jeff Green | C2 Freight Chevrolet | 200 | Running |
| 16 | 24 | 92 | Josh Williams | General Formulations Chevrolet | 200 | Running |
| 17 | 26 | 1 | Michael Annett | Pilot Flying J Chevrolet | 200 | Running |
| 18 | 20 | 90 | Dillon Bassett | Bassett Gutters & More Chevrolet | 199 | Running |
| 19 | 17 | 2 | Brett Moffitt(i) | FR8 Auctions Chevrolet | 199 | Running |
| 20 | 21 | 0 | BJ McLeod | TeamJDMotorsports.com Chevrolet | 199 | Running |
| 21 | 33 | 4 | Jesse Little # | TeamJDMotorsports.com Chevrolet | 199 | Running |
| 22 | 22 | 36 | Alex Labbe | Larue Industrial Snow Blowers Chevrolet | 199 | Running |
| 23 | 30 | 61 | Timmy Hill(i) | MBM MOTORSPORTS Toyota | 198 | Running |
| 24 | 31 | 13 | Chad Finchum | CrashClaimsR.US Toyota | 196 | Running |
| 25 | 23 | 7 | Ray Black II | CDA Tech Chevrolet | 196 | Running |
| 26 | 32 | 6 | David Starr | Bob Menery's Ripper Magoos Chevrolet | 196 | Running |
| 27 | 35 | 78 | Vinnie Miller | Koolbox Chevrolet | 196 | Running |
| 28 | 28 | 44 | Tommy Joe Martins | Gilreath Farms Red Angus Chevrolet | 194 | Running |
| 29 | 36 | 52 | Kody Vanderwal # | Chevrolet | 177 | Running |
| 30 | 12 | 8 | Daniel Hemric | Poppy Bank Chevrolet | 142 | DVP |
| 31 | 19 | 8 | Joe Graf Jr # | CORE Development Group Chevrolet | 142 | Accident |
| 32 | 27 | 47 | Joe Nemechek(i) | The Journey Home Project Chevrolet | 127 | Accident |
| 33 | 25 | 66 | Stephen Leicht | CrashClaimsR.US Toyota | 101 | Clutch |
| 34 | 34 | 15 | Colby Howard | Project Hope Foundation Chevrolet | 81 | Accident |
| 35 | 16 | 89 | Landon Cassill | Visone RV Chevrolet | 63 | Vibration |
| 36 | 18 | 51 | Jeremy Clements | Repairables.com Chevrolet | 58 | Engine |