Latest F1 news in brief – Monday
Is Button Williams bound?

Williams compliment 'very nice' – Button

Hamilton says Rosberg relationship 'good'
Ecclestone happy with 'Brexit' vote
Home track doesn't suit Red Bull – Webber
Podium, wins in 'next two years' – Honda
Honda still open to supplying second team
Ricciardo says 'no contact' with Ferrari
Dutch GP 'possible' at Assen track – boss
Williams compliment 'very nice' – Button
(GMM) Jenson Button is not commenting on speculation he might return to Williams next year.
Last week, the Grove team's deputy Claire Williams said the possibility that Button might bookend his F1 career at Williams, having made his debut for the team in 2000, "is a great headline".
"Of course he is going to be an attractive proposition if he is available," she declared.
Williams' comments come as McLaren supremo Ron Dennis delays a decision over the Woking team's 2017 lineup, amid rumors Button will be replaced by Stoffel Vandoorne.
Dennis said the driver issue will not even be discussed until "after Monza", in September.
So, following Claire Williams' compliment, 36-year-old Button told Sky: "We would all like someone to say that about us, so that was very nice of her.
"I don't know what l am doing next year. I want to be enjoying myself again and be in a position whether I can fight for good results, whether it's a building year, a podium year or a winning year. That's what I need," he added.
Rosberg and Hamilton, not quite 'best of buds'
Hamilton says Rosberg relationship 'good'
(GMM) Lewis Hamilton says the venom has gone out of his relationship with Mercedes teammate Nico Rosberg.
The reigning world champion said that even though they are battling once again for the drivers' title, and have had on-track run-ins in 2016, the old karting friends are actually getting along well.
"Really, really good," he said of their current relationship. "Surprisingly," Hamilton told the Daily Mail.
He thinks it has been a process of German Rosberg maturing through having a family, and himself "coming of age".
Now, "We say straight up, 'Hey man, I wasn't cool with that'.
"We are going to have our ups and downs and there are going to be times where we hate each other and when we like each other but ultimately, when we have all retired and got kids and stuff, the respect is always going to be there," Hamilton added.
Bernie Ecclestone and Max Mosley. The Brits prefer to rule themselves
Ecclestone happy with 'Brexit' vote
(GMM) Bernie Ecclestone says Britain exiting the European Union is the right thing, even for formula one.
In an historic referendum held last Thursday, citizens of the United Kingdom voted to leave Europe, which triggered a decline in financial markets and the pound hitting a 30-year low.
Spain's AS sports newspaper speculated that the vote could now lead to some of F1's many UK-based teams deciding the leave England — Mercedes, for instance, to Germany, Red Bull to Italy (Faenza), and Renault to France.
But F1 supremo Ecclestone has played down the 'Brexit' saga.
"I think it's the best thing. We should be ruling ourselves," he is quoted by the Mirror.
"If we've got something to sell, and it's a good product at the right price, people will buy whether they are Chinese, Italian or German. People will just get over this and get on with their lives," the 85-year-old added.
However, before the votes were cast, Ron Dennis warned of the consequences of Britain leaving the EU.
The McLaren supremo joined business leaders in signing a letter saying Brexit would "deter investment, threaten jobs and put the economy at risk".
And Dennis told The Times that "Remaining in Europe is fundamental to the prosperity of the McLaren business".
But writing in Autoweek, F1 business journalist Christian Sylt said Brexit is actually a $180 million win for the sport as most of its deals are in US dollars.
Mark Webber
Home track doesn't suit Red Bull – Webber
(GMM) Former Red Bull driver Mark Webber is not expecting his old team to shine too brightly this weekend in Austria.
Once called the A1-Ring, the 'Red Bull Ring' is now the energy drink company's home race.
But teen sensation Max Verstappen warned: "It might not be the most ideal circuit for our car in terms of performance but it's still very enjoyable."
Teammate Daniel Ricciardo agreed: "I would love a few more corners but it is a fun track for what it is, quite flowing and fast."
Red Bull has been showing increasingly resurgent form of late, but Australian Webber thinks the long straights of the Red Bull Ring will not suit the Renault-powered package.
He told Servus TV: "It's the narrow, winding tracks that are best for them.
"The Red Bull Ring is not really a Red Bull circuit, as there are too many long straights.
"It would be better for them, to show what their chassis can do, if it rains," Webber added.
Yusuke Hasegawa
Podium, wins in 'next two years' – Honda
(GMM) Honda's F1 boss Yusuke Hasegawa has warned that even podiums are for now a distant target for the McLaren-Honda project.
McLaren supremo Ron Dennis had eyebrows raising in the paddock recently when he declared that the Anglo-Japanese collaboration will succeed Mercedes as F1's next champions.
Fernando Alonso agrees, telling Marca sports newspaper: "After Mercedes, someone will follow and if you look at the other teams and manufacturers I don't think there's anyone in a better position for the future than McLaren-Honda."
The Spaniard has even targeted the world title as early as 2017, but according to Honda's Hasegawa, that might be premature.
"We are not satisfied, but our results this year have been reasonable, considering where we came from," he told Germany's Auto Motor und Sport.
"Yes, we are on schedule. And we are optimistic about a podium or a victory within the next two years."
A podium goal in 2016, the Japanese added, is not realistic.
"No. Only with luck," said Hasegawa. "Our realistic goal is to regularly finish in the points."
He said Honda is happy with the progress it has made so far this year.
"On the electrical side, we have virtually reached the level of the other manufacturers. Now we need to focus on the internal combustion engine," he said.
Honda still open to supplying second team
(GMM) Honda is still open to supplying engines to a customer F1 team.
That is the claim of the Japanese marque's F1 chief Yusuke Hasegawa, even though Ron Dennis has been determined to enforce McLaren's apparent veto for exclusivity.
The FIA, however, thinks engine manufacturers should be willing to supply more than just a works team, and Hasegawa now says: "If we had the resources, there is nothing that speaks against a second team.
"That way, you generate more data and experience and learn more quickly," the Japanese told Germany's Auto Motor und Sport.
"But in our current situation, there are not many teams who want our engine, and each team already has an engine.
"But we are planning on expanding our organization so that when there is interest, we could supply a second team," Hasegawa added.
Daniel Ricciardo
Ricciardo says 'no contact' with Ferrari
(GMM) Daniel Ricciardo is not ruling out a move to Ferrari at some point in the near future.
Rumors in 2015 and again this year have linked the Australian with Maranello, but Red Bull is believed to have secured him for at least the next two years.
But Ricciardo, 26, has told Germany's Auto Bild that he is determined to push his career forwards.
"I'm very uneasy when I think of Sebastian (Vettel)," he said, referring to his 2014 teammate.
"He is only two years older than me, but he already has four titles. The form I'm in, I expect in the next 12 to 18 months to have a car to fight him for the title," Ricciardo added.
As for Ferrari, he said: "When they start to dominate formula one, it would be very nice to win a title with them.
"But my first goal is to do it with Red Bull. Regarding the rumors, no — at the moment there is no contact (with Ferrari)," added Ricciardo.
So for now, Ricciardo is at Red Bull, where he welcomed the recent decision to replace Daniil Kvyat with F1 teen sensation Max Verstappen.
"Max makes me even better," said the Australian.
"Daniil was putting pressure on me too, but with Max I've had to stretch my limits even more."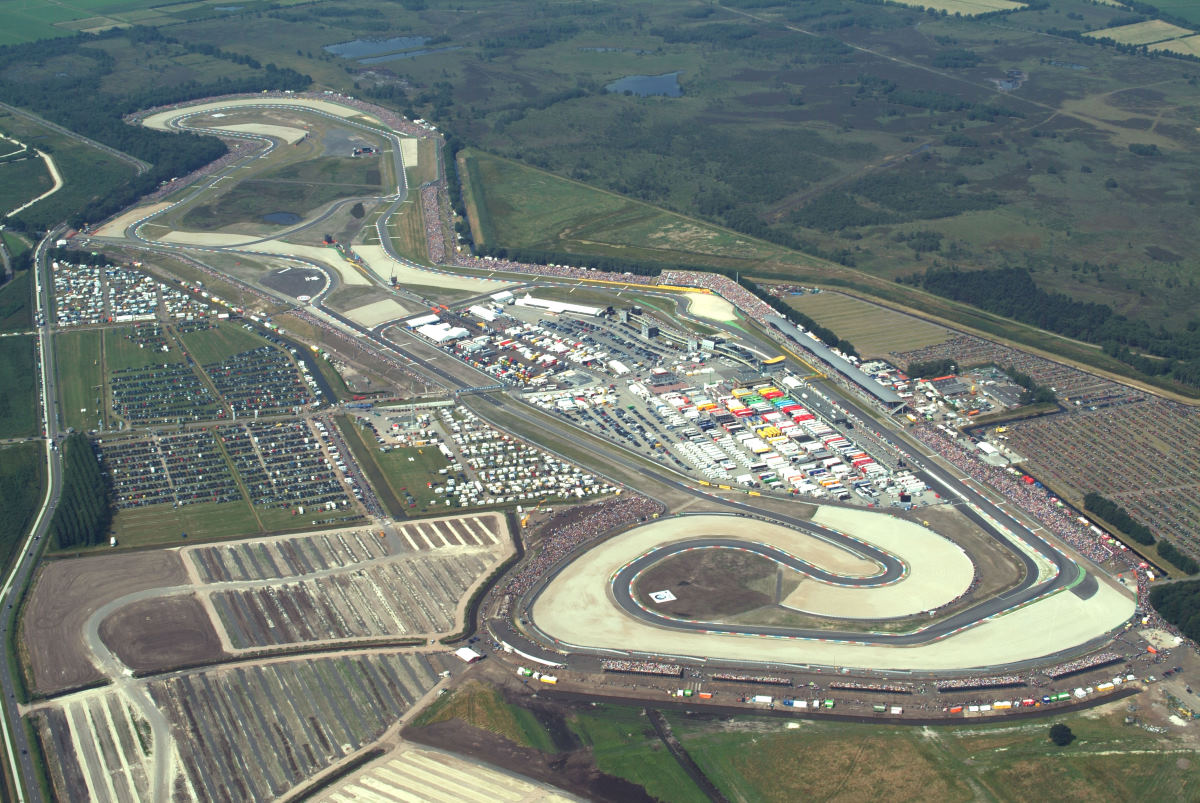 Assen to host F1 race?
Dutch GP 'possible' at Assen track – boss
(GMM) Momentum is building for The Netherlands' return to the F1 calendar.
A month ago, we reported that Zandvoort, last seen on the calendar in 1985, was keen to return to formula one and may already be in talks.
And now, De Telegraaf newspaper claims that another potential venue for a Dutch grand prix comeback could be the TT Circuit Assen.
The track hosted Sunday's MotoGP round, where a new contract until 2026 was announced amid plans for a EUR 60 million upgrade in the coming years.
"The question we are always asked is whether there can be a formula one grand prix held in Assen," track boss Arjan Bos said.
"I answer that it is possible and if there is enough money to organize it, we will be there as an interested circuit," he added.
However, he said this might be the goal for "a few years" time, as the circuit would need "some changes" to make it appropriate for F1.