Sunday News And Notes From Charlotte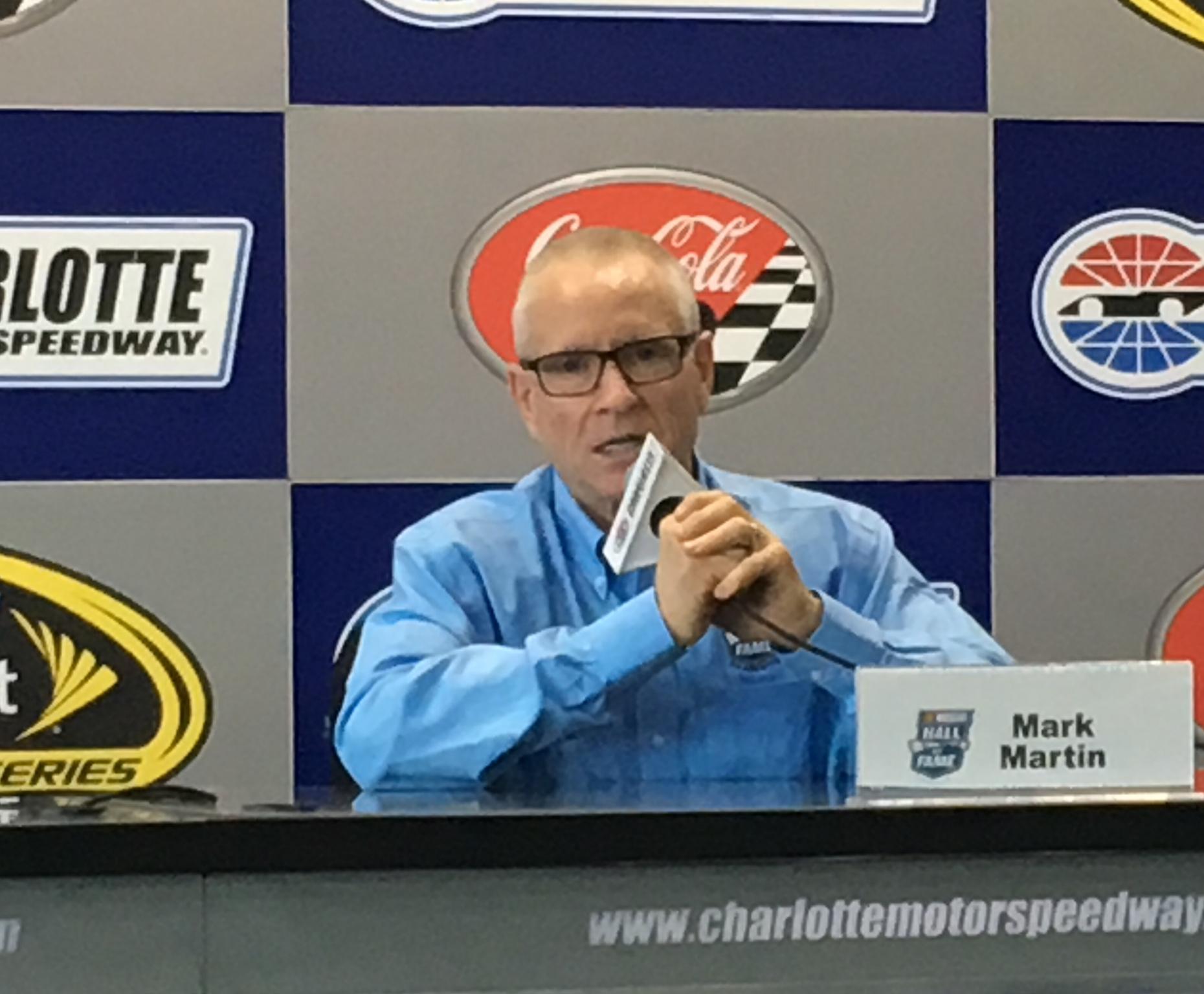 Mark Martin
Pete McCole/AR1.com
Mark Martin: Latest NASCAR Hall of Fame class features close connections
For Mark Martin, election to the NASCAR Hall of Fame was an unexpected honor, and it's just coincidence that the 40-time NASCAR Sprint Cup Series race-winner has such strong simpatico with his fellow 2017 class members.
"There are so many people in the NASCAR Hall of Fame that are my heroes, that it's pretty incredible to think that I'm going to join them in that Hall," Martin said on Saturday at Charlotte Motor Speedway, where he'll drive the pace car before Sunday's Coca-Cola 600.
"It's something that I didn't expect to happen in my lifetime, so it's happened sooner than I would have ever dreamed, if it would happen at all."
Martin is part of a Hall of Fame class that includes Benny Parsons, against whom Martin raced, and Rick Hendrick, who hired Martin to drive his No. 5 Chevrolet. In fact, Martin finished second in the standings – for the fifth time in his career – driving for Hendrick in 2009.
With newly elected Hall of Fame member Richard Childress, Martin has considerable empathy, because Childress, like Martin, had a rough time when trying to break into the sport as a driver. Where Martin ultimately fashioned a Hall of Fame career behind the wheel, Childress made his mark as a car owner.
"This is a real special class," Martin said. "Benny Parsons had a hand in my career, as a person, as a competitor, as a friend – and as a friend to the sport – as well as Mr. Hendrick, the incredible person that he is, the character that he has, the integrity. He had a hand in my getting into the Hall of Fame.
"And, of course, Richard Childress was a driver that was struggling and started out with a $20 car. When I first came to NASCAR, he was driving what I would consider not a really nice car, to put it lightly. And then to see him achieve what he's achieved and be in there as well… it's a real special class.
"Every class is really special but this one has quite a bit of personal connection to it."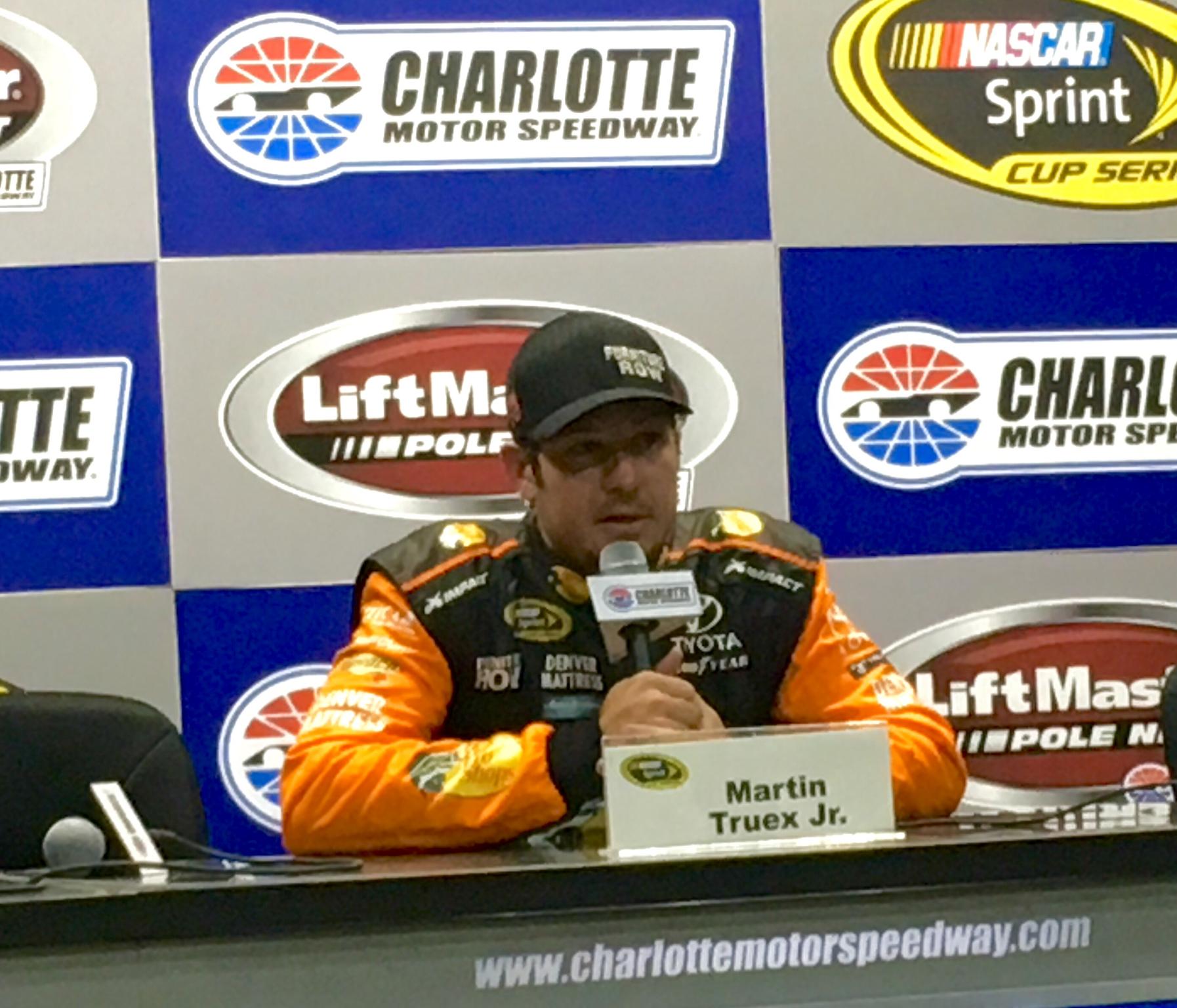 Martin Truex
Pete McCole/AR1.com
Truex hopes to break jinx by solving Charlotte conundrum
The length of the race and the radically changing track conditions at Charlotte Motor Speedway make the Coca-Cola 600 one of the most challenging jigsaw puzzles in NASCAR racing.
That's just part of the difficulty confronting polesitter Martin Truex Jr., who is trying to break a string of bad luck that has kept him out of Victory Lane the last seven times he has led 100 or more laps in a NASCAR Sprint Cup Series race.
The grueling 600-mile distance and the daylight-to-darkness duration of the race aren't the only variables that complicate life for a driver in NASCAR's longest race. Also entering the mix on Sunday were uncertain weather conditions and prospect of track temperatures more than 30 degrees cooler than they were during daytime practice sessions for the marquee event.
Everything leading up to the race, however, was promising for Truex, who was fast enough to win the Coors Light Pole Award during time trials, who topped the single-lap speed chart during final practice and who posted the fastest average speed for 10 consecutive laps during that same session.
But none of that guarantees that, 600 miles later, Truex will be taking the checkered flag.
"We definitely have good speed in the car, and if we can just get it balanced right and have the right game plan for whatever weather conditions we're going to be racing in, then I think we'll be in good shape," Truex said after Happy Hour on Saturday.
"Looking forward to it. The guys have done a good job all weekend, and it's going to be a tough one to try to figure out which way to go here because of the unknowns with the weather, for sure."
Chevy Executive Optimistic After Michigan Test
Simple and practical.
That's the way Chevrolet racing executive Pat Suhy characterized the changes to the NASCAR Sprint Cup Series competition package tested recently at Michigan International Speedway – changes that could become part of the rules adopted for 2017.
The parameters of the test involved taking away additional downforce and sideforce from the cars, but not to the same extent as in the low-downforce package tested at Michigan last year. If adopted for 2017, aerodynamic changes such as a reduction in spoiler size and a tapering of the rear deck lid fin will be easy and cost-effective to implement.
"I believe NASCAR and the teams that participated with them on the project directly did a really good job of doing things that were sensible to maintain the aero balance and be simple to implement," said Suhy, Chevrolet Racing's NASCAR group manager. "The aero balance really didn't shift very much from where it is today (with the 2016 package).
"What is going to probably change is the way the cars behave in traffic. Based on what we saw at Michigan, we're going to see corner entry speeds go up, and mid-corner speeds go down. It's going to put a lot of the 'driver' back in the car."
That should please the Sprint Cup drivers, who generally favor a configuration that gives them more off-throttle time in the corners.
Drive For Diversity Pit Crew Combine Attracts Stellar Athletes
It's fair to say that, growing up, the group of young athletes vying for the 10 spots available in the NASCAR D4D pit crew program didn't grow up thinking they would become an integral part of NASCAR racing.
But the prospect of competition at the highest level – not to mention the potential of an attractive paycheck – brought a large group of quality athletes to the NASCAR Research & Development Center this weekend for the D4D Pit Crew Combine.
The 17 athletes invited to the combine – six women and 11 men – are the best prospects derived from evaluations at six universities across the country.
"As NASCAR Drive for Diversity continues to grow and benefit from national exposure, we're seeing more and more athletes want to be involved," said Jim Cassidy, NASCAR senior vice president of racing operations.
"This is a great way to introduce top competitors to NASCAR and provide the opportunity to one day shine in our sport's biggest events."
Among the participants in the inaugural Pit Crew Combine are former Washington Redskins linebacker Jeremy Kimbrough and fellow NFL player Andre Neblett, who played for the Carolina Panthers and New England Patriots.
Former Norfolk State point guard Brehanna Daniels is trying out as a tire changer.
"It was a new learning experience for me," Daniels said after practicing for the combine on Thursday morning. "Just picking up that gun and putting it to work was just so tough, but with more reps and more practice I started to get better and better with my touch.
"But practice makes perfect, and I feel like, if I get more practice, I'll do a really good job with this."
Earnhardt, Jr. Finds Trouble In Practice Session
Dale Earnhardt Jr., suffered a leak in the power steering box of his No. 88 Chevrolet in Saturday's first practice session, the result of a bad seal. The car's handling was an issue, too, but the balance improved during Happy Hour, with Earnhardt 21st fastest (single lap) but sixth best in 10-lap average
Thank You, Smoke
Lest fans forget about Tony Stewart's farewell tour in his final year as a NASCAR Sprint Cup Series driver, there's a banner on the backstretch at Charlotte Motor Speedway that's roughly twice as long as the 200-foot big screen that overlooks the infield. The banner reads "Thank You Tony — Smoke 14" in gigantic lettering.
NASCAR Wire Service