Martin Truex, Jr. Tops Final Coca Cola 600 Practice at Charlotte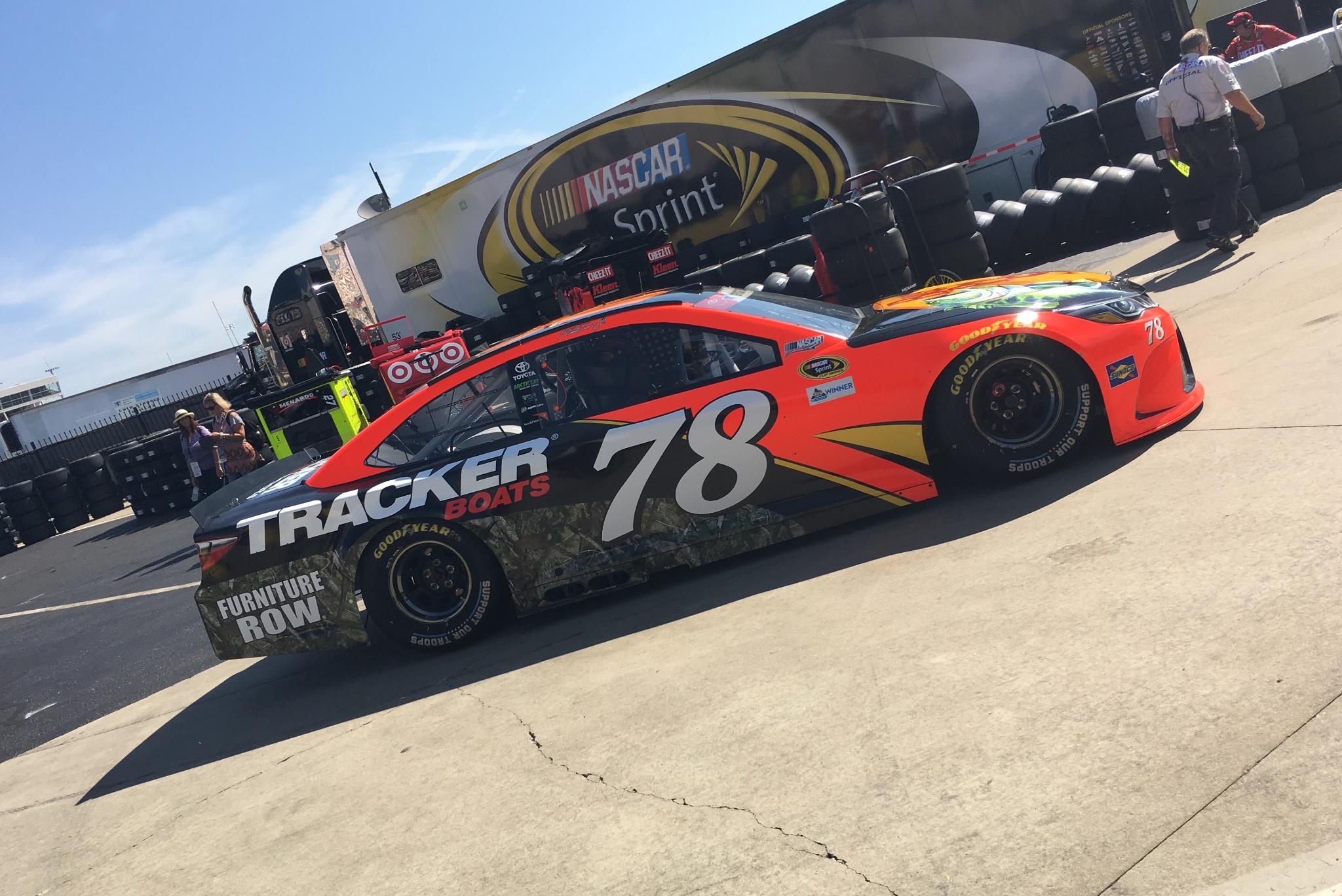 Martin Truex, Jr.
Pete McCole/AR1
Coca-Cola 600 polesitter Martin Truex, Jr. topped the speed charts during Saturday's early afternoon practice session at Charlotte Motor Speedway – the final tune-up for the Sprint Cup teams before Sunday's night's event.
Truex, Jr. turned in 27 laps over the course of the final session and clocked in with a fast lap of 186.387 mph in the no. 78 Toyota to lead the field. Kurt Busch, who had led the first practice session held earlier in the day, ran second-fastest with a lap of 185.733 mph, followed by Jimmie Johnson who ran 185.401 mph. Joey Logano (185.109) and Greg Biffle (184.938) made up the rest of the top five.
Final Practice Results

| | | | | | | | |
| --- | --- | --- | --- | --- | --- | --- | --- |
| Pos. | # | Driver | Make | Sponsor | Lap | Time | Behind |
| 1 | 78 | Martin Truex Jr | Toyota | Bass Pro Shops | 186.387 | 28.972 | Leader |
| 2 | 41 | Kurt Busch | Chevy | Monster Energy | 185.733 | 29.074 | –0.102 |
| 3 | 48 | Jimmie Johnson | Chevy | Lowe's Patriotic | 185.401 | 29.126 | –0.154 |
| 4 | 22 | Joey Logano | Ford | Shell Pennzoil | 185.109 | 29.172 | –0.200 |
| 5 | 16 | Greg Biffle | Ford | Cheez-It | 184.938 | 29.199 | –0.227 |
| 6 | 17 | Ricky Stenhouse Jr | Ford | Fastenal | 184.824 | 29.217 | –0.245 |
| 7 | 13 | Casey Mears | Chevy | GEICO | 184.653 | 29.244 | –0.272 |
| 8 | 20 | Matt Kenseth | Toyota | DeWalt | 184.634 | 29.247 | –0.275 |
| 9 | 27 | Paul Menard | Chevy | Knauf / Menards | 184.489 | 29.270 | –0.298 |
| 10 | 21 | Ryan Blaney | Ford | Motorcraft | 184.395 | 29.285 | –0.313 |
| 11 | 19 | Carl Edwards | Toyota | Subway | 184.363 | 29.290 | –0.318 |
| 12 | 3 | Austin Dillon | Chevy | Cheerios | 184.344 | 29.293 | –0.321 |
| 13 | 11 | Denny Hamlin | Toyota | FedEx Freight | 184.175 | 29.320 | –0.348 |
| 14 | 34 | Chris Buescher | Ford | CSX – Play It Safe | 184.156 | 29.323 | –0.351 |
| 15 | 18 | Kyle Busch | Toyota | M&M's RWB | 184.024 | 29.344 | –0.372 |
| 16 | 43 | Aric Almirola | Ford | U.S. Air Force | 183.861 | 29.370 | –0.398 |
| 17 | 6 | Trevor Bayne | Ford | Advocare | 183.842 | 29.373 | –0.401 |
| 18 | 24 | Chase Elliott | Chevy | NAPA Auto Parts | 183.767 | 29.385 | –0.413 |
| 19 | 2 | Brad Keselowski | Ford | Miller Lite | 183.723 | 29.392 | –0.420 |
| 20 | 10 | Danica Patrick | Chevy | Nature's Bakery | 183.630 | 29.407 | –0.435 |
| 21 | 88 | Dale Earnhardt Jr | Chevy | Nationwide | 183.574 | 29.416 | –0.444 |
| 22 | 31 | Ryan Newman | Chevy | Whelen | 183.424 | 29.440 | –0.468 |
| 23 | 42 | Kyle Larson | Chevy | Target | 183.256 | 29.467 | –0.495 |
| 24 | 4 | Kevin Harvick | Chevy | Jimmy John's | 183.150 | 29.484 | –0.512 |
| 25 | 1 | Jamie McMurray | Chevy | Cessna/McDonald's | 182.933 | 29.519 | –0.547 |
| 26 | 14 | Tony Stewart | Chevy | Mobil 1 | 182.778 | 29.544 | –0.572 |
| 27 | 47 | AJ Allmendinger | Chevy | Harris Teeter | 182.704 | 29.556 | –0.584 |
| 28 | 44 | Brian Scott | Ford | Twisted Tea | 182.562 | 29.579 | –0.607 |
| 29 | 5 | Kasey Kahne | Chevy | LiftMaster | 182.205 | 29.637 | –0.665 |
| 30 | 15 | Clint Bowyer | Chevy | 5-Hour Energy | 182.045 | 29.663 | –0.691 |
| 31 | 23 | David Ragan | Toyota | Bubba Burger | 181.622 | 29.732 | –0.760 |
| 32 | 38 | Landon Cassill | Ford | MDS Transport | 181.574 | 29.740 | –0.768 |
| 33 | 95 | Michael McDowell | Chevy | Thrivent Financial | 181.299 | 29.785 | –0.813 |
| 34 | 7 | Regan Smith | Chevy | Nikko RC | 181.257 | 29.792 | –0.820 |
| 35 | 83 | Matt DiBenedetto | Toyota | Hope for the Warriors | 180.042 | 29.993 | –1.021 |
| 36 | 46 | Michael Annett | Chevy | Pilot Flying J | 178.725 | 30.214 | –1.242 |
| 37 | 30 | Josh Wise | Chevy | Curtis Key Plumbing | 177.995 | 30.338 | –1.366 |
| 38 | 32 | Jeffrey Earnhardt | Ford | Can – Am | 176.655 | 30.568 | –1.596 |