Latest F1 news in brief – Tuesday
Who can replace Bernie?

Lauda, Wurz named as potential Ecclestone successors

Russian billionaire completes Nurburgring purchase
Sirotkin gets Renault role, FP1 outing
Symonds: Reverse grid could aid overtaking
Hamilton 'staying calm' despite points gap
Gutierrez spent 2015 adapting driving style
Lauda, Wurz named as potential Ecclestone successors
(GMM) F1 has entered an "important week", according to Mercedes team boss Toto Wolff.
And he is not just talking about this weekend's Russian grand prix, the fourth round of the 2016 world championship.
Before the sport's major figures head to the resort city of Sochi for the Vladimir Putin-championed race, the F1 Strategy Group will get together at Biggin Hill, the Bernie Ecclestone-owned airport south of London.
The meeting is just a few days before the end-of-April deadline for the radical regulations changes of 2017.
Wolff is urging his F1 colleagues to consider scrapping the plans for faster cars.
"We have an important week ahead for the sport," he said in an official Mercedes preview for the Russian grand prix.
Wurz is still driving for Toyota in WEC
"After three grand prix weekends so far in 2016, we have seen that performance between the teams is converging to create great racing. Whether we have the reactivity as a group to recognize that and consider retaining a regulatory framework that is working well remains to be seen," added Wolff.
Red Bull's Dr Helmut Marko, a proponent for change, has called Wolff's stance "paranoia" due to Mercedes' current position of dominance.
It is widely believed, however, that any move for a last-minute u-turn has come too late, especially given the way the voting processes of the Strategy Group and F1 Commission work.
"Is it really a democracy if one veto can cancel everything?" championship leader Nico Rosberg wondered as he spoke to Germany's Welt am Sonntag newspaper.
"Imagine, 27 men with 27 different interests at a table, with any one voice able to stop everything. It's just not practicable," he added.
Amid the political turmoil, the latest rumors are that the major manufacturers are plotting against F1 supremo Bernie Ecclestone.
Germany's specialist Auto Bild claims that Ferrari president Sergio Marchionne's plan is for the 85-year-old to be replaced by a three-pronged group, featuring key legal and marketing representatives.
And a third figure would represent the sporting side, with Auto Bild saying GPDA president Alex Wurz, F1 veteran David Coulthard and Niki Lauda have all been mentioned as candidates, with the latter even prepared to give up his Mercedes roles.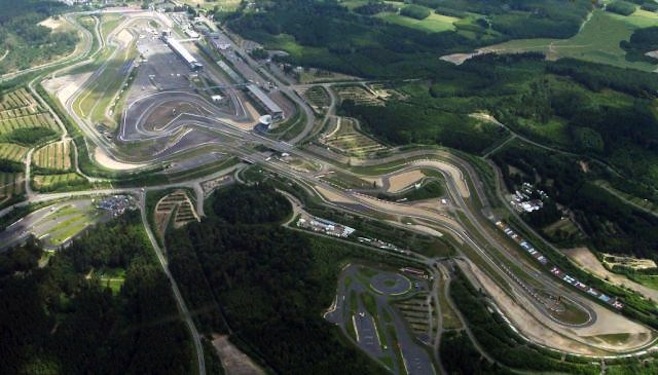 Russian Billionaire Victor Kharitonin Buys German F1 Track
Russian billionaire completes Nurburgring purchase
(GMM) A Russian billionaire is now the full owner of the fabled F1 circuit the Nurburgring.
In late 2014, we reported that Viktor Kharitonin, who co-founded the pharmaceutical company Pharmstandard, had bought into the embattled German grand prix venue.
Forbes Russia now reports that Kharitonin, 43, has upped his stake from 80 to 99 per cent.
"Today we have closed the deal," he is quoted as saying, with Forbes claiming the value of the new transaction is some EUR 38 million.
It is believed Kharitonin has paid EUR 77 million in total for the circuit, with the minority shareholder GetSpeed keeping a symbolic 1 per cent.
Amid the Nurburgring's well-documented financial and ownership troubles, Germany fell off the F1 calendar last year and is once again back in doubt for 2017.
F1 supremo Bernie Ecclestone said he came close to buying the Nurburgring, but the then owners opted for another offer "for the sake of one or two million".
"I think we can say for sure that there will not be a race" in 2017, he told motorsport-magazin.com late last year.
Explaining the 2015 absence now, Kharitonin said: "We ourselves refused because they did not agree with the organizers on financial matters."
Kharitonin, however, claims talks with Ecclestone will resume, according to Forbes Russia.
Sergey Sirotkin in GP2
Sirotkin gets Renault role, FP1 outing
GP2 racer Sergey Sirotkin has joined Renault as a test driver and will make his first appearance for the team during free practice on home soil in Russia this weekend.
Sirotkin, 20, currently competes in GP2 for ART, which Frederic Vasseur headed up before joining Renault in a new role of Racing Director ahead of its works F1 return.
Sirotkin previously acted as a test/reserve driver at Sauber, taking part in an in-season test in Bahrain in 2014, before making his practice debut at the Russian Grand Prix.
"This is a great opportunity for me, although it has all come together so quickly. I still can't quite believe it," said Sirotkin, who placed third overall in GP2 with Rapax last season.
"This is, however, the moment that all young racing drivers are working towards, and I am determined to learn as much as I can, as quickly as I can, doing the best possible job for the team while driving in practice one.
"Renault Sport, which I would like to thank, has shown many times that it is the best place for a driver to start his Formula One career, and I intend to make the most of this opportunity.
"My commitment to challenge for the GP2 Series title will be enhanced by such a great chance and I would like to thank SMP Racing for the great support given to my career."
Sirotkin will take over Kevin Magnussen's car for Friday's first session at Sochi.
Pat Symonds
Symonds: Reverse grid could aid overtaking
Formula 1 opting to introduce a mixed-up grid format would force teams to address fundamental overtaking issues, according to Williams technical chief Pat Symonds.
Formula 1 chiefs are this week meeting with a view to signing off technical regulations for 2017, ahead of the April 30 deadline, aimed at creating significantly faster cars.
Symonds, however, holds reservations over the changes, and reckons some form of reverse-grid race, which has been discussed in recent months, could be more beneficial.
"It would [help]; what you need is an incentive," Symonds told Sky Sports.
"The incentive we have in all motorsport is try and put our car on pole and lead every lap of the race. That's what your design aim is. So you don't worry too much about running in turbulent air.
"If you turn things round a little bit, and say, 'no matter how good your car is, it's going to be running in turbulent air', you might then say, 'actually the best racing car I can make that will ultimately be the most successful over a season is one that is quick in nice clean air, but also works well in turbulent air'.
Symonds, previously of Virgin, Renault and Benetton, then joked: "Unfortunately, being racing people, we'd also probably work on trying to destroy the aerodynamics of the car behind us!"
Asked if the idea could be pushed through for 2017, he said: "I think it's too late now.
"The regulations have to be published and I really hope it's not too late to start some fundamental thinking [for future seasons]. I think that's what we've been guilty of not doing in Formula 1.
"There has been a lot of knee-jerk [decisions], particularly recently, on more sporting matters but as an engineer I would really like us to research what it is that's going to make good racing.
"It can be done, but someone's got to pay for it, someone's got to do it, and we've almost got to be forced into it to wake up and actually produce what the public want."
Lewis Hamilton knows he has a superior car but as AR1 predicted in late 2015, Mercedes has chosen his teammate to be the 2016 World Champion
Hamilton 'staying calm' despite points gap
Lewis Hamilton says previous experiences in motor racing have taught him to "stay calm" about his significant points deficit to Mercedes team-mate Nico Rosberg after the first three rounds of the campaign.
Rosberg holds a 36-point lead courtesy of three straight wins, with Hamilton finishing second in Australia, third in Bahrain and seventh in China – the latter from the back of the grid.
Despite Rosberg's start, Hamilton, who has beaten the German to the past two world titles, is hopeful of embarking on his own strong run as the field heads to Russia.
"There was plenty going through my head after China, as you'd expect," said Hamilton.
"But, after all these years, experience has taught me to stay calm and keep pushing forwards when I get knocked back. I've been here before a few times now.
"A lot can happen over the next 18 race weekends and I have the utmost confidence in this team.
"But adversity is part of the journey: it brings us closer, makes us stronger and I know that together we'll bounce back, so I'm confident of better weekends to come.
"There are lots of positives to carry into the next battle.
"If nothing else, I know that I can still overtake! I had a great start in China too, so hopefully I can continue that and use it to my advantage to build my races from a better base.
"It's Russia up next – a race that I've won on both occasions so far [in 2014 and 2015] and a track that seems to suit me pretty well, so let's see what we can do there…"
Mercedes has confirmed that the power unit that failed in Lewis Hamilton's F1 W07 Hybrid during qualifying for the Chinese Grand Prix will now be used as a spare.
Esteban Gutierrez
Gutierrez spent 2015 adapting driving style
Esteban Gutierrez says that he used his year as Ferrari's reserve driver to develop a range of driving styles in the simulator to prepare him for a Formula 1 return.
Gutierrez raced for Sauber in 2013 and 2014 but lost his race seat for 2015, and made the switch to Ferrari, where he supported Sebastian Vettel and Kimi Räikkönen.
Although naturally pleased to be back on the grid with the Ferrari-supported Haas team in 2016, Gutierrez admits he learned a lot from his spell on the sidelines.
"Last year I was able to experiment a lot with my driving style in the simulator," he said.
"That gave me a pretty good knowledge of where I wanted to be and also develop different driving styles in order to adapt to different circumstances.
"I take every opportunity I can to be in the simulator.
"It helps in the development of the car's set-up, but also for myself. It gives me a wider selection of driving styles for me to adapt to any circumstance."
Gutierrez reckons the work has already helped him this season.
"You can influence the car with your driving style; you just have to adapt," he added.
"If I have an understeering car, I do a certain style and the other way around if I have an oversteering car.
"We have a lot of tools too, as you can see on the steering wheel with all the buttons we have. We have some tools there at our fingertips where can try and fix it."