News and Notes From Daytona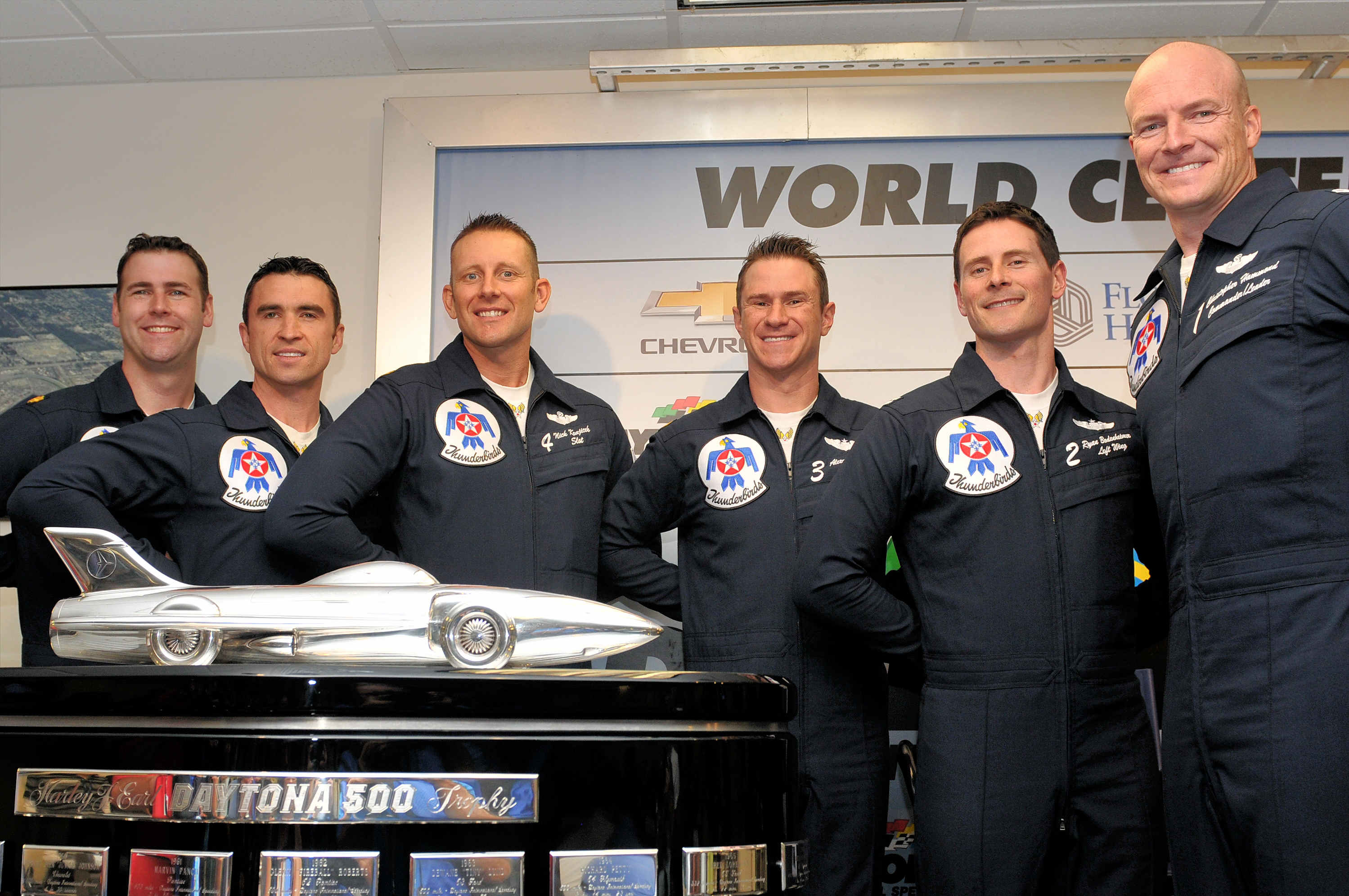 USAF Thunderbirds
AMERICA'S AMBASSADORS IN BLUE
The USAF Thunderbirds air demonstration team will be doing the flyover for today's Daytona 500, marking their first aerial show of 2016. The Thunderbirds feature six F-16 Fighting Falcons and perform as many as 36 shows a year.
Daytona 500 pole winner Chase Elliott and his father, two-time Daytona 500 winner Bill Elliott, each took a flight with the Thunderbirds earlier this week, as according to the pilots, they both came through with flying colors.
"It was a very unique opportunity to fly them both together, " said Lieutenant Colonel Christopher Hammond, the squadron commander and pilot of plane no. 1. "Obviously Bill Elliott being a legend and Hall of Famer, he was nothing but incredible to meet.
"Both of them came out and flew with us – they crushed it. They were gracious enough to bring us up to the winners circle yesterday."
Sunday's performance will mark their fifth time doing the flyover for The Great American Race. The team will also be back to perform at the 2017 Daytona 500.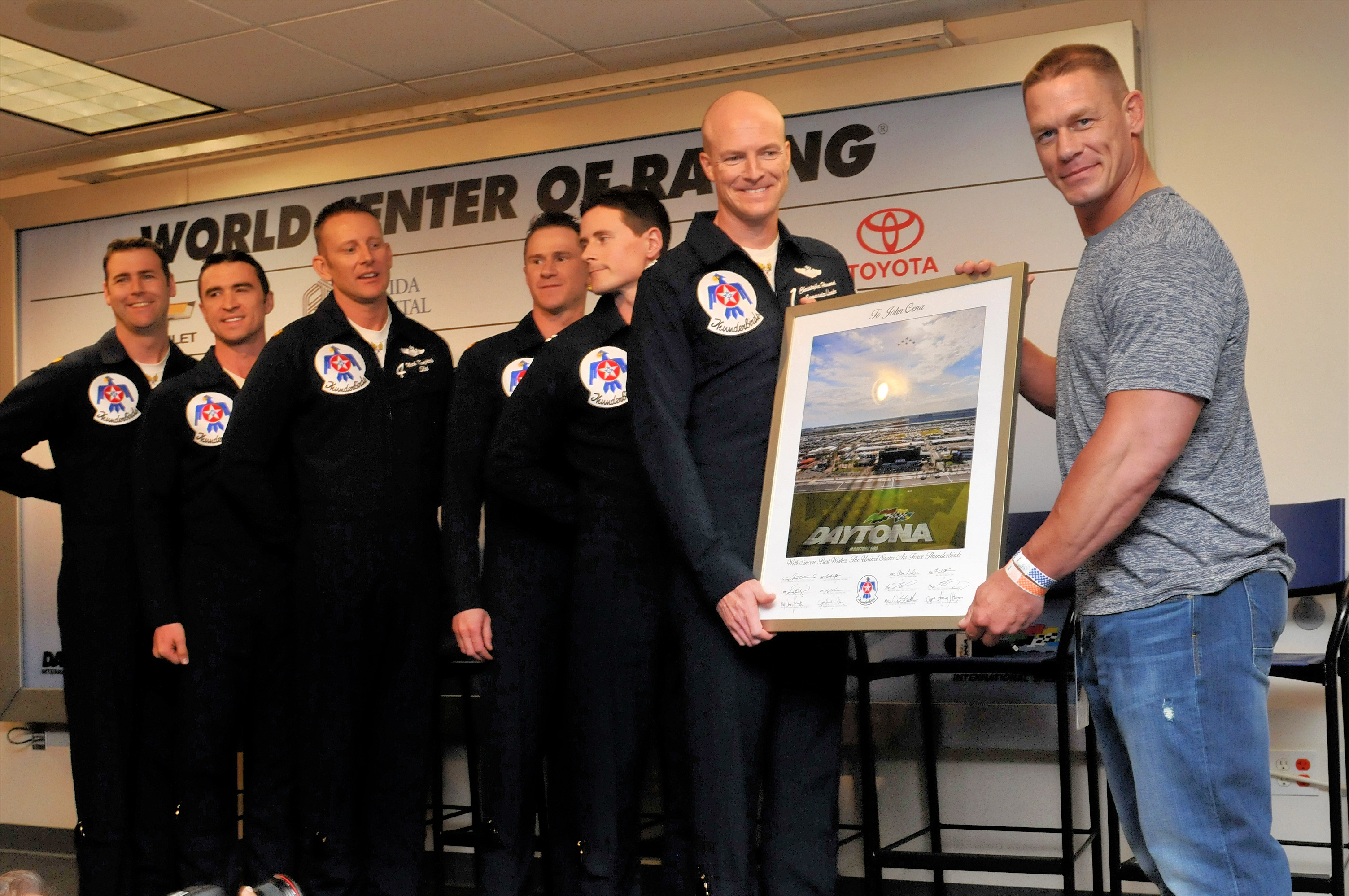 John Cena with The Thunderbirds
THE CHAMP IS HERE
15-time WWE Champion John Cena will serve as the honorary pace car driver for Sunday's race.
"I'm going to be going about 450mph slower than the Thunderbirds," said Cena. "Today is going to be fun, it's going to be awesome."
"I actually got to take the Toyota Camry pace car around the track a few times. I was really excitied just being out there alone in the empty stands at 7 in the morning. I know the history of Daytona…me being a muscle-car freak, I know about this stuff. It's really an honor to be at the 500, pacing the 500. Someone who digs automobile history, someone who digs racing….it truly is an honor to be included in the Daytona 500. It'll be special."
Cena, who is currently out of action following surgery on his right shoulder, was also eagerly promoting his new television show "American Grit", which wil feature 16 men and women, split into two teams, who will endure some 10 episodes of rigorous military-style drills with the winning team taking home a $1millon dollar prize. Cena will star in the show as well as serve as executive producer.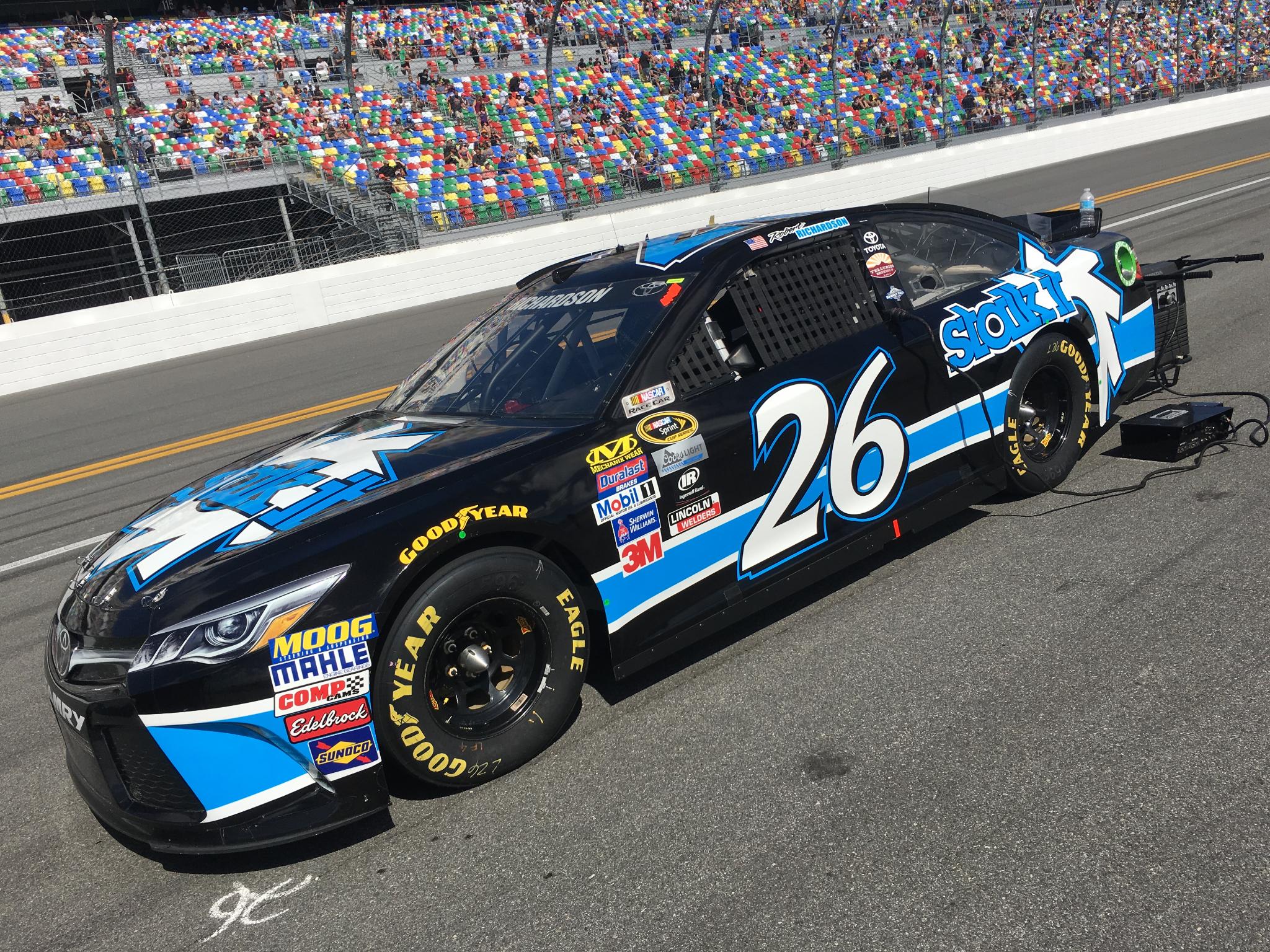 Robert Richardson's no. 26 Toyota Camry
FROM THE HAY FIELD TO THE DAYTONA 500 FIELD
Robert Richardson, Jr. raced his way into the field for his third Daytona 500 with an 36th-place showing in lats Sunday's qualifying and keeping out of trouble in Thursday's Can-Am Duel race, but just two weeks ago he was back home in Texas working in his hay field.
Richardson will be driving a fourth entry for BK Racing and team owner Ron Ddevine with sponsorship from StalkIt, a surf-, skate- and snow-board company.
"Two weeks ago I was at home working on my ranch, got a phone call from Lane Segerstrom from StalkIt, saying he was trying to put a deal together trying to run the Daytona 500," said Richardson. "This was two weeks ago. A lot of guys start preparing for this race as soon as the season ends from last year.
"This is every kid's dream, every racer dreams of this moment. I came from racing Legends cars and Super Late Models and there's so many guys out there that have opportunities to make it in this race and this is definitely a dream come true for me. I've raced a couple 500s before with other teams, but this one is really special."
NOT QUITE AS FAST, AND THEY TURN LEFT
2009 NHRA Funny Car Champion Robert Hight was at Daytona representing Chevrolet and his sponsor Auto Club of Southern California while taking in the sights and sounds of his first visit to the Daytona 500.
"I always hit a NASCAR race and take everything in whenever I have the opportunity," said Hight. ""I'm here to see some NASCAR racing this weekend, and I like hanging around the garage areas. I'm a former mechanic and getting to learn about the cars and see the technology is pretty cool."
It's so cool that with the Auto Club and Chevy that they can get me out here and behind the scenes. I love the fans, too. All these fans want to come up and talk NHRA drag racing, it's a great time."
THIS IS DAYTONA!
Actor Gerard Butler will serve as the Grand Marshal for Sunday's race, and the first question he was asked was what we could expect for his command to start engines.
"That's a surprise, I have something up my sleeve that I think you might like," said Butler. "We'll have to see what happens when I get out there. I like to live in the moment."
Butler, known for his roles on such films as his newest film "London Has Fallen" and "P.S. I Love You" is known for his famous "This is Sparta!" speech from his film "300".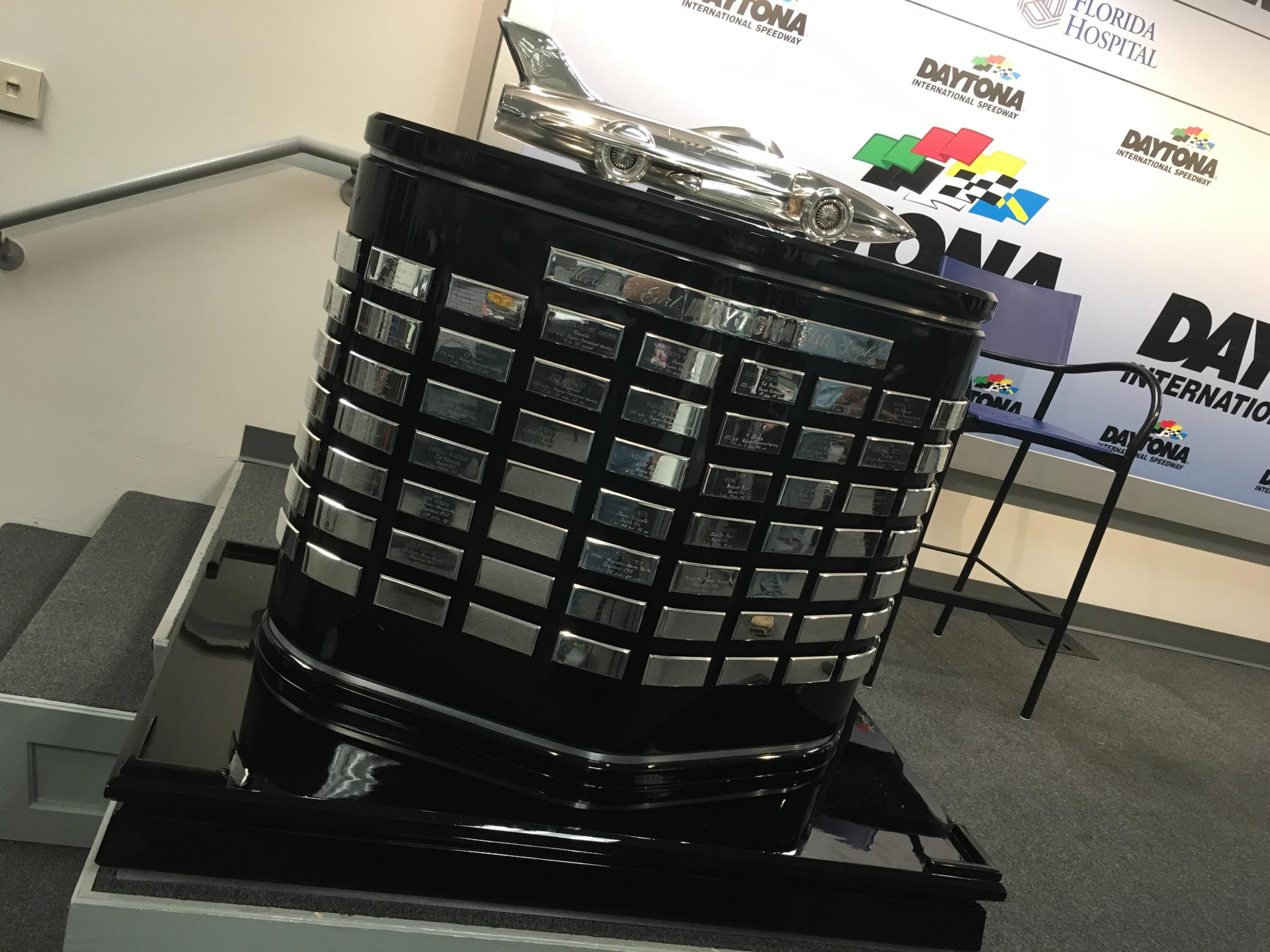 The Harley J. Earl Trophy
IT'S ALL ABOUT THE TROPHY
It's one of the most iconic trophies in all of motorsports, and it's what all 40 drivers will be shooting for on Sunday.
NASCAR's Harley J. Earl Trophy s presented to every winner of the Daytona 500 and it one of the oldest trophies in motorsports, after the Borg-Warner Trophy and the 24 Hours of Le Man trophy
The trophy is named after General Motors car designer Harley Earl, who designed the Chevrolet Corvette. Earl later served as the commissioner of NASCAR. The trophy includes nameplates with the names of each winner of the Daytona 500 and is topped with a replica of the Firebird 1, concept car designed by Earl.
The official version of the trophy, known as the Harley J. Earl Perpetual Trophy pictured here, spends most of the year housed in the nearby Daytona 500 Experience attraction. The trophy is pulled out during Speedweeks for display and is brought to Victory Lane to be presented to the winner of the Daytona 500. Each winner of the 500 are presented a small replica of the trophy that is theirs to keep.