Latest F1 news in brief – Friday
Can Ferrari take it to Mercedes in 2016? Mario Andretti thinks so, but AR1 doubts they can beat the Aldo Costa designed Mercedes

Ferrari can fight for 2016 title – Andretti

Carmen Jorda 'excited' about future with Renault
No Renault 'fireworks' in early 2016 – Palmer
Monza future brighter as law tweaked
Hugo Hakkinen not following Mick Schumacher to F1
Wolff ready for 'even bigger' driver fight
Wolff not worried about rivals poaching staff
'Strange' that Volkswagen not in F1 – Marchionne
Vandoorne aims for F1 debut in 2017
Lowe questions downforce increase for 2017
High Cost Of Hosting F1 Revealed
2016 Formula 1 Grand Prix of Europe Tickets On Sale
You just don't beat an Aldo Costa designed car. He is now doing for Mercedes what he did for Ferrari in the Schumacher era
Ferrari can fight for 2016 title – Andretti
(GMM) Mario Andretti, a motor racing legend and former Ferrari driver, says he can imagine the Maranello marque taking on Mercedes for the title in 2016.
"Yes, of course," he is quoted by Italy's Omnicorse.
"It seems to me that the atmosphere is very motivated and serene, and (Sebastian) Vettel is the right person for Maranello.
"I think the conditions are right for them to give their best next year," Andretti, an Italian-born American who is now 75, added.
Andretti, who won his title in 1978 with the original Lotus team, said he thinks Ferrari this year laid the foundation for a championship challenge in 2016.
"What I see now is a team that does not think about winning a race every now and then, as happened in 2015, but a team that will fight for the title. And I sincerely hope they do," he said.
Meanwhile, he was also asked about F1's current champion Lewis Hamilton and his controversial balance between success at Mercedes and a 'rock star' lifestyle.
"He lives for the day," Andretti said of the Briton. "He is having fun and I don't want to say 'modern', but it is with a very personal style.
"But he's a good guy. He knows what his priorities are and we should not blame him for anything. I don't think his way of life affects his performance — I can see him remaining as a driver at the very top," he added.
Carmen Jorda is hot
Carmen Jorda 'excited' about future with Renault
(GMM) Carmen Jorda sounds confident she will remain with Enstone as the current Lotus team transitions to Renault ownership over the winter.
Often controversially, the 27-year-old female GP3 driver has been a development driver with Lotus in 2015, travelling the calendar but not actually driving the black and gold car.
When asked this week what she is doing next, the Spaniard answered: "Hopefully I'll have good news to announce with the team and I'm excited to see what the future holds and for something new.
"We're all hoping for a good end after a challenging year," Jorda added.
She says she enjoyed the season, even though Lotus struggled for mere survival at times as it waited for new owner Renault to make its final decision.
Asked what color she thinks the 2016 car will be, Jorda answered: "I think yellow for sure!"
"It was a really good year for me and an amazing experience in which I learnt a lot from everyone here at Enstone," she explained. "The team and I have been through a lot of exciting moments, and some slightly more challenging. I think there was a good balance through the year though."
Jolyon Palmer
No Renault 'fireworks' in early 2016 – Palmer
(GMM) Jolyon Palmer has warned that Renault may not shine immediately as the carmaker returns to full works status in formula one next year.
It was amid Lotus' financial troubles that the Enstone team's Friday driver was promoted to a full race seat for 2016.
Since the buyout, Renault CEO Carlos Ghosn has cast doubt on whether Palmer and Pastor Maldonado will actually race, but the British driver sounds confident.
"Renault coming in is huge, because this team would be insecure without them," he told the January edition of F1 Racing magazine.
"It's been tough going, but the shareholders have been working through things. Renault coming in is good for the sport and exciting for me next season.
"I don't think there'll be fireworks straight away, but they'll secure the team financially and will be fully motivated to do a good job," Palmer added.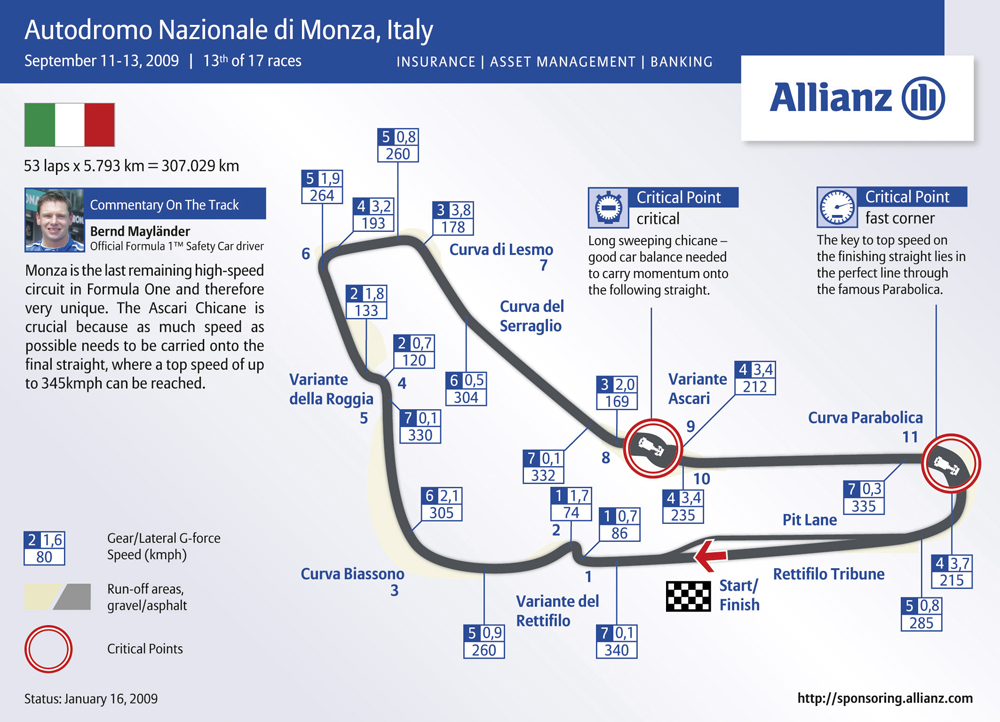 Monza looks secure
Monza future brighter as law tweaked
(GMM) In the days before Christmas, good news emerged this week from Italian parliamentary circles.
La Repubblica reports that after a marathon 37 hour sitting, the budget committee gave a green light to tweak the 'Legge di stabilita' (stability law) that had earlier cast doubt on Monza's ability to host the Italian grand prix.
Article 183 has been reportedly rewritten to expand the funding of the historic race beyond Aci, the Italian automobile club.
Italy's La Gazzetta dello Sport predicted that a new race deal with Bernie Ecclestone beyond 2016 could be agreed soon.
"This change has been decisive and so the most important work is now done," said Angelo Sticchi Damiani, the Aci chief.
Much sadder news is emerging from Spain, where El Pais newspaper has published a series of photos showing the former Valencia street circuit in a state of disrepair.
Equipment is abandoned, tall weeds are growing out of the old blue-painted run-off areas, electrical boxes have been ransacked and spectator tunnels are flooded with standing water.
And La Vanguardia, another Spanish daily, said it will be 2023 before all the loans to cover the EUR 100 million cost of the failed European grand prix are even re-paid.
Hugo Hakkinen (L) with dad Mika and mom at Monaco this year
Hugo Hakkinen not following Mick Schumacher to F1
(GMM) In 1999, as Mika Hakkinen won his second world championship, arch F1 rival Michael Schumacher welcomed a son – Mick – into the world.
Similarly, it was in 2000 when Schumacher and Hakkinen had their now legendary overtaking dice at Spa — the same year that the Finn's son Hugo was born.
Now, Mick is racing towards F1 stardom.
It seems the 16-year-old German is hedging his bets between a future at Ferrari or Mercedes, the teams his father Michael most famously raced for.
Kolner Express newspaper reports that Mick's team in German Formula 4, Van Amersfoort, has completed its switch for 2016 from Volkswagen to Mercedes power.
And the report added that Schumacher Jr looks set to split his time next year between the German series and also Italian F4, with the Ferrari-linked Prema team.
The next step for 2017, it would seem, is the highly-competitive world of European F3, from which Max Verstappen launched his own F1 career.
But it's a different story for Hakkinen's son Hugo, the 1998 and 1999 title winner reveals.
In 2012, we reported that Hugo embarked on a full season in the Italian kart championship, with Mika saying at the time: "I see now what a hunger my son Hugo has."
But now, Hakkinen reports: "Hugo tried karting, and he was good, but it was not his passion.
"He is 15 now, and his passion is football. He is committed to trying to become a professional football player and I will support him in that," the Finn wrote in a McLaren blog.
"I do not mind that he will not become a professional racing driver, although I would have supported him if that is what he had wanted," Hakkinen added. "You support your kids like that, don't you?"
Has Rosberg been chosen by Mercedes to win the 2016 title?
Wolff ready for 'even bigger' driver fight
(GMM) Toto Wolff insists he does not want to end the controversial rivalry between warring Mercedes drivers Lewis Hamilton and Nico Rosberg.
That is despite the fact that he was recently quoted as warning that if the feud gets out of hand and affects team spirit, Mercedes may need to change its lineup.
"I said that. And I said it deliberately," Wolff admits to Auto Motor und Sport.
"But controversy on the track is important. It's part of formula one and the last thing I want to do is stop it.
"Our philosophy has always been that they are allowed to race hard against each other. But the drivers must also respect the fact that there is this huge effort not only from them but from the whole team," he explained.
"Controversy between the two of them is absolutely fine. It can even be bigger. But I will not allow a situation when the fight splits and damages the team.
"Our success is because we have a good spirit, a positive energy and we enjoy working together. All these so-called F1 experts with an opinion should put themselves in our position: it's not easy to manage two number 1 drivers," said Wolff.
Interestingly, Wolff suggested that Mercedes may even be prepared to accept a further escalation of the hostilities between Hamilton and Rosberg, now that the team has wrapped up two consecutive world championships.
"I don't mind if the drivers fight with no holds barred," he told the German magazine. "It was a different situation when we were going for our first title, as we had to make sure we won.
"Now we are a bit more relaxed. The example is Lewis (and his lifestyle) and the fact that we give him space for that. All I am asking for is a minimal understanding that there is a team behind it all. And both of our drivers do (understand)," added Wolff.
Toto Wolff sues staff trying to leave Mercedes for rivals
Wolff not worried about rivals poaching staff
(GMM) Toto Wolff says he is not worried Mercedes' success will be eroded by rival teams poaching top staff.
When asked about rumors that Ferrari poached five Mercedes engineers as the Italian marque significantly improved its engine last year, he insisted: "That's nonsense."
But he also admitted that, in light of Mercedes' utter dominance in the new 'power unit' era, his staff are now highly sought after.
"Every successful business has to deal with change," Wolff told Auto Motor und Sport.
"Most important is to have your finger on the pulse, which can sometimes be difficult when you have 1200 people. There are always those who are looking for a new challenge or are looking for higher positions somewhere else.
"But at the moment we are holding together as a strong team," he added.
F1 supremo Bernie Ecclestone, however, has gone on the record to suggest that while Mercedes is winning, it is Ferrari's "incredible fan base" that makes the fabled Italian team even stronger.
"Ferrari have an incredible fan base even when they lose," he told Motorsport-Magain.com. "You don't find that with Mercedes.
"If they begin to lose, then you'll see what happens. If Mercedes stop winning, I don't think that many people will feel any sympathy for them," Ecclestone added.
Sergio Marchionne thinks VW should join them in spending hundreds of million dollars in F1
'Strange' that Volkswagen not in F1 – Marchionne
(GMM) Sergio Marchionne, the Ferrari and Fiat Chrysler chief, says he is still urging his Volkswagen counterpart to consider entering formula one.
Currently, only four carmakers are on the grid, even though Renault has just stepped up its involvement by buying Lotus and returning to full works status for 2016.
"I know Carlos Ghosn," said Marchionne, "and how much he had to realign himself to the reality of the Renault team that won the titles in the mid-2000s," said the Italian-Canadian at Ferrari's recent Christmas celebrations.
But he said more carmakers should now follow that example.
"For example, I've always encouraged the CEO of Volkswagen to enter," said Marchionne. "For the largest automobile company in the world to not be competing is a bit strange.
"If others come in, it would be good for the sport, good for them, good for us. I also must not minimize the presence of Honda.
"I think they were so focused on giving the engine to (McLaren supremo Ron) Dennis who is a person who leaves not a lot of room. That they had difficulties is a shame but they also have the ability to return to winning," he added.
"That Ghosn is coming in with Lotus now is important," said Marchionne.
However, Christian Horner has argued in recent days that Red Bull's criticism of Renault as an engine supplier in the past couple of years was justified.
Marchionne insisted: "I think they (Red Bull) forgot that it was with the very same people (Renault) that they won the world championships, without properly recognizing it.
"In short, a bit of balance would have been better," he said. "I certainly do not blame Horner, but we must be fair in our assessment."
Stoffel Vandoorne will have to wait until 2017 to drive the backmarker McLaren-Honda
Vandoorne aims for F1 debut in 2017
(GMM) Stoffel Vandoorne has acknowledged that his F1 race career will have to wait until 2017 at least.
The McLaren-backed Belgian has been dominant en route to becoming the new GP2 champion this year.
"There is always pressure," said the 23-year-old, "because I knew after coming second last year I had to win in 2015, but I feel that I've handled it well.
"I've broken almost every record in GP2, so that shows how strong my season has been."
McLaren's race lineup is all locked out for now with Fernando Alonso alongside Jenson Button, and as GP2 champion, Vandoorne cannot simply stay in the feeder series.
So he will be McLaren's official reserve in 2016, almost certainly combining that role with a race seat in the Japanese open wheel series Super Formula, where Honda has a significant presence.
Vandoorne had his first test at the end of last month at Suzuka, driving for the Honda-powered team Dandelion.
It is believed he is now close to signing a Super Formula deal for 2016.
"There's only one or two clashes with F1," Vandoorne told the January edition of F1 Racing magazine, "so it would be possible to do both.
"I don't have a race seat in F1 for next season, but hopefully I can get one in 2017 — that's what I'm working on, flat out.
"I've done everything right, everything that has been asked of me, and I'll continue to work hard. Unfortunately, there are no guarantees in this sport," he added.
Paddy Lowe
Lowe questions downforce increase for 2017
(GMM) Mercedes is among those who are worried about F1's expected new rules for 2017.
The sport basically agrees that the cars must be more spectacular and faster for the future, but there is disagreement about how that should be achieved.
World champion Lewis Hamilton, for one, worries that plans to speed up cornering speeds by adding downforce is the wrong move if the aim is also to promote overtaking.
Indeed, Germany's Auto Motor und Sport reports that it has seen the outline of the 2017 rules, with the cars to have "massively" bigger diffusers and wings.
Force India's technical boss Andy Green said: "Due to the rake of the cars I expect the bigger and more flexible wings might touch the ground quite heavily in fast corners like Eau Rouge."
Auto Motor und Sport said the 2017 blueprint is for 100 additional 'points' of downforce, or 30 per cent more than the current cars.
Correspondent Michael Schmidt said that the FIA's graphics depicting an example 2017 car is in Red Bull livery, as the former quadruple world champion team devised the concept.
Paddy Lowe, Mercedes' executive director, warned: "We have to be careful about putting on more downforce.
"We have never done that before," he told the January edition of F1 Racing magazine. "All previous rule changes have been about keeping it in check."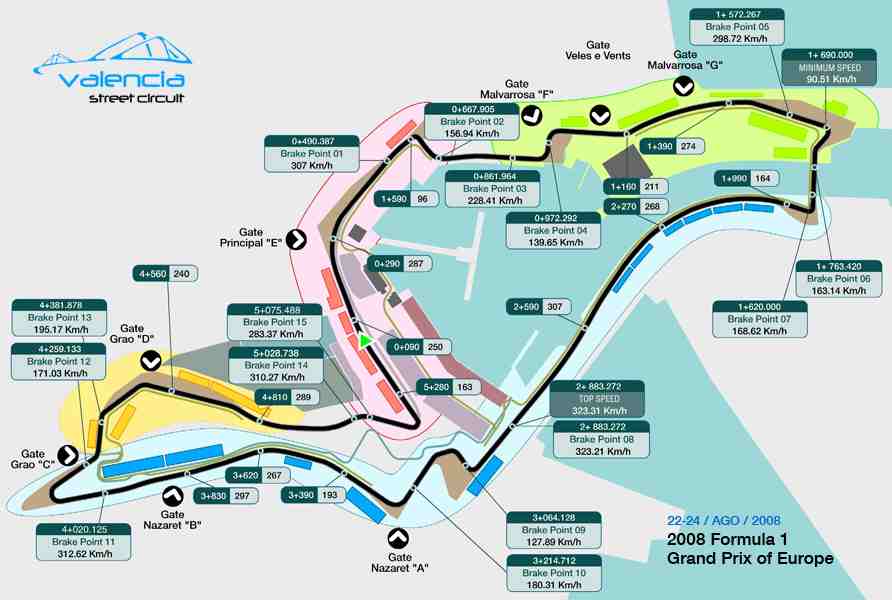 The cost to bankrupt F1 races like Valencia revealed
High Cost Of Hosting F1 Revealed
Former Valencia region President Francisco Camps assured that holding an F1 race in Valencia "was not going to cost Valencians 1 euro," according to Salvador Enguix of LA VANGUARDIA.
The facts "confirm, however, that on the contrary, organizing the race had a very elevated cost for the public coffers of the Valencian Government." In fact, "more years will pass before all the debts have been amortized."
This is what Valencian Government official Maria Jose Salvador found, and "among other facts," she revealed that works carried out to host F1 in Valencia cost 98M euro.
To finance these works, a loan of $64.8M had to be solicited. This will be paid from '16-23, in annual payments of $8.1M.
There were also "extra costs" of $17.8M. Salvador warned that documentation of this "has been sent to the District Attorney's office."
She underlined her "indignation" that a company like EIGE, "whose principal function is social housing, was used for the work carried out to host F1, and the majority of those facilities are not used for anything." LA VANGUARDIA

Baku city circuit
2016 Formula 1 Grand Prix of Europe Tickets On Sale
Baku City Circuit (BCC) today held a special press conference to announce that tickets for the newest addition to the Formula 1 calendar, the 2016 Formula 1 Grand Prix of Europe in Baku, will be available to purchase online from tomorrow via www.bakucitycircuit.com. The race weekend will take place on the weekend of 17-19 June 2016.
The Minister of Youth and Sports, Azad Rahimov, was also present at today's announcement, lending his support to the BCC team at this important junction for the newest street circuit in Formula 1.
The opening of the ticket sales process has been timed to coincide with this weekend's 'Six-Months-To-Go' celebrations, a series of entertainment activities taking place in downtown Baku to celebrate F1's arrival in Azerbaijan's capital city. The launch of the online ticket sales program marks a key milestone in a process that has been several years in the making and that will culminate with F1 cars racing in Azerbaijan for the very first time next summer.
Speaking immediately after the announcement earlier today, Bulent Ozerdim, said: "Today marks a key moment in the arrival of Formula 1 in Baku. We are absolutely delighted to launch our ticket sales program this weekend. Our message to everyone is clear: come to Baku next June not only to witness an incredible race weekend but also to discover this beautiful city and all it has to offer. I would advise fans wishing to celebrate with us next summer to act fast and get their tickets while they are still available!"
The Minister of Youth and Sports, Azad Rahimov, was also thrilled to be present at this landmark occasion, stating: "This is another hugely positive development in the overall process of bringing one of the biggest sporting events in the world to Baku. I am convinced that both F1 and Baku are a perfect fit and I encourage all fans to come and experience the 2016 Formula 1 Grand Prix of Europe for themselves in this wonderful city. We look forward to welcoming the global F1 family to Azerbaijan next June."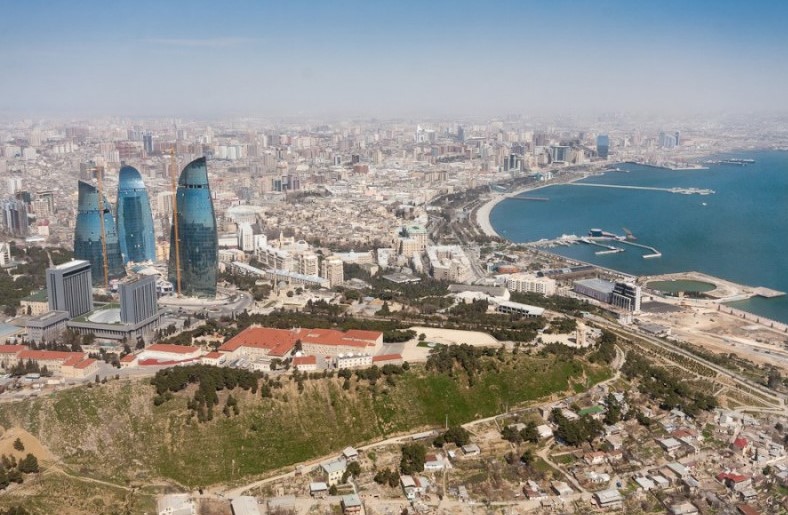 Baku, Azerbaijan
Excitement amongst the residents of Azerbaijan's capital city is building steadily as Baku continues in its preparations to welcome F1 next summer. Indeed, a recent survey conducted nationwide amongst 1,001 respondents via face-to-face interviews by SIAR Research and Consulting Group found that over 80 percent of Azerbaijan's population believe the inaugural Formula 1 Grand Prix of Europe in Baku will deliver an exceptional sporting event that will play a strong role in positioning the country on the world stage and help establish Baku as a prime tourist attraction for regional and international tourists. Furthermore, in a positive sign for the fledgling race, half of Baku's residents – of whom the majority are under 34 – indicated that they are keen to buy tickets for the race next summer.
A variety of ticket options are on offer for the 2016 Formula 1 Grand Prix of Europe, including various packages for the Absheron Grandstand, which will offer fans some fantastic views of the start/finish lane, as well as a wide range of different Grandstand seating options, located at various corners and straights along the track. In addition, General Admission roaming tickets will also be on offer to those preferring to watch the action from different locations on the track on various standing areas and podiums.
With only 6 months to go until the engines of the world's greatest race cars roar through the streets of the city, the message from Baku City Circuit to the world's F1 audience is very simple: this will be more than a race, so get your tickets while you still can!
For more information on how to purchase tickets and plan your stay in Baku for the 2016 Formula 1 Grand Prix of Europe please visit: www.bakucitycircuit.com
About Baku City Circuit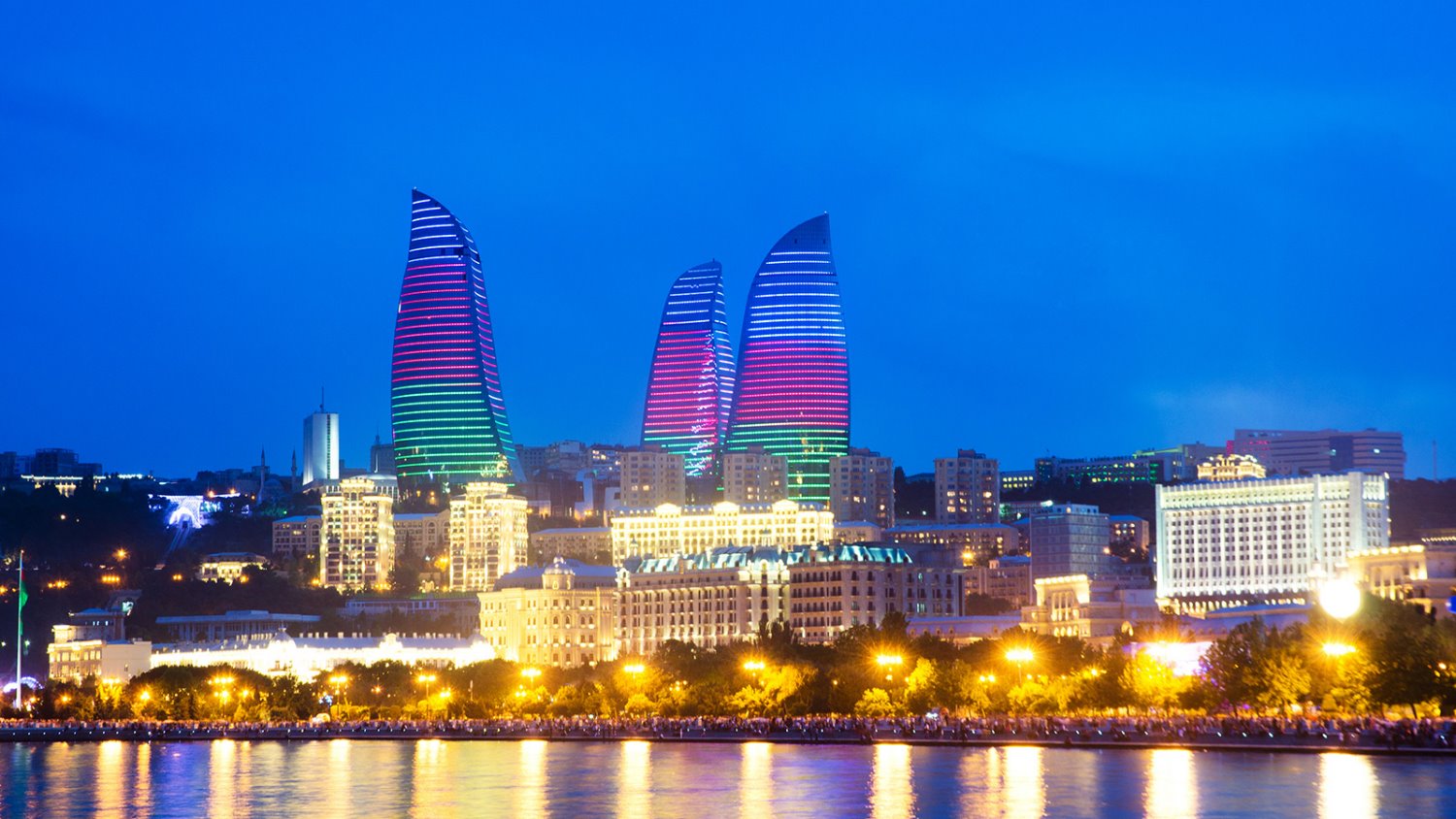 Baku at night
Baku City Circuit (formally Baku Grand Prix LLC) stands for the name of official promoter of the 2016 Formula 1 Grand Prix of Europe in Azerbaijan, as well as the title of the host venue of the race.
With a length measuring at slightly over six kilometers, the 20-corner track will be lapped 51 times, with cars reaching potential speeds of up to 340km per hour, marking the circuit out as the fastest street circuit on the existing F1 calendar.
The circuit offers a number of challenges for drivers, including an extremely narrow uphill section along the old town walls that will require pinpoint accuracy, and it has an acceleration section of almost 2.2 kilometers along the seaside promenade, which will see the cars running flat out at very high speed – something that will create an incredible show for race fans.
On the weekend of June 17-19, 2016, the specially constructed Baku City Circuit will see Formula 1 cars race around the picturesque streets of downtown Baku, incorporating the city's UNESCO-protected old town – Icheri Sheher – as well as its modern skyline and beautiful Caspian Sea vista in front of a global audience of millions.