Senna's Toleman-Hart up for sale for over $1 million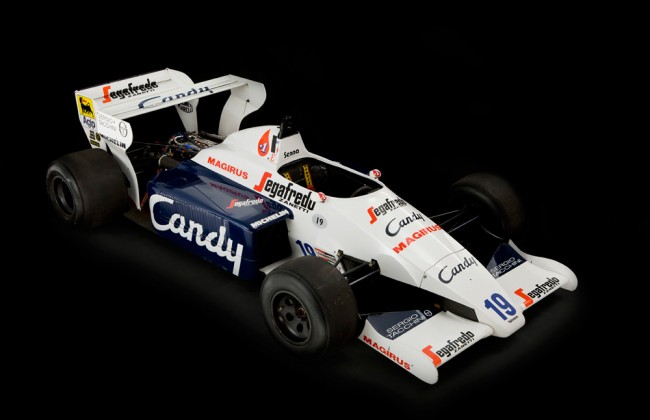 Senna's 1984 Toleman Hart
The Monaco Grand Prix, 1984. Rain so heavy that the street circuit has more in common with a water park than a race track. Young Brazilian prodigy, Ayrton Senna – taking part in his first season of Formula One and his first street race – starts a lowly 13th on the grid, in a Toleman-Hart.
The Toleman-Hart is a good race car, but it's up against formidable opposition – McLaren, Ferrari, Lotus, Renault, Williams, Brabham, Ligier and illustrious others. And while Senna's talents are becoming more defined with each race, today he's trailing the big guns of F1 – Prost, Lauda, Mansell, Piquet, Arnoux, Tambay, and Rosberg, to name but a few.
Yet heroically and almost unbelievably, by lap 32 of the waterlogged race Senna is ahead of all his rivals, including race leader Prost. At which point the race is stopped and Senna believes he has won. A controversial decision to base the final race placings on the lap before the red flag means that Senna's victory is immediately ripped from his grasp: it's a bitter moment.
However, Senna's charge through the pack in such treacherous conditions was one of the defining moments of his career, marking out the Brazilian as a maestro of the wet and the elevating the Toleman-Hart from a position of underdog to 'must watch'.
Prindiville is now privileged to have the genuine Senna Toleman-Hart TG184-2 for sale in its London showroom. This iconic piece of Formula 1 history has proven provenance and its previous owners include ex-F1 star Stefan Johansson. The car is in exceptional condition, retains the general livery from Senna's epic Monaco drive, and comes complete with a thick history file and a full set of studio photographs.
Before use by a new owner the Toleman-Hart will require re-commissioning: this work is included within the purchase price of the car.
With the 2015 Formula 1 season about to get underway, and the exploits of Ayrton Senna certain to be revisited when comparisons between drivers of today and yesterday are made, right now is the perfect time to invest in one of the cars that helped create the legend.