Latest F1 news in brief – Thursday
McLaren a test car for Honda

Sauber to 'stay together' with troubled Ferrari

German charity 'surprised' by $1m Ecclestone payment
2014 McLaren 'a laboratory' for Honda car – Boullier
Ferrari could learn from Williams experience – Massa
Rookie Kvyat hits back at F1 'wimps' criticism
Formula 1 Legends: Interview with Mario Andretti
Sauber to 'stay together' with troubled Ferrari
(GMM) Sauber has vowed to "stay together" with its troubled engine supplier Ferrari.
The Swiss team, already struggling financially, has not scored a single point so far in 2014 and therefore is in danger of being left outside the lucrative top ten positions in the constructors' championship.
Team boss and co-owner Monisha Kaltenborn admitted that Ferrari's troubled first turbo V6 design for 2014 is "one of the major factors" in Sauber's current situation.
"But I think it is too easy to say something is the fault of others," she is quoted by Italiaracing.
"We must always look first of all at what we do, be honest about it and say that this car is definitely not one of the best that we have produced."
But particularly in the sport's all-new 'power unit' era, the engine package is a crucial element and there have been rumors Sauber could soon become the first non-works customer of returning supplier Honda's latest F1 foray.
Kaltenborn admitted: "The engine is one of the major factors, especially from the point of view of drivability, but this is not the reason to give up.
"We have a long relationship with Ferrari and we have had our ups and downs over the years, but let's stay together and we will come out together," she added.
Kaltenborn played down any similarity between Sauber's situation and that endured by Red Bull and Renault, whose relationship has clearly been strained by the French marque's 2014 troubles.
"I do not know the situation between Renault and Red Bull," she insisted, "but we are very close to Ferrari and have a very open relationship.
"We have never pointed the finger. If there are times when things do not go as well, we say it openly and put the focus on everyone getting together in this situation.
"I'm quite sure that if I'm sad or unhappy, my colleagues at Ferrari are twice as sad or unhappy. The important thing is that they are on the right track, they know what to do and I have full confidence in their potential," said Kaltenborn.
German charity 'surprised' by $1m Ecclestone payment
(GMM) Officials of a German children's charity were completely surprised when it emerged Bernie Ecclestone would pay them $1 million.
The payment to the Deutsche Kinderhospizstiftung, a children's hospice foundation, is part of the F1 supremo's $100 million settlement reached with Munich prosecutors to end his high-profile corruption trial.
SID news agency said the payment is the largest in the charity's history.
"Three years ago, an individual donated 100,000 euros to us," board chief Margret Hartkopf told Tagesspiegel newspaper.
She said the foundation was "totally surprised" when the court announced that Ecclestone's settlement would involve the 83-year-old paying $99 million to Munich authorities and $1 million to the charity within one week.
While the payment will make Ecclestone a free man, however, that does not mean the Gerhard Gribkowsky corruption affair is over.
APA news agency reports that Ecclestone has also offered to compensate the Munich state bank to the tune of EUR 25 million, but first BayernLB must agree to the proposal by Friday.
The report said BayernLB, whose spokesman was not commenting on Wednesday, was earlier pushing for compensation in the realm of hundreds of millions of euros.
And DPA news agency reports that Ecclestone's $100m payment also does not include the settlement of related criminal proceedings against his former right-hand man, lawyer and F1 board member Stephen Mullens.
Prosecutors claim Mullens, who left F1 in 2011, helped Ecclestone to make the disputed millions in alleged bribe payments to the jailed Gribkowsky.
2014 McLaren 'a laboratory' for Honda car – Boullier
(GMM) McLaren's current car is a "rolling laboratory" for the start of the works Honda era beginning in 2015.
That is the news of team boss Eric Boullier, who arrived at Woking this year and is overseeing the British grandee's struggle to even stay in the top five constructors in 2014.
This season is the last in McLaren's long and successful partnership with Mercedes, even though the relationship is no more than a mere customer pairing in 2014.
McLaren lies behind its usual top-team protagonists at the mid-season point, but also behind Mercedes' other customers Williams and Force India.
Still, Frenchman Boullier said the team is not giving up on developing the MP4-29.
"We see this year's car as a rolling laboratory for the coming season," he is quoted by Speed Week.
"What we do this year has great relevance, because according to the rules the mounting points of the engine and transmission are the same next year, even if you change engine partner.
"So most of our improvements this year will have a direct impact on the design of the next McLaren," Boullier explained.
Ferrari could learn from Williams experience – Massa
(GMM) Ferrari could learn from Williams' recovery from the doldrums of the British team's past few seasons.
That is the claim of Felipe Massa, Williams' new driver who moved to Grove for 2014 after a long Ferrari career.
Undoubtedly aided by the dominant Mercedes engine, Williams has been arguably the surprise team of 2014, having finished a woeful ninth in the 2013 constructors' table to now trail only the top three teams and proving a regular front row and podium challenger.
Initially, Williams seemed merely to be benefitting from superior horsepower in 2014, but now the FW36 is proving competitive even at twisty circuits like Hungary.
"Now we are competitive in the other areas too," confirmed Brazilian Massa in an interview with the latest edition of Italy's Autosprint magazine.
"It took a while but we did it. And there is still so much to improve," he added.
Personally, however, 33-year-old Massa is enduring a rough patch alongside the on-form Valtteri Bottas but he argues that his struggle is simply for a turn of luck.
"The important thing is that we have a competitive car," Massa insisted, "and that I am competitive myself. That's what I care about."
So when asked if he would have any advice to offer Ferrari if he was ever called back to race for his struggling former employer, Massa answered in the affirmative.
"Yes, but I won't say," he insisted. "I don't know if it will happen, but if one day I had to change teams again, I would take all of the experience that I have from Williams."
Indeed, with Ferrari notably struggling in 2014, Italy's influential La Gazzetta dello Sport reports that new boss Marco Mattiacci has headed into the summer break having identified the four major areas Maranello must focus on.
They are the V6 power unit, speeding up development response times, coordination between the engine and chassis, and better balancing reliability versus performance.
Rookie Kvyat hits back at F1 'wimps' criticism
(GMM) Daniil Kvyat, the youngest rookie in formula one, has hit back at suggestions formula one drivers lack the hero status of the sport's past stars.
Amid the sport's struggle to fill grandstands and boost television ratings in 2014, many have pointed the finger at the drivers for failing to compete in the charisma and courage stakes with greats like Villeneuve, Senna and Mansell.
F1 legend Michael Schumacher's manager Willi Weber, for example, this week hit out at the "wimps" that today fill the grand prix grid.
20-year-old Russian rookie Kvyat, however, thinks it is wrong to suggest that today's F1 drivers lack courage.
"In my opinion F1 remains one of the sports in which courage is most relevant," he told Italy's Omnicorse.
"I don't like to hear that the modern driver is no longer a knight of risk — that compared with the 80s we are not real men," the Toro Rosso driver insisted.
"That's all bullsh*t," said Kvyat.
"All that separates us from 340kph and the wall is our brakes and a hundred meters of asphalt," he exclaimed. "Risk in formula one cannot be erased, but it is right that we do everything possible to improve the safety of the tracks and the cars."
Another criticism made by Weber this week, and echoed by many others, is that greats like Schumacher, Senna and Villeneuve gave "their answer on the track" rather than to their engineers on the radio.
But Kvyat argues: "With the new regulations, the role of the engineer is essential — the management of electrical energy cannot be controlled only by the driver.
"Let's clarify another thing," he added. "If there is the possibility to overtake, the driver must always try it. There is never the situation when the engineer tells you to forget it, to wait.
"But at the same time we need to adapt to the situation of fuel consumption and the wear of the tires."
As for the suggestion that the grands prix today are boring, Kvyat also argues his case.
"I don't know what people are expecting," he said. "I have looked at the grands prix and I have to say that the show is not bad at all.
"Sure, some races are more exciting than others, but if we go back to the races in the 2000s they were dominated by one driver — what was so spectacular about that?
"Maybe the public has not understood the rule changes we have done, but I am sure we have taken the right path," Kvyat continued. "It took courage to change to experimental solutions in order to progress normal road cars."
Finally, when asked what rule change he would instigate immediately to improve F1, Kvyat answered: "I would wait a little longer.
"It seems to me that the package we have now is not so bad."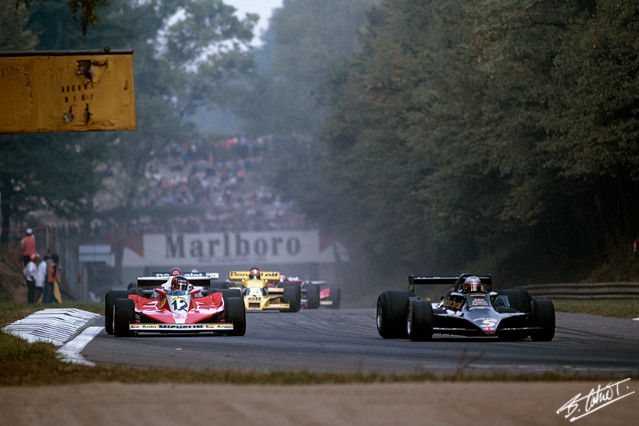 Gilles Villeneuve (L) and Mario Andretti (R) battle at Monza in 1978. Andretti would prevail
Formula 1 Legends: Interview with Mario Andretti
Italian-born, American-raised Mario Andretti's motorsport dream began at the 1954 Italian Formula 1 Grand Prix at Monza. The 14-year-old Andretti, along with his twin brother, watched in amazement as the Ferrari of his first racing idol and hometown hero Alberto Ascari sped around the track, not knowing then that this cherished childhood moment would also be career defining for him.
Monza holds a special place in Andretti's heart and he declares he could not have written a better script: in 1978 he secured the Formula 1 World Championship there, twenty-four years after attending his first race. That fateful weekend in 1954 set in motion a series of events which would ultimately lead to an outstanding career spanning five decades, 879 races and 111 wins across various classes of motorsport. Elle Haus sat down with the racing icon to discuss his remarkable career, his thoughts on Formula 1 today, taking a trip down memory lane back to where it all began.
Elle Haus: Let's start with Monza, and what it meant to you as a 14-year-old seeing your first big race there.
Mario Andretti: Well Monza. I could say that it was probably the true beginning of my dream to be a racing driver, and I could not have written a better script because this was in 1954 and in 1978 that's where I clinched the [Formula 1] World Championship. To me it was amazing of course winning the race, I won the race the year before. I won that year [1978] too but I was penalized along with Gilles Villeneuve for allegedly jumping the start which I think was debatable, I just reacted to Gilles that he took off; I reacted and I stopped and I went. But anyway that's another story. And the reason I didn't protest was because my teammate Ronnie Petersen was killed that day, so I didn't have the energy to go and continue a protest. But just to repeat what I said about how important that particular day was or that weekend in 1954 at age 14, that's what started it all. Not only just for myself, but I also have a twin brother [Aldo] and we both had the same dream and that's what we pursued.
EH: And then a year later your family moved to Nazareth and you and Aldo discovered a race track nearby.
MA: We had no idea what to expect when we moved to the States but we soon found out, three days after arriving here, that there was a race track nearby. We had no idea about oval racing, you know the American type racing, but the sound was good and it looked like a lot of action and at the same time to me it looked very doable at that level. As you can imagine when we saw Monza, the Grand Prix cars [of] Mercedes, Ferrari, Maserati all that seemed so far away, so unachievable, that when we saw these cars on a local level racing they looked real brute like. But again it looked doable, looked like something we could build. In fact that's what we started, two years later at age 17, that's when we started building a racing car and we started driving two years later.
EH: How did you go with that car?
MA: We were winning actually. That was really a great launching pad for us because it was one car, two drivers. Obviously Aldo and I had to share but he started first, he won the toss and it's a matter of record, he won the very first race. The following weekend I did. But we won races. That year we crashed and did all of the good things that are normal for young racing drivers. That was a very auspicious start for us as you could imagine, and encouraged us along the way. We had a very good season except that at the end of that season, my brother was seriously injured in that car on the very last race of the season, which pretty much determined his career at that point. He raced for ten more years but then he had another very big accident which actually retired him. But for me it was an early stepping stone to launch me to the next level and I continued on and was much more fortunate. I started my career in 1959 and my last race was Le Mans in 2000, so basically I had a 41 year career.
EH: In 1969 you won the Indianapolis 500, what did that win mean to you?
MA: Well it's one of the ambitious goals that you set for yourself, to win the classics. And if you're racing in America, the classic event which is known throughout the globe is the Indianapolis 500. I felt very comfortable from the beginning there, which was in 1965 and I was Rookie of the Year, I finished third and I continued on and I won the National Championship as well, and I was the youngest driver to do so at that point. And then to win it four years later was something that was huge for my career and opened so many doors. But two years earlier I won the Daytona 500 which is the big shining event for stock cars which is so very popular here. And two weeks after winning Daytona I won my first 12 Hours of Sebring with Bruce McLaren as my teammate, so my career was shaping up quite nicely. But as you can imagine to win the best known events around the world is the most important part, that's what really can be life changing which it was in so many ways for me.
EH: In 1991 in Milwaukee we saw the Andretti Podium, which must have been a really proud moment for you sharing that with your family.
MA: Yes it was indeed. And that's pride with a capital "P" actually, because as you can imagine having my own son Michael and my nephew John, Aldo's son, and myself on the same podium. Then later on Michael became my teammate actually. He and I shared the front row many times qualifying and also we've been on pole position I think 12 times together. And we were first and second like eight times in IndyCar. You can imagine how sweet that is for a family to be able to share those moments, you can never even technically plan for it, it's just going to happen or not. And I had so much satisfaction throughout the years from that standpoint to see the family continue. Both my sons are in racing and just like my brother, my second son Jeffrey was not as fortunate as his brother or myself. He had a devastating injury in 1992 in Indianapolis which almost cost him both his legs and that determined his career. But then something like this puts perspective on things, like how fortunate, how lucky Michael and I have been in the sport. And it's not a given, you know, because both my brother and my other son paid dearly for what they tried to do and we know how much we can appreciate the luck that we've had on our side throughout our careers.
EH: How do you handle the competitiveness and tensions that arise between teammates when that teammate is
your son?
MA: Well the competitive juices were there. I wasn't about to give an inch to him or receive an inch. But the one that was really on pins and needles as you can imagine was my wife because she was on the sidelines watching us duke it out, and many times actually we were touching wheels and things. Not too hard, she wanted to be sure that we would look after one another and we were not doing anything stupid to put my son in danger or him put me in danger, but we were not giving anything. Actually the first pass, the first overtake that my son did to me competitively for the lead, we touched wheels all the way through the corner and it was very forceful. But at the end of the day there was a lot of satisfaction. When he went by I'm thinking "how dare you Michael!" and then as he's gone into the sunset I'm thinking "that's my boy". It's a double-edged sword. You know that we had the closest finish in IndyCar in 1986 at the Grand Prix in Portland.
EH: Yes, Father's Day. I bet your wife's heart was racing watching that one at the finish line.
MA: Yeah, indeed. Here's the thing though. He actually definitely deserved to win that because he had somewhat of a lead on me as we were coming down to the end of the race. It was about three laps to go and my engineer's shouting in my ears that Michael's having some fuel pick-up problems. At that point I had settled for second and I knew I couldn't catch him. And I really stood on my seat, and here he was coming closer and closer. The last lap we basically had a drag race onto the finish line and I just, just nipped him by an inch. And he was so upset. When we were on the podium then he realized it was Father's Day and he says, well Happy Father's Day Dad [laughs]. He probably thought I could give him a break and let him win, but no way!
EH: You have raced practically everything there is to race on four wheels, so of all the classes of motorsport you have competed in which is your favorite?
MA: It has to be Formula 1, mainly because that's where my love for the sport really began. And of course the opportunity to enter the sport came in America, so I had a very satisfying complete career here in the United States with IndyCar then stock cars and so forth. But if somebody would say you can only choose one discipline, then I would choose Formula 1. It's that simple.
EH: After three decades of racing in Formula 1 and now today as a spectator, how do you see the evolution of the sport?
MA: Well changes are expected, and they're subtle changes if you will. If you're in the sport as close as I am the changes are almost natural, they are not a big thing. The thing that allows me to understand things quite well is that I've gone through the decades and I've seen huge changes materialize, but it was gradual and it's the same thing now. The thing that I understand, that I'm quite happy about, is that I drove into the computer era which is now. We started computer instruments in the car [in IndyCar] back in the middle of the '80s, so I drove into the so-called computer modern era right through the mid '90s. And I'm staying on it, I'm still driving a two-seater car which is the same as a proper racing car only it's expanded for another passenger, but all the technology and everything is the same. So the fact that I'm up to date with things makes it easier to accept and understand.
I love progress and I love technology, and I like the way the sport is today. Obviously it's much more regulated because there's so much knowledge out there that you can make the cars undriveable, but there's a human element so it has to be regulated which is fair enough. In fact in the IndyCar we were achieving the speeds, the records that were set back in the mid 90s when I was still driving are still standing, they had to slow the cars down for the safety standpoint so as you can see I have driven faster than what they are doing today. I'm not antiquated by any means.
EH: Which is your favorite track that you've raced on?

MA: Any track that I won [laughs]. That's the only way I can answer that. The other question is, what's your favorite racing car? Every racing car that I won a race with. So it's as simple as that. I don't know how else to put it because it's a fact.
EH: And which of your 111 career wins is the most memorable?
MA: The most memorable would have to be probably winning Indianapolis because of what it really meant career wise. But from personal satisfaction it had to be winning the Grand Prix in Monza in 1977. In 1974 I won the Monza 1000 Kilometers for Alfa Romeo with Arturo Merzario which was really my first victory in Monza. But winning the race, the Grand Prix in '77, that was huge for me because of what Monza stood for as far as my life. I don't think I could have derived more satisfaction than that. I count my blessings every day. I think I won more races than I deserved and I am thankful for that every day so I take nothing for granted. My life in motor racing has been absolutely complete. RichlandF1