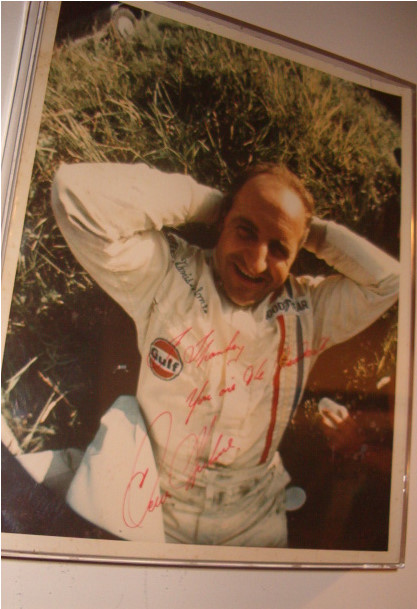 A photo from Spanky's trailer – To Spanky, you are the best, (signed) Denis Hulme
A reader writes, Dear AR1.com, In Stephen Cox's great series about the L&M Porsche part 3 of 7, Marilyn Motschenbacher Halder talks about my old friend, Spanky Smith.
Their social circle was small and intimate. Marilyn Motschenbacher Halder spent much of her time at a the universally recognized social center of Can Am's inner circle known as "Spanky's trailer."
"I don't even remember Spanky's last name. I don't think anybody ever knew it," Marilyn said. "It was one of those old Winnebagos. There would be Denny [Hulme], George [Follmer], Revvie [Pete Revson], and the photographers, and Lothar and me, and the wives. Jackie Oliver would be there. We'd always gather at Spanky's trailer and everybody would sit there and laugh and shop talk. They'd say, 'You should have seen me in this turn!' and just bench race."
Edwin 'Spanky' Smith was a racing photographer from Endicott, NY. He was quite a bit older than I was but we both loved racing and we both collected everything we could get our hands on at races. We traded team stickers and other memorabilia. Spanky died in the 1980's and his brother was faced with liquidating Spanky's entire house full of racing memorabilia. I purchased his sticker collection and others wound up with his pins, photos, and collectables like the oversized check Bruce McLaren was given in a Can-Am victory lane.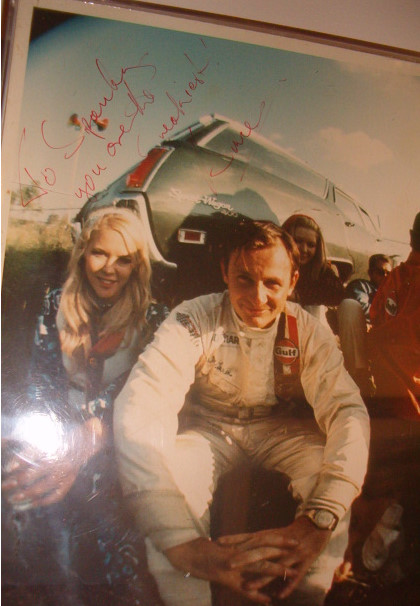 A photo from Spanky's trailer -To Spanky, you are the Greatest! (signed) Bruce
Spanky had a Winnebago that was decorated from floor to ceiling with signed photos, stickers, and other memorabilia. He was the Team McLaren hospitality area and driver's lounge. His friends included Bob Leitzinger of State College, PA; the Clown Prince of Can Am racing, Oscar Koveleski; and Judy Stropus.
After Spanky died I purchased a small motorhome and decorated it like his. At the first Can Am Reunion at Watkins Glen, Oscar Koveleski brought Denny Hulme; Leon Mandel, the late editor of AutoWeek; and Phil Kerr, the McLaren team manager, to my motorhome. They were shocked to see my decorations, including photos of Bruce McLaren, Denny Hulme, Peter Revson, and Graham Hill that had once lived in Spanky's motor home. They stayed for hours, and Leon wrote a column in AutoWeek saying that I had salvaged Spanky's motor home. I had to correct him because I did not want people to think I was passing off my motor home as the legendary Spanky's.
Please share this with Stephen.
At the end of the season that Stephen has written about there were signs with "Let George Do It" because people felt he deserved to win the championship. I have a plastic license plate with that message on which George wrote "I did it!" and signed it for me.
It's not the L&M Porsche but below is a photo of me in Mark's other 917.
Regards, Mike Semel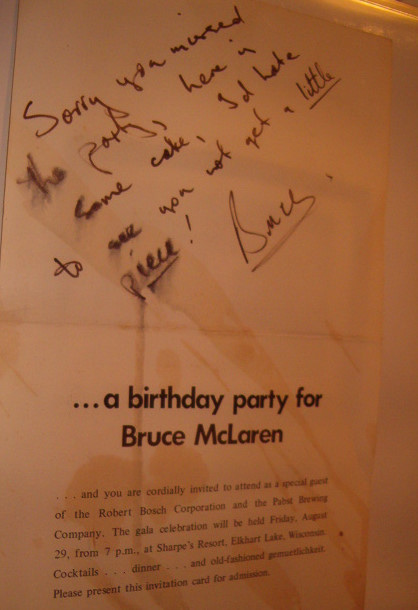 A photo from Spanky's trailer -Note To Spanky, Sorry you missed the party, here is some cake, I'd hate for you not to get a little piece! (signed) Bruce