Yellow Pennzoil car back for Indy 500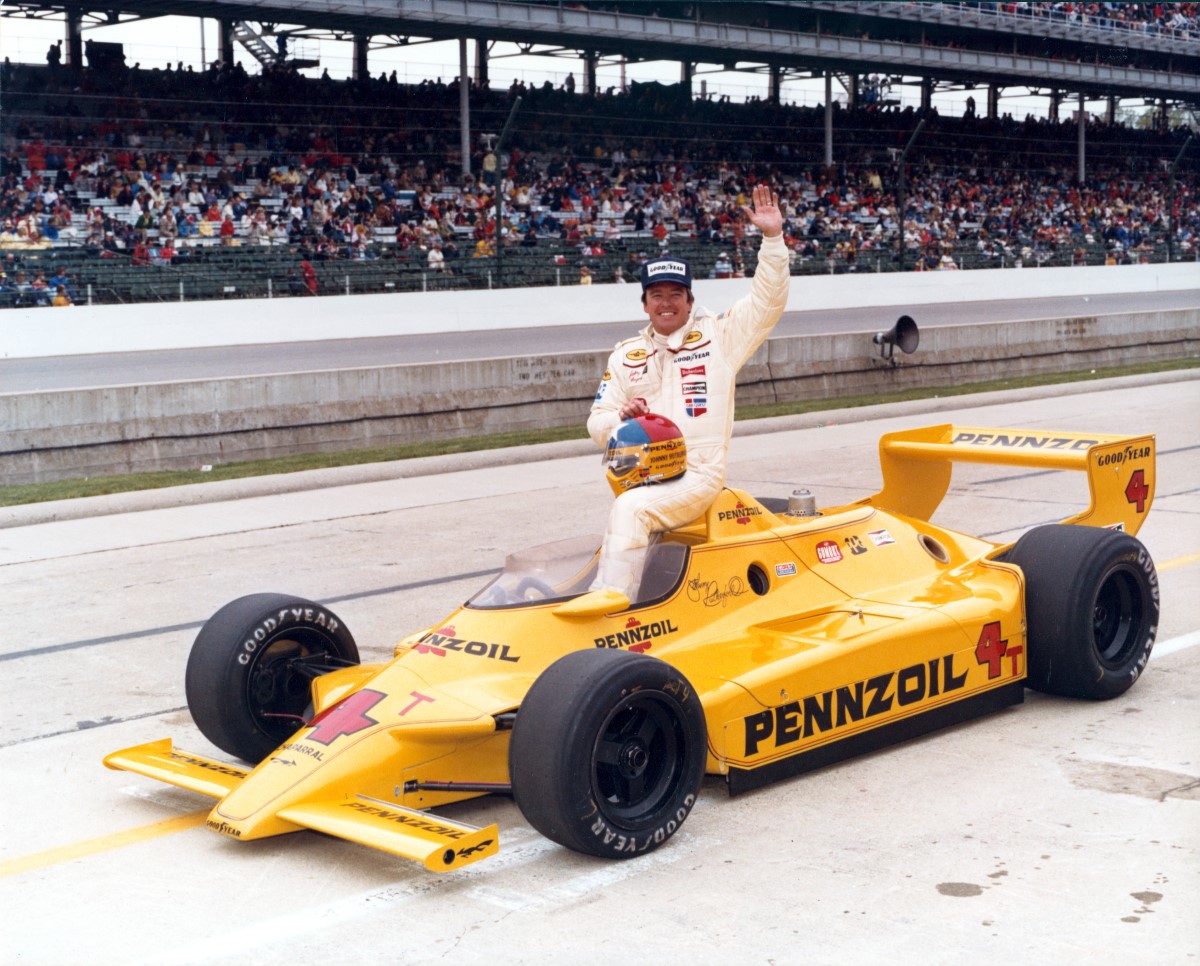 The yellow Pennzoil car of Johnny Rutherford in 1980
At a press conference earlier today, Pennzoil announced the return of an iconic look for its brand in the Verizon IndyCar Series at Indianapolis Motor Speedway. Helio Castroneves will carry the "Yellow Submarine" scheme to celebrate the launch of Pennzoil Platinum and Pennzoil Ultra Platinum Full Synthetic motor oils with PurePlus Technology.
RUSTY BARRON (Vice President North America of Lubricants Marketing):" Pennzoil has a long and storied history with the IndyCar Series. Together, these three gentlemen represent 10 Indy 500 victories, and that's just a snapshot of the history Pennzoil has in open wheel racing. Let me share a little bit of history with you. Pennzoil first appeared at this track as a sponsor of the successful car driven by Russell Snowberger in the 1930s. His success over a five year period attracted 27 other race teams and drivers to voluntarily select Pennzoil as a race engine.
"Now, fast forward to the 1980s and the oil used by the team of Johnny Rutherford and Rick Mears was also Pennzoil. It was the same oil that you could by right off the shelf and use in your own car. In the 1990s and the 2000s, that was a time when a specialty blend was made for the team and the engines. However, coming back to Team Penske in 2012, we went back to the off-the-shelf technology. This year, we are proud to be racing with a product we just launched – Pennzoil Ultra Platinum with PurePlus Technology. It's the first of its kind motor oil made from natural gas. This oil will be used by all twin turbo V6 Chevy engines across the series. It's the same formulation that you can buy off the shelf and use in your car. Since 2012, engines carrying Pennzoil have won more poles and more races than any other engine oil racing in this series. We're proud to be back here at the Indianapolis Motor Speedway and we think you are going to be excited about the car piloted by Helio Castroneves in the 98th running of the Indy 500."
Castroneves
HELIO CASTRONEVES (Three-time Indianapolis 500 winner): "For me, it's an inspiration. Right now, it's an honor to be wearing the yellow color, not because of Dancing With the Stars but it helps. But just to see this, what an honor having these guys around helping me out to unveil the car. I want to thank Pennzoil with the new product and I'm excited to be representing you guys. It sounds like it's a good luck charm. I feel like a small fish in a big ocean right now with those two legends over here. At the end of the day, Penske has a great history here at the Speedway. I can't wait to be sitting in that car at the beginning of practice after the Indianapolis GP and I can't wait to go race with these colors. And a special thanks to Rick for allowing me to use the colors of his helmet. I'm extremely thankful and honored to be wearing not only the Pennzoil colors but Rick's helmet colors, too."
RICK MEARS (Four-time Indianapolis 500 winner): "The yellow Pennzoil car is such an iconic figure, iconic sponsor for this event and this racing period. To get it back here in the sport with us with Team Penske and all of the great fortune it brought me, hopefully it will roll right into Helio and do the same for him." (Is there a little sense of emotion when you see the car sitting there): "Absolutely, it's a gorgeous car. It brings back a lot of memories. You wish you could do it again, but you know you can't."
JOHNNY RUTHERFORD (Three-time Indianapolis 500 winner): "It's always good to be back in the month of May for the Indianapolis 500 and to be here to represent Pennzoil with Helio (Castroneves) and Rick (Mears). It's a great thrill. It's a lot of fun. We had some good times. They were one of the best sponsors I ever had in racing and I've always enjoyed the people at Pennzoil and the fact that my favorite color for a race car is yellow." (How did it get the name of the Yellow Submarine?) "Jim Hall had three cars built in England and brought them over and he had a tight connection with Pennzoil. He went to them to try and get them to be a sponsor and of course their colors are yellow. It was just natural. The car was the start of the ground effects and that was a brand new era in racing as having a car you could flat foot around the Indianapolis Motor Speedway at over 200 miles per hour. It was fun, enjoyable, the car was great. It opened up a whole new avenue of the way you drove them and the way things happened."