Latest F1 news in brief – Monday (Update)
UPDATE
Updates shown in red below.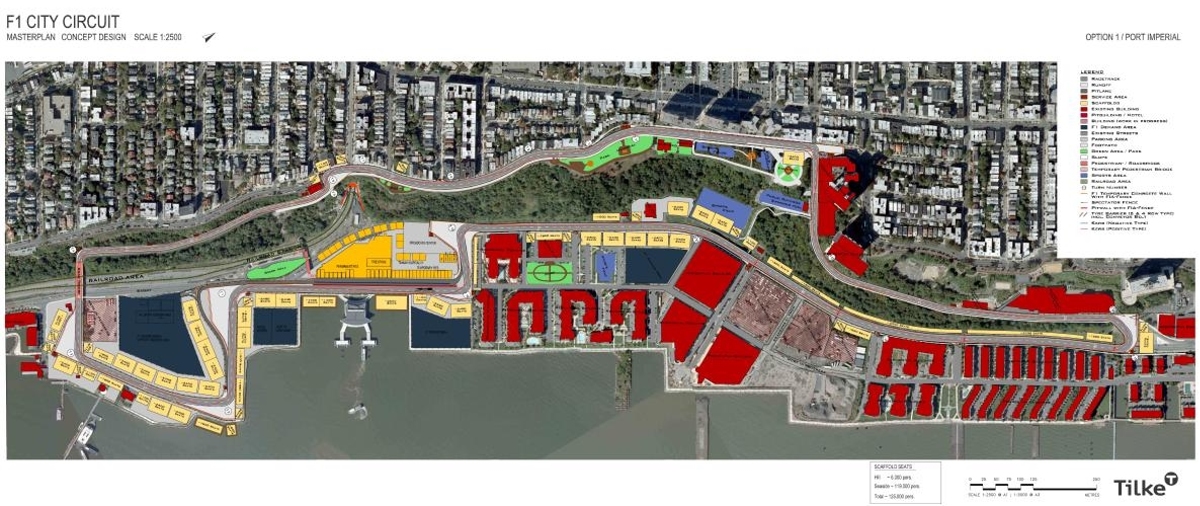 Ecclestone is looking for a promoter to step up and take over the NJ Grand Prix
01/06/14
Schumacher injury saga enters second week
Lauda says Mercedes on track for 2014 challenge
Ferrari on track for late January launch
Permanent New Jersey F1 track has been considered admits Ecclestone New
2014 F1 season a 'massive opportunity' to fail, according to Fry New
Brian Hart 1936-2014 New
2014 F1 engines explained New
Ex-Williams F1 CEO Parr joins Cosworth New
Schumacher injury saga enters second week
(GMM) Media interest remains at fever pitch as Michael Schumacher's coma after his skiing crash in France enters a second week.
Philippe Streiff, a former F1 driver paralyzed in a 1989 testing crash, caused the biggest stir at the weekend when he visited the hospital in Grenoble.
The Frenchman told reporters after his visit that he had spoken with doctor and mutual friend Gerard Saillant who said Schumacher, now 45, is "out of danger".
"He (Saillant) said it is a serious condition but his life is not in danger any more, thankfully," Streiff said.
He also provided new details of the German's injuries, including the apparent risk that the former Ferrari and Mercedes driver could be left "hemiplegic", or paralyzed on one side of the body.
He also said the nature of the bleeding on the sides of Schumacher's brain endangers Schumacher's speech and motor skills, but Streiff's comments were dismissed by manager Sabine Kehm as "pure speculation".
Kehm insisted her boss remains in a "critical but stable" condition, and Streiff later told France's RMC that Schumacher is in fact in "a stable but serious condition without deterioration or improvement".
It is believed that the doctors in charge of Schumacher's recovery could give a full medical update to the media on Monday.
At the same time, French authorities are investigating the circumstances surrounding Schumacher's skiing fall, which was reportedly captured by video on an eyewitness' mobile phone, who said the German was travelling at no more than 20kph when he hit rocks and struck his head.
The authorities issued a statement urging the media against "spreading false information" about the investigation, according to France's L'Equipe.
Nonetheless, the respected Sunday newspaper Le Journal du Dimanche cited hospital sources in claiming the most recent brain scan undergone by Schumacher had "very bad" results.
And Kehm denied that the Schumacher family only reluctantly gave up the 'Gopro' camera that was attached to his helmet. It is not known if the camera was recording at the time of the crash.
"The family gave the camera to the investigating authorities voluntarily," Kehm is quoted by Bild newspaper. "That this was done against the wishes of the family is untrue."
Finally, Dr Johannes Peil, who treated Schumacher in 2009, revealed that an artery in the driver's brain was damaged in that serious motorcycle crash.
He said the old injury should not affect Schumacher's recovery now.
Lauda says Mercedes on track for 2014 challenge
(GMM) Niki Lauda says Mercedes is on track for the start of official 2014 testing, despite the huge challenge of the all-new turbo rules.
Germany's Auto Motor und Sport reports rumors that world champion team Red Bull's boss Christian Horner had floated the idea of delaying for a week the start of winter testing late this month.
"Nothing is being moved," Mercedes team chairman Lauda insisted. "The plans are going ahead for late January.
"The task of big for everybody."
The report said the German squad is currently testing its new V6 engine, energy recovery technology, gearbox and cooling systems in a hybrid chassis on the test bench.
Lauda admitted that cooling the 2014 package is one of the greatest challenges.
"We are constantly learning new things," he said. "Suddenly you are managing things like water pressure and intercooling.
"Oil and water must be in a precise temperature window," added Lauda. "Once you go just a few degrees above a certain limit, everything stops (working)."
The triple world champion said he sympathizes with the customer teams, who unlike the full works teams like Mercedes and Ferrari are unable to do "any comparison testing".
"They are doing their cooling (development) only on the basis of information provided by the engine partner," said Lauda.
And he thinks Mercedes and Renault, each with three non-works customer teams, have a slight advantage over Ferrari, who are only supplying customer engines to Sauber and Marussia in 2014.
"Four teams is four sources of information," said Lauda. "Everyone is having their individual problems, so we can learn faster and respond sooner."
Ferrari on track for late January launch
(GMM) Ferrari is edging close to having its 2014 car ready for the start of winter testing.
Reports in the Marca sports newspaper (Spain) and the authoritative Autosprint (Italy) say the Maranello-built single seater is set to be launched on either the 23rd, 24th or 25th of January, a few days ahead of the opening test at Jerez.
Marca correspondent Marco Canseco said the car, whose official name will be decided by fans via an internet poll, will "almost certainly" undergo its mandatory FIA crash tests this week at the CSI technical facility in Bollate, Italy.
He added that Ferrari has already been testing the all-new 2014 electrical and energy recovery systems in a 2011 chassis, although the turbo V6 engine will not be run at an actual circuit until Jerez late this month.
But Alessandro Stefanini, the Autosprint correspondent, said the 2014 package will be run over a couple of "filming days" prior to its official debut.
He said the most likely car launch date is Thursday 23 January or Saturday 25 January, with Friday less likely for Enzo Ferrari-linked "superstitious" reasons.
Giorgio Piola, the well-known F1 technical illustrator, believes Ferrari has decided to revert to a more conventional pushrod layout for its front suspension this year, after the innovative 'pullrod' cars of 2012 and 2013, according to Germany's Auto Motor und Sport.
Permanent New Jersey F1 track has been considered admits Ecclestone
Formula One boss Bernie Ecclestone has revealed that he considered holding New Jersey's Grand Prix of America on a permanent track rather than the street circuit which has failed to get off the ground since the race was announced in 2011.
"We looked at a permanent circuit in that area three years ago," he admitted. Instead, he chose a 3.2-mile track on public roads which snake alongside the Hudson River with Manhattan's striking skyline in the background. Although the setting is undoubtedly stunning, it counts for little at the moment as it there is no evidence that the race will be taking place.
As Pitpass revealed last year the race organizers need to find £61m ($100m) in order to get the green light and this has been a long-standing stumbling block. The Grand Prix of America is the only proposed event in the 64-year history of F1 to be dropped from the calendar twice and although Ecclestone has long dreamed of hosting a race in the New York area he seems to be losing patience.
The Grand Prix of America organizers are led by Leo Hindery junior, a sometime racer and managing partner of private equity fund InterMedia Partners. However, Ecclestone says that if the race goes ahead, the promoter "may not be Hindery. Maybe the venue will be a little bit different."
It could open the door again to a permanent venue as Ecclestone told me that the race organizers "are in breach" and "if anyone comes in today they can have it." A source close to the situation in New Jersey told Pitpass that the plan which was initially considered was "a 4.68km permanent circuit in full compliance with all FIA regs for Grade 1."
The source adds that "it's fortunate for F1 that the developers of the permanent circuit have had enough patience not to walk away and spend a few hundred million elsewhere."
A change of location is not the only possible consequence of the race organizers breaching their F1 contract. Last year they appointed UBS to raise the £61m needed for the race to go ahead and the investment bank's opportunity overview revealed that the contract with Ecclestone gives the organizers "exclusivity for all F1 races across the northeast corridor." This area covers not only New York and New Jersey but also other major cities including Boston, Philadelphia, Baltimore and Washington, D.C so now is the time for prospective US race promoters to strike. Pitpass.com
2014 F1 season a 'massive opportunity' to fail, according to Fry
Formula 1 teams have a 'massive opportunity' to get their 2014 car designs wrong, reckons Ferrari engineering director Pat Fry.
"I think it is one of those years where you need to be developing your car rather than fixing cooling problems," explained Fry.
"At the start of each year when you get the cooling wrong, a huge amount of resource goes into fixing radiators, bodywork and everything like that.
"I am sure we have done it here [at Ferrari] in the past and we've done it at my former team [McLaren] in the past, where you waste the first couple of months.
"With the 2014 changes it is going to be even more dramatic – and the opportunities for getting it wrong are going to be massive.
"Hopefully we have got our sums right, but there will be a lot of people scratching their heads in January."
"Cooling is always going to be a challenge with the level of cooling that next year's car needs, and trying to integrate physically that much stuff into the car in a neat package is quite challenging," he said.
"I think it will be interesting and there will be some dramatic differences in cars for once. Some people will be pretty busy I think."
"The front wing and the way you deal with the endplates needs to be different," he said.
"It is a bit like when we went wider on the front wing for 2009. It was a disaster to start with but then you get on top of it."
Brian Hart 1936-2014
Former F1 engine supplier Brian Hart died on Sunday at the age of 77 after a long illness.
A brilliant engineer who worked miracles with limited funding, he was also a great character who was never afraid to speak his mind.
Trained as an aeronautical engineer, Hart was a successful driver himself in Formula Junior, F3 and latterly F2, where he was a regular for many years. He won at Enna in 1964, and finished 9th in the first European Championship in 1967 and 12th in 1968. He scored a famous non-championship win at Hockenheim in 1969.
He also made one Grand Prix start at the Nurburgring in 1967, with an F2 Protos. He finished 12th overall and fourth in the F2 class.
After making his last F2 start in 1971 Hart retired from racing to concentrate on his engine business, which he had started in 1969. He initially developed Ford and Cosworth engines, finding huge success in F2, before his own 420R unit became a mainstay of the category. In 1980 it powered Brian Henton to the European title with Toleman.
In 1981 Hart moved into F1 with Toleman and a 4-cylinder turbo engine. Taking on the likes of Renault, BMW and Ferrari on a shoestring budget was never going to be easy, but after a difficult start the partnership made progress, and in 1984 rookie Ayrton Senna scored his first podium finishes with the team. In 1985 Teo Fabi earned the Hart name its first pole at the Nurburgring, before the team switched to BMW the following year. Hart also supplied the Beatrice/Haas team in 1985 and early 1986, before the works Ford was ready, as well as RAM and Spirit.
After the turbo era ended Hart developed a normally aspirated V10, while servicing Cosworths for a variety of teams. He returned to F1 in his own right with Jordan in 1993, and the following season Rubens Barrichello earned pole at Spa. Later he supplied a V8 to Arrows and Minardi before his company was absorbed by Tom Walkinshaw Racing in 1997, and the Hart name disappeared. Adam Cooper
2014 F1 engines explained
This year will see one of the biggest changes to Formula One's engine regulations in the history of the sport. Each car will have two fewer cylinders than last year, Energy Recovery Systems (ERS) will become integral to performance and turbocharging will be allowed for the first time since 1988. Yet the new V6 turbos will be nothing like what has gone before in Formula One and, best of all, nobody knows exactly what's going to happen.
The Kinetic Energy Recovery Systems (KERS) we have become used to in recent years will be replaced by much more powerful units, recovering not just kinetic energy but also heat. Unfortunately, it gives us two more acronyms to learn before we go any further. First up is the Motor Generator Unit – Kinetic (MGU-K), which is similar to the KERS we've known in Formula One since 2009 but twice as powerful and capable of releasing energy for 10 times longer per lap.
The second part is Motor Generator Unit – Heat (MGU-H), which harvests less power than MGU-K but is of equal importance as it works directly with the turbocharger. MGU-H acts as a generator to absorb power from the turbine shaft and, therefore, recover heat energy from the exhaust gases. The electrical energy can be either directed to the MGU-K as extra power boost or to the battery for storage for later use. However, when acting as a motor, MGU-H is used to match the speed of the turbo to the engine and cut out turbo lag. The new ERS will produce 160bhp of the overall power (estimated to be around 760bhp), making it significantly more important to lap time than in previous years.
It's a complex new era, but fortunately Renault Sport's deputy managing director Rob White and head of track operations Remi Taffin were on hand at the end of last year to shed some light on the major talking points.
Reliability
There's no shying away from it, there will be a lot of reliability issues in 2014. The new engines represent a huge step into the unknown and there are only three weeks of on-track testing before the cars race for the first time in Australia. Things could get messy.
White: "We need to address head-on the fact that this is a big change. Everything that we associate with immaturity in the regulations will be present, so the starting points [between the engine manufacturers] will be a little further apart from each other than it was. The fact is these are complicated systems. We will be ready to race come March, but the race-readiness I'm talking about is probably going to be a bit less sorted and a bit less stable [than in previous years], so we should be realistic about the fact that, while we are aiming for the same level of reliability, there is more risk. So there are several things, particularly at the beginning, which will increase the probability of unexpected outcome."
Fuel saving
In 2014 F1 cars will have to complete the same race distances as they did in 2013 but with just 100 liters of fuel. That's roughly 35% less than was used in 2013 (depending on the circuit) and presents a serious challenge for engineers. However, Taffin says it is not likely to see drivers coasting towards the end of races due to a lack of fuel.
Taffin: "Maybe 30 years ago it was not that easy to get it on target, but obviously we had to rely a lot on the drivers – they had the fuel level on the steering wheel. Now we have everything on board and it's going to be quite automatic in the way the software will be dealing with the fuel. We anticipate many strategies we could achieve, but for sure we should not be in a situation where one driver has to lift off and become three seconds a lap slower because we did not anticipate the fuel. Pre-event we will run the race as we do these days with strategy for tires and fuel, and then figure out the best strategy for the race. We should not see plus or minus three seconds per lap due to the nature of dealing with the fuel. It should be invisible.
"At some races we are not expecting to be using that much fuel. In the case of Monaco, the optimum lap time will not come from carrying 100kg of fuel, whereas a track like Monza we will have the fastest race with maybe three or four more kilograms. We will have to find the right compromise."
Drivability
Turbo engines produce significantly more torque than naturally aspirated engines, but the delivery of the torque can lag behind the application of the throttle. One of the great challenges of the new power unit is to reduce turbo lag to near zero by using the MGU-H to power the compressor while the turbo reaches full boost.
White: "It's a slightly unusual engine architecture with a single big turbo. If we didn't have the electrical boost then the turbocharger lag would be absolutely catastrophic. In the 1980s the big single turbo was already an unfavorable solution, with turbo lag in the order of several seconds. We've added a big turbo because we need it, but [without the MGU-H] the lag would probably be several tens of seconds, which is completely unviable."
Taffin: "What we are going to try and get is exactly the same behavior as we had with the V8 engines. It must be transparent, because if you have any delay or inconsistency with the delivery of the torque it's going to be a massive influence on the lap time. I think the most challenging thing for these engines next year is taking the lag out of the turbo."
Cooling
Although the engines are smaller next season the cooling requirements are much higher. Early images of the Renault Sport ENERGY F1-2014 power unit showed a huge intercooler to feed the turbocharger, plus extra cooling needed for the ERS. This will not be welcome news in the aero departments of the teams, where cooling means bigger radiators and bigger openings in the bodywork.
Taffin: "There is a lot more energy to get out of the power unit, but it's something we have been working on for a long time now. The work we are doing with our customers is very good and we know how to achieve this. Then it is more a question of getting the right trade off. You can get a lot of energy out of the car to make things cooler but then you need bigger radiators and so on. We have tested this on the dyno, we do not run a car on the dyno, but we have everything that the power unit is needing. We have the intercooler, rads and everything is on the dyno. But the actual trade-off is made in between our customers and us and we are not looking at the most power, we are looking at lap time. With the V8 we had a very good trade off and we know exactly where to put things, it's now a bit of an unknown for us. But that's the trade-off we need to assess."
Unlocking performance
Although there was a development freeze on the old V8s, manufacturers were still tinkering with software last season to get as much performance as possible from the engines. Despite all the new hardware for 2014, once again it will be the software engineers pushing the boundaries all season long.
Taffin: "The software is going to be the key factor for performance. You could run the engines next year in a very simple way but it's not going to be efficient. The software will again be key and we will need these things to work, because if they are not working to plan then when you get in the race it will be hurting lap time quite a lot. The hardware is frozen by March 1 when we give the specification to the FIA and the software will be the one thing where we can keep developing into the season. That is where we are going to get the performance out of it, because we have a certain type of hardware that we will anticipate we will be running at one point, but maybe when we get to Melbourne we will not be right there. Then you will see performance developing through the season and maybe 50% will be coming from the way we manage this."
A level playing field
One of the most exciting aspects of the 2014 regulations is that it shifts the emphasis ever so slightly away from aerodynamics. For the first time this decade engine departments will have the opportunity to innovate and compete with one another over the coming years.
Taffin: "It's going to be frozen by the end of 2019 so it gives the engine manufacturer five years to develop. For sure there will be different levels by the time we get to Melbourne, but by the end of the first year we will already be leveling in terms of power and competitiveness. The scope of changes that we can achieve through the first two winters is quite big. Anything you would have done in a different way you can change for the year after. The idea is that by the time we get to 2019 we should have a leveling as we saw with the V8, but again we will still have the software being developed. The regulations are trying to achieve some much more efficient engines, so we need to fix the hardware first and fit all that technology into the car, and then after we will start focusing on the software and how we use them." ESPN.co.uk
Ex-Williams F1 CEO Parr joins Cosworth
Former Williams F1 CEO Adam Parr has been appointed to the board at Cosworth, it has been announced.
Parr, who left the Williams F1 team in March 2012, had been tipped to succeed Sir Frank Williams as team principal. However, he quit to spend more time with his family and 'pursue a better balance in his life'.
British newspaper, The Guardian, reports that Parr was one of three high-profile appointments made by Cosworth last week, along with Carl-Peter Forster, former chief executive of Tata Motors and Alan Donnelly a former MEP.
Cosworth ceased its involvement in F1 at the end of last year, having supplied engines to backmarkers, Marussia.