Long and winding IndyCar road leads back to Pocono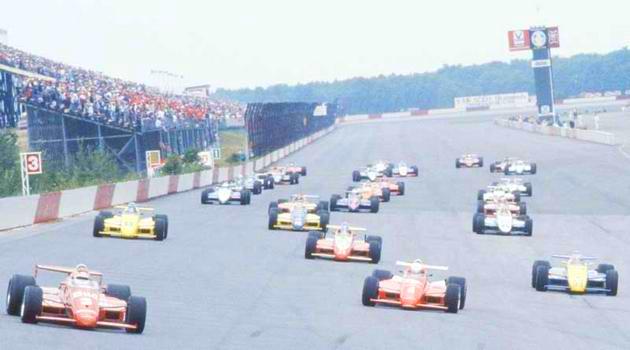 Start of the 1985 CART Pocono race
Open wheel racing, which returns to 'Indy of the East' next weekend, has endured several trials and tribulations.
"If no one's there to watch a great race, who will pass the word?"
I wrote that line at the end of a column almost 15 years ago following a weekend on which the Indy Racing League and Championship Auto Racing Teams staged competing races at Charlotte and Michigan.
The IRL guys ran under the lights and I described the race as "at once scary and exhilarating." The CART race featured 62 lead changes. Both were great shows for television, but you couldn't have gotten one decent attendance figure by combining the two crowds.
That weekend came at the height of the second contentious open-wheel-racing split in about 20 years, and even once-devoted fans had pretty much decided to tune out both groups by that time.
The chemistry within the sport is much better these days. The Izod IndyCar Series is definitely heading in the right direction.
And now comes the IndyCar Pocono 400 fueled by Sunoco to test just how the comeback is going.
For me, it's about time. But, then, I might be just a little biased.
From the first time I witnessed a 500-mile Indy-car race live — the 1966 Indianapolis 500 — I was pretty much hooked. I became a lifer when Mario Andretti won at Indy in 1969.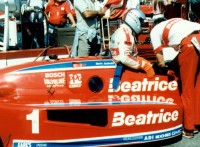 Mario Andretti climbs into his Beatrice sponsored Lola in 1985 at the Pocono 500 CART race
Mark Cipolloni/AR1.com
So, when Pocono Raceway announced a 1971 contract for a 500-mile race on the still-be-constructed 21/2 -mile track in Long Pond, I thought it was perfect.
I had watched the U.S. Auto Club champ cars run at places like Trenton and Langhorne, and the thought of a Pennsylvania race being part of a triple crown of auto racing was intriguing, to say the least. And, I was sure, Pocono couldn't fail.
Well, after all these years, Pocono is still standing — and looking grander today than it ever did. But the 40something years between that inaugural Schaefer 500 at Pocono and the IndyCar Pocono 400 fueled by Sunoco have been anything but a long, smooth ride.
I was an eyewitness to much of the good, bad and ugly that was the relationship involving Dr. Joseph Mattioli, the tenacious former Philadelphia dentist who became a sometimes charming, sometimes ruthless — but always loyal — track owner and promoter, sanctioning bodies USAC and CART and the drivers and teams that put on the shows.
The Morning Call jumped into the race with both feet. When Pocono announced a two-week schedule for the Schaefer 500 — far less than the month at Indianapolis, but far more than the two-day weekends at most tracks — the paper agreed to put me up in a home in Locust Lakes, a community near the track, to lessen my daily commute.
In exchange for all that time in a "vacation" home, all I had to do was work long and hard enough to prepare enough copy to fill a 64-page special section the paper would produce for the race.
I wouldn't have traded the job for anything.
I was there every day in the pouring rain of 1972, when tropical storm Agnes flooded the garage area and frayed the nerves of competitors and Mattioli to the point where he padlocked the gate so the participants could not enter.
When that race was finally held weeks later — as part of a weekend package with a USAC stock car race — I remember seeing Mattioli trudging through mud in the infield in an attempt to play traffic cop. Things were so bad that I finally parked my car outside the track and walked in.
I was there in 1976 when only two cars — driven by Dick Simon and Al Loquasto — qualified before the session was rained out. According to the rules, the two could have started on the front row, but they voluntarily gave up those spots because they knew they didn't belong there.
During those early years at Pocono, I became well acquainted with the USAC guys who ran the races, and in 1978, when a plane crash resulted in eight USAC officials being killed, I was offered the post of director of communications by the sanctioning body, which was located adjacent to the Indianapolis Motor Speedway.
I took the job, expecting it to be an exciting and rewarding career move. But two months after I started, Indy-car racing imploded when a bunch of disgruntled car owners who wanted more control pulled out of USAC and formed CART.
That split put all the big-money owners of the sport — Roger Penske, Pat Patrick, Jim Hall, etc. — on one side and left USAC with what amounted to the crumbs. Except for one big piece: A.J. Foyt.
Foyt, the four-time Indianapolis 500 winner and a don't-tell-me-what-to-do kind of guy, stayed with USAC because he was not about to burn any bridges with the Indianapolis Motor Speedway people.
He and Mattioli, who also wasn't going to be bullied by the car owners, took on the money guys. Once a judge in Indianapolis ruled that USAC could not keep the big-name drivers out of the 1979 Indianapolis 500, it became pretty obvious that this was a war USAC had virtually no chance of winning.
And there I was, on what the great majority of my former racing-writer colleagues thought was the wrong side. I believed then, and still believe today, that a sanctioning body with representation for all phases of the sport was the way to go.
The 1979 Music 500 at Pocono was a tough one for me. Without the CART guys, only 25 cars started. Foyt won — and no one ever thought he wouldn't win.
I was there, too, in 1980, when the USAC and CART factions agreed to attempt a truce under the banner of the Championship Racing League. It would have allowed everyone to run together again, and the CART guys cleaned up at Pocono. Less than a month later, with the Indianapolis Motor Speedway people being unhappy with the CRL alliance, USAC pulled out. And a couple of months after that, I was offered the position of Morning Call sports editor, which I accepted.
I watched with great sorrow the 1981 Van Scoy Diamond Mines 500 at Pocono, which was boycotted by CART and which had a field of just 25 cars, eight of which were the front-engine Silver Crown roadsters that ran regularly on USAC dirt tracks. The best thing about that race was that it was shortened by rain.
CART ran eight more races — five of which it sanctioned itself, and three of which reportedly cost Mattioli somewhere around $4 million; and after the 1989 event, CART dropped Pocono because Doc would not capitulate on track improvements or Mattioli opted out of any more events for financial reasons — it depends on which story you want to believe.
When Doc Mattioli died in January of 2012, the possibility of a return of IndyCar to Pocono became very real again, and Brandon and Nick Igdalski at Pocono, grandsons of Doc Mattioli, made it happen.
Is the Northeast ready to embrace the open-wheel guys again? Can the fact that young American drivers with names like Andretti (Marco) and Rahal (Graham) and Hulman (through grandson Ed Carpenter) are racing along with countrymen like Ryan Hunter-Reay going to be enough to bring about a resurrection?
Anyone who took the time to watch the Indianapolis 500 this year had to be impressed by the way these guys can get it on. And from the looks of a couple of tests recently at Pocono, it seems the newly paved surface and the track's same old configuration might be perfect for the Indy cars of the 21st century.
Mario Andretti thinks so.
"Everybody was getting into it," Andretti said of a test on Tuesday, in which there were times when groups of cars were on the field jockeying with one another in racing style.
"Everybody seems to have positive things to say about it. They will be able to race like Indy, no question about that. The track was getting good as the day went on. As far as the quality of the race, it will be like no other there. The parity of the field — you have legitimately a dozen potential winners. It should be great."
I think so, too.
But, will the public give it a chance? Stay tuned. Mcall.com