Lotus IndyCar team colors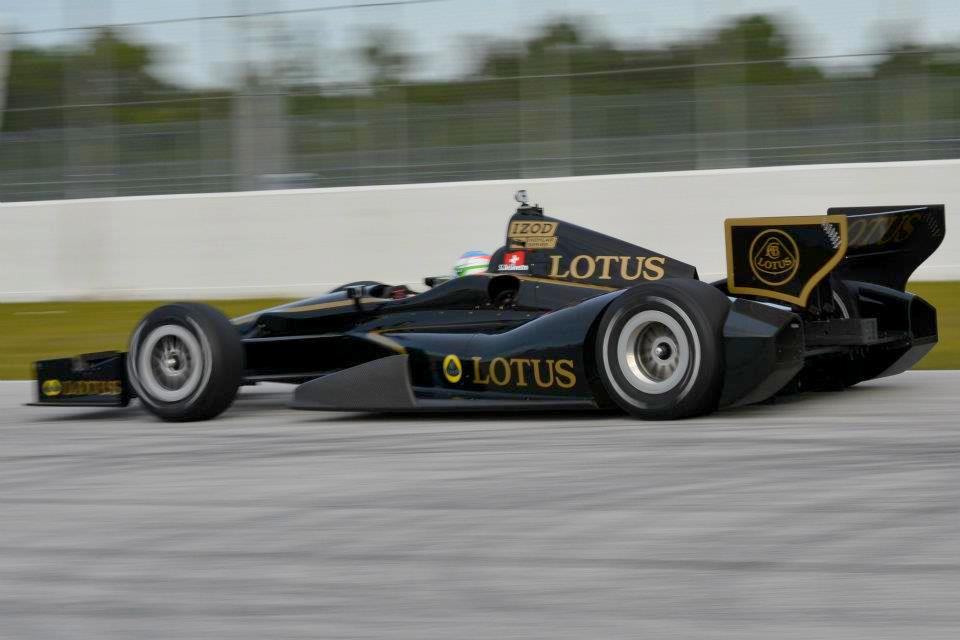 HVM Lotus running traditional Black and Gold livery
Enthusiasts interested in the storied brand founded by Colin Chapman in 1952 have faced challenges following the brand's thread over the past couple of decades, particularly when it comes to motorsports.
Consider this past year in IndyCar. Lotus was a sponsor of KV Racing Technology's IndyCars driven by Takuma Sato, E.J. Viso, and former champion Tony Kanaan—with the three cars painted up in the traditional green and yellow Lotus livery. But the cars, of course, were powered by Honda engines, the only powerplant available to teams. The engines in Lotus street cars are, as you probably know, Toyota units. What did Lotus contribute? It seems mostly money.
Things change—sort of—for 2012, with IndyCar requiring all-new cars and new engines starting with the season opener in St. Petersburg, Florida. Honda still will be an engine supplier, but it will be joined by Chevrolet and, in a fashion, Lotus. For the latter engines, John Judd and his Engine Developments company is doing most of the heavy lifting, with help from the Malaysian-owned Lotus.
While most of the big names in IndyCar are going with Honda or Chevrolet, Lotus has managed to land Bryan Herta Autosport—essentially the team that won the 2011 Indianapolis 500 with the late Dan Wheldon—as well as Dreyer & Reinbold Racing, and HVM Racing. Another team has joined the Lotus IndyCar camp in a big way: The automaker has announced a full factory partnership with the Dragon Racing IndyCar team. That means it will be an official Lotus team, and its cars will run the iconic black and gold livery also in current use by Lotus's Formula 1 program.
The team has been around for a while, but has never been fully funded or competitive despite the fact that it is owned by Jay Penske, chairman and CEO of the Penske Media Corporation and son of Roger Penske. Dragon debuted in 2007, and it took Champ Car Atlantic Series champion Raphael Matos to IndyCar rookie of the year honors in 2009.
Lotus Dragon's 2012 driver lineup is an interesting one: four-time Champ Car Series champion (for the now-defunct Newman/Haas Racing team) and former F1 racer Sébastien Bourdais, and Brit Katherine Legge, who did reasonably well in Champ Car before it was absorbed into IndyCar, at which time she returned to race in Europe.
Said Claudio Berro, Group Lotus director of motorsport: "Last year was Lotus's first foray into this prestigious open-wheel series since Jim Clark won the Indy 500 back in 1965. We have a tremendous legacy in this sport, and are determined to become winners again. The American market is one of the most important to Lotus in terms of road-car sales, hence our aggressive marketing strategies through U.S. auto racing. We believe Lotus Dragon Racing and our other partner teams will give us the best opportunity to achieve our ambitious goals." Berro went on to say "On January 1, we opened a Lotus facility in Indianapolis which will be our U.S. engineering and logistics hub, so it's all go. We've still got a lot of work to do before the start of the season, but I couldn't be happier with the progress we're making."
If nothing else, this whole arrangement will make one thing more simple: Lotus colors will mean Lotus engines, right? Well, not so fast. "Lotus Racing" has now become the new umbrella name for Group Lotus's racing division. Says the company: "All of our official works teams will now race in the evocative black and gold livery. These include the Lotus F1 Team, GP2 and GP3 Team Lotus GP (formerly ART), and Lotus Dragon Racing." Only Lotus Dragon will use Lotus engines—the F1 and GP2/GP3 cars use Renault power.
There also are many more official Lotus color schemes. "Partner" teams such as the Lotus-engined IndyCar teams of Herta Autosport and Dreyer & Reinbold Racing "will also run in black and gold, with Lotus HVM Racing running in predominantly green, yellow and white. Customer teams have the option of running other classic Lotus liveries, such as Lotus Sport UK's 'Gold Leaf' red, white, and gold, which was raced to victory in the British GT Championship last year."
Glad we could clear things up. Car and Driver