Mears remembers that bright yellow Pennzoil car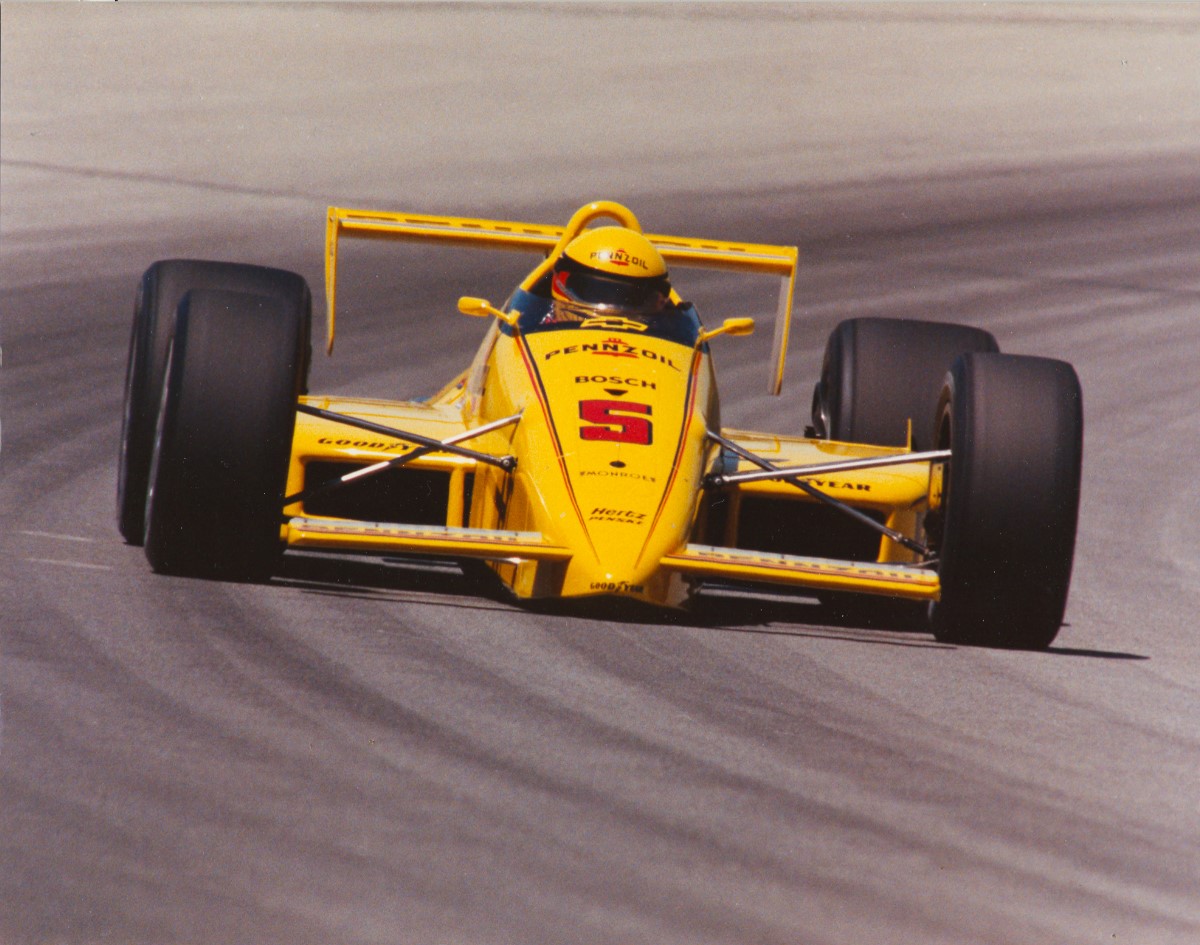 Mears in the Pennzoil car in 1988 (Top) and Castroneves (bottom)will drive the Pennzoil car, but it will not be all yellow this time
Rick Mears smiles broadly as he recalls two race cars that helped make him famous. They were both beautiful – the March chassis from 1984 and the Penske chassis from 1988 – and both won the Indianapolis 500. But what Mears remembers most vividly about those cars is what almost everyone else recalls first.
The color.
"That was the great thing – and the most troublesome thing – about those cars," Mears says. "Nobody missed you in that bright yellow car, but that was also the problem. Nobody missed you. It was a gorgeous color and two gorgeous race cars, but if I made a mistake in that color, everybody noticed it."
There's more behind Mears' smile than memories of two of his four Indy 500 winners. He's also thrilled that the Pennzoil brand is returning to IndyCar racing and Team Penske. Shell-Pennzoil announced last week that it would sponsor Helio Castroneves car for the 2011 Indy 500. Castroneves has won the race three times.
Mears is not only rooting for Castroneves to break the record of four shared with A.J. Foyt and Al Unser, he's helping him; Mears is a consultant for Team Penske, serving as a driver coach.
"I joked with Helio when we saw the new car that if he had the setup I had when I drove the Pennzoil cars, he'd easily win his fourth and fifth," Mears said. "He liked that idea."
The new paint scheme isn't nearly as loud as Mears' banana-yellow cars of '84 and '88, but it is just as striking. Incorporating silver, red and black with the Pennzoil yellow, Castroneves' entry will make its run at tying the all-time record when practice for the 100th anniversary Indy 500 begins May 13. All four of Mears' Indy 500 victories – 1979, 1984, 1988 and 1991 – came with Roger Penske's race team. In '84, he won by more than two laps. In '88, he came from a lap down to win. Penske has won the race a record 15 times as a team owner, and he brings an iconic brand back for his attempt at No. 16.
"Roger loves putting a deal together," says Mears, who also coaches drivers in the Firestone Indy Lights Series. "Just watching him for all these years, I've come to realize that he's a straight shooter. A deal is only a good deal for Roger when it's a good deal for both parties. He understands that, and that's one of the reasons he's had the opportunities. Roger's always understood that if it's not good for both parties, it's not going to work for either one."
This deal appears to be working our perfectly for both. Castroneves gets a shot at Indy history, Pennzoil gets back in the drivers' seat, and Mears gets to recall two bright moments in his historic career. "Pennzoil coming back is just great," Mears says. "I drove for them for seven or eight years. It's a great company to work with, a great partner for racing. They always helped us put together good cars, and this one will be good, too. And it's gorgeous." Mears pauses and smiles again. "But it's bright," he says. "I reminded Helio of that. If you make a mistake, everybody will see it." And if you win?
The world will know it. Indy Motor Speedway Interview