Matos beats Bomarito in Long Beach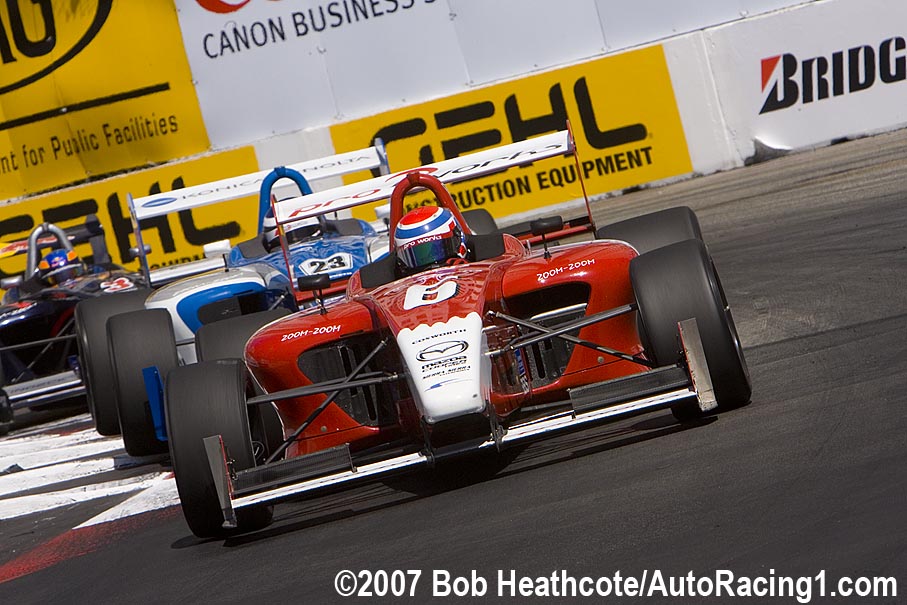 It wasn't exactly an easy day at the beach, but it was a fun Sunday drive for Raphael Matos (#6 ProWorks) in the second round of the Cooper Tires Presents The Champ Car Atlantic Championship Powered by Mazda.
The 25-year-old Brazilian racer fought off a strong early challenge in the Imperial Capital Bank Atlantic Challenge at the Toyota Grand Prix of Long Beach (tape-delayed broadcast on ESPN2 at 5:30 p.m. ET on Thursday, April 19) and he held his competition at bay to secure his second straight win to open the 2007 season. The flag-to-flag victory represented his third career Atlantic win and, more importantly, it gives him a 65-point total in the series standings. He now leads his closest pursuer by 11 points in the early race for the championship and the $2 million bonus to compete in the Champ Car World Series in 2008.
The 50-minute race on the 1.968-mile classic Long Beach street circuit didn't start as smoothly as it finished. The car of J.R. Hildebrand (#36 Newman Wachs Racing) ran into trouble on the warm-up lap as the first attempt at a 30-car standing start was aborted. After Hildebrand's car was cleared off the track the rest of the Mazda-Cosworth/Swift/Cooper machines roared off the line from a standing start.
As the cars approached Turn 1, Condor Motorsports' Franck Perera (#11 CJ Motorsport) made a daring move to try and capture the lead of the race. Perera, starting second, tried to sneak by Matos as both drivers drifted toward the wall. After Perera edged his nose past Matos, the native of Belo Horizonte, Brazil was able to recover and push back in front to shut the door. The move cost Perera positions as he slipped back to fifth place after the first lap.
The challenge seemed to strengthen Matos' resolve as he remained focused at the front of the field. The early action also opened the door for Jonathan Bomarito (#23 Miracle Sealants/Konica Minolta/Dynacor) who moved into second from his third-place starting position on the opening lap.
The biggest mover at the outset, however, was Robert Wickens (#3 Red Bull/INDECK) of Red Bull Team Forsythe. Sensing an opening during the standing start, the 18-year-old Canadian zoomed from seventh into third place in the first few corners as he made the most of a slim opportunity.
After a sloppy season opener one week earlier on the streets of Las Vegas that saw only five of 22 laps run under green-flag conditions, the young and aggressive Atlantic field enjoyed a much cleaner race on Sunday. The event included three yellow-flag caution periods for 10 laps, but the rookie-dominated lineup staged some strong racing while keeping it clean.
Matos was able to turn back each challenge from Bomarito on all three green-flag re-starts as he produced a 1.517-second victory. The second-year series racer also claimed the fastest lap of the race, turning a top time of 1:16.554 (92.546 mph) on the 22nd of 31 laps on the streets of Long Beach. The point earned for the fastest lap gave Matos 34 points earned on the weekend, the maximum haul available.
Bomarito held second place from the opening lap until the checkered flag, scoring his second straight podium to start the season and his third straight dating back to last season for PR1 Motorsports. Wickens had a tough battle with his Red Bull Team Forsythe stablemate, John Edwards (#7 Red Bull/INDECK), and Perera for third place. But Wickens held on to claim his second straight podium to start his Atlantic career.
Edwards claimed fourth for his top series finish while Perera equaled his output from the first round of racing with a fifth-place result.
Conquest Racing rookie Giacomo Ricci (#18 Banca Italease/Lotto/Global) of Italy also posted his best Atlantic result as he crossed the finish line sixth in his second series event. James Hinchcliffe (#9 NOCO/ProWorks) of Canada was seventh for the Sierra Sierra team, while Ronnie Bremer (#12 The RoomStore of Phoenix/Sealy/PRG) of Polestar Racing Group finished eighth for the second consecutive race.
Mukilteo, Washington driver Carl Skerlong (#24 King Taco/USRT) of US RaceTronics rallied from a 13th-place starting position to grab ninth place while Arleta, California native Justin Sofio (#26 Bare Elegance/Valley Ball/RLM Investments) celebrated his 28th birthday on Sunday with a season-best 10th place result for Mathiasen Motorsports.
The Atlantics complete their third straight race to start the season next week as they travel to Houston, Texas to compete in the Fast Trac 100 at the Grand Prix of Houston. To learn more about North America's top open-wheel development series and to follow all of the action from Houston, log on to http://www.champcaratlantic.com
ATLANTIC RACE NOTES
• Matos has now six podium finishes in his 14 career Atlantic starts
• Sofio's Mathiasen Motorsports entry won the first Sherwin-Williams Atlantic It's All in the Finish design award of the season. Representatives of Sherwin-Williams, the Official Automotive Finish of Atlantics, along with select Long Beach race fans, judged Sofio's car to have the best finish design this weekend. The team was awarded $7,000 for the honor.
• Despite a field that featured 21 rookies, Atlantic veterans owned the top two finishing positions in today's race and four of the top eight spots overall.
• After a strong qualifying performance that saw him claim fourth on the starting grid, Alan Sciuto (#20 The RoomStore of Phoenix) of nearby Orange, California saw his race end early as he suffered contact on the opening lap and was forced to retire early.
• Today's race was completed in 46:29.978 – a new series record for a 31-lap race at Long Beach
Quotes from the top three drivers in today's race follow:
Raphael Matos (#6 ProWorks) of Sierra Sierra Enterprises
"It was definitely a perfect weekend for us. I got a little bit too much wheel spin on the start and Perera was able to go side by side and he just pushed me to the wall. I was able to maintain the first position when I passed him back in Turn 1. Once I passed him, I was able to pull a gap and it was just a matter of getting clear restarts. I think myself and Jonathan (Bomarito) had very similar speeds. I believe that I was a little bit stronger in the end, I had a bigger gap. I was trying to time myself. Everything worked great for us, it was a perfect weekend and what else can I say. I just want to thank everyone on the team. We will try to keep working hard, develop the car, making it better and try to get more wins and more points. As I said before we are definitely using a different approach than the start of last year. We're just trying to score points. Like in Vegas the race came to us, the win came to us and we were able to score the first win of the season. I knew since the first session here that we had a strong car. We kept improving the car through the weekend. The race was the same, I was just trying to pace myself, not make any mistakes and finish the race."
Jonathan Bomarito (#23 Miracle Sealants/Konica Minolta/Dynacor) of PR1 Motorsports
"Before we got in the car today, I told the guys that Long Beach owed us one from last year. It's great to be back up here. We just need a little bit more. Me and Rafa were just pacing each other back and forth. He just kept gapping me by about half a tenth. We needed just a little bit of that extra something today. I'm incredibly happy with the guys today. The car performed really well. We had a bunch of Miracle Sealants fans down in Turn 9. It was great to get back up on the podium. (About catching Matos on the restart) The first restart he kind of caught me off guard, the second restart definitely timed it really well. That famous Long Beach hairpin is that great equalizer. It's really hard to get a good punch off the hairpin to stay close enough. I had a bit of a draft once we got closer on the straightaway, but just wasn't close enough. That was really my only shot to be able to pass Rafa as we were very close during the race. (About a good start to the season) I think we're really strong. The team is dong a good job. I'm very happy with the car. We're able to make an advance on the engineering side of things and with these cars and tracks we go to, that is going to be key for us. We still have 10 races to go and Rafa is getting out there a little bit but it's going to be a long year."
Robert Wickens (#3 Red Bull/INDECK) of Red Bull Team Forsythe
"I knew that I needed to be aggressive starting seventh. I figured this track is very hard to pass at so why not take advantage when everyone is bunched up. I was able to come out of the second corner in third spot and I was able to just defend my position. It was pretty consistent. If I made a little bit of a mistake, John (Edwards) would catch me and I basically had the same pace the whole time. It was very good knowing I had a teammate behind me, so I knew he wouldn't try anything crazy and I could just focus and try to catch the leaders. (About being second in the Championship) It was where I was hoping to be. It's a dream come true. Just to be leading in Vegas in my first race and to reach the podium and to come back starting seventh making my way up to third here it's just unbelievable. I hope that we can keep the momentum going. I already have a second and third so there's just one more to place to get to on the podium."
Results from Sunday's Grand Prix of Long Beach with starting position in parentheses, driver, type of car, laps completed and reason out, if any:
1. (1) Raphael Matos, Mazda-Cosworth/Swift/Cooper, 31.
2. (3) Jonathan Bomarito, Mazda-Cosworth/Swift/Cooper, 31.
3. (7) Robert Wickens, Mazda-Cosworth/Swift/Cooper, 31.
4. (5) John Edwards, Mazda-Cosworth/Swift/Cooper, 31.
5. (2) Franck Perera, Mazda-Cosworth/Swift/Cooper, 31.
6. (6) Giacoomo Ricci, Mazda-Cosworth/Swift/Cooper, 31.
7. (10) James Hinchcliffe, Mazda-Cosworth/Swift/Cooper, 31.
8. (8) Ronnie Bremer, Mazda-Cosworth/Swift/Cooper, 31.
9. (13) Carl Skerlong, Mazda-Cosworth/Swift/Cooper, 31.
10. (15) Justin Sofio, Mazda-Cosworth/Swift/Cooper, 31.
11. (12) Matt Lee, Mazda-Cosworth/Swift/Cooper, 31.
12. (14) Adrian Carrio, Mazda-Cosworth/Swift/Cooper, 31.
13. (9) Junior Strous, Mazda-Cosworth/Swift/Cooper, 31.
14. (16) Tom Sutherland, Mazda-Cosworth/Swift/Cooper, 31.
15. (20) Adrien Herberts, Mazda-Cosworth/Swift/Cooper, 31.
16. (21) Joe D'Agostino, Mazda-Cosworth/Swift/Cooper, 31.
17. (24) Brian Thienes, Mazda-Cosworth/Swift/Cooper, 31.
18. (22) Mike Forest, Mazda-Cosworth/Swift/Cooper, 31.
19. (25) Frankie Muniz, Mazda-Cosworth/Swift/Cooper, 31.
20. (23) Luis Mussi, Mazda-Cosworth/Swift/Cooper, 31.
21. (30) Bret MacDonald, Mazda-Cosworth/Swift/Cooper, 31.
22. (26) Dominick Muermans, Mazda-Cosworth/Swift/Cooper, 29.
23. (27) Tengyi Jiang, Mazda-Cosworth/Swift/Cooper, 28.
24. (18) David Garza, Mazda-Cosworth/Swift/Cooper, 27.
25. (17) Ryan Lewis, Mazda-Cosworth/Swift/Cooper, 23, contact.
26. (28) Richard Heistand, Mazda-Cosworth/Swift/Cooper, 17, contact.
27. (29) Dan Selznick, Mazda-Cosworth/Swift/Cooper, 12, contact.
28. (19) Simona De Silvestro, Mazda-Cosworth/Swift/Cooper, 3, contact.
29. (4) Alan Sciuto, Mazda-Cosworth/Swift/Cooper, 0, contact.
30. (11) J.R. Hildebrand, Mazda-Cosworth/Swift/Cooper, 0, mechanical.