Rudd and Petty celebrate 50th Bristol sellout
UPDATE
For 25 years a Bristol race ticket has been one of the toughest tickets in sports, and this weekend's race is no different. All 160,000 seats for Sunday's Food City 500 are long gone, marking the 50th consecutive sellout for Bristol Motor Speedway. Bristol's second Nextel Cup race, the Aug. 25 Sharpie 500, also is sold out….the 51st straight.
"It all goes back to the loyalty fans feel toward Bristol and the fact that they love the experience," track president and general manager Jeff Byrd said.
"The short-track action, the high banks, the ability to see everything that's happening on the track … it's very unique and fans appreciate it."
The track's first sellout was in 1982 when the track seated about 35,000. Bruton Smith bought the track and in 1996 expanded capacity to 71,000. It continued to sell out.
In 1997 Smith added 47,000 more seats and the sellout of 118,000 relegated UT football to No. 2 in the terms of crowd size.
Smith wasn't finished.
He expanded seating to 135,000, then on up to 160,000 in 2003. And still the demand for tickets can't be met.
"Fifty consecutive sellouts is a pretty significant accomplishment," Byrd said. "I don't know of any other track that can come close to that."
Approximately 130,000 will attend Saturday's Busch Series race. The Tennessean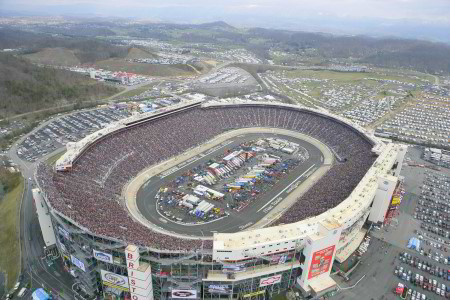 03/19/07 When Bristol Motor Speedway's streak of 50 consecutive Nextel Cup sellouts started in August of 1982 only two drivers were in the field that evening who will compete in the upcoming Food City 500 on March 25. Back in the summer of '82, Ricky Rudd was a 25-year-old searching for his first Cup victory while driving for Richard Childress. The 22-year-old Petty was also looking for his first win and was piloting the STP Pontiac for Petty Enterprises. The race, which drew a crowd of 30,000, was won by Darrell Waltrip while Rudd went on to finish seventh and Petty came home in the 30th position. Twenty-five years later, Petty is amazed when told that Bristol Motor Speedway has reached such a remarkable milestone.
"Wow, 50 straight sellouts," he said. "With all that has changed since 1982, the fact that this place continues to pack the fans in is a testament to the racing that goes on there. We've gone through different makes and models of cars and even a new surface, but the thing that remains the same is that people love the excitement of short-track racing. That is what has made Bristol, arguably, the most famous short-track in the world. It's almost like the Roman Coliseum with all of those seats that seem like they keep rising every time we go back. You know, to me, if we are going to expand into newer markets and build new tracks, build another Bristol." Of the previous 49 sellouts on the World's Fastest Half-Mile, Petty was in the field for 43 of them. Rudd, on the other hand, raced in 47 straight events at BMS during the streak from August of 1982 through August of 2005. The streak ended after he retired prior to the 2006 season but with his return to action this year he'll be back for the Food City 500.