Colin Braun wins pole for Sahlen's Six Hours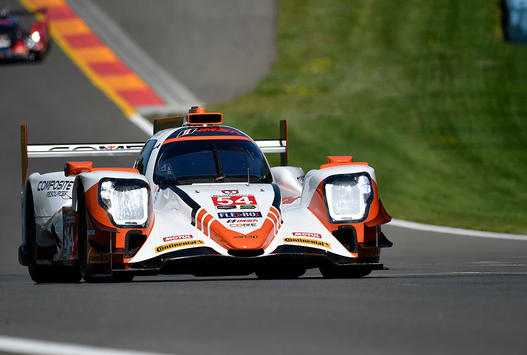 Colin Braun
CORE autosport will start from the pole position for the Sahlen's Six Hours of the Glen. It is the team's first pole position in the Prototype category and first IMSA WeatherTech SportsCar Championship pole since 2016.
Driving the No. 54 Composite Resources / Flex-Box ORECA 07 P2, Colin Braun went head-to-head with Paul Di Resta for the Watkins Glen Motul Pole Award. On his second to last lap he bested Di Resta's time by 0.006-second. Di-Resta was unable to answer and when the checkered flag dropped it was Braun at the top with a 1:32.350 (132.539 mph). The time is also a new lap record at the 3.4-mile road course in upstate New York.
See AutoRacing1.com Photos from Watkins Glen
Braun will share the car with Jon Bennett and Romain Dumas in Sunday's six-hour race. Weather conditions will play a role as temperatures are predicted to exceed 100 degrees.
Braun, who scored his first series pole in two years, will share driving duties in tomorrow's third round of the Tequila Patron North American Endurance Cup with Romain Dumas and team owner Jon Bennett.
"I'm excited to be on the pole. It's a testament to the work the guys have been doing back at the shop and in testing" said Braun.
"We were able to test here with a bunch of other teams in May. We haven't been able to test at many other tracks besides Daytona and Sebring and those are the two tracks we've had good results at. For us, testing helps us about build our notebook, learn what the cars need, how to drive it and work on it. The fact that we were able to test helped us catch up to the teams that have been racing Prototypes here for years.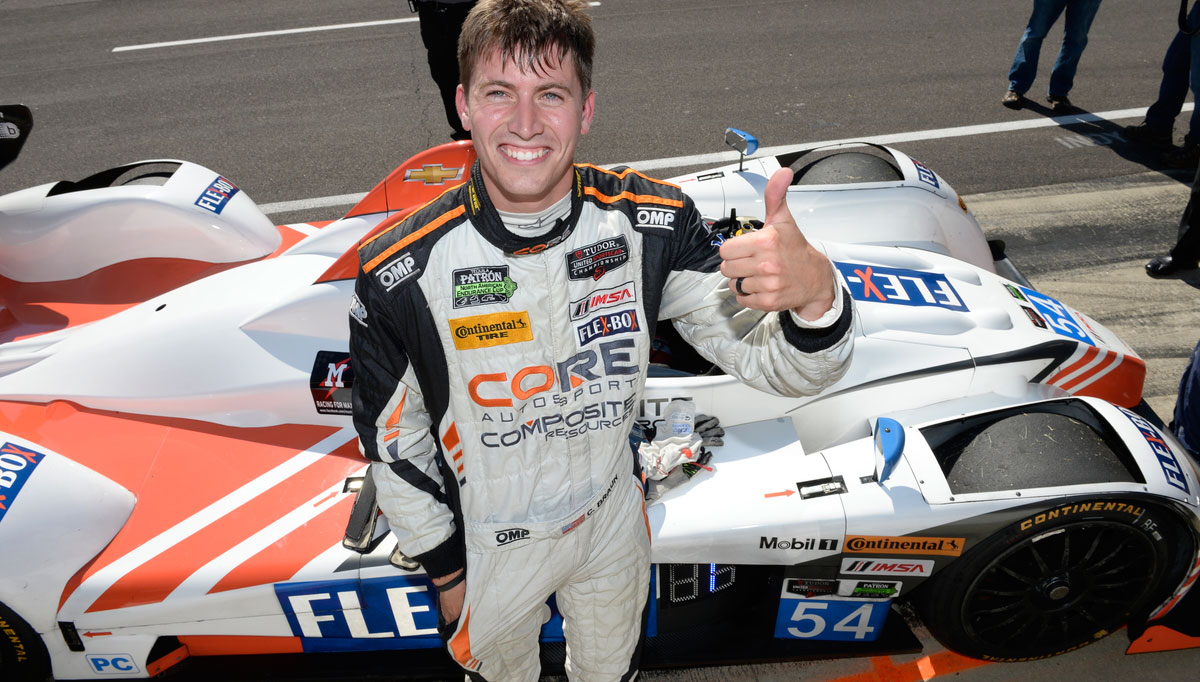 A happy Colin Braun
"Yesterday, with Romain not being here in 10 years, we gave him a lot of laps to get up to speed. This morning, Jon and I split the session and Jon has really good pace. We worked really hard on our race setup. We didn't do any qualifying simulations, which I think a lot of guys did in the last practice session. We were working on our lap averages and things like that. I feel good about our race car."
DTM star Di Resta will start second, ahead of the Ricky Taylor-driven No. 7 Team Penske Acura ARX-05 and the sister No. 6 Acura DPi that was qualified by Dane Cameron in third and fourth.
The No. 85 JDC-Miller Motorsports Oreca of Simon Trummer completed the top-five.
Pipo Derani, who set the sixth quickest time, grounded to a halt on track with less than four minutes remaining, although the Brazilian managed to retain the position.
Cadillac DPi-V.Rs struggled in the 15-minute session, with the No. 10 Wayne Taylor Racing entry of Renger van der Zande the quickest in 8th.
Championship leaders Action Express Racing, meanwhile, will start 11th and 14th overall and in the Prototype class.
The No. 77 Mazda RT24-P, which suffered an airborne accident in final practice, did not set a lap but is expected to be repaired in time for tomorrow's race.
The Sahlen's Six Hours of The Glen gets underway Sunday at 9:45 a.m. EDT.
Ford 1-2 in GT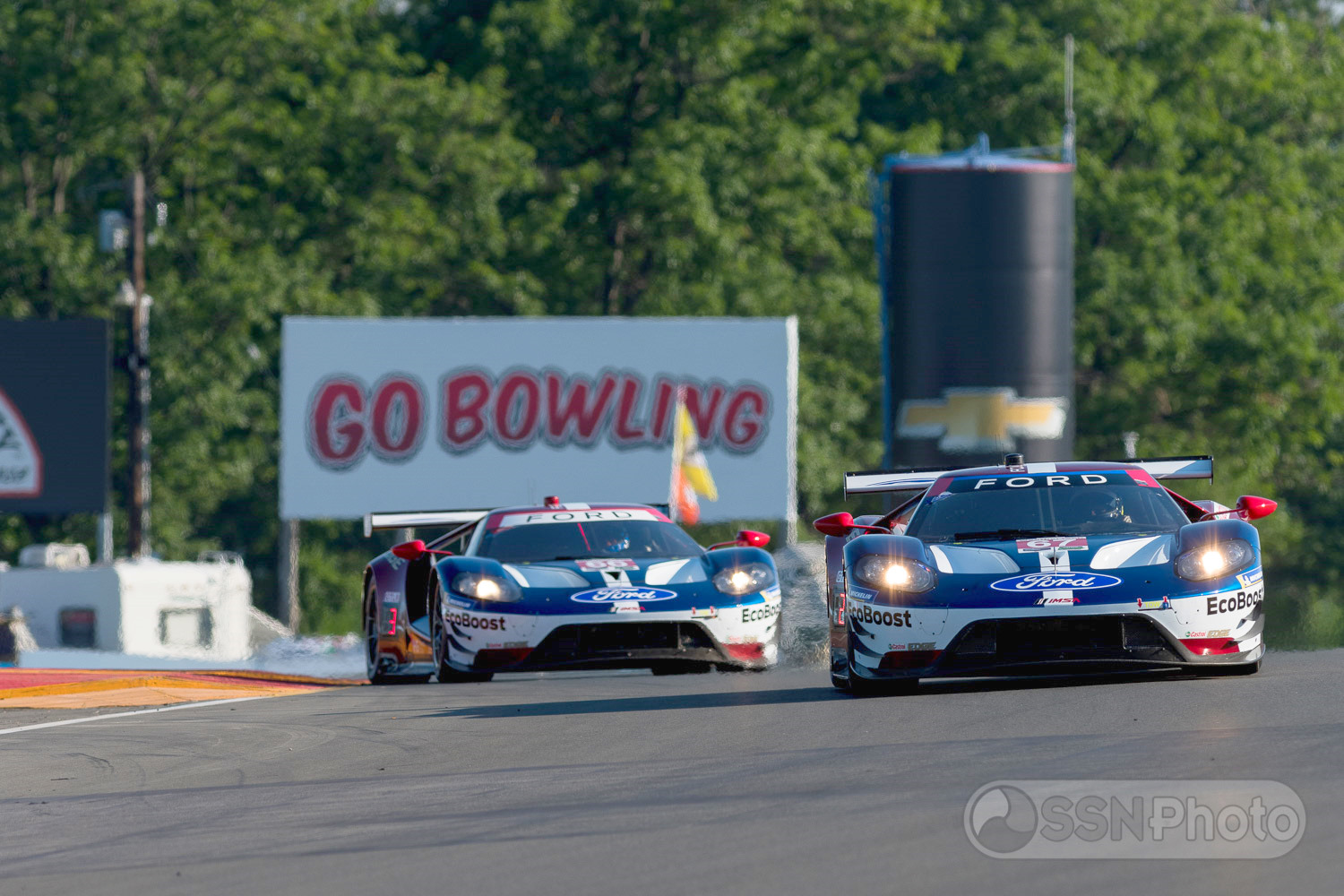 Ganassi's Ford GTs
Adriano Manocchia/AR1
Richard Westbrook and Joey Hand qualified p1-2 on Saturday to set an all-Ford front row for the Sahlen's Six Hours of the Glen.
It was Westbrook's second pole at Watkins Glen International in three years. He clocked a 1:42.397 qualifying time in the No. 67 Ford GT Saturday.
The Ford GT has qualified on pole at the historic New York track every year since its debut two years ago, with the No. 66 starting p1 in 2017.
"That was a pretty good fight with my teammate (Joey Hand)," Westbrook said. "We've had a little bit of an advantage over our teammates in practice, but I knew it was going to be close. I got the most out of it today. This is a special place for me. It was one of the first races I did when I came to America, and I just fell in love with it. I had a terrible result that weekend, but it's just one of those addictive places like the Nürburgring, as soon as you go away after the weekend you can't get it out of your head, and you just want to come back for more. That was the same way I felt in qualifying. I didn't want to see the checkered flag. I just wanted to go on for hours."
It was the No. 67's first pole of the 2018 season and sixth overall. Westbrook and co-driver Ryan Briscoe enter the race with the IMSA WeatherTech SportsCar GTLM championship points lead they've held since winning the first race of the year in Daytona.
It was also Ford partner Roush-Yates's 300th milestone pole, combining awards won in IMSA, FIA WEC and NASCAR.
RESULTS: Qualifying