BMW claims one-two in Sebring GT class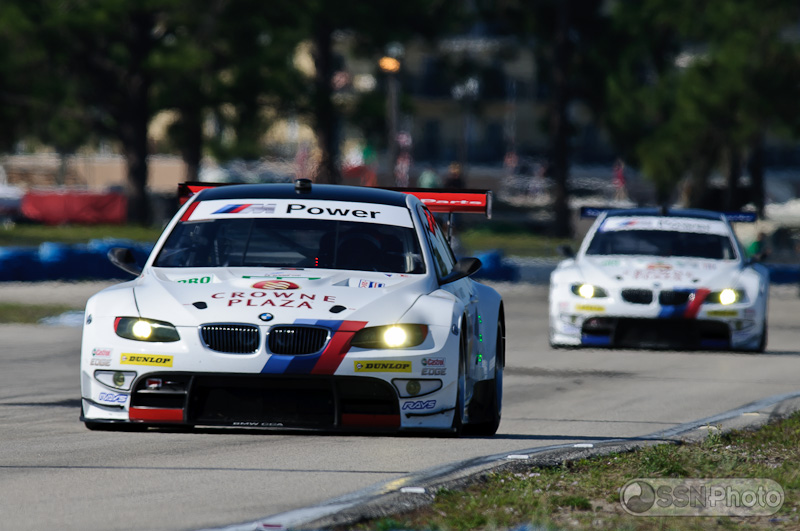 BMW finished 1-2 on Saturday
Perfect start to the season for BMW Team RLL in the American Le Mans Series (ALMS): The no. 56 BMW M3 GT, driven by Dirk Müller (DE), Joey Hand (US) and Andy Priaulx (GB) claimed GT victory in the 12-hour race in Sebring (US) after 312 laps. Dirk Werner (DE), Bill Auberlen (US) and Augusto Farfus (BR) came second with the no. 55 BMW M3 GT, making it a clean sweep for BMW Motorsport in this classic endurance race.
With this strong result, the BMW drivers scored valuable points for two championships. The race at the .Sebring International Raceway. not only counts towards the American Le Mans Series, but also the 2011 Intercontinental Le Mans Cup.
For BMW Team RLL, last season's ALMS 2010 GT Team and Manufacturer champions, this is their third ALMS win after scoring back-to-back victories in Road America (US) in 2009 and 2010. Now the Bobby Rahal (US) led squad celebrated its maiden triumph in Sebring. The latest class win for the BMW M3 at this event dates back to 1998, when Boris Said (US) and Bill Auberlen won the GT-3 category. In the following year, BMW Motorsport secured the overall win with the BMW V12 LMR.
Over the entire 2011 race at the 3.7-mile circuit, the two BMW M3 GT cars were involved in thrilling fights with the opposition. The lead changed countless times, and the field was brought together again and again during nine full-course yellows.
Ultimately the BMW Team RLL combination of a perfectly reliable car, strong drivers, good strategy, excellent Dunlop tires and flawless pit stops proved to be invincible. The two newly constructed BMW M3 GT racing cars completed the marathon in Florida without technical problems, passing their first major test with flying colors. BMW Team RLL will try to build on this success in the second round of the American Le Mans Series which will be staged at Long Beach (US) on 16th April 2011. In the Intercontinental Le Mans Cup BMW Team Schnitzer will be in action for the first time this year at the 1,000-kilometre race in Spa-Francorchamps (BE) on 7th May 2011.
Mario Theissen (BMW Motorsport Director): .his was a perfect start for us in the 2011 ALMS season. We won in a very hard-fought race against very strong competitors and celebrated a fantastic one-two with our BMW M3 GT cars. A big compliment not only goes to our drivers but also to the development team in Munich and BMW Team RLL. Everyone did a great job here in Sebring, from the first to the last pit stop..
A happy Bobby Rahal at Sebring
Adriano Manocchia/AR1.com
Bobby Rahal (Team Principal): I have won this race as a driver and now also as a team owner. This certainly is a great honor. The drivers and the team worked exceptionally well, the Dunlop tires were excellent and the cars really didn't miss a beat.. This is a great start to our season..
Dirk Müller (Car number 56): I'm incredibly happy now. It's never easy to win a 12- hour race, but today it was extra tough. Over the entire race we were among the front-runners and believed in our chance. This victory is the perfect for reward for all the hard work which was put in by BMW Motorsport and BMW Team RLL over the winter..
Joey Hand (Car number 56): I came to Sebring with a really good feeling that we could win this . and now it really worked out. The victory belongs to everyone in BMW Team RLL. In the off-season the guys built two brand-new BMW M3 GT cars that worked well from the word go. I also want to say thank you to Dunlop. The tires played an important part today and we had this advantage on our side..
Andy Priaulx (Car number 56): .What a great result. The team did a flawless job and didn't make a single mistake over the 12 hours. Following our bad luck in the first stint, we managed to work our way up front. Our team-mates would have also deserved victory. But I think that we can all be very happy with this one-two..
Dirk Werner (Car number 55): This really was a great race. I'm satisfied with second place and this fantastic overall result. The points we were able to score today, will be very valuable over the course of the ALMS season. Ahead of this race we were really confident to be competitive, but this one-two comes as a nice surprise to all of us..
Bill Auberlen (Car number 55): For the team and BMW Motorsport this certainly is a dream result. As a driver you always want to make it to the top step of the podium, but overall I only take positive impressions away from this race. The next ALMS event will in my backyard Long Beach. We now know exactly how strong we are, and I will again push hard there..
Augusto Farfus (Car number 55): Racing here in Sebring was a great experience. The BMW M3 GT showed a strong pace, which makes me very optimistic for the coming races in Europe. We suffered a dose of bad luck on several occasions during the race. Nevertheless I really enjoyed every stint. I did one of my first tests with the BMW M3 here in Sebring. To come back and make it on the podium is fantastic.