IndyCar announces 2 doubleheaders, adds 3rd IMS race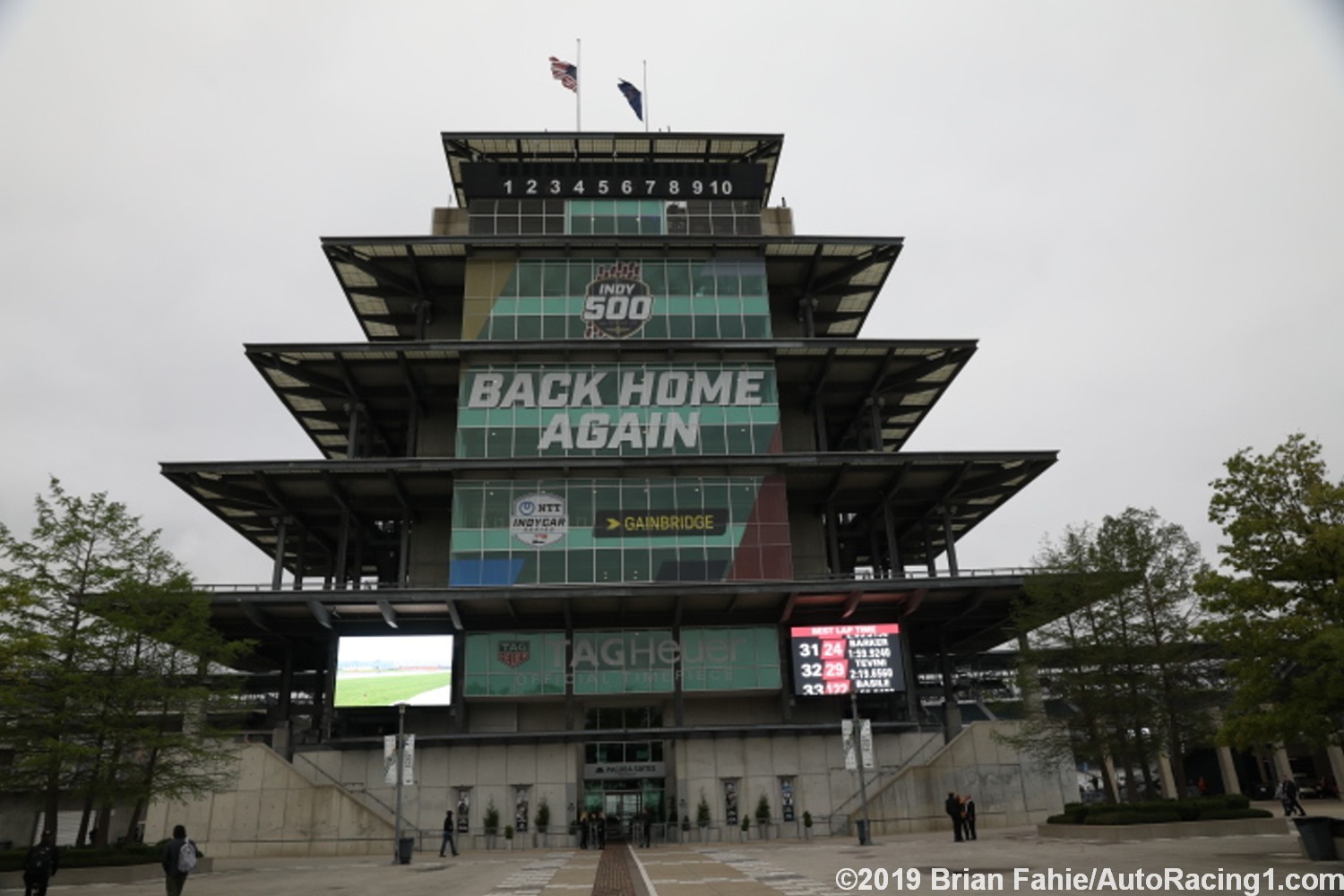 IMS will host three IndyCar races in 2020
The NTT INDYCAR SERIES announced several calendar updates today following the cancellation of the Detroit Grand Prix due to the COVID-19 pandemic. Two previously scheduled events will become doubleheaders along with the addition of a third weekend of racing at the famed Indianapolis Motor Speedway.
With these additions, there are 15 races on the 2020 INDYCAR calendar, an increase of one event from the 14 races announced on March 26.
"We're committed to bringing fans as much on-track action as possible," Penske Entertainment Corp. President and CEO Mark Miles said. "Our updated schedule features additional racing at fan-favorite venues and adds to the total number of events on our calendar. The COVID-19 situation continues to be dynamic and challenging for everyone, so we have developed contingency plans which will allow us to respond to changing conditions. Our goal is to preserve as much racing competition as possible while prioritizing the health and safety of our participants and spectators."
INDYCAR's established events at Iowa Speedway and WeatherTech Raceway Laguna Seca will become doubleheaders. The Iowa 300 event weekend will add a race on Friday, July 17 along with the previously scheduled race on Saturday, July 18. The Firestone Grand Prix of Monterey event weekend will now feature a race on Saturday, Sept. 19 in addition to the previously scheduled race on Sunday, Sept. 20.
[adinserter name="GOOGLE AD"]Race fans also will be treated to a third INDYCAR event at the Racing Capital of the World, with the INDYCAR Harvest GP on the IMS road course taking place Saturday, Oct. 3. This event is in addition to the GMR Grand Prix, already scheduled for Saturday, July 4, and the 104th Running of the Indianapolis 500 on Sunday, Aug. 23.
"Like our fans, we're disappointed we won't be racing in Detroit this year," Miles said. "However, we're excited to return to Belle Isle in 2021 and know we'll put on a great show for everyone when we do. We also appreciate the flexibility and support of our event promoters at Iowa Speedway and Laguna Seca, who have enthusiastically embraced the opportunity to host double-headers."
An updated listing of green flag times and an NBC Sports broadcast schedule will be announced in the near future.
Iowa Speedway to Host INDYCAR Doubleheader in July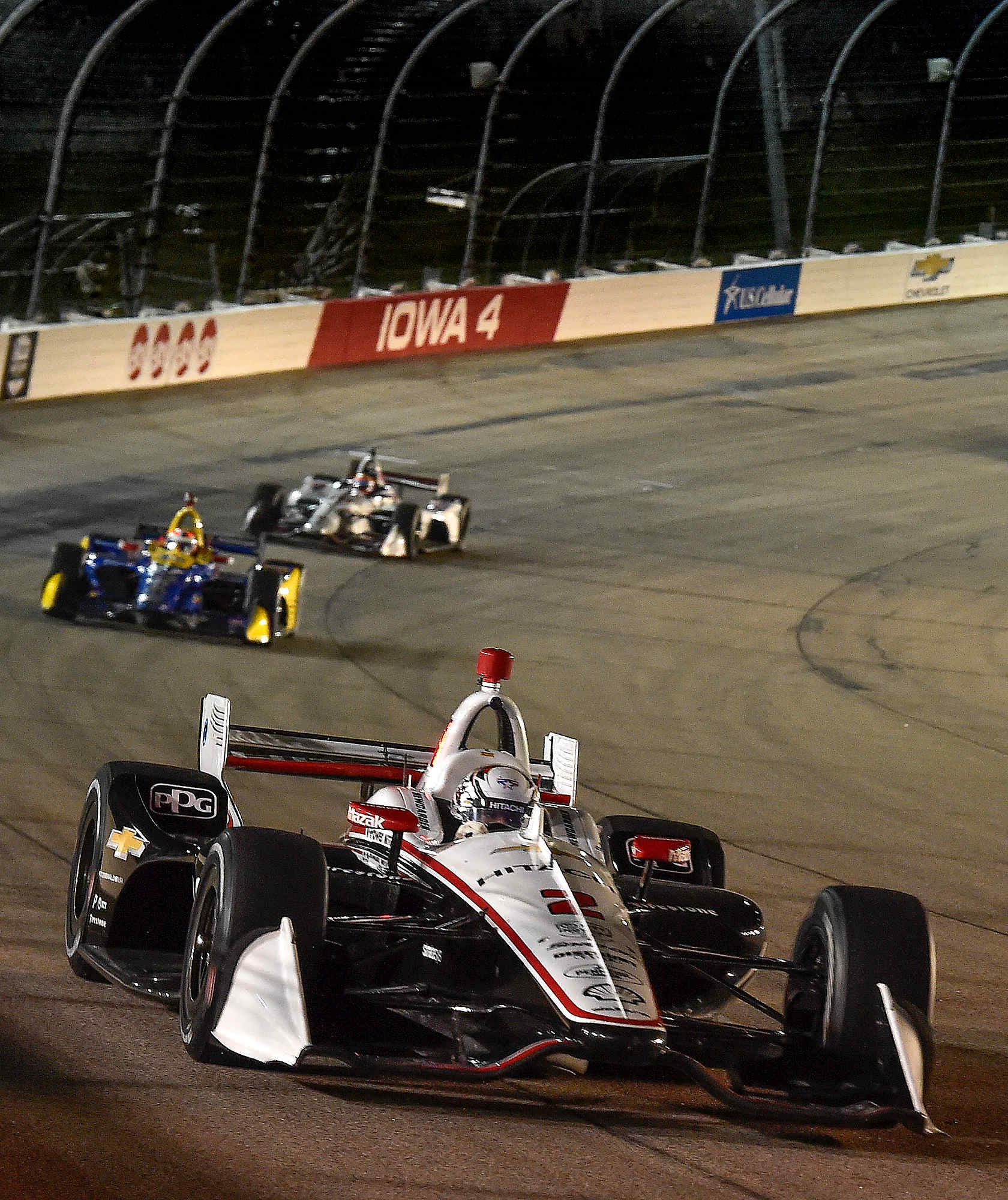 Iowa action
NTT INDYCAR SERIES fans will get what they have asked for at Iowa Speedway for some time: the return of a true night race – and they will get it twice. INDYCAR and speedway officials announced today a historic weekend in July — two NTT INDYCAR SERIES races taking place over the course of a single weekend.
"Our commitment to our guests, partners and community will remain strong as we deliver a marquee bucket-list weekend," Iowa Speedway President David Hyatt said. "Our track provides some of the best short track racing in the country, making this a can't-miss weekend for both open wheel and stock car fans."
The weekend schedule will feature INDYCAR and the ARCA Menards Series. The stars of the NTT INDYCAR SERIES will race wheel-to-wheel on Friday, July 17 followed by the NTT INDYCAR SERIES Iowa 300 on Saturday, July 18. The ARCA Menards Series Iowa 150 will now move to Saturday afternoon as a cornerstone race in the inaugural ARCA "Sioux Chief Showdown," a 10-race series set to attract the top teams in the ARCA Menards Series, ARCA Menards Series East and ARCA Menards Series West.
Single race and event weekend tickets are on sale now. Fans can purchase tickets, access additional information and ask questions by visiting IowaSpeedway.com or calling 866.787.8946. Information will be updated as it becomes available.
INDYCAR Harvest GP Scheduled for Saturday, Oct. 3 at IMS
The stars of the NTT INDYCAR SERIES will return to the Indianapolis Motor Speedway for a third exciting racing event in 2020. The INDYCAR Harvest GP will take place Saturday afternoon, Oct. 3 on the IMS road course.
The new event was unveiled today as part of INDYCAR's updated 2020 schedule announcement. The GMR Grand Prix remains on the IMS schedule for Saturday, July 4, setting the stage for a history-making INDYCAR and NASCAR pairing over the Big Machine Vodka 400 at the Brickyard weekend. The can't-miss 104th Running of the Indianapolis 500 presented by Gainbridge will take place Sunday, Aug. 23.
The INDYCAR Harvest GP joins a busy weekend of racing at IMS, with the previously announced Indianapolis 8 Hour beginning at 10 a.m. (ET) Sunday, Oct. 4. The event will feature the first-ever combination of the Intercontinental GT Challenge Powered by Pirelli with its North American counterpart, GT World Challenge America Powered by AWS.
"INDYCAR in October at IMS might bring slightly cooler weather but will definitely be warmly embraced by our fans," IMS President J. Douglas Boles said. "Paired with the Indianapolis 8 Hour, we're set for a can't-miss fall weekend of motorsports at The Racing Capital of the World. We appreciate everyone's support and flexibility as we continue to navigate calendar adjustments caused by the COVID-19 situation and extend our thanks to the GT World Challenge for embracing this new weekend schedule."
A full on-track schedule spanning Wednesday, Sept. 30 to Sunday, Oct. 4 will be released soon. Tickets for each day of track-action will go on sale Friday, April 17. Fans who want exclusive access to a pre-sale window should go to IMS.com/HarvestGP.
The INDYCAR Harvest GP will pay tribute to a storied IMS event, the "Harvest Classic" held in September 1916. The Harvest Classic was the only racing event held outside of May at IMS from 1911 through 1993. The event featured three races, all won by legendary driver Johnny Aitken.
With the Indianapolis 8 Hour included in the 2020 GT World Challenge America schedule, this will be the series' first long-distance endurance race that will count toward the championship in recent decades. The weekend will also showcase drivers in SRO America's Pirelli GT4 America, GT Sports Club America and the TC America series will crown its champions as they cross the world-famous Yard of Bricks start-finish line over the race weekend.
"Sharing Intercontinental GT Challenge's Indianapolis debut with one of America's biggest sports categories is a real privilege for everyone at SRO," said Stephane Ratel, founder and CEO of SRO Motorsports Group. "INDYCAR, as well as its cast of world-class drivers and teams, requires no introduction. It also completes a blockbuster weekend at the Brickyard featuring the best of GTs, touring cars and open-wheelers."
IndyCar Double-Header Weekend Announced
The Firestone Grand Prix of Monterey just became more intense in the NTT IndyCar Series championship points battle with today's announcement that WeatherTech Raceway Laguna Seca will host a second race during the Sept. 18-20 weekend. The additional race will be held Saturday, Sept. 19, followed by the regularly scheduled race on Sunday, Sept. 20.
"Given all the race rescheduling efforts due to the COVID-19 crisis, IndyCar executives contacted Dewayne Woods with the County of Monterey and asked if we would be willing to conduct back-to-back races over the Sept. 18-20 weekend," explains John Narigi, president and general manager of WeatherTech Raceway Laguna Seca. "We enthusiastically said 'yes, of course.'"
The addition of a second race with its accompanying corporate hospitality and the international television it brings will be a welcomed addition to Monterey County businesses that have been hit hard by the COVID-19 pandemic.
"We are energized with the prospect of significantly contributing to the revival of Monterey County," Narigi says. "We also look forward to providing ticket holders who will be visiting with even greater value now that there will be even more on-track intensity with back-to-back races."
Racing fans, sponsors and drivers enjoyed the return of IndyCar to Monterey and the Corkscrew last year where a young Colton Herta held off a charging Will Power for the checkered and his second victory of his rookie season. Herta averaged a speed of 106.057 mph on the 2.238-mile road course.
Despite Herta collecting the win as well as bonus points for the pole, leading a lap and leading the most laps, it was not enough for him to overtake Chip Ganassi Racing's Felix Rosenqvist for the NTT IndyCar Series Rookie-of-the-Year honors. Rosenqvist, a 28-year-old Swede, made a strong run after starting 14th to finish fifth and hold off Herta for the rookie award.
Between 1983 and 2004, WeatherTech Raceway Laguna Seca was the site of some of Indy car racing's most memorable moments, including Alex Zanardi executing "The Pass" on Bryan Herta on the final lap of the 1996 finale, Mario Andretti's emotional retirement in 1994, and Bobby Rahal's four consecutive wins from 1984 to 1987.
Full ticket packages ranging from single-day tickets to VIP hospitality suites and camping are available for the Firestone Grand Prix of Monterey, Sept. 18-20. Visit WeatherTechRaceway.com or call the Tickets and Accommodations office at 831-242-8200.
For more information and updates on the NTT INDYCAR SERIES, please visit their rolling blog by clicking here or visit Indycar.com.
Revised Schedule
JUNE

6

Texas Motor Speedway

21

Road America

27

Richmond Raceway

JULY

4

Indianapolis Motor Speedway Road Course Race 1

12

Streets of Toronto

17

Iowa Speedway Race 1

18

Iowa Speedway Race 2

AUG.

9

Mid-Ohio Sports Car Course

15-16

Indianapolis 500 Qualifying

23

Indianapolis 500 Mile Race

30

World Wide Technology Raceway at Gateway

SEPT.

13

Portland International Raceway

19

WeatherTech Raceway Laguna Seca Race 1

20

WeatherTech Raceway Laguna Seca Race 2

OCT.

3

Indianapolis Motor Speedway Road Course Race 2

TBA

Streets of St. Petersburg