Alex Bowman wins Auto Club 400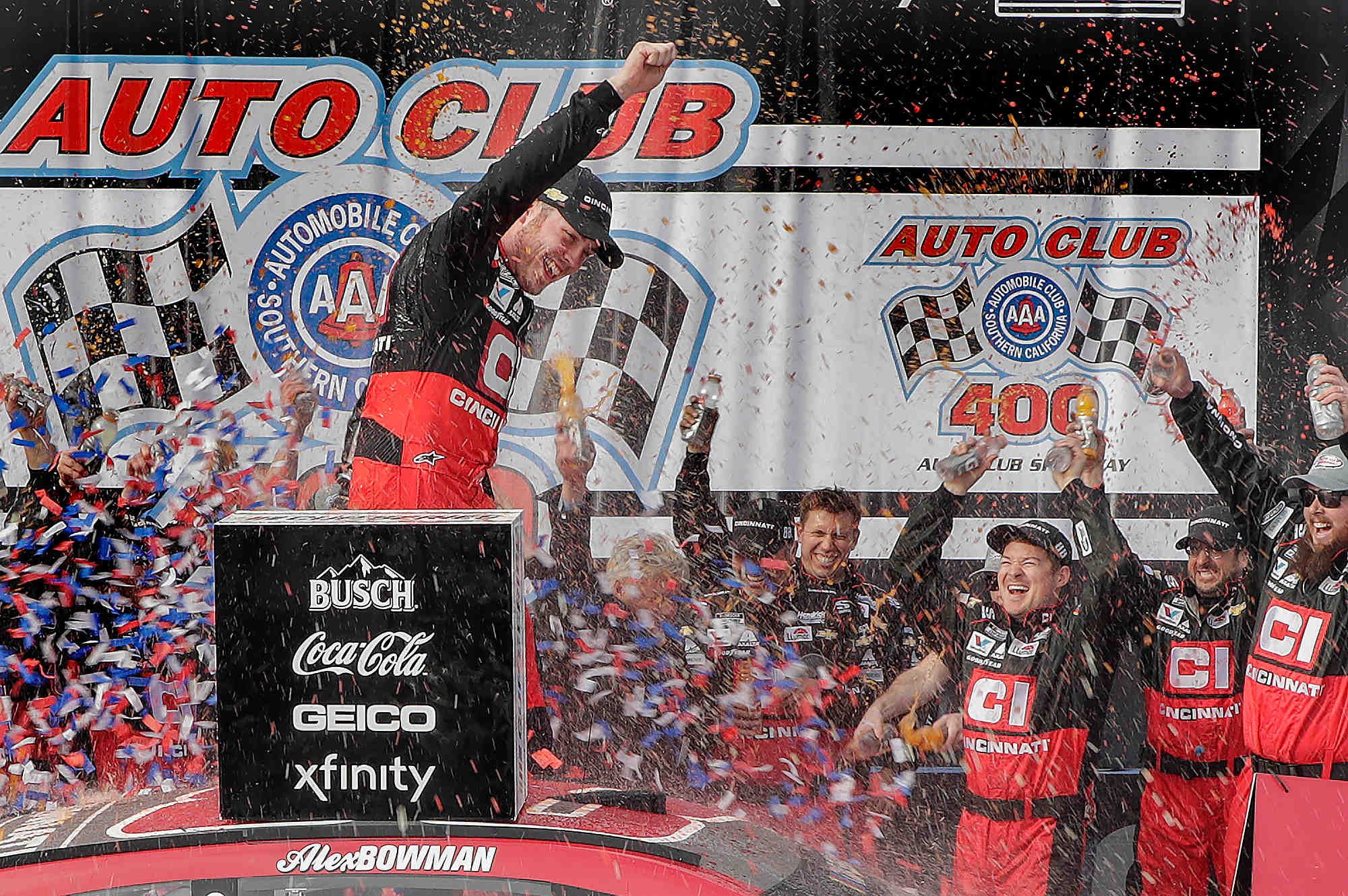 Alex Bowman
Harold Hinson/HHP for Chevy
Alex Bowman dominated the Auto Club 400 NASCAR Cup race in his Hendrick Chevy Sunday. Bowman pulled away to beat the Busch brothers – Kyle and Kurt – by 9-seconds in his #88 Camaro.
Bowman, who was fastest in both Friday practices, powered the Hendrick Motorsports No. 88 Chevrolet to a 8.904-second margin of victory, leading 110 of 200 laps in the Auto Club 400. His first win at the 2-mile California track was his second in NASCAR's top division.
Kyle Busch, a four-time Auto Club winner, drove home second in the Joe Gibbs Racing No. 18 Toyota. He was just ahead of his brother, Kurt, who took third ahead of Chase Elliott and Brad Keselowski in the third points-paying race of the season.
[adinserter name="GOOGLE AD"]Home-state favorite Jimmie Johnson led three times for 10 laps in his final Auto Club start of his final full-time Cup Series season, but finished seventh. His wife, Chandra, and daughters Genevieve and Lydia were in the flagstand for the initial green flag as ceremonial starters. Johnson's Hendrick Motorsports No. 48 Chevrolet also led a five-wide salute during pace laps.
Martin Truex Jr. started last after an issue in Saturday's inspection kept him from posting a qualifying lap. He drove all the way into contention, leading three laps, but trouble with the rear-tire change during a final-stage pit stop knocked his No. 19 Toyota to a 14th-place finish.
Ryan Blaney was in contention for the third straight week, leading 54 laps — second only to Bowman — and winning the second stage. But his No. 12 Team Penske Ford was forced to pit road with a tire issue with three laps left. He finished 19th, one lap off the pace.
Clint Bowyer started from the pole position and led the opening 11 laps, but a flat tire on his No. 14 Stewart-Haas Racing Ford forced a caution flag on Lap 92. He finished 23rd.
Ross Chastain finished 17th in his second race filling in for the injured Ryan Newman in the Roush Fenway Racing No. 6 Ford.
Quotes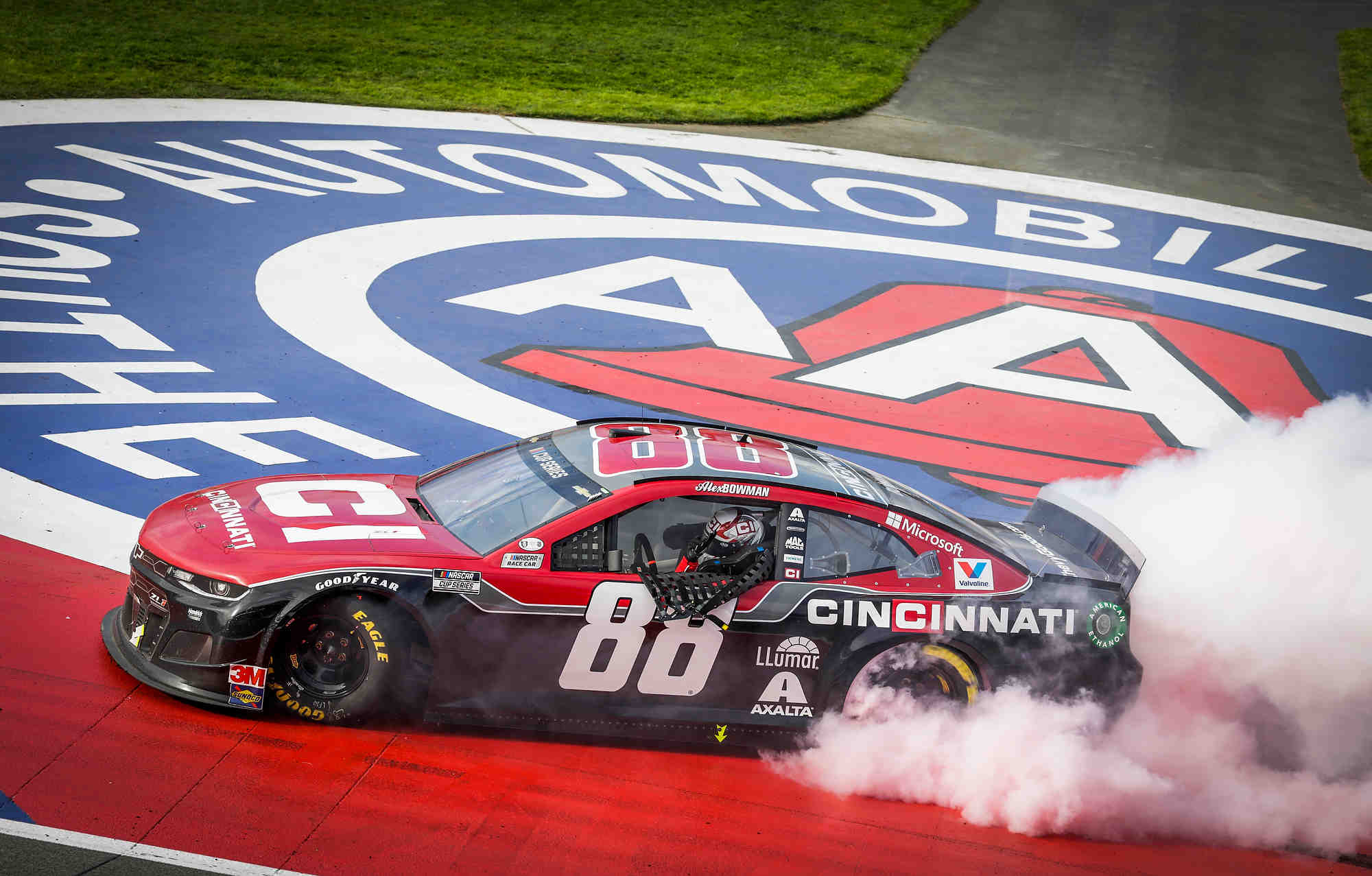 Bowman tears up the Fontana grass
Garry Eller/HHP for Chevy
ALEX BOWMAN, NO. 88 CINCINNATI CAMARO ZL1 1LE – FONTANA RACE WINNER:
NO WORRIES ON THAT RIGHT REAR NOW:
"No, not at all. Greg (Ives, crew chief) said to save it, so I saved some to use some there! How about that California! I grew up quarter midget racing here, maybe 20 minutes from Pomona Valley. Went there every week. Made a lot of great friends there. I know a lot of you are here today. Man so cool for Cincinnati. Seems like every time they are all on the car we run really good. Promised my buddy Aaron we would all get 88 tattoos if we won so I think I have to get a tattoo now. It will be a good time. It's been a lot of fun. Thanks to Greg and all the guys. Greg made a lot of good calls today. We were up front when it counted."
THE SECOND WIN IS ALMOST AS SPECIAL AS THE FIRST BECAUSE IT PROVES THE FIRST WASN'T A FLUKE:
"Yes, for sure. The first one was a real enjoyable experience and then we sucked for six months. We started this year so strong. I feel like I've got a lot on my side that I'm doing better. My life has gotten a lot more organized than it was then. Greg and the guys are just on point. We've unloaded the last two weeks and I don't think we have had to make a change to the race car from the way it came off the truck. That makes my job a lot easier. I'm just so proud of this team. Everyone at Hendrick Motorsports. Hendrick horsepower under the hood. The whole shop back home. They work their butts off. We've put a lot of effort in this new car and it is obviously working out really well."
Results
| | | | | | | | |
| --- | --- | --- | --- | --- | --- | --- | --- |
| Fin | Str | No. | Driver | Team | Laps | Behind | Status |
| 1 | 3 | 88 | Alex Bowman | Cincinnati Chevrolet | 200 | -0.000s | Running |
| 2 | 17 | 18 | Kyle Busch | Interstate Batteries Toyota | 200 | 8.904 | Running |
| 3 | 4 | 1 | Kurt Busch | Monster Energy Chevrolet | 200 | 9.917 | Running |
| 4 | 13 | 9 | Chase Elliott | NAPA Auto Parts Chevrolet | 200 | 13.705 | Running |
| 5 | 15 | 2 | Brad Keselowski | America's Tire Ford | 200 | 17.323 | Running |
| 6 | 28 | 11 | Denny Hamlin | FedEx Office Toyota | 200 | 21.839 | Running |
| 7 | 2 | 48 | Jimmie Johnson | Ally Chevrolet | 200 | 22.047 | Running |
| 8 | 6 | 10 | Aric Almirola | Smithfield Ford | 200 | 22.214 | Running |
| 9 | 5 | 4 | Kevin Harvick | Mobil 1 Ford | 200 | 22.524 | Running |
| 10 | 29 | 20 | Erik Jones | Reeser's Fine Foods Toyota | 200 | 23.880 | Running |
| 11 | 19 | 8 | Tyler Reddick # | I am Second Chevrolet | 200 | 28.810 | Running |
| 12 | 7 | 22 | Joey Logano | Auto Club of So California Ford | 200 | 29.318 | Running |
| 13 | 12 | 21 | Matt DiBenedetto | Menards/Quaker State Ford | 200 | 29.892 | Running |
| 14 | 38 | 19 | Martin Truex Jr | Bass Pro Shops Toyota | 200 | 32.514 | Running |
| 15 | 21 | 24 | William Byron | Axalta 24 Tribute Chevrolet | 200 | 33.947 | Running |
| 16 | 11 | 17 | Chris Buescher | Fastenal Ford | 200 | 35.895 | Running |
| 17 | 27 | 6 | Ross Chastain(i) | Castrol Ford | 200 | 42.709 | Running |
| 18 | 18 | 41 | Cole Custer # | Production Alliance/Haas Ford | 199 | -1L | Running |
| 19 | 16 | 12 | Ryan Blaney | BODYARMOR Ford | 199 | -1 | Running |
| 20 | 10 | 47 | Ricky Stenhouse Jr | Kroger Chevrolet | 199 | -1 | Running |
| 21 | 9 | 42 | Kyle Larson | McDonald's Chevrolet | 199 | -1 | Running |
| 22 | 8 | 34 | Michael McDowell | Love's Travel Stops Ford | 199 | -1 | Running |
| 23 | 1 | 14 | Clint Bowyer | Rush/HAAS CNC Ford | 199 | -1 | Running |
| 24 | 25 | 3 | Austin Dillon | Dow Coatings Chevrolet | 199 | -1 | Running |
| 25 | 23 | 38 | John Nemechek # | Fire Alarm Services Ford | 199 | -1 | Running |
| 26 | 24 | 13 | Ty Dillon | GEICO Chevrolet | 199 | -1 | Running |
| 27 | 14 | 43 | Bubba Wallace | Victory Junction Chevrolet | 198 | -2 | Running |
| 28 | 31 | 96 | * Daniel Suarez | Toyota Used Vehicles Toyota | 198 | -2 | Running |
| 29 | 26 | 32 | Corey LaJoie | Pala Casino Ford | 197 | -3 | Running |
| 30 | 20 | 37 | Ryan Preece | Cottonelle Chevrolet | 197 | -3 | Running |
| 31 | 30 | 52 | JJ Yeley(i) | JACOB Companies Ford | 197 | -3 | Running |
| 32 | 32 | 15 | Brennan Poole # | CHOC Kids Chevrolet | 195 | -5 | Running |
| 33 | 34 | 53 | Joey Gase(i) | One Legacy Ford | 193 | -7 | Running |
| 34 | 36 | 51 | Garrett Smithley | Chevrolet | 193 | -7 | Running |
| 35 | 35 | 0 | Quin Houff # | Victory Weekend Chevrolet | 192 | -8 | Running |
| 36 | 33 | 77 | Reed Sorenson | Spire Motorsports Chevrolet | 191 | -9 | Running |
| 37 | 37 | 66 | * Timmy Hill(i) | LASVEGAS.NET Toyota | 184 | -16 | Running |
| 38 | 22 | 95 | Christopher Bell # | Rheem Toyota | 80 | -120 | Engine |
# DENOTES ROOKIE
(i) NOT ELIGIBLE FOR POINTS
(*) REQUIRED TO QUALIFY ON TIME