Logano wins Pennzoil 400 in Vegas on used tires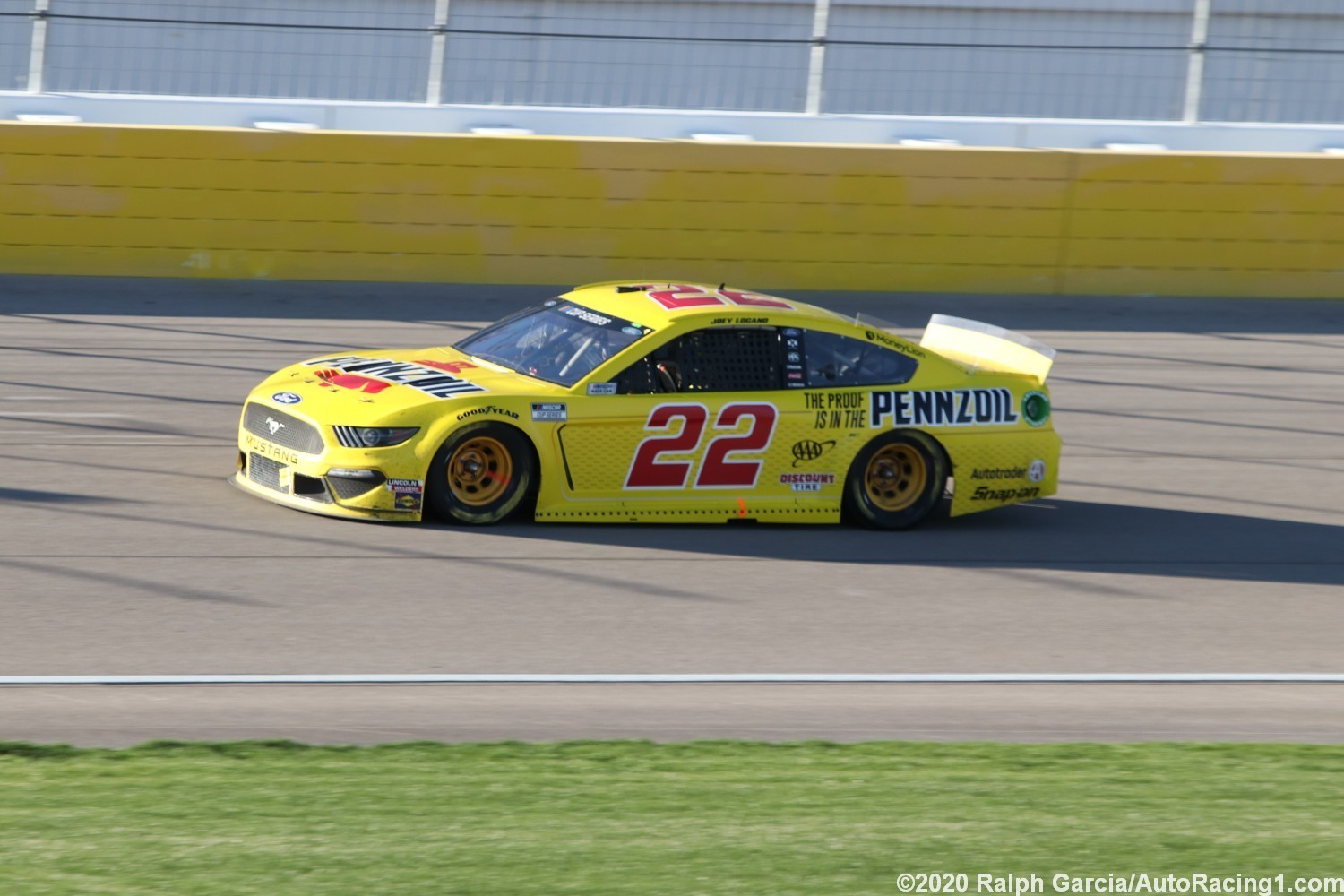 Joey Logano leads
Penske Ford driver Joey Logano running third stayed out on his used tires when almost all other drivers pitted for fresh rubber and then survived a wild 2-lap restart to win the NASCAR Cup race in Las Vegas Sunday – win for race sponsor Pennzoil with the Pennzoil car.
Matt DiBenedetto was 2nd in the #21 Wood Brothers Ford by outdueling Ricky Stenhouse Jr. for third. The top-3 finishers stayed out on used rubber and it turned out to be the right choice.
Austin Dillon and Jimmie Johnson rounded out the top-5.
Logano won this race last season, too. Both times sporting a Pennzoil paint scheme on his No. 22 Team Penske Ford.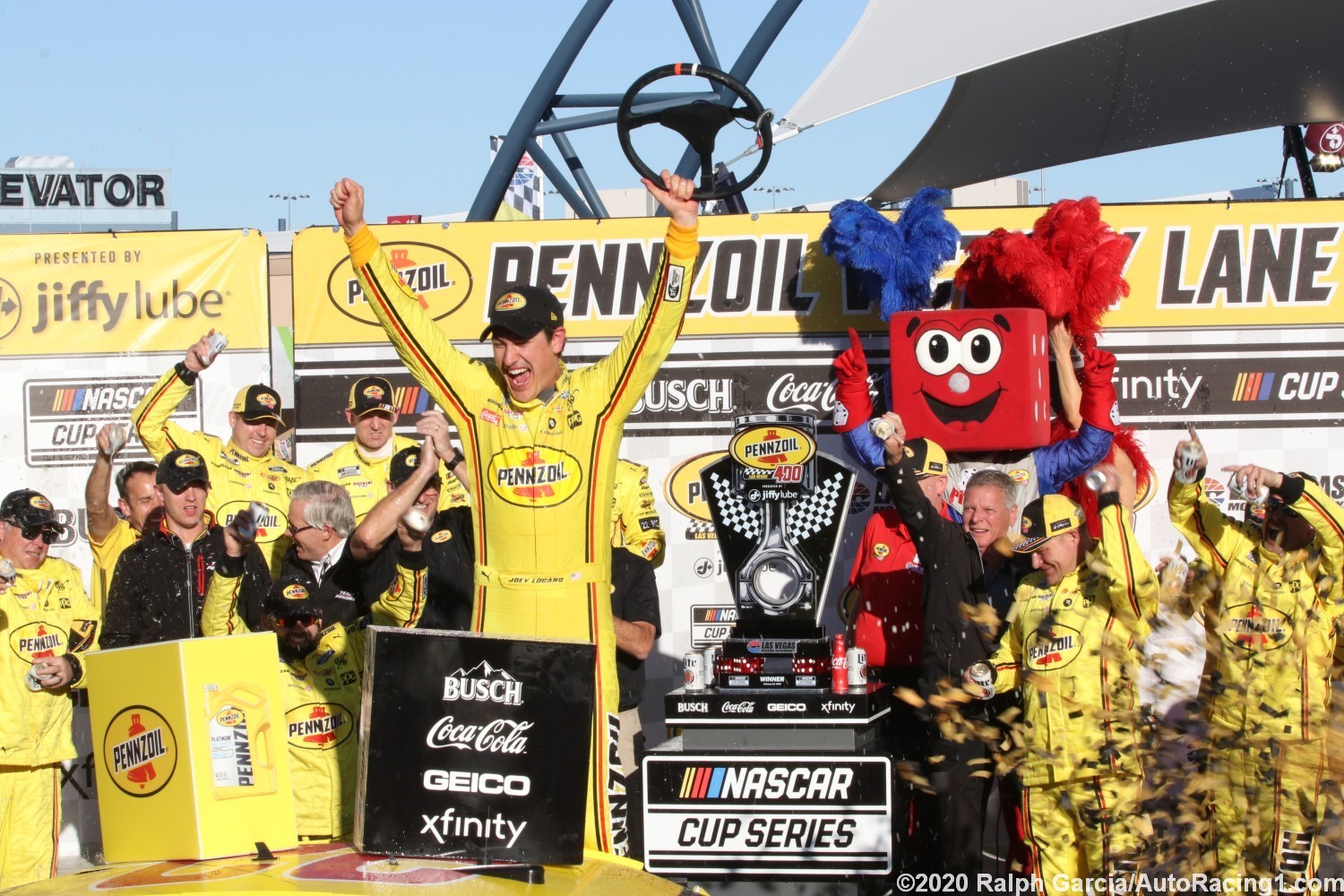 Logano celebrates
There was a late-race restart on Lap 262 of 267. Then-leaders Ryan Blaney and Alex Bowman chose to pit, while Logano stayed out to take over the No. 1 spot. The field went green with two laps to go. Stenhouse gave Logano a push, and the 2018 champion held on until the end. Blaney came in 11th. Bowman was 13th.
This is Logano's first victory with his new crew chief, Paul Wolfe.
Chase Elliott, who claimed both stages and led 70 laps, ultimately wound up 26th. The No. 9 Hendrick Motorsports Chevrolet was having a strong run until a tire went flat and sent the car into the wall. Elliott's lack of win ends a five-race stretch at Las Vegas where the Stage 2 winner ended up winning the race overall.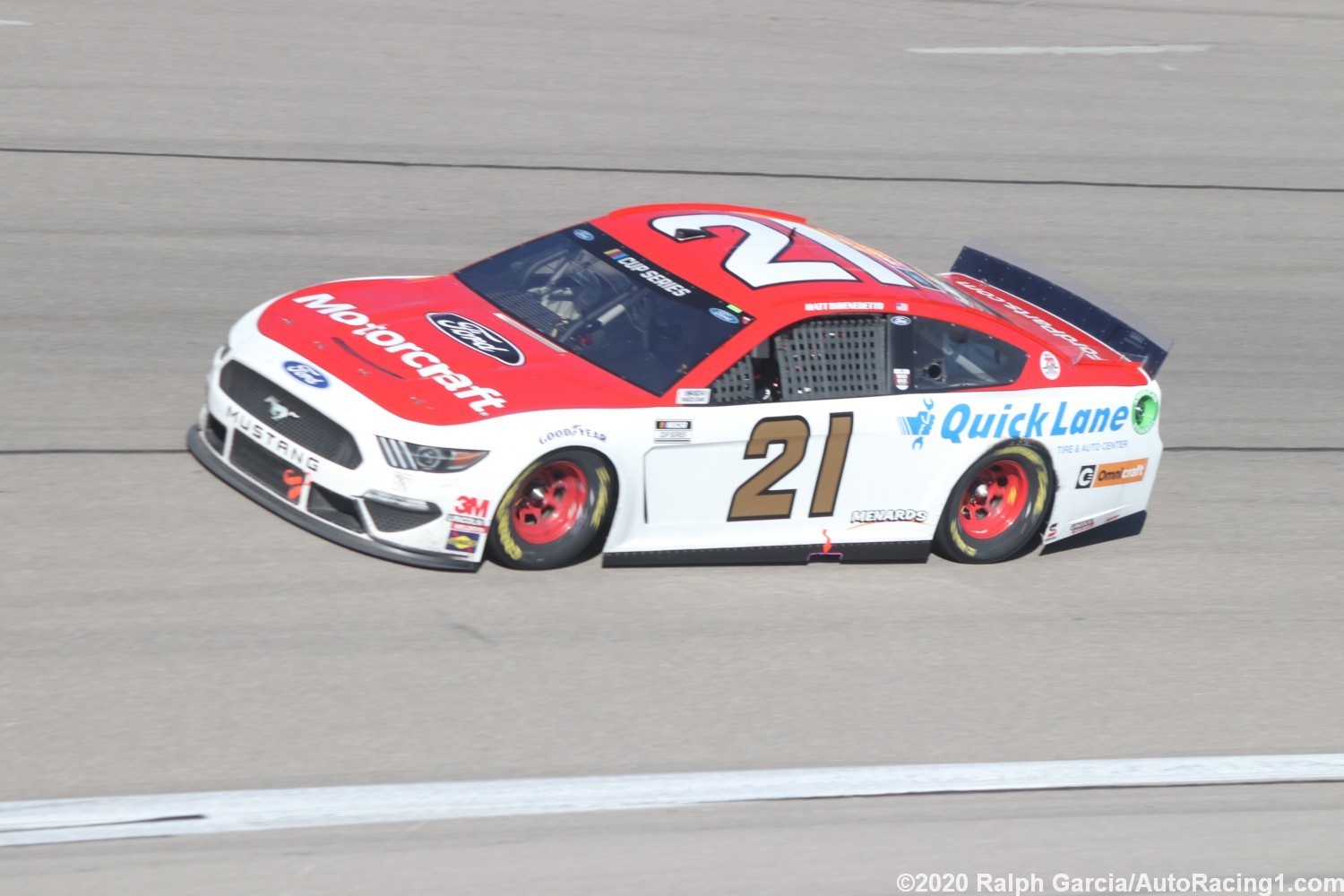 2nd place Matt diBenedetto
Kyle Busch was deemed the polesitter after qualifying was rained out, but the No. 18 Joe Gibbs Racing Toyota dropped to the rear before the start of the race since it was one of three cars NASCAR officials issued a L1-level penalty after the nose did not meet specifications in pre-race inspection. He ended 15th. The other two entries were Denny Hamlin's No. 11 Toyota and Christopher Bell's No. 95 Toyota. They were 17th and 33rd, respectively.
Bubba Wallace, Brad Keselowski, Kevin Harvick, Kyle Larson and Ty Dillon completed the top 10 in order. Harvick led a race-high 92 laps.
Tyler Reddick (18th) was the highest finishing rookie. Ryan Blaney now leads the point standings by 3 points over Joey Logano.
In his second ride in the No. 21 Motorcraft/Quick Lane Mustang, Matt DiBenedetto finished second in the Pennzoil 400 at Las Vegas Motor Speedway, tying his best career Cup finish and posting his first-ever top-10 on an intermediate track.
"This is all just too surreal," a beaming DiBenedetto said in a televised post-race interview.
"Tough to be that close, but, hey, this is only the second race of the season."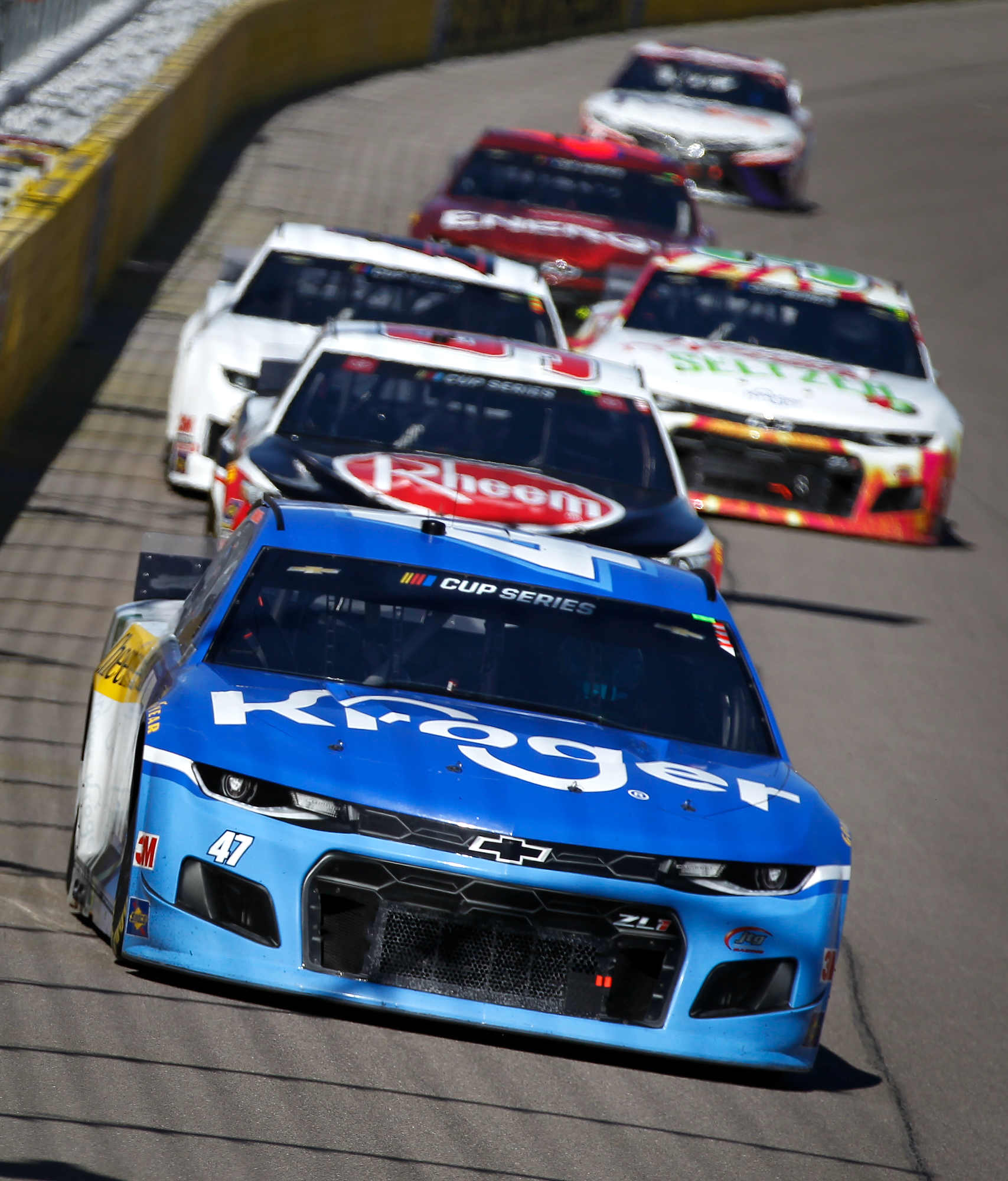 Stenhouse finished 3rd
"It was the strength of this team. It's so cool to have the backing of all the people that allow me to drive this thing. It took so many people, Motorcraft, Quick Lane."
DiBenedetto also gave a shout out to Paul Menard, who drove the Wood Brothers' No. 21 for the past two seasons and selected DiBenedetto to be his replacement when he decided to retire.
"Paul, I know you're watching at home and proud and I can't thank everyone in that whole family for this opportunity."
DiBenedetto also expressed his appreciation to the Motorcraft/Quick Lane crew and to the people who supply his horsepower.
"I'm proud to have that Roush Yates power under the hood," he said. "This whole team, [crew chief] Greg Erwin, all of them, we were covered. It wasn't pretty at the start, but, man, they did an excellent job.
"So happy to be working with this team, the fans. Thank you all so much. The journey has been pretty cool."
DiBenedetto, despite having older tires than many of the drivers behind him, moved into second place and was running there when the caution flag flew just after the leaders took the white flag, freezing the field at that point. He said his team's speed and improvement as the race went along came as no surprise.
"I knew the team has every bit of that capability," he said. "They're so good with Greg Erwin leading these guys. This team is phenomenal. There's no doubt about that."
DiBenedetto did acknowledge having a few worries early in the 400.
"It wasn't a picture-perfect day," he said. "We had to make huge adjustments and our communication was great from me screaming really loose and us being off to start and then dialing it in little by little every pit stop, and then getting it there at the end where I was comfortable staying out because I knew the car had great speed."
"It was best on the long runs and we just needed a little track position because we were a little stuck in the dirty air."
He said the Motorcraft/Quick Lane team's performance at Las Vegas gives him optimism moving forward.
"We didn't start off great," he said. "But it's good to know that we can close, make the right adjustments, do all the right things, my pit crew can do an excellent job – all the things that tie a race together."
Results
| | | | | | | | |
| --- | --- | --- | --- | --- | --- | --- | --- |
| Pos | Str | No. | Driver | Team | Laps | Status | Led |
| 1 | 5 | 22 | Joey Logano | Pennzoil Ford | 267 | Running | 54 |
| 2 | 19 | 21 | Matt DiBenedetto | Motorcraft/Quick Lane Ford | 267 | Running | 0 |
| 3 | 26 | 47 | Ricky Stenhouse Jr. | Kroger Chevrolet | 267 | Running | 30 |
| 4 | 21 | 3 | Austin Dillon | Bass Pro Shops/Tracker Chev | 267 | Running | 1 |
| 5 | 18 | 48 | Jimmie Johnson | Ally Chevrolet | 267 | Running | 0 |
| 6 | 27 | 43 | Bubba Wallace | Coke Energy Chevrolet | 267 | Running | 0 |
| 7 | 8 | 2 | Brad Keselowski | Discount Tire Ford | 267 | Running | 0 |
| 8 | 3 | 4 | Kevin Harvick | Busch Light Ford | 267 | Running | 92 |
| 9 | 6 | 42 | Kyle Larson | Credit One Bank Chevrolet | 267 | Running | 0 |
| 10 | 24 | 13 | Ty Dillon | GEICO Chevrolet | 267 | Running | 0 |
| 11 | 7 | 12 | Ryan Blaney | Menards/Pennzoil Ford | 267 | Running | 19 |
| 12 | 9 | 14 | Clint Bowyer | BlueDEF Ford | 267 | Running | 0 |
| 13 | 12 | 88 | Alex Bowman | Llumar Chevrolet | 267 | Running | 0 |
| 14 | 23 | 17 | Chris Buescher | Fastenal Ford | 267 | Running | 0 |
| 15 | 1 | 18 | Kyle Busch | Snickers White Toyota | 267 | Running | 0 |
| 16 | 30 | 32 | Corey LaJoie | Schluter Systems Ford | 267 | Running | 0 |
| 17 | 4 | 11 | Denny Hamlin | FedEx Ground Toyota | 267 | Running | 0 |
| 18 | 25 | 8 | Tyler Reddick # | TAME The BEAST Chevrolet | 267 | Running | 0 |
| 19 | 17 | 41 | Cole Custer # | Production Alliance Haas Ford | 267 | Running | 0 |
| 20 | 2 | 19 | Martin Truex Jr. | Bass Pro Shops Toyota | 267 | Running | 1 |
| 21 | 14 | 10 | Aric Almirola | Smithfield Ford | 267 | Running | 0 |
| 22 | 11 | 24 | William Byron | Axalta Chevrolet | 267 | Running | 0 |
| 23 | 16 | 20 | Erik Jones | Irwin SPEEDBOR Toyota | 267 | Running | 0 |
| 24 | 29 | 38 | John Hunter Nemechek # | Berry's Bullets Ford | 267 | Running | 0 |
| 25 | 13 | 1 | Kurt Busch | Monster Energy Chevrolet | 266 | Running | 0 |
| 26 | 10 | 9 | Chase Elliott | NAPA Auto Parts Chevrolet | 266 | Running | 70 |
| 27 | 15 | 6 | Ross Chastain(i) | Wyndham Rewards Ford | 265 | Running | 0 |
| 28 | 37 | 52 | JJ Yeley(i) | Ford | 264 | Running | 0 |
| 29 | 33 | 15 | Brennan Poole # | Goettl Chevrolet | 264 | Running | 0 |
| 30 | 35 | 96 | * Daniel Suarez | Toyota Certified Used Vehicles | 263 | Running | 0 |
| 31 | 31 | 53 | Joey Gase(i) | Nevada Donor Network Ford | 258 | Running | 0 |
| 32 | 32 | 0 | Quin Houff # | Victory Weekend Chevrolet | 258 | Running | 0 |
| 33 | 22 | 95 | Christopher Bell # | Rheem/RTP Toyota | 257 | Running | 0 |
| 34 | 36 | 77 | Reed Sorenson | Chevrolet | 253 | Running | 0 |
| 35 | 34 | 51 | Garrett Smithley | Chevrolet | 252 | Running | 0 |
| 36 | 28 | 34 | Michael McDowell | Love's Travel Stops Ford | 245 | Running | 0 |
| 37 | 20 | 37 | Ryan Preece | Natural Light Seltzer Chevrolet | 222 | Engine | 0 |
| 38 | 38 | 66 | * Timmy Hill(i) | Toyota | 175 | Rear End | 0 |
# DENOTES ROOKIE
(i) NOT ELIGIBLE FOR POINTS
(*) REQUIRED TO QUALIFY ON TIME
[adinserter name="GOOGLE AD"]