Rebellion takes COTA pole over Toyota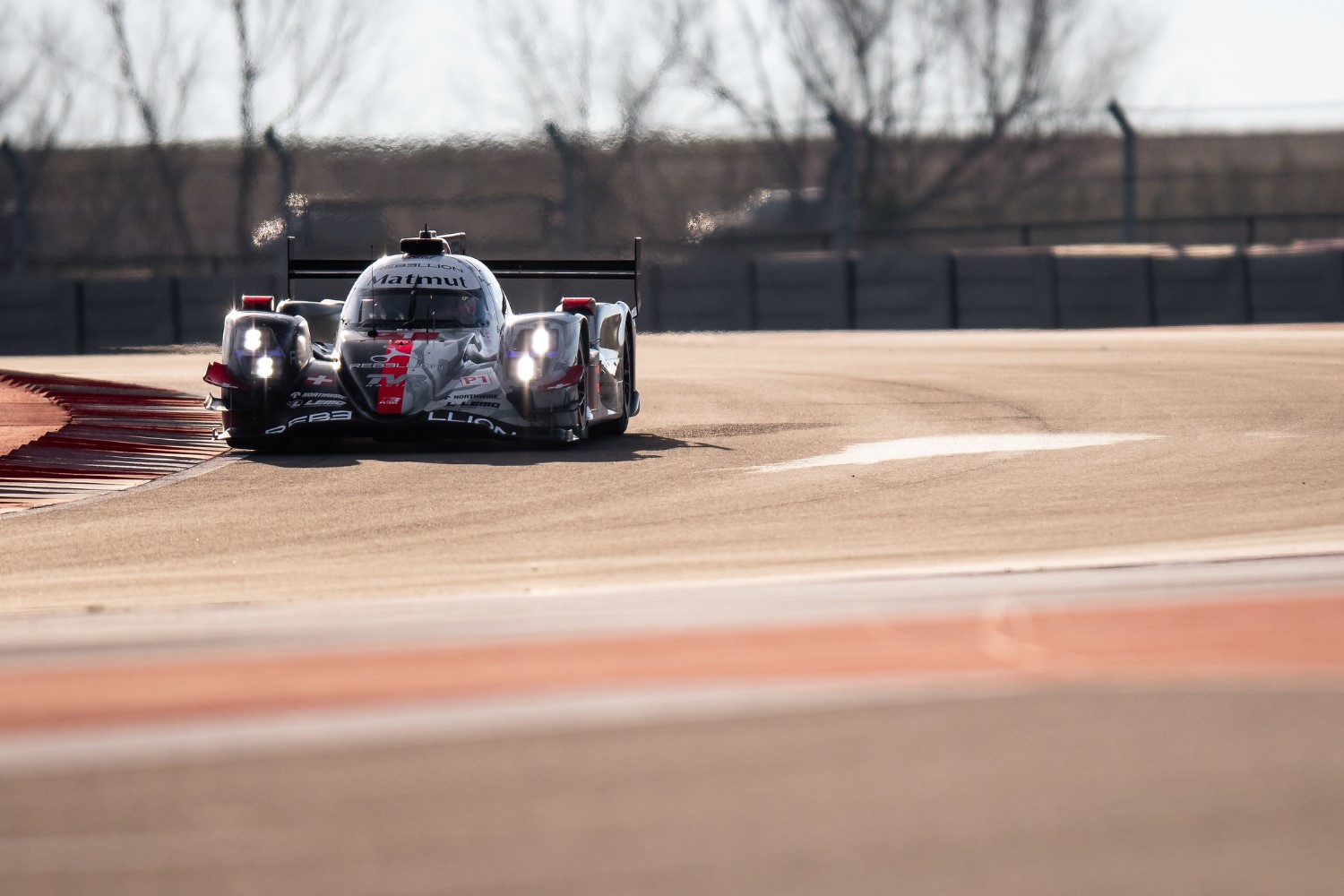 Pole winning Rebellion
With Toyota neutered by the WEC, Rebellion Racing took a third consecutive World Endurance Championship pole position in Austin.
Gustavo Menezes and Norman Nato took he top spot ahead of the Toyotas with a 1m47.530s average.
Jose Maria Lopez and Mike Conway took second in the more heavily neutered of the two Toyota TS050 HYBRIDs.
Lopez was third fastest after his run with a 1m48.634s, which Conway followed with a 1m49.688s to yield a 1m49.161s average.
World championship leaders Mike Conway, Kamui Kobayashi and Jose María Lopez in the #7 TS050 HYBRID, battling against maximum success handicap, set the second fastest average time in qualifying, earning a front-row starting spot, 1.631secs behind the pole position-winning Rebellion #1.
Sébastien Buemi, Kazuki Nakajima and Brendon Hartley were a further 0.270secs behind and will line up third on a circuit where TOYOTA GAZOO Racing is seeking its first WEC victory to extend its World Championship lead.
This weekend's event has been compressed into two days, meaning Saturday started early in order to complete a pair of two-hour practice sessions prior to qualifying, the first of which began at 8am.
With little time between the sessions, engineers, mechanics and drivers had to work efficiently to quickly assess the performance and degradation of the Michelin tires on the recently-renewed track surface in much cooler temperatures compared to previous WEC visits to Texas.
GTE Pro points leaders Marco Sorensen and Nicki Thiim took the class pole in the #95 Aston Martin Vantage GTE while Corvette Racing was out to lunch over 2-seconds off the pace with its new rear-engine car.
Sorensen led the way after the first runs on a 2m00.742s before his team-mate maintained the top spot on his first run.
Thiim then improved on his lap, getting down to a 2m00.725s to give them a 2m00.733s average and a two-tenth margin over the second-placed Porsche 911 RSR of Michael Christensen and Kevin Estre.
LMP1
– Rebellion Racing take third pole of WEC Season 8 as No.1 Rebellion R13 Gibson car driven by Gustavo Menezes and Norman Nato combine to set average time of 1:47.530
– Frenchman Nato sets fastest lap of weekend so far on a 1:47.387
– No.7 Toyota of Jose Maria Lopez and Mike Conway start second with combined best lap time of 1:49.161
– Sister No.8 Toyota TS050 HYBRID entry driven by Kazuki Nakajima and Brendon Hartley place third with average time of 1:49.431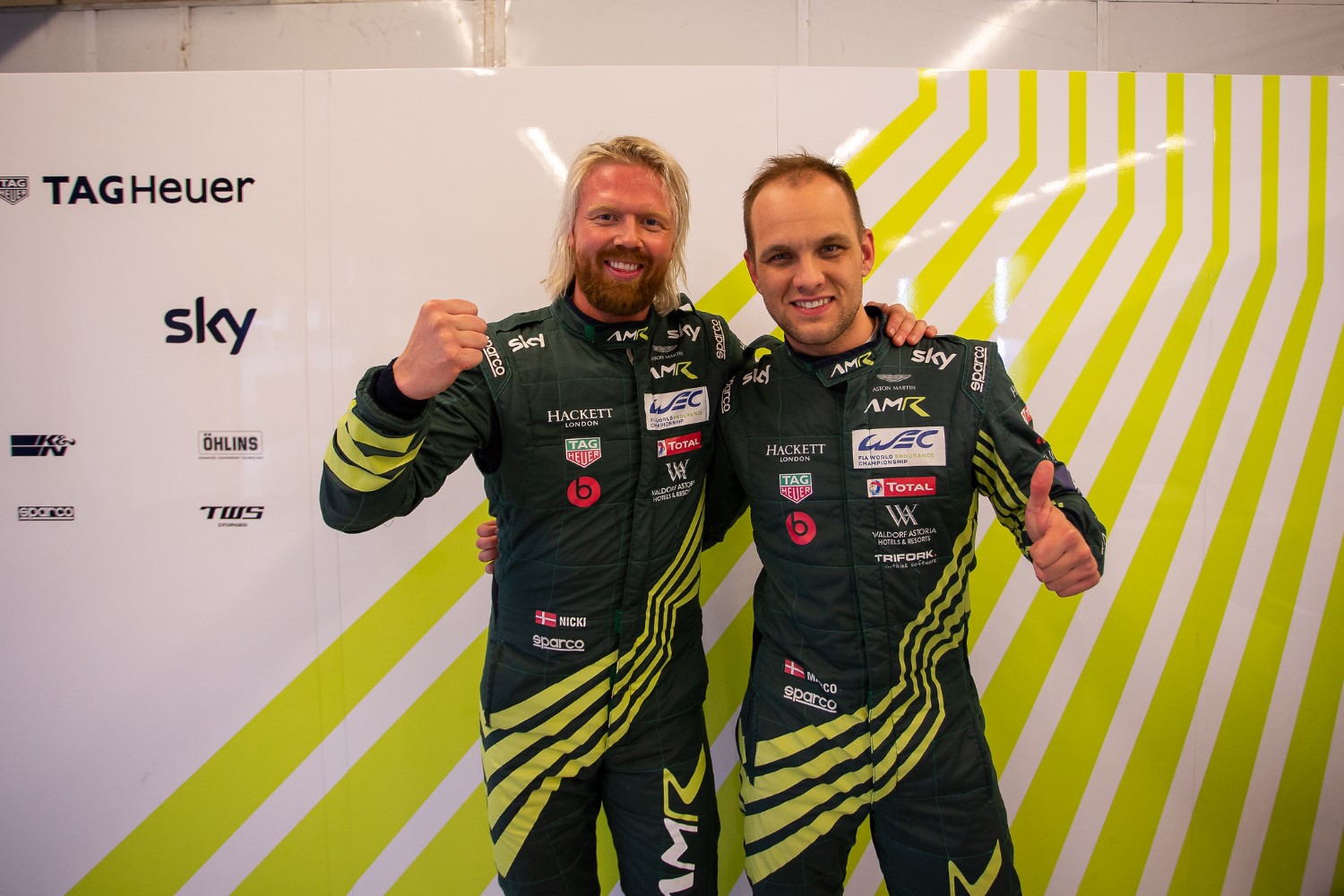 Thiim And Sorenson
LMGTE Pro
– In LMGTE Pro, the No. 95 Aston Martin Racing Vantage of Marco Sorensen and Nicki Thiim take pole position with the "Dane Train" taking best average lap time of 2:00.733
– Thiim posts best lap out of the LMGTE Pro drivers with a time of 2:00.725
– No. 92 Porsche 911 RSR joins Aston Martin on front row as pairing Michael Christensen and Kevin Estre post a combined time of 2:00.952 – just 0.219s adrift of pole-sitters Aston Martin
– Third in class was the No.97 Aston Martin of Alex Lynn and Maxime Martin, followed by the NoWorld championship leaders Mike Conway, Kamui Kobayashi and Jose Maria Lopez in the #7 TS050 HYBRID, battling against maximum success
– AF Corse finished fifth and sixth in the Ferrari 488 GTE Evo, with newcomers Corvette Racing seventh in the brand new Chevrolet Corvette CR.8
LMP2
– LMP2 sees Cool Racing on pole for the second time this season as Nicolas Lapierre and Antonin Borga set an average time of 1:49.910 in the ORECA 07 Gibson car
– Swiss team ahead of rivals United Autosports No. 22 ORECA 07 qualified by Phil Hanson and Filipe Albuquerque
– No.36 Signatech Alpine Elf will start third as Thomas Laurent and Pierre Ragues post a combined time of 1:50.984 at the wheel of an Alpine A470 Gibson
LMGTE Am
– The No. 56 Team Project 1 car qualifies on pole as Matteo Cairoli and Egidio Perfetti take the best average time of 2:02.784 in the Porsche 911 RSR
– Aston Martin Racing second in COTA Qualifying as Ross Gunn and Paul Dalla Lana post a combined time of 2:02.830 in the Aston Martin Vantage
– Britain's Ross Gunn clocks the fastest lap of the entire LMGTE Am grid with a time of 2:01.281
– Third is the No. 90 TF Sport entry making it two Aston Martin cars in the top three
Starting Grid
| | | | | | |
| --- | --- | --- | --- | --- | --- |
| POS | CLASS | DRIVER | TEAM | CAR | GAP |
| 1 | LMP1 | B.Senna, G.Menezes, N.Nato | Rebellion Racing | Rebellion/Gibson | 1m47.530s |
| 2 | LMP1 | M.Conway, K.Kobayashi, J.M.Lopez | Toyota Gazoo Racing | Toyota | 1.631s |
| 3 | LMP1 | S.Buemi, K.Nakajima, B.Hartley | Toyota Gazoo Racing | Toyota | 1.901s |
| 4 | LMP2 | N.Lapierre, A.Borga, A.Coigny | COOL Racing | ORECA/Gibson | 2.380s |
| 5 | LMP2 | P.Hanson, F.Albuquerque, P.Di Resta | United Autosports | ORECA/Gibson | 2.543s |
| 6 | LMP2 | T.Laurent, A.Negrao, P.Ragues | Signatech Alpine Elf | Alpine/Gibson | 3.454s |
| 7 | LMP2 | H-Pin Tung, G.Aubry, W.Stevens | Jackie Chan DC Racing | ORECA/Gibson | 3.824s |
| 8 | LMP2 | R.Gonzalez, A.F.da Costa, A.Davidson | JOTA | ORECA/Gibson | 4.062s |
| 9 | LMP2 | M.Patterson, K.Yamashita, A.Fjordbach | High Class Racing | ORECA/Gibson | 4.217s |
| 10 | LMP2 | H.Hedman, B.Hanley, C.Braun | DragonSpeed | ORECA/Gibson | 5.235s |
| 11 | LMP2 | F.van Eerd, G.van der Garde, N.de Vries | Racing Team Nederland | ORECA/Gibson | 5.601s |
| 12 | LMP2 | R.Lacorte, A.Belicchi, G.Sernagiotto | Cetilar Racing | Dallara/Gibson | 6.775s |
| 13 | GTE Pro | M.Sorensen, N.Thiim | Aston Martin Racing | Aston Martin | 13.203s |
| 14 | GTE Pro | M.Christensen, K.Estre | Porsche GT Team | Porsche | 13.422s |
| 15 | GTE Pro | A.Lynn, M.Martin | Aston Martin Racing | Aston Martin | 13.499s |
| 16 | GTE Pro | G.Bruni, R.Lietz | Porsche GT Team | Porsche | 13.519s |
| 17 | GTE Pro | J.Calado, A.P.Guidi | AF Corse | Ferrari | 13.660s |
| 18 | GTE Pro | D.Rigon, M.Molina | AF Corse | Ferrari | 13.699s |
| 19 | GTE Am | E.Perfetti, L.Horr, M.Cairoli | Team Project 1 | Porsche | 15.254s |
| 20 | GTE Am | P.D.Lana, D.Turner, R.Gunn | Aston Martin Racing | Aston Martin | 15.300s |
| 21 | GTE Pro | J.Magnussen, M.Rockenfeller | Corvette Racing | Chevrolet | 15.437s |
| 22 | GTE Am | C.Ried, R.Pera, M.Campbell | Dempsey-Proton Racing | Porsche | 15.580s |
| 23 | GTE Am | F.Perrodo, E.Collard, N.Nielsen | AF Corse | Ferrari | 15.846s |
| 24 | GTE Am | B.Keating, F.Fraga, J.Bleekemolen | Team Project 1 | Porsche | 15.920s |
| 25 | GTE Am | T.Flohr, F.Castellacci, G.Fisichella | AF Corse | Ferrari | 15.932s |
| 26 | GTE Am | S.Yoluc, C.Eastwood, J.Adam | TF Sport | Aston Martin | 15.934s |
| 27 | GTE Am | B.Curtis, A.De Leener, T.Preining | Dempsey-Proton Racing | Porsche | 16.152s |
| 28 | GTE Am | M.Ishikawa, O.Beretta, K.Cozzolino | MR Racing | Ferrari | 16.251s |
| 29 | GTE Am | M.Wainwright, A.Watson, B.Barker | Gulf Racing | Porsche | 16.766s |
| 30 | GTE Am | B.Grimes, J.Mowlem, C.Hollings | Red River Sport | Ferrari | 17.302s |
[adinserter name="GOOGLE AD"]