FIA releases long-term Formula E Sporting and Technical regulation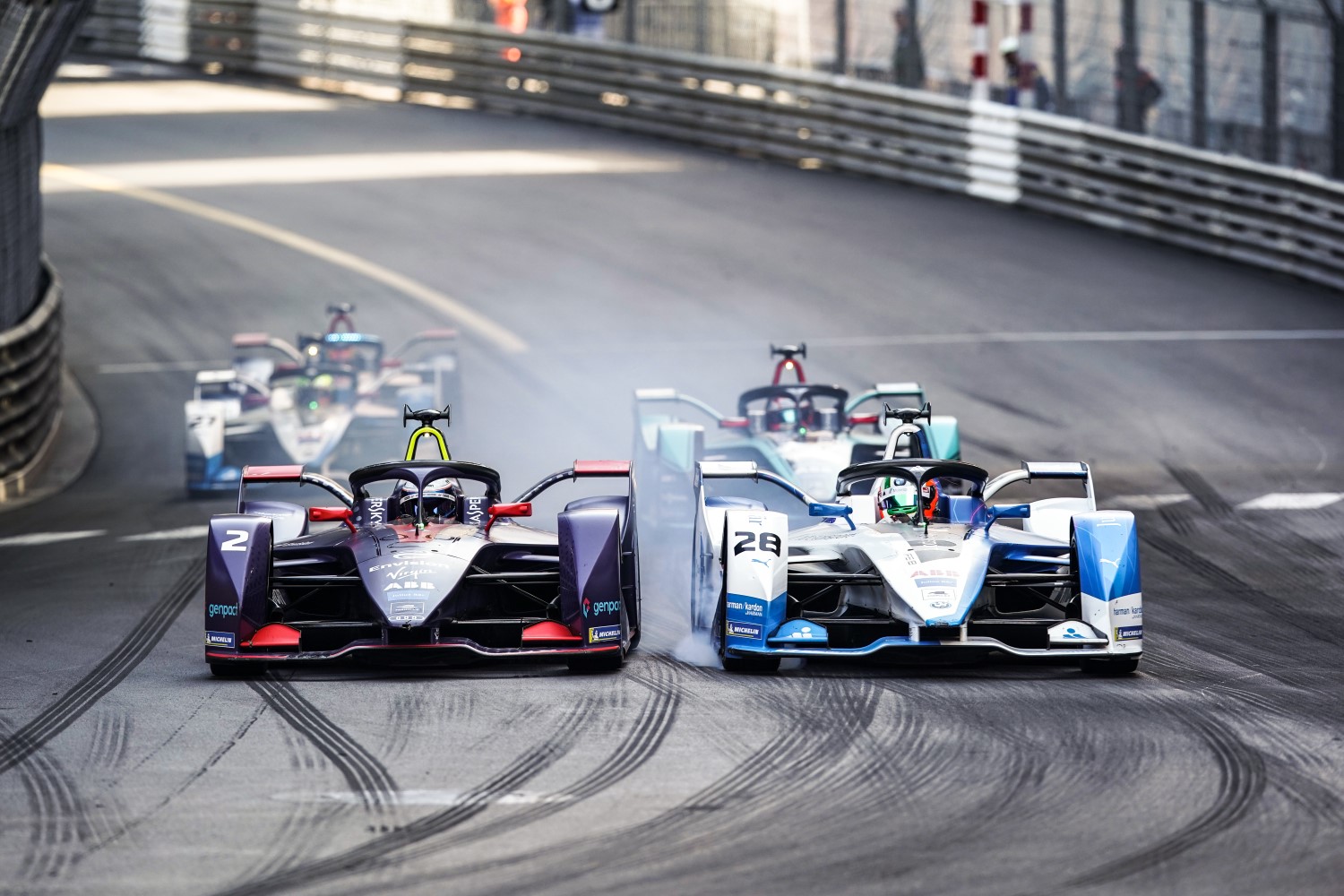 Formula E action from 2019
The FIA has revealed Formula E's long-term Sporting and Technical regulations as part of its continuing cost-saving measures in the face of the coronavirus pandemic while also revealing details of the series' Gen3 car.
The ABB FIA Formula E Championship is aiming to offer its stakeholders even greater efficiency as it looks ahead to its new status as a World Championship in Season 7 (2020 – 2021). This has been seen especially in the series of cost-efficiency measures adopted by the FIA World Motor Sport Council on 19 June as part of a long-term vision for the championship, aimed at further establishing the principles that have made Formula E successful.
The first steps were taken by the FIA and Formula E in April of this year when it was decided to have only one car homologated for the S7 and S8 period, as a swift response to manufacturers' short-term cash-flow concerns, thus enabling them to reduce the investment required on development for this period. Since then, the FIA and Formula E have gone further still, adding more flexibility to the homologation process and allowing new cars to be introduced during S7.
Several other changes in the Sporting and Technical Regulations have now been made related to operating costs for competitors. This will help to further increase the sustainability of the championship whilst continuing to reduce its environmental impact. Starting in S7, tire allocation will be reduced by 25% per single-race competition and by up to 50% at a double-header. Similarly, the teams' operational staff, i.e. those people who are allowed to work in the garages, will be cut from 20 to 17 members, whilst only one remote garage, with a maximum of six people working on it will be authorized. Together, these two decisions to restructure team format will therefore provide competitors with an opportunity to better manage their staff and will have a substantial effect of the carbon footprint of the championship by reducing the amount of people traveling to the events. Lastly, the final proposal ratified concerns a limit on the sets of brake discs and pads that may be used over the course of a season, so as to control the cost of these consumables more effectively. Other limits on parts (software, bodywork, sensors, etc.) are currently being studied by the FIA and Formula E to provide teams with opportunities to reduce the non-essential expenses incurred.
Alongside this first series of decisions and following in-depth work carried out in close conjunction with Formula E, the promoter has set up a Logistics Working Group. The purpose of this working group, starting in S7, is to optimize logistics costs significantly whilst also having a substantial impact from an environmental point of view. Similarly, as part of the long-term financial measures geared towards supporting the teams more effectively, Formula E has worked on a renewed distribution of the prize money from S7.
This long-term plan for greater efficiency and sustainability will lead to the future introduction of financial regulations to preserve the competitive balance of Formula E and its viability, going forward. The aim is to ensure that each competitor can continue to challenge for race wins with increasingly reasonable and controlled costs, whilst Formula E remains the pinnacle of electric racing and retains its relevance for manufacturers through the engineering challenge it poses. An initial draft of a financial framework for a fair and sustainable competition in the ABB FIA Formula E World Championship, with objectives, guiding principles and a timeline, has already been proposed to both manufacturers and competitors.
A key part of this long-term plan for greater efficiency and sustainability is the Gen3 race car, set to begin racing in the 2022-2023 season and to make another significant step forward in terms of technology over its four-year cycle. The tender process for selecting suppliers of the chassis, battery and tires overcame all the expectations and the submissions were compared in relation to their compliance with the technical, environmental, commercial and financial requirements. The FIA's World Motorsport Council recently voted on the bids and Spark Racing Technology will continue producing the common chassis, including the front powertrain kit, Williams Advanced Engineering will be responsible for the battery system whilst the Gen3 will be fitted with all-weather Hankook Tire & Technology tires.
Building on the lessons learned with Gen2 to go further still, the Gen3 Formula E car aims to be more powerful and more nimble for street racing, whilst keeping operating budgets at equivalent levels. It will therefore provide a significant power increase up to 350KW in qualifying and 300KW in the races from S9, compared with respectively 250 and 220 for the Gen2 in season 8. The maximum regenerative braking power between front and rear will be increased to 600KW, compared with maximum rear regenerative power of 250KW for the current Gen2 car. Combined with the ability of the batteries to allow 'flash-charging', these significant upgrades will help deliver even more exciting and unpredictable racing.
The Gen3 tender process is also providing an opportunity for the FIA and Formula E to try and redefine the scope of the manufacturers. So, whilst Formula E will continue to embody the perfect laboratory for developing and testing the technologies of the future, as well as providing manufacturers with a highly effective means of communicating about their electric products, the possibility of standardizing several additional parts with marginal impact of performance differentiation is also under consideration.
Williams Advanced Engineering secures Gen3 Formula E battery system contract
Williams Advanced Engineering will supply the battery systems for Formula E's third-generation Gen3 car which will feature fast-charging capabilities.
Williams Advanced Engineering previously supplied batteries to Formula E during its first generation of racing from 2014-2018, with McLaren Applied Technologies taking over this contract for the series' present generation that commenced in December 2018.
Following the arrival of Mercedes and Porsche to the championship, Formula E's grid is the strongest it has ever been and in its third generation, the series will again see an evolution. The Gen3 battery technology will see improved energy density, lifecycle, durability, power capability, and fast charging – a potential strategy area that has been discussed since 2018.
"We're extremely proud to be appointed the Gen3 battery supplier for the ABB FIA Formula E World Championship, particularly as we have been an integral part of the series from the start," said WAE Managing Director Crag Wilson.
"High performance batteries are one of WAE's core competencies and I am confident we will add further value in the areas of energy density, thermal efficiency, overall performance and reliability.
"Racing in such a competitive environment is also a challenge for batteries, but one that we embrace. We look forward to supporting the series as it moves to its next exciting chapter.
Williams Advanced Engineering's Gen3 battery system is set to make its debut in the 2022/23 season as part of a four-year cycle which will see a significant power increase from Season 9 – 350kW in qualifying and 300kW in the race.
The maximum regenerative braking power will also be increased to 600kW from its current 250kW.