Rain Postpones Daytona 500 To Monday Afternoon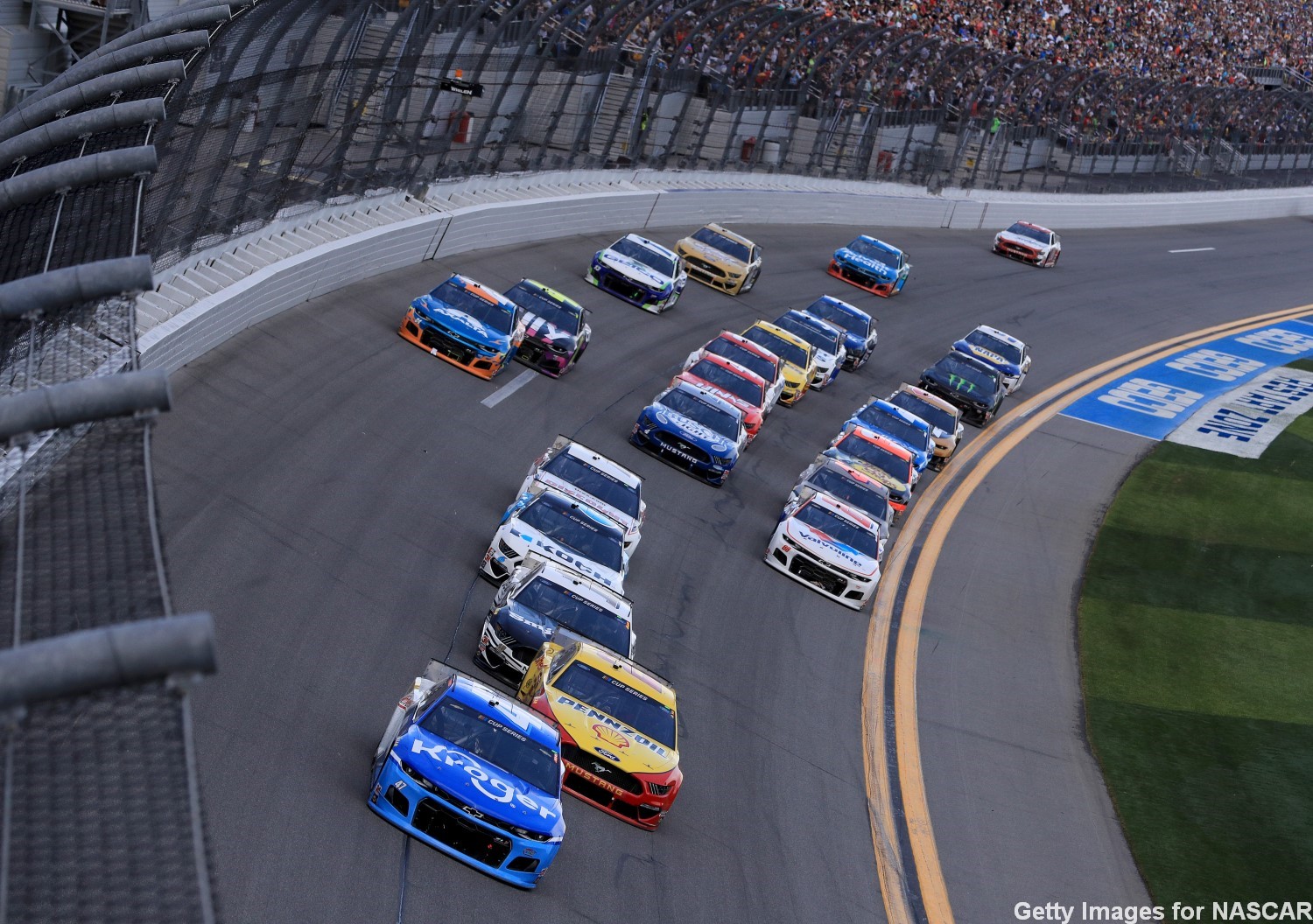 Ricky Stenhouse led the first 20 laps from pole. Then it rained
Mother Nature won out in Daytona Beach on Sunday.
The 62nd annual Daytona 500 has been postponed to Monday afternoon at 4 pm thanks to persistent rain showers over Daytona International Speedway.
The race only got 20 laps on the board before the skies opened up. The race will resume at 4 pm Monday afternoon.
Just as the competitors approached the 20 lap mark, the skies opened up over turn two of the 2.5-mile raceway, soaking the racing surface and leading race officials to bring the field to pit road under the red flag.
It's was the second stoppage of the event. The race was set to begin around 3:30 pm, but with the 40-car field about100 years away from taking the green flag, a pop-up shower broke out over the second turn. The field was brought to pit road without taking the green flag to allow for track drying.
After about an hour's delay, the field finally took the green flag, with pole sitter Ricky Stenhouse, Jr. taking the early lead. He would pace the field for the first 20 laps until the rain returned, bringing the race under the red flag.
Just before 7 pm, drivers had been called back to their cars, but the skies opened up again with the hardest rains of the day coming down. Moments later, NASCAR officials made the call to push the completion of the race to Monday afternoon.
Joey Logano was running in second when the rains came, with Aric Almirola third, Ryan Newman fourth and Kevin Harvick in fifth.
Brad Keselowski, William Byron, Jimmie Johnson, Ty Dillon and Timmy Hill rounded out the top ten at the time of the red flag.
Red Flag Standings
| | | | |
| --- | --- | --- | --- |
| POS | CAR | DRIVER | LAPS |
| 1 | 47 | Ricky Stenhouse Jr. | 20 |
| 2 | 22 | Joey Logano | 20 |
| 3 | 10 | Aric Almirola | 20 |
| 4 | 6 | Ryan Newman | 20 |
| 5 | 4 | Kevin Harvick | 20 |
| 6 | 2 | Brad Keselowski | 20 |
| 7 | 24 | William Byron | 20 |
| 8 | 48 | Jimmie Johnson | 20 |
| 9 | 13 | Ty Dillon | 20 |
| 10 | 66 | * Timmy Hill(i) | 20 |
| 11 | 36 | David Ragan | 20 |
| 12 | 17 | Chris Buescher | 20 |
| 13 | 21 | Matt DiBenedetto | 20 |
| 14 | 9 | Chase Elliott | 20 |
| 15 | 77 | Ross Chastain(i) | 20 |
| 16 | 88 | Alex Bowman | 20 |
| 17 | 42 | Kyle Larson | 20 |
| 18 | 1 | Kurt Busch | 20 |
| 19 | 3 | Austin Dillon | 20 |
| 20 | 41 | Cole Custer # | 20 |
| 21 | 34 | Michael McDowell | 20 |
| 22 | 8 | Tyler Reddick # | 20 |
| 23 | 12 | Ryan Blaney | 20 |
| 24 | 43 | Bubba Wallace | 20 |
| 25 | 27 | * Reed Sorenson | 20 |
| 26 | 52 | BJ McLeod(i) | 20 |
| 27 | 32 | Corey LaJoie | 20 |
| 28 | 62 | * Brendan Gaughan(i) | 20 |
| 29 | 37 | Ryan Preece | 20 |
| 30 | 16 | * Justin Haley(i) | 20 |
| 31 | 19 | Martin Truex Jr. | 20 |
| 32 | 18 | Kyle Busch | 20 |
| 33 | 20 | Erik Jones | 20 |
| 34 | 95 | Christopher Bell # | 20 |
| 35 | 11 | Denny Hamlin | 20 |
| 36 | 14 | Clint Bowyer | 20 |
| 37 | 38 | John Hunter Nemechek # | 20 |
| 38 | 00 | Quin Houff # | 20 |
| 39 | 51 | Joey Gase(i) | 20 |
| 40 | 15 | Brennan Poole # | 20 |
# DENOTES ROOKIE
(i) NOT ELIGIBLE FOR POINTS
(*) REQUIRED TO QUALIFY ON TIME