Gragson Grabs First NXS Win In Wild Daytona Finish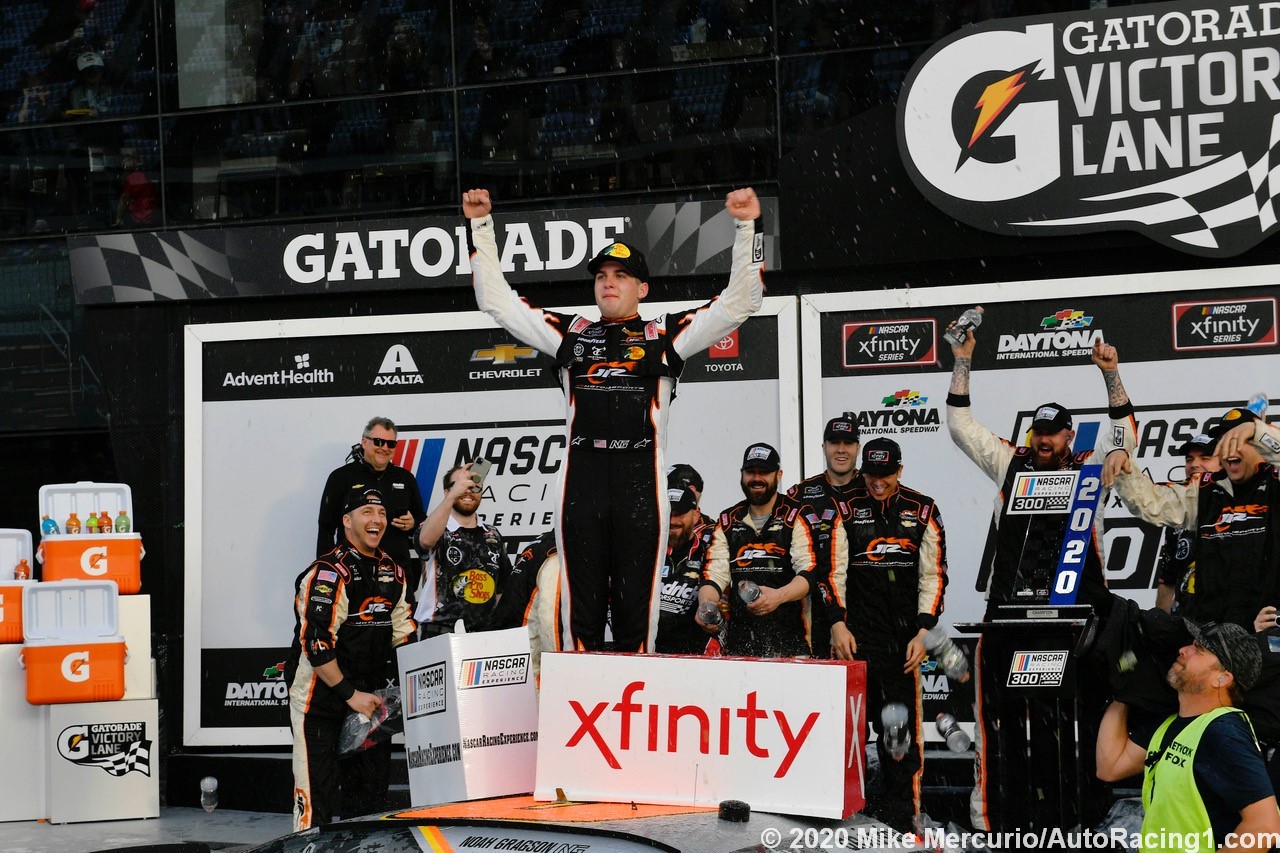 Noah Gragson celebrates
Mike Mercurio /AR1..com photos
With cars crashing behind him on the final lap, Noah Gragson held the lead as the caution flag came out, ending the NASCAR Racing Experience 300 at Daytona International Speedway.
With the race essentially over with the yellow flag, Gragson scored his first career NASCAR Xfinity Series win, and gave JR Motorsports their third consecutive win in the series season opener.
"Yeah, I seen myself get pushed out in the mirror, and just tried to work all race long managing how far out in front of the car behind me I got," Gragson said. "If it weren't for this Hendrick power, I don't think we would have been able to get here to Victory Lane."
Following a grinding crash that eliminated several contenders on lap 114 of 120, Gragson battled side-by-side with Chase Briscoe as the race resumed with three laps to go. With drafting help from rookie Harrison Burton on the outside, Gragson finally got to the point as the field raced to the white flag. Gragson held the lead, with Burton trying to get a run with help from Timmy Hill as the race entered the final lap.
[adinserter name="GOOGLE AD"]Behind them, defending race winner Michael Annett was sent spinning into the outside wall backstretch wall off a push from Brandon Brown. Annett's car was heavily damaged as it spun into the wall head on, with Alex Labbe, Jesse Little and David Starr all getting caught up in the melee.
Moments later, the caution flag finally flew, ending the race and sending Gragson and his Dale Earnhardt, Jr. owned team to victory lane.
"I spent a lot of time with Dale Jr. this week, talked to him for about two hours, and wanted to be a better speedway racer," Gragson said. "He told me, go have fun, wreckers or checkers. You've got to manage your gaps, be there at the end, and just go lead the damn thing. That's what we did."
"We just sat down and talked about all the scenarios that you can find yourself in at the draft and what to do, what to expect and what to do with the cars and how they're acting around you, and we talked for a good while," said Earnhardt, Jr. "Looks like he used some of that stuff, and I like sharing that information with those drivers, especially our guys. But really anybody that comes to me for advice I want to be able to help them."
The win marks the seventh overall series victory for JR Motorsports at Daytona. Earnhardt, Jr. said as a driver or an owner, it never gets old.
"You know, don't expect I'll ever do it again as a driver, so I'll take these whenever they're coming, right," said Earnhardt, Jr. "If I can get in here as an owner or part of any kind of success like this, it's a great feeling. You've got a lot of people that are part of this, my sister and Rick Hendrick, all the guys, all the people in the shop and the guys on the team. It's just fun to be able to celebrate all this with our company. We've got a great company, man, so many people, and so it's good to be successful."
Harrison Burton, who is competing for Rookie of the Year honors for Joe Gibbs Racing, finished in second, his best career finish.
"We had a good day. We fought back from a lot of adversity," said Burton. "We got damage. My team did a good job repairing it. We kind of still couldn't poke through the hole like we needed too, but the 66 (Hill) got lined up behind me. Noah (Gragson) got out front about a car and a half and I thought 'He might be in trouble here', but then the caution came out.
"Just really proud of our guys. We had a tough day. I think that there were a couple times in the race that we were down and out, and our guys clawed it out. I was proud of that effort."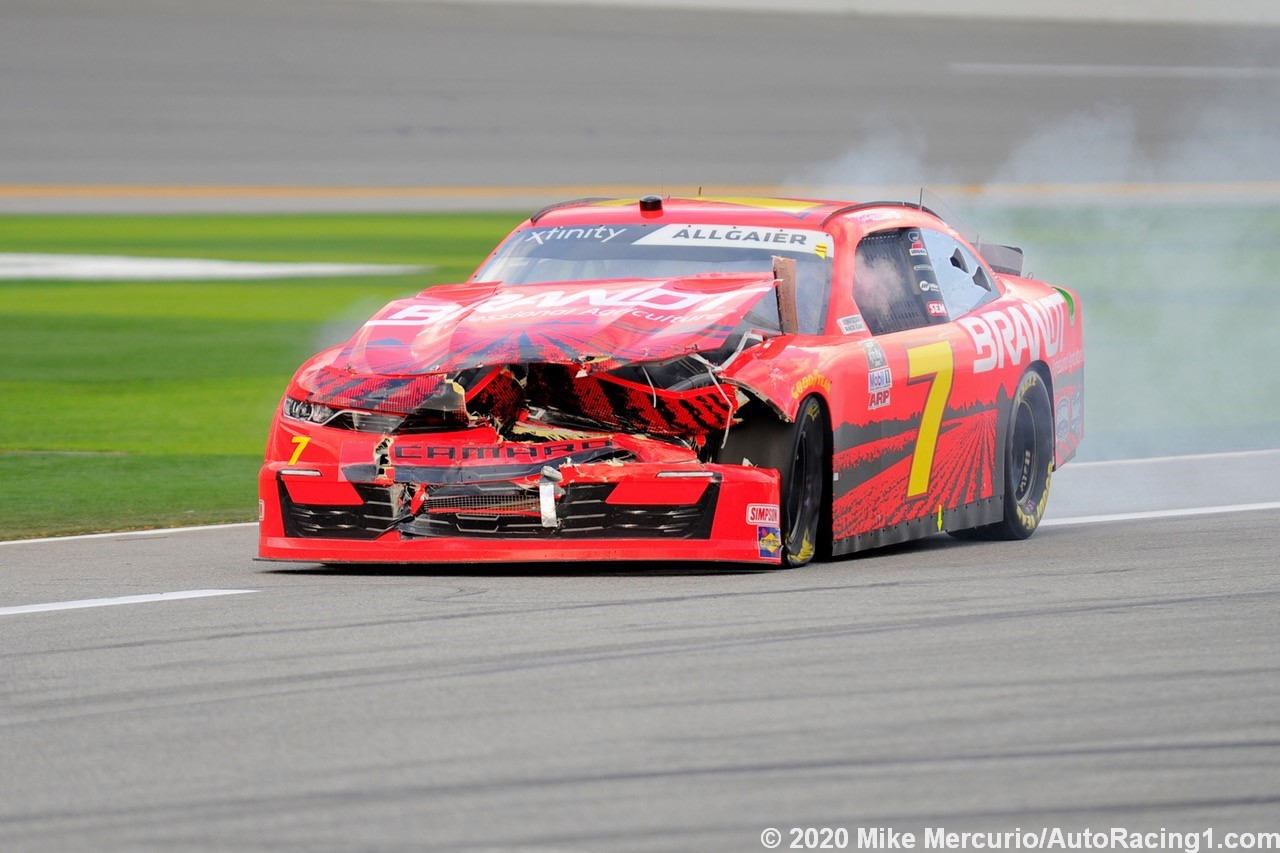 Allgaier brings his wadded up Camaro onto pit road
Hill came home in third, with Atlanta, Georgia's Brandon Jones in fourth and Briscoe in fifth.
Over the course of the final segment of the race, the field ran mostly single file, as pit strategies paid out. A quick green flag pit stop on lap 80 got Gragson off pit road first, and when pit stops finally cycled through 20 laps later, Gragson assumed the lead, with Jeb Burton and Chase Briscoe in tow.
The complexion of the race changed when Josh Bilicki spun in turn 4 due to a flat tire. Jeremy Clements slowed down to avoid Bilicki, and was plowed into by Justin Allgaier, bringing out the caution.
On the restart, Briscoe got to the lead in turn 2. As the field thundered down the backstretch, Briscoe began to challenge on the outside with a push from teammate Jeb Burton. Briscoe moved up to block the move, stacking up the field behind him. Burton's car was tagged from behind by Austin Cindric, sending him first down into the side of Jones, then up head-on into the outside wall. Both Burton and Cindric spun, gathering up several cars in the process, including Ross Chastain, Caesar Bacarella, Jesse Little, Brett Moffitt, Josh Williams and Chad Finchum.
Race officials brought the field to a halt on the backstretch under the red flag to allow for track clean up.
That set up the final three lap sprint to the finish, with Gragson and Briscoe battling side-by-side for the lead until Gragson finally moved out front for good coming to the white flag.
Justin Haley, Brown, Ray Black II, Tucker, Georgia's Ryan Sieg and Labbe rounded out the top ten.
Results
| | | | | | | |
| --- | --- | --- | --- | --- | --- | --- |
| Fin | Str | No. | Driver | Team | Laps | Status |
| 1 | 12 | 9 | Noah Gragson | Bass Pro Shops/BRCC Chevrolet | 120 | Running |
| 2 | 8 | 20 | Harrison Burton # | Dex Imaging Toyota | 120 | Running |
| 3 | 26 | 66 | Timmy Hill | VSI Racing/RoofClaim.com Toyota | 120 | Running |
| 4 | 6 | 19 | Brandon Jones | Interstate Batteries Toyota | 120 | Running |
| 5 | 10 | 98 | Chase Briscoe | Highpoint.com Ford | 120 | Running |
| 6 | 3 | 11 | Justin Haley | LeafFilter Gutter Protection Chevrolet | 120 | Running |
| 7 | 11 | 68 | Brandon Brown | Larry's Lemonade Chevrolet | 120 | Running |
| 8 | 16 | 7 | Ray Black II | CDA Tech Chevrolet | 120 | Running |
| 9 | 9 | 39 | Ryan Sieg | CMR Roofing Chevrolet | 120 | Running |
| 10 | 19 | 36 | Alex Labbe | Globocam/Rousseau Chevrolet | 120 | Running |
| 11 | 2 | 1 | Michael Annett | AHA/Pilot Flying J Chevrolet | 119 | Accident |
| 12 | 34 | 52 | JJ Yeley | Chevrolet | 119 | Running |
| 13 | 22 | 0 | BJ McLeod | Opav Chevrolet | 119 | Running |
| 14 | 25 | 78 | Vinnie Miller | UAP.ORG Toyota | 119 | Running |
| 15 | 36 | 47 | Joe Nemechek(i) | Patriots PAC of America Chevrolet | 119 | Running |
| 16 | 35 | 74 | Mike Harmon | Chevrolet | 119 | Running |
| 17 | 20 | 15 | Robby Lyons II | CSM/Carr & Sons Masonry Chevrolet | 119 | Running |
| 18 | 31 | 6 | David Starr | Whataburger Chevrolet | 119 | Running |
| 19 | 18 | 4 | Jesse Little # | KSDT/Series Seating Chevrolet | 118 | Accident |
| 20 | 33 | 13 | Chad Finchum | Garrison Homes Toyota | 118 | Running |
| 21 | 32 | 99 | Josh Bilicki | DITEC Marine/Insurance King Toyota | 117 | Running |
| 22 | 23 | 38 | Ross Chastain | C2 Freight Resources Chevrolet | 115 | Running |
| 23 | 4 | 8 | Jeb Burton | LS Tractor Chevrolet | 114 | Accident |
| 24 | 24 | 2 | Brett Moffitt(i) | Plan B Sales Chevrolet | 114 | Accident |
| 25 | 15 | 22 | Austin Cindric | MoneyLion Ford | 113 | Accident |
| 26 | 17 | 92 | Josh Williams | Sleep Well/Harkin Construction Chevrolet | 113 | Accident |
| 27 | 21 | 93 | CJ McLaughlin | Sci Aps Chevrolet | 113 | Running |
| 28 | 29 | 51 | Jeremy Clements | Repairables.com Chevrolet | 113 | Running |
| 29 | 14 | 90 | Caesar Bacarella | Maxim/Alpha Prime Regimen Chevrolet | 112 | Accident |
| 30 | 13 | 7 | Justin Allgaier | BRANDT Chevrolet | 107 | Accident |
| 31 | 30 | 5 | Matt Mills | J F Electric Toyota | 101 | Electrical |
| 32 | 7 | 18 | Riley Herbst # | Monster Toyota | 59 | Accident |
| 33 | 1 | 21 | Myatt Snider | TaxSlayer Chevrolet | 59 | Accident |
| 34 | 27 | 25 | Chris Cockrum | Advanced Communications Group Chevrolet | 59 | Accident |
| 35 | 28 | 61 | Austin Hill(i) | AISIN Group Toyota | 37 | Accident |
| 36 | 5 | 8 | Joe Graf Jr # | CORE Development Group Chevrolet | 37 | Accident |