Logano, Byron Score Duel Victories At Daytona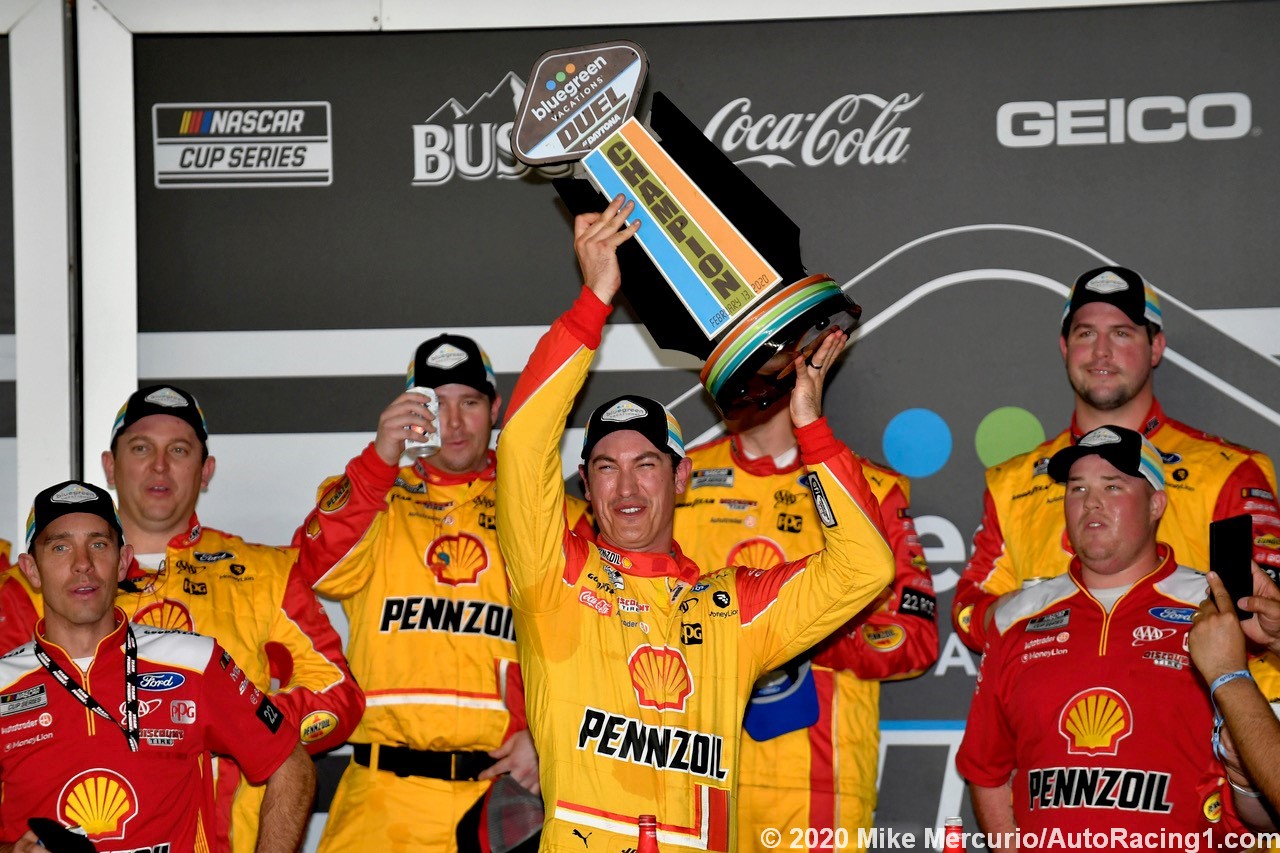 Joey Logano raced to the victory in the first Bluegreen Vacations Duel qualifying race on Thursday nigh
Joey Logano and William Byron both made trips to Victory Lane on Thursday night with wins at Daytona International Speedway.
In the first NASCAR Cup Series Bluegreen Vacations Duel, Logano held off a pair of fellow Ford drivers to score his second straight Duel victory.
In the second Duel, Byron was pushed to the lead by fellow Chevy pilot Kurt Busch with three laps to go, and then held off a last lap challenge from teammate Jimmie Johnson to get the win.
The races set the starting field for Sunday's 62nd running of the Daytona 500.
In the opening race, Logano swapped the lead back and forth with Daytona 500 pole sitter Ricky Stenhouse, Jr. as the field drafted side-by-side over the closing laps.
With one lap to go, the draft on the inside line deteriorated, allowing Logano, Aric Almirola and Ryan Newman to get away.
Behind them, Chevy drivers Darrell Wallace, Jr. and Austin Dillon tried to put a run together over the final half lap, but couldn't make it to the leaders, as Logano drove to the win.
"This is awesome," said Logano. "What great teamwork by the Fords, especially Aric Almirola, my goodness. He was a great pusher at the right time and we were able to hold off the bottom when we needed and hold off the Chevys and showed the speed that the Ford's have here. That is something I am proud to be a part of. I am proud to be driving that Blue Oval and these Roush Yates motors. We are ready to rock and roll. I can't wait for the 500."
Almirola finished in second, with Newman in third, Brad Keselowski in fourth and Wallace, Jr. in fifth.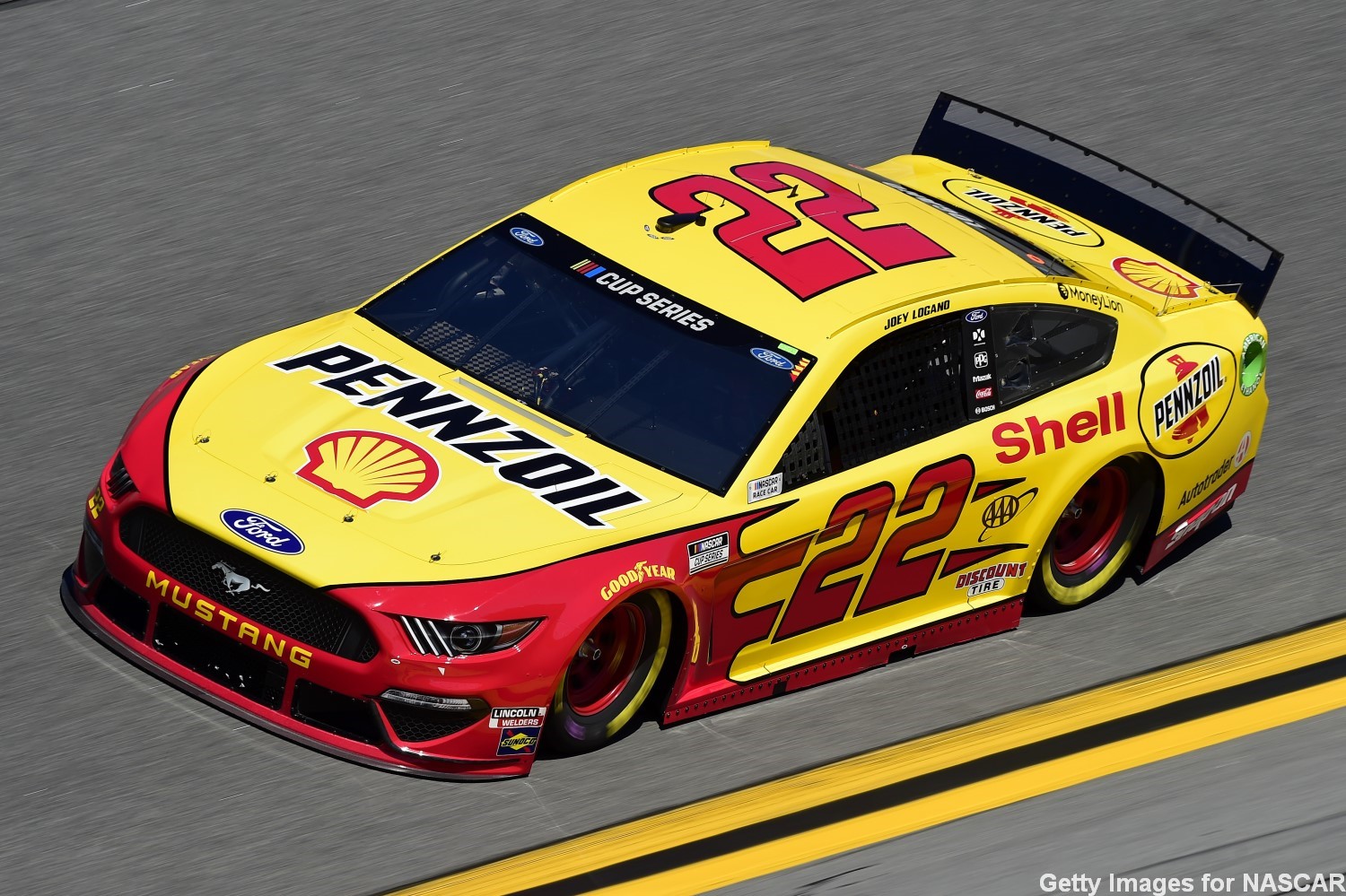 Joey Logano raced to the victory in the first Bluegreen Vacations Duel qualifying race on Thursday night
Austin Dillon, Martin Truex, Jr., Stenhouse, Jr., Christopher Bell and Chris Buescher rounded out the top ten.
Dawsonville, Georgia's Chase Elliott ran near the front for much of the race, but faded late to 13th.
"It was kind of a power in numbers," Elliott said. "I thought we had a decent thing working there at one point, but it just fell a part there at the end. But our car was plenty good enough to be good on Sunday. So, we'll see."
In race two, Kevin Harvick had the lead with Matt DiBenedetto in tow going into the final five laps. With three to go, Byron swung to the outside, pushed by Kurt Busch and Johnson.
Byron made the pass, but with the white flag in the air, Johnson made a move to the outside. Byron moved up to make a block, opening the door for Harvick to try to move back to the point. While his competition ran three-wide behind him, Byron drove to the win.
"I was really trying to go with one to go, but I had enough momentum out of the tri-oval," said Byron. "Watching the old races, that's where the momentum kind of lines up. I didn't know if I would get that kind of same momentum once everybody started pushing with one to go.
[adinserter name="GOOGLE AD"]"Made it there, got to second. I guess Kevin played really nice and didn't pull a big block. Thanks to Axalta. This car looks really good. I'm sure it was beautiful under the lights. Excited for the 500."
Johnson finished in second, with Kyle Larson in third, Harvick in fourth and Cole Custer in fifth.
Erik Jones, DiBenedetto, Kurt Busch, Ross Chastain and Tyler Reddick rounded out the top ten.
Unadilla, Georgia's David Ragan was running near the front in the closing laps, and came home 14th at the end of the night.
Both races were slowed by one caution each, but those cautions played a huge part in who among the non-chartered NASCAR Cup Series teams made Sunday's Daytona 500.
In the first Duel, Daniel Suarez seemed to have a lock on the transfer spot. He saw that go away when a group of cars moved to come to pit road. With Brad Keselowski slowing in front of him, Suarez took an evasive maneuver to avoid contact. That led to contact with Ryan Blaney, sending both cars spinning off turn 4.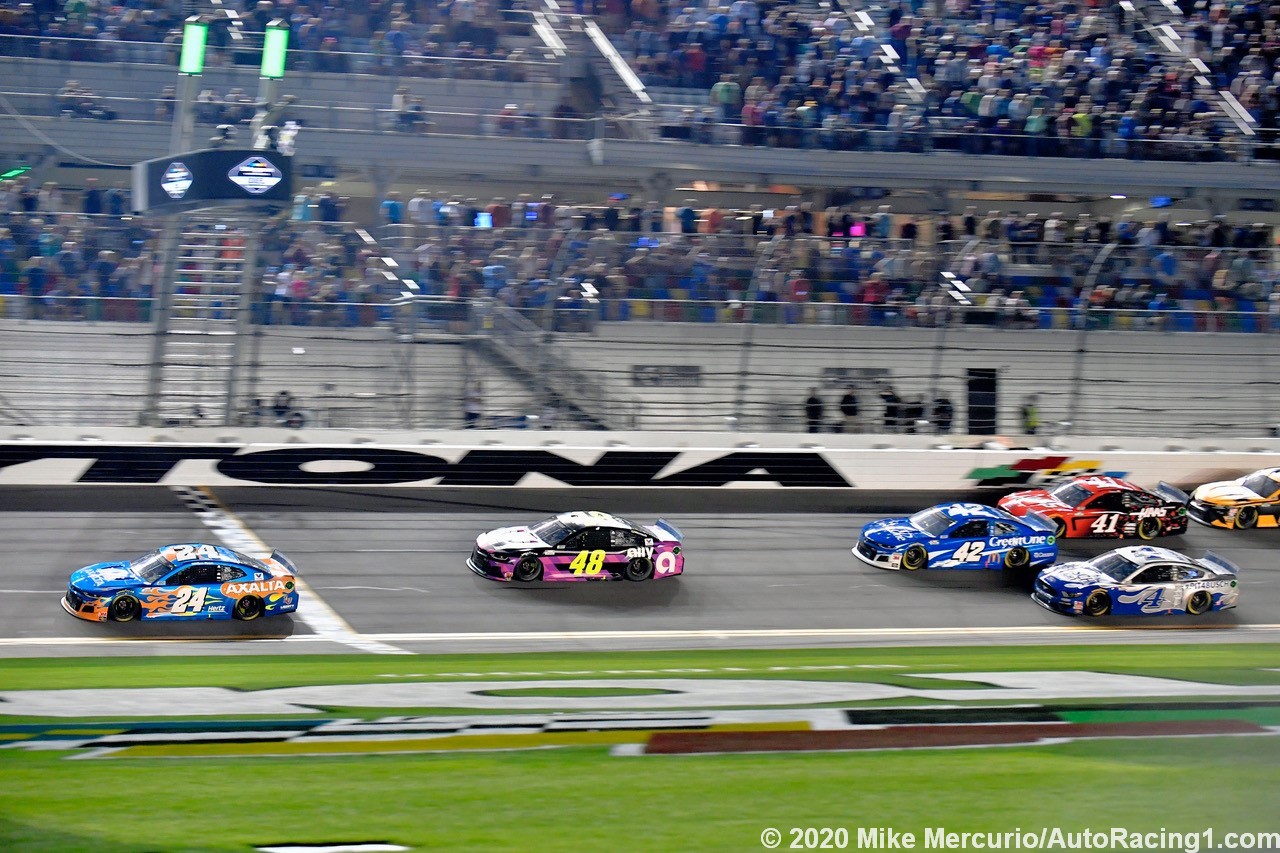 Byrin beats Johnson in Duel 2
Suarez's car was heavily damaged by the infield grass, ending his Daytona 500 hopes.
"There was not communication," Suarez said. "The 2 (Keselowski) car all of a sudden started to slow down and obviously it was either wreck him or go to the right and I thought the 12 (Blaney) was going to give me a little more room, but obviously he didn't."
With Suarez sidelined, Peachtree City, Georgia's Reed Sorenson finished 18th, putting him on Sunday's starting grid.
"Well, it is a big deal," Sorenson said. "The money that comes in from this race for a small team is a big deal to kind of get the ball rolling financially. Yeah, these guys worked really hard over the winter. This is probably the best motor I've had to try to race my way in. So, I was excited about that, that we were able to put the effort in to have an engine here. So, I'm just proud of everybody and I'm looking forward to Sunday. I think it will be fun."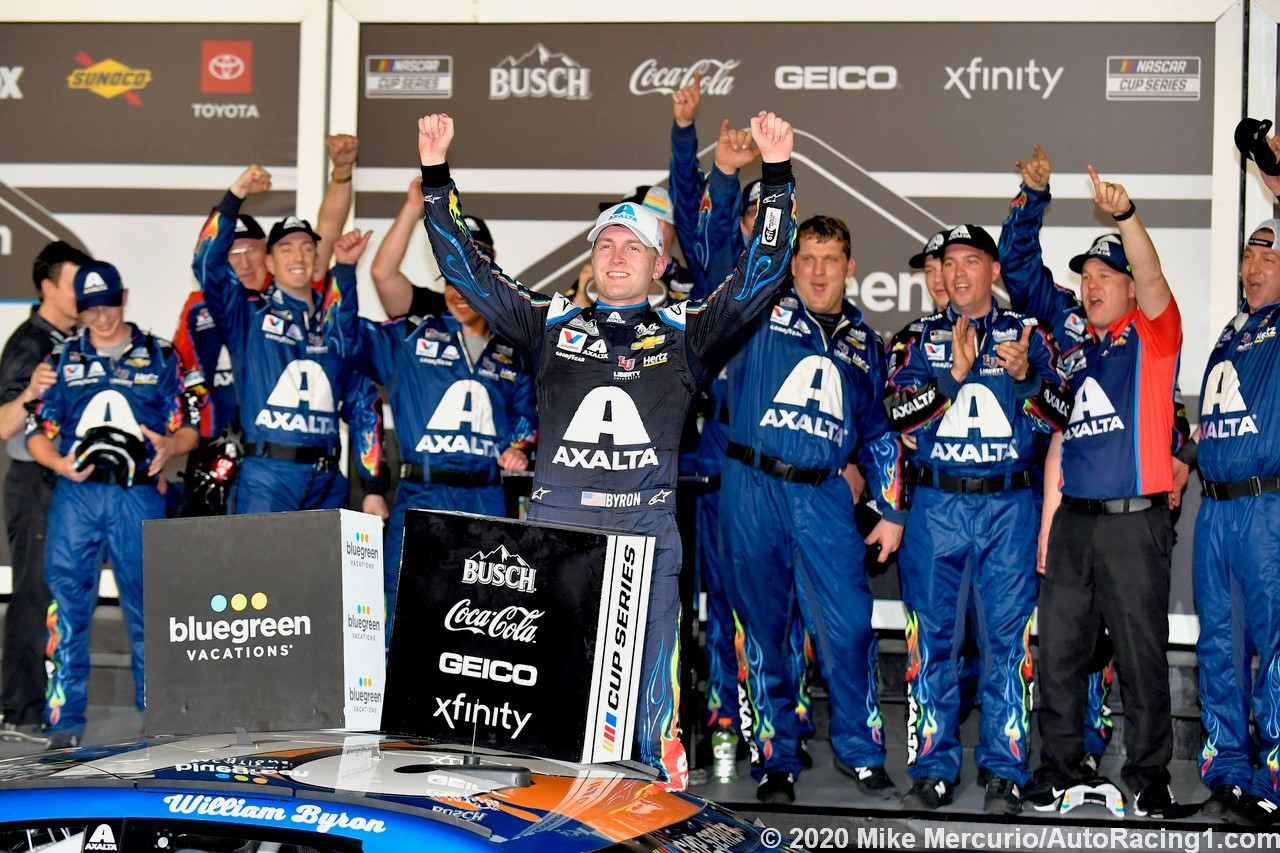 Byron celebrates Duel 2 win
In the second Duel, J.J. Yeley and Timmy Hill were battling for the transfer spot when contact made contact after Corey LaJoie attempted to give Hill a push on the backstretch. The contact turned Yeley into the wall, leaving his car damaged and his Daytona hopes dashed.
Meanwhile, Hill drove to a 16th place finish and will start Sunday's race – his first in the "Great American Race."
"For us, people don't really give us much of a shot," said Hill. "To come into this race as an underdog, nobody's really counting on, it feels really great to prove a lot of people wrong. This team, they jumped off the wall and celebrated. I could hear their voices on the radio.
"For me personally, this is my 10th year in NASCAR. It's my very first time making this race. I attempted it one other time. That ended in disappointment. To make this race, it's really special for us."
Suarez and Yeley join Chad Finchum as drivers who will not be competing in Sunday's Daytona 500.
Duel 1 Results
| | | | | | |
| --- | --- | --- | --- | --- | --- |
| POS | No./DRIVER | MFG | ST | LAPS | LED |
| 1 | #22 Joey Logano | Ford | 6 | 60 | 19 |
| 2 | #10 Aric Almirola | Ford | 4 | 60 | 0 |
| 3 | #6 Ryan Newman | Ford | 8 | 60 | 5 |
| 4 | #2 Brad Keselowski | Ford | 12 | 60 | 0 |
| 5 | #43 Bubba Wallace | Chevrolet | 17 | 60 | 0 |
| 6 | #3 Austin Dillon | Chevrolet | 15 | 60 | 1 |
| 7 | #19 Martin Truex Jr | Toyota | 11 | 60 | 0 |
| 8 | #47 Ricky Stenhouse Jr | Chevrolet | 1 | 60 | 27 |
| 9 | #95 Christopher Bell | Toyota | 5 | 60 | 0 |
| 10 | #17 Chris Buescher | Ford | 10 | 60 | 1 |
| 11 | #11 Denny Hamlin | Toyota | 3 | 60 | 0 |
| 12 | #38 John H. Nemechek | Ford | 13 | 60 | 0 |
| 13 | #9 Chase Elliott | Chevrolet | 2 | 60 | 0 |
| 14 | #12 Ryan Blaney | Ford | 14 | 60 | 0 |
| 15 | #14 Clint Bowyer | Ford | 7 | 60 | 7 |
| 16 | #37 Ryan Preece | Chevrolet | 9 | 60 | 0 |
| 17 | #16 Justin Haley | Chevrolet | 16 | 60 | 0 |
| 18 | #27 Reed Sorenson | Chevrolet | 18 | 59 | 0 |
| 19 | #00 Quin Houff | Chevrolet | 20 | 58 | 0 |
| 20 | #49 Chad Finchum | Toyota | 21 | 57 | 0 |
| 21 | #51 Joey Gase | Chevrolet | 22 | 57 | 0 |
| 22 | #96 Daniel Suarez | Toyota | 19 | 28 | 0 |
Duel 2 Results
| | | | | | |
| --- | --- | --- | --- | --- | --- |
| POS | CAR | DRIVER | MANUF | LAPS | BEHIND |
| 1 | 24 | William Byron | Chevy | 60 | — |
| 2 | 48 | Jimmie Johnson | Chevy | 60 | 0.117 |
| 3 | 42 | Kyle Larson | Chevy | 60 | 0.237 |
| 4 | 4 | Kevin Harvick | Ford | 60 | 0.270 |
| 5 | 41 | Cole Custer # | Ford | 60 | 0.291 |
| 6 | 20 | Erik Jones | Toyota | 60 | 0.361 |
| 7 | 21 | Matt DiBenedetto | Ford | 60 | 0.402 |
| 8 | 1 | Kurt Busch | Chevy | 60 | 0.429 |
| 9 | 77 | Ross Chastain(i) | Chevy | 60 | 0.486 |
| 10 | 8 | Tyler Reddick # | Chevy | 60 | 0.509 |
| 11 | 13 | Ty Dillon | Chevy | 60 | 0.525 |
| 12 | 34 | Michael McDowell | Ford | 60 | 0.659 |
| 13 | 18 | Kyle Busch | Toyota | 60 | 0.660 |
| 14 | 36 | David Ragan | Ford | 60 | 1.169 |
| 15 | 88 | Alex Bowman | Chevy | 59 | 8.300 |
| 16 | 66 | * Timmy Hill(i) | Ford | 59 | 8.603 |
| 17 | 62 | * Brendan Gaughan(i) | Chevy | 59 | 35.975 |
| 18 | 15 | Brennan Poole # | Chevy | 58 | -1 |
| 19 | 32 | Corey LaJoie | Ford | 58 | -2 |
| 20 | 52 | BJ McLeod(i) | Ford | 57 | -3 |
| 21 | 54 | * JJ Yeley | Ford | 41 | -19 |
# DENOTES ROOKIE
(I) NOT ELIGIBLE FOR POINTS
(*) REQUIRED TO QUALIFY ON TIME