Power tops IndyCar open test at COTA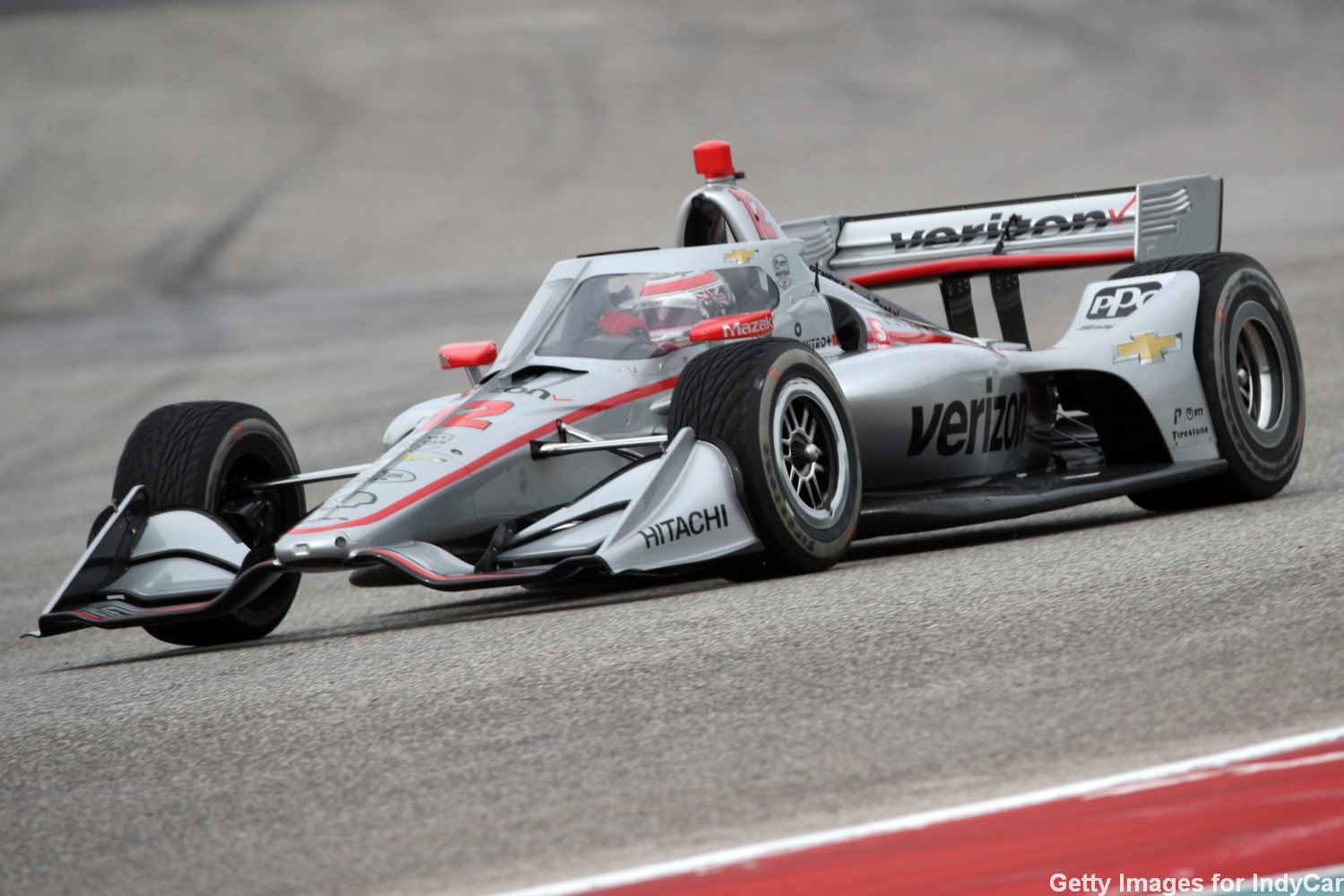 Fast man Will Power
The superior Team Penske put all three of their Chevy powered cars in the Top-4 as practice ended for the IndyCar Open test at Circuit of Americas in Austin, Texas.
The only one capable of breaking up the Penske party was Alexander Rossi in the #27 Andretti Honda.
Will Power ended up on top with Rossi 0.2396 sec behind.
The big surprise was Scott McLaughlin who was in an IndyCar for only the 2nd time in his life with the 3rd best time. Josef Newgarden and Colton Herta rounded out the top-5.
Power (No. 12 Verizon Team Penske Chevrolet), the 2014 NTT INDYCAR SERIES champ, recorded a lap of 1 minute, 46.7603 seconds/114.987 miles per hour that was not far off his pole-winning speed of a year ago at COTA. He was inside 0.8 of a second from his pole effort of 1:46.0177/115.792 mph last March.
[adinserter name="GOOGLE AD"]"It always feels great, you know," Power said. "It's good for all my guys to see we have the pace. We went through as many items as we could. Obviously, it was very rushed at the end there with red flags and everything, so didn't get everything done, but kind of some of the big stuff that we needed to know, we understand."
Andretti Autosport's Alexander Rossi (No. 27 NAPA Auto Parts Honda) posted the second-fastest lap at 1:46.9999/114.729 mph. Interestingly, he qualified second to Power here last season.
"It was obviously great to finally get back on track," Rossi said. "It's been a long offseason. The waiting around for weather was hard, but I think the team did a good job. We got through a lot of our run plan with no dramas, despite the delays.
"The Aeroscreen was tentatively less dramatic than everyone was expecting it to be, and didn't have any real issues until some slight, reflection issues at the end which we should be able to rectify. So that was positive. We worked through a good test list and found a pretty decent place in adapting the car with the 2020 needs within a half day. Generally, pretty happy."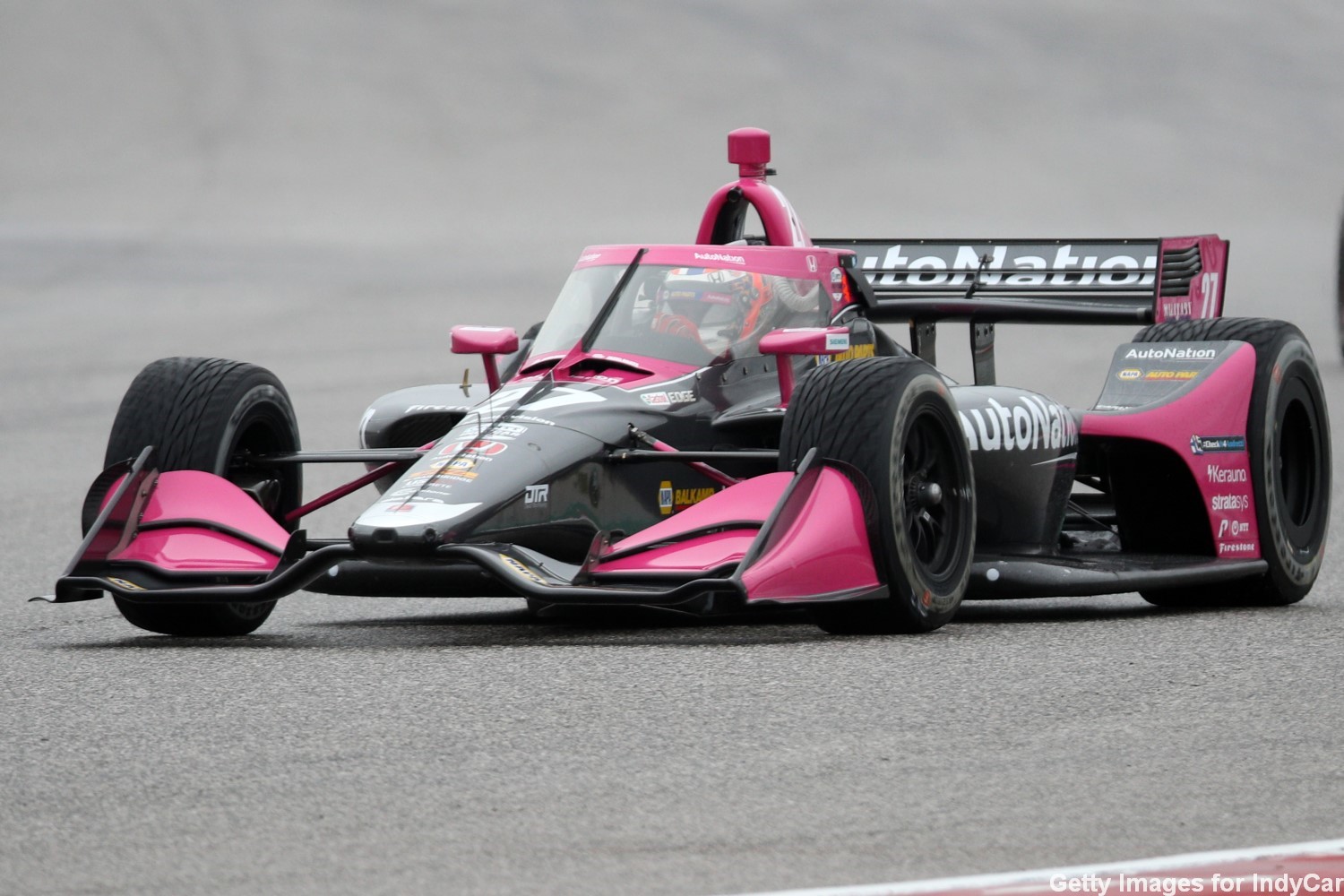 Rossi, 2nd quick, will run these AutoNation colors in 8 of 17 races this year
Two-time defending Virgin Australia Supercars champion Scott McLaughlin (No. 2 Team Penske Chevrolet) made an immediate impression, recording the third-fastest lap of the session (1:47.2630/114.448 mph).
McLaughlin was followed by Team Penske teammate and defending NTT INDYCAR SERIES champion Josef Newgarden (No. 1 Team Penske Chevrolet), who was fourth at 1:47.2750/114.435 mph. Colton Herta (No. 88 Andretti Harding Steinbrenner Autosport Honda), last year's winner at COTA, rounded out the top five (1:47.3672/114.337 mph).
While Tuesday's inclement weather limited on-track activities, it helped give Andretti Autosport time to give Alexander Rossi's No. 27 Honda a different look.
Rossi's car will alternate primary liveries between NAPA AUTO PARTS and AutoNation this season, and the team wanted to showcase both during these two days of COTA testing. Thus, the complete rewrapping of the car, which took five hours.
NAPA AUTO PARTS and its blue-and-yellow colors will be the primary sponsor of nine races, including the 104th Indianapolis 500 presented by Gainbridge on May 24. AutoNation and its pink-and-black colors will be the branding for eight races, including the season-opening Firestone Grand Prix of St. Petersburg (March 15) and the AutoNation INDYCAR Challenge at COTA on April 26.
AutoNation was introduced to the sport through Andretti Autosport driver Ryan Hunter-Reay (No. 28 DHL Honda) in 2013.
ROOKIE CROP
The contingent of drivers competing for the NTT INDYCAR SERIES rookie of the year honors currently consists of 2019 Super Formula Rookie of the Year Alex Palou (No. 55 Dale Coyne Racing with Team Goh Honda), 2019 Indy Lights champion Oliver Askew (No. 7 Arrow McLaren SP Honda), 2019 Indy Lights championship runner-up Rinus VeeKay (No. 21 Ed Carpenter Racing Chevrolet) and Indy Lights graduate Dalton Kellett (No. 14 AJ Foyt Racing Chevrolet).
Kellett is the only one among the group who is not scheduled for a full season. He will be competing in nine races in the No. 14 entry and sharing the seat with veterans Tony Kanaan and Sebastien Bourdais. He split time with Bourdais at the COTA test.
Askew was the fastest of this group, finishing seventh on the charts with a lap of 1:47.5611/114.130 mph among the 76 laps he ran. VeeKay completed the most laps of the day with 82.
MENTALITY SHIFT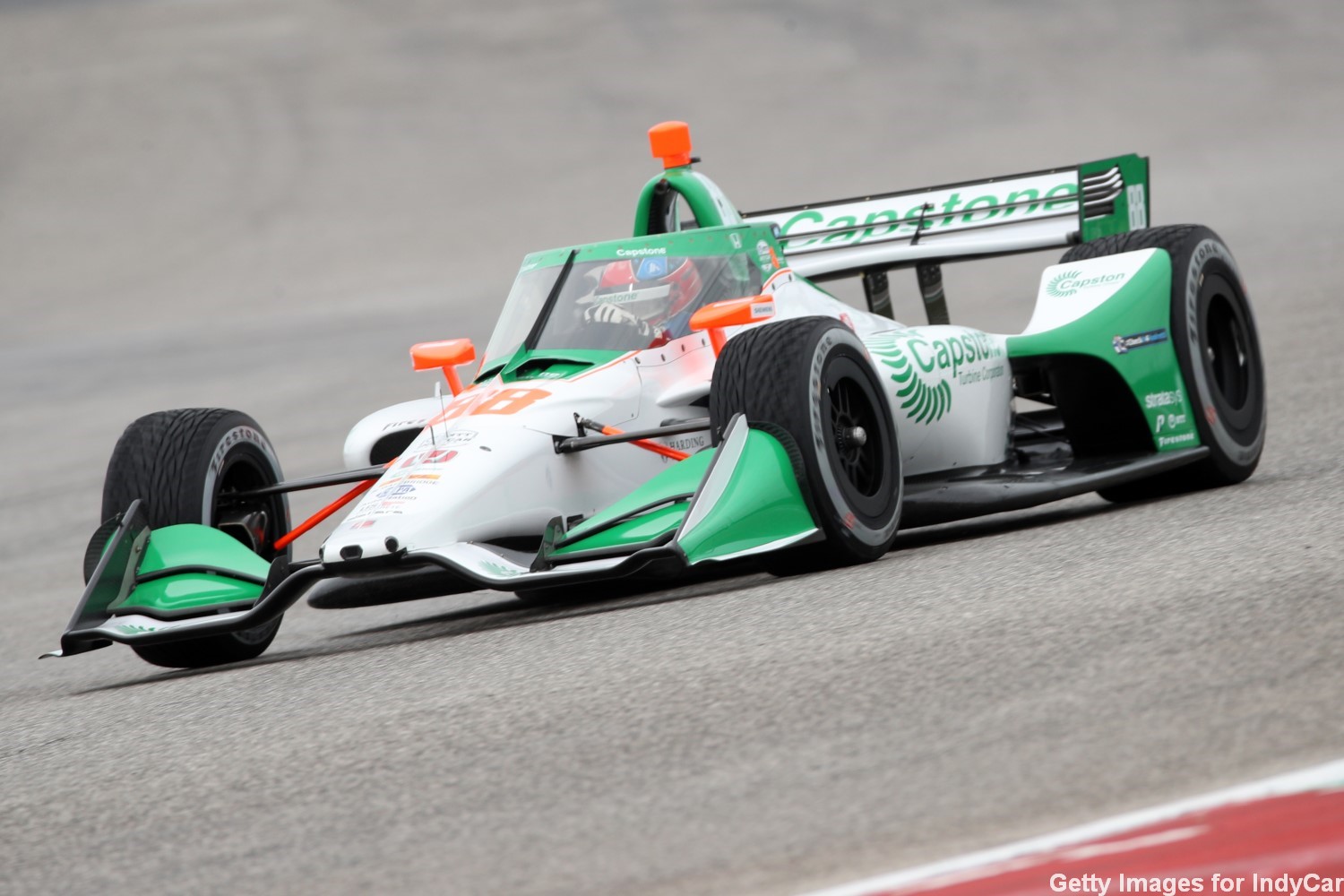 Colton Herta
One of the more significant moves of the NTT INDYCAR SERIES offseason occurred when team owners Mike Harding and George Steinbrenner IV merged Harding Steinbrenner Racing – with driver Colton Herta (No. 88 Capstone Honda) – with Andretti Autosport to form Andretti Harding Steinbrenner Racing.
Not only is the 19-year-old Herta, who won two races last season, expected to be stronger in 2020, Steinbrenner said the program's momentum is generating more interest with sponsors. Herta's inaugural NTT INDYCAR SERIES victory at COTA last season was historic as he became the youngest race winner in the sport's history. His second victory came in the season finale at WeatherTech Raceway Laguna Seca.
"Winning is everything," Steinbrenner said. "It's made the conversations easier. It legitimizes you."
Herta said his expectation is to be in championship contention at the season-closing Firestone Grand Prix of Monterey at WeatherTech Raceway Laguna Seca on Sunday, Sept. 20. With title aspirations, Steinbrenner said the team must alter its mindset.
"Last year, we were the little team that could," he said. "This year we have to shift mentalities."
JACKED UP
Excuse Meyer Shank Racing's Jack Harvey (No. 60 AutoNation/SiriusXM Honda) for being one of the most eager to get the season started. Officially, this is his fourth season, but the first time he is scheduled for all of the races.
Harvey drove in three races in 2017, six in 2018 and 10 last year – 19 in all – and now prepares for the upcoming 17-race NTT INDYCAR SERIES season. This season also will come with an alliance with Andretti Technologies, which means his car will work in tandem with all of the Andretti Autosport drivers and their engineers.
"It's such a good situation for us," Harvey said. "It's sort of two teams in one, which gives us a wealth of information."
That information should be especially helpful at the tracks where Harvey has not raced an Indy car: Texas Motor Speedway, Richmond Raceway, Iowa Speedway and World Wide Technology Raceway at Gateway. Iowa is the only one of those tracks where he raced in Indy Lights.
RIDESHARE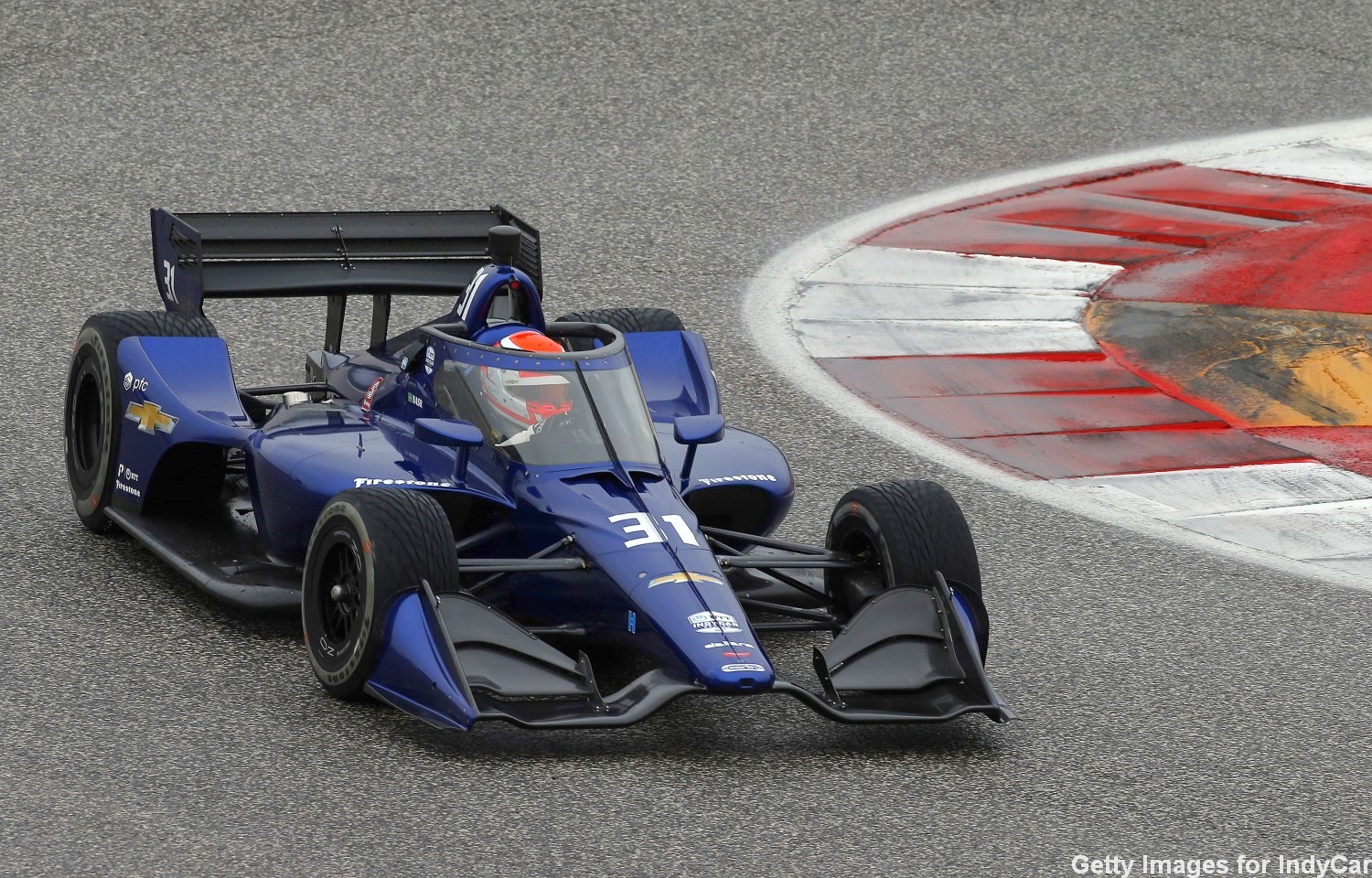 Felipe Nasr
Felipe Nasr, who competed in Formula One for two seasons and was the 2018 WeatherTech SportsCar Championship Prototype champion, shared Carlin's No. 31 Chevrolet with fellow Brazilian Sergio Sette Camara during the COTA test.
Despite the two testing the car at COTA, Carlin has not confirmed a driver for the entry this season. Nasr is scheduled to compete in all of IMSA's sports car races this year for Action Express Racing while Sette Camara's plans are unsettled on the heels of finishing fourth in the FIA's Formula 2 Championship last year.
Select Aeroscreen Quotes
This week's test featured a full-field debut of INDYCAR's latest safety innovation, the cockpit-protecting Aeroscreen that is mandated for all cars on all tracks beginning this season. The Aeroscreen will make it competition debut March 13-15 at the season-opening Firestone Grand Prix of St. Petersburg on the streets of St. Petersburg, Fla. (3:30 p.m. ET, NBC Sports Network).
Graham Rahal (No. 15 Rahal Letterman Lanigan Honda): "So far, so good. The Aeroscreen has been no issue. Little bit warmer on the car but not too bad. Visibility is great. I followed someone through a puddle and actually a ton of water came up on the Aeroscreen and it dissipated immediately. Better, better than what we would have experienced honestly before this."
Andretti Autosport's Zach Veach (No. 26 Gainbridge Honda): "Honestly, I think the first real test day with the Aeroscreen was a complete success. The cooling was adequate for the conditions – and a little too good for as cool as it is. I think we're going to be in good shape when we get to St. Pete and it's hotter. We got to run in the rain, and I had no visual issues with the Aeroscreen at all. As different as it is for the car look, I was very happy with what I saw from the cockpit."
Takuma Sato (No. 30 Rahal Letterman Lanigan Honda): "The experience was very interesting and quite cool actually but very different from anything I drove before. It was a lot quieter with no air moving inside the cockpit. Overall, I think it is very positive. I felt really safe and protected. The visibility is better than I expected."
Sebastien Bourdais (No. 14 AJ Foyt Racing Chevrolet): "No particular complaints at all, you just have to get accustomed to the new environment. We ran somewhat in the wet, a tiny bit, (there were) projections dirtying up the screen when you follow someone, but it seemed under control, so no major complaints. Obviously, it is very cold today, so it was actually not a bad thing that it was warmer than usual inside the car."
Charlie Kimball (No. 4 AJ Foyt Racing Chevrolet): "I think there are still some cooling issues to work through. It is not particularly warm today but at the same time, I didn't have any vision issues and it's a lot quieter in the car. There is a lot less wind noise, and I think the radio is clearer, so if we can figure out how to stay cool on a really hot day we'll be in good shape. Even with the puddles and the dirt and all the other stuff that's been on the Aeroscreen today, I haven't felt like I lost any significant vision."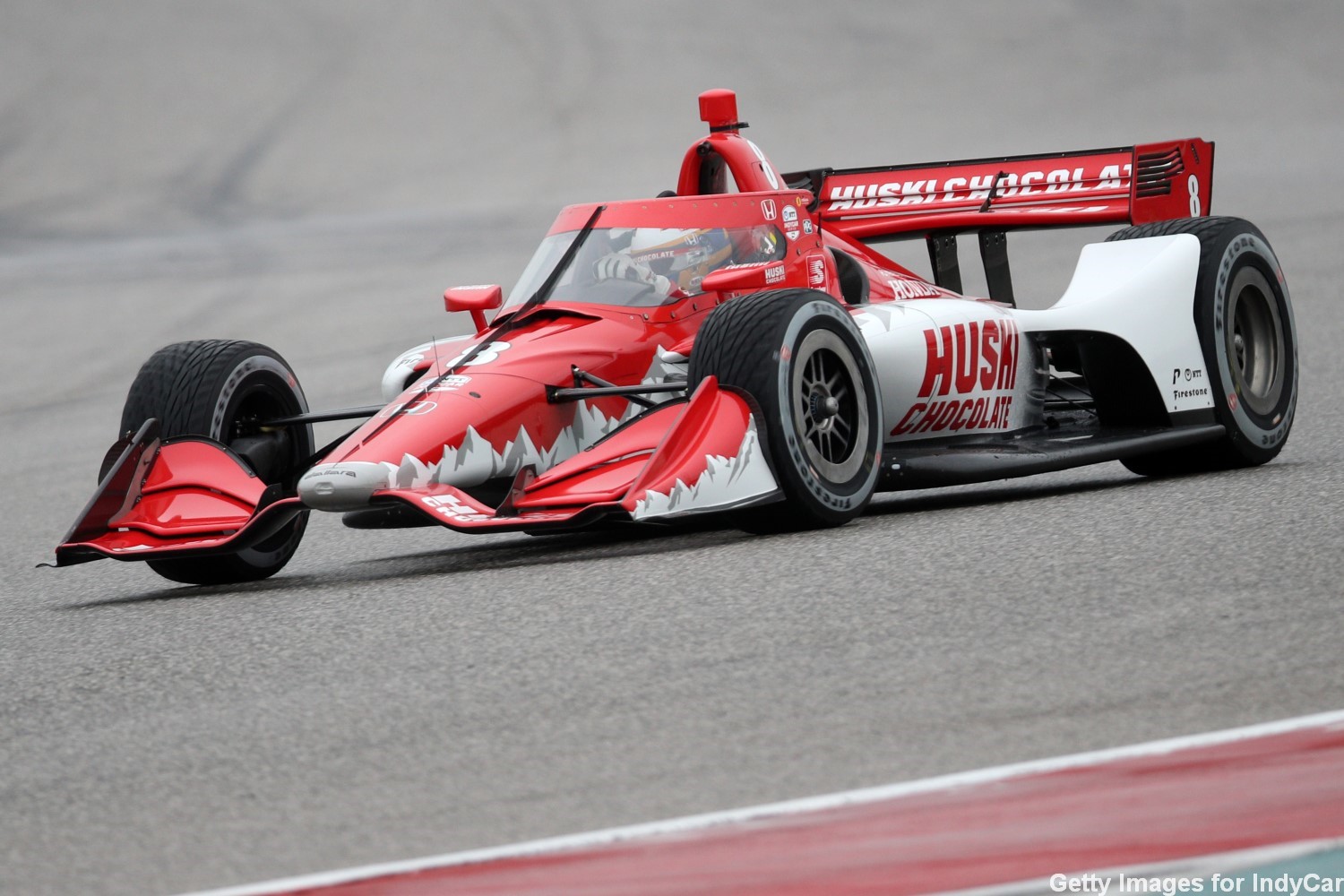 Eriksson
Marcus Ericsson (No. 8 Chip Ganassi Racing Huski Chocolate Honda): "Today was the first time for me with the Aeroscreen. It was a new experience. I think it worked really well and did what it should do. There were no issues whatsoever driving with it. Obviously, it feels a bit different compared to when there is nothing there, but you quickly get used to it. I think INDYCAR has done a really good job there to implement it on all cars for this test – it's very impressive! I look forward to continuing with it."
Felix Rosenqvist (No. 10 Chip Ganassi Racing NTT DATA Honda): "I think mainly the Aeroscreen worked really well. In terms of cooling, it was better than expected. Also, visibility was really good. The only thing was when the sun got low there was a lot of glare going on, which will be something to look at and see what the other drivers' feedback will be. I think honestly the biggest difference is the way it affects the car handling in terms of weight and aerodynamics. Otherwise, it was a really smooth day!"
Other post-Practice Quotes
Alex Palou, Dale Coyne Racing No. 19
"It was a really good test at Circuit of the Americas today. It was a bit of a shame that the weather prevented us to run yesterday and this morning, so the afternoon was busy," shared Palou. "It was a lot of fun. We tested a lot of stuff and we learned a lot. I also got confident with the car and the team. It was a very productive test. I think it's the start of a good year. (About driving with the aeroscreen) I think it's really good. I expected the visibility to be worse but no, it was perfectly fine."
Taylor Kiel, Managing Director, Arrow McLaren SP
"The test went well. I think overall it was a good day for the team. We finally were able to get on track with both cars, see where we stack up against the field, and it was a good day. We had some issues toward the end but we worked through it. It was good to see the team come together, with all the new faces that we have, and work through an issue. That's what testing is for.
Overall, I'm pleased. We have good pace in the cars and the drivers worked really well together. Our team has worked really hard all offseason so to finally be able to get on track was important and was a good thing for us. Overall, we are happy with the day."
Pato O'Ward, No. 5 Arrow McLaren SP Chevrolet (P10, 1:47.7151, 67 laps completed)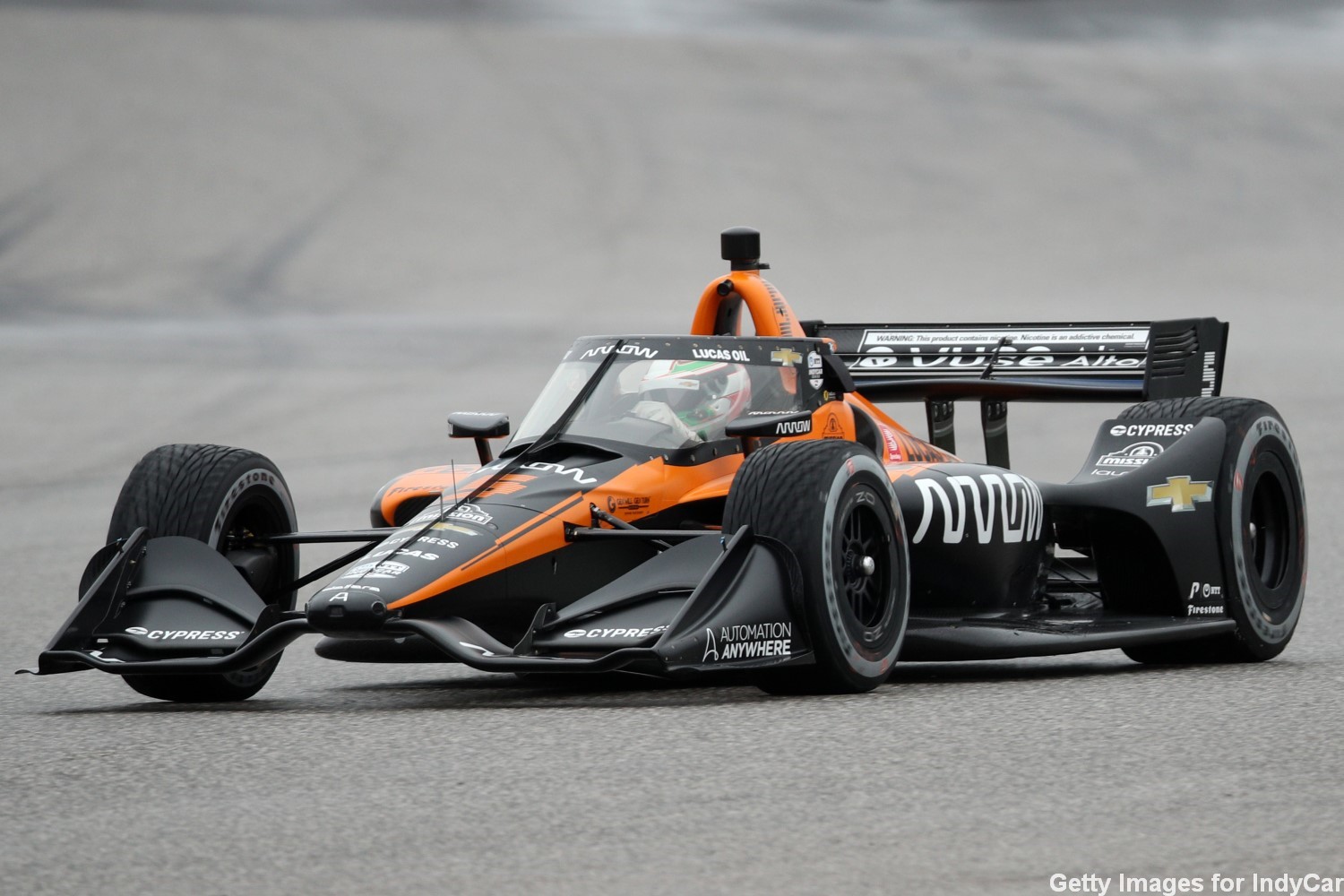 O'Ward
"I think once we passed lunch, when the track started to dry out, we started putting down some decent laps and started to gather some useful information. We were very fast in the dryish-wet conditions and it felt quite good. The first few runs on slick tires felt alright and we started working from there but towards the end of the day I started struggling with Sector Three. I'm not sure why but we will go now and analyze everything so we can come back and be on top of it during the race weekend.
As a team, we made some steps forward. We learned some things because we changed quite a few things on the cars throughout the day but we need to improve. We need to be quicker. It looks like the Penske's were very, very fast and we just have to get better for race weekend but for a start, it's somewhat decent. There's some things that I have to work on myself, I don't think I did a job that I'm happy with to be honest. I didn't really put one specific strong lap together. It was good to get back in the car but I'm ready to continue improving and go racing."
Oliver Askew, No. 7 Arrow McLaren SP Chevrolet (P7, 1:47.5611, 76 laps completed)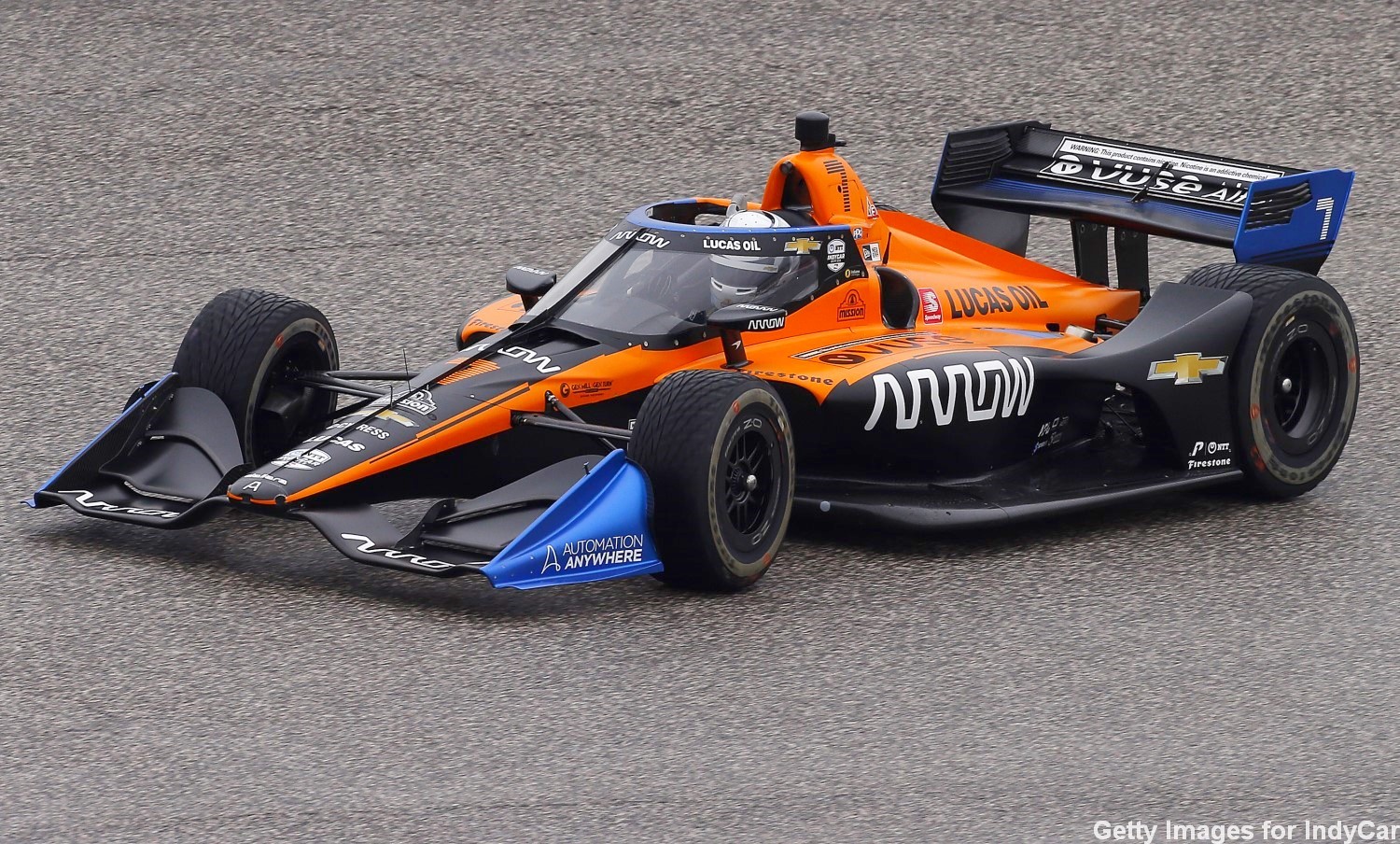 Askew
"Today was really good. Unfortunately, we didn't get all the testing in that we had planned coming into this test because of the rain but it's the same for everyone. The team still worked really hard to prepare a different run plan and execute it, and I think we did that. I felt good in the car. I like this track, it suits my style. Honestly, I think if we were to come back tomorrow, I would be able to go quicker because I'm still getting used to the car, the atmosphere, how the car likes to be driven, but I'm quite happy with the lap time today. With more experience, I can find a couple tenths and be within the top-5 which is awesome.
I felt like the car was pretty good. The engineers and everyone worked really hard. We focused a lot on pit stops, which obviously isn't a strong suit of mine never having done pit stops before coming from sprint racing. I think we checked all the boxes that we could. We did some of the most laps out of everyone. Physically, I felt good. We will take the next couple days to analyze where we can do better and keep progressing. That's the most important thing right now."
Wednesday Open Test Times
| | | | | | | | | | |
| --- | --- | --- | --- | --- | --- | --- | --- | --- | --- |
| Pos | No | Name | Time | Diff | Gap | Laps | Speed | Engine | Team |
| 1 | 12 | Will Power | 1:46.760 | –.—- | –.—- | 57 | 114.987 | Chevy | Team Penske |
| 2 | 27 | Alexander Rossi | 1:47.000 | 0.2396 | 0.2396 | 49 | 114.729 | Honda | Andretti Autosport |
| 3 | 2 | Scott McLaughlin | 1:47.263 | 0.5027 | 0.2631 | 61 | 114.448 | Chevy | Team Penske |
| 4 | 1 | Josef Newgarden | 1:47.275 | 0.5147 | 0.0120 | 53 | 114.435 | Chevy | Team Penske |
| 5 | 88 | Colton Herta | 1:47.367 | 0.6069 | 0.0922 | 42 | 114.337 | Honda | Andretti Harding Steinbrenner Auto |
| 6 | 22 | Simon Pagenaud | 1:47.557 | 0.7965 | 0.1896 | 65 | 114.135 | Chevy | Team Penske |
| 7 | 7 | Oliver Askew | 1:47.561 | 0.8008 | 0.0043 | 76 | 114.130 | Chevy | Arrow McLaren SP |
| 8 | 9 | Scott Dixon | 1:47.692 | 0.9318 | 0.1310 | 52 | 113.992 | Honda | Chip Ganassi Racing |
| 9 | 55 | Alex Palou | 1:47.707 | 0.9467 | 0.0149 | 60 | 113.976 | Honda | Dale Coyne Racing with Team Goh |
| 10 | 5 | Pato O'Ward | 1:47.715 | 0.9548 | 0.0081 | 67 | 113.967 | Chevy | Arrow McLaren SP |
| 11 | 10 | Felix Rosenqvist | 1:47.780 | 1.0193 | 0.0645 | 59 | 113.899 | Honda | Chip Ganassi Racing |
| 12 | 98 | Marco Andretti | 1:47.838 | 1.0782 | 0.0589 | 56 | 113.837 | Honda | Andretti Herta w/Marco & Curb-Aga |
| 13 | 60 | Jack Harvey | 1:47.890 | 1.1299 | 0.0517 | 61 | 113.782 | Honda | Meyer Shank Racing |
| 14 | 28 | Ryan Hunter-Reay | 1:47.891 | 1.1311 | 0.0012 | 50 | 113.781 | Honda | Andretti Autosport |
| 15 | 59 | Max Chilton | 1:47.963 | 1.2025 | 0.0714 | 71 | 113.706 | Chevy | Carlin |
| 16 | 15 | Graham Rahal | 1:47.987 | 1.2267 | 0.0242 | 50 | 113.680 | Honda | Rahal Letterman Lanigan Racing |
| 17 | 26 | Zach Veach | 1:48.005 | 1.2451 | 0.0184 | 59 | 113.661 | Honda | Andretti Autosport |
| 18 | 21 | Rinus VeeKay | 1:48.220 | 1.4595 | 0.2144 | 81 | 113.436 | Chevy | Ed Carpenter Racing |
| 19 | 8 | Marcus Ericsson | 1:48.306 | 1.5462 | 0.0867 | 64 | 113.345 | Honda | Chip Ganassi Racing |
| 20 | 18 | Santino Ferrucci | 1:48.364 | 1.6037 | 0.0575 | 51 | 113.285 | Honda | Dale Coyne Racing w/Vasser Sullivan |
| 21 | 31 | Sergio Sette Camara | 1:48.471 | 1.7104 | 0.1067 | 28 | 113.173 | Chevy | Carlin |
| 22 | 30 | Takuma Sato | 1:48.690 | 1.9293 | 0.2189 | 39 | 112.945 | Honda | Rahal Letterman Lanigan Racing |
| 23 | 4 | Charlie Kimball | 1:48.692 | 1.9322 | 0.0029 | 52 | 112.942 | Chevy | AJ Foyt Enterprises |
| 24 | 14 | Sebastien Bourdais | 1:48.836 | 2.0758 | 0.1436 | 35 | 112.793 | Chevy | AJ Foyt Enterprises |
| 25 | 20 | Conor Daly | 1:49.078 | 2.3178 | 0.2420 | 62 | 112.543 | Chevy | Ed Carpenter Racing |
| 26 | 31 | Felipe Nasr | 1:50.768 | 4.0080 | 1.6902 | 49 | 110.826 | Chevy | Carlin |
| 27 | 14 | Dalton Kellett | 1:50.994 | 4.2340 | 0.2260 | 20 | 110.600 | Chevy | AJ Foyt Enterprises |