Ricky Stenhouse Jr. Streaks To Daytona 500 Pole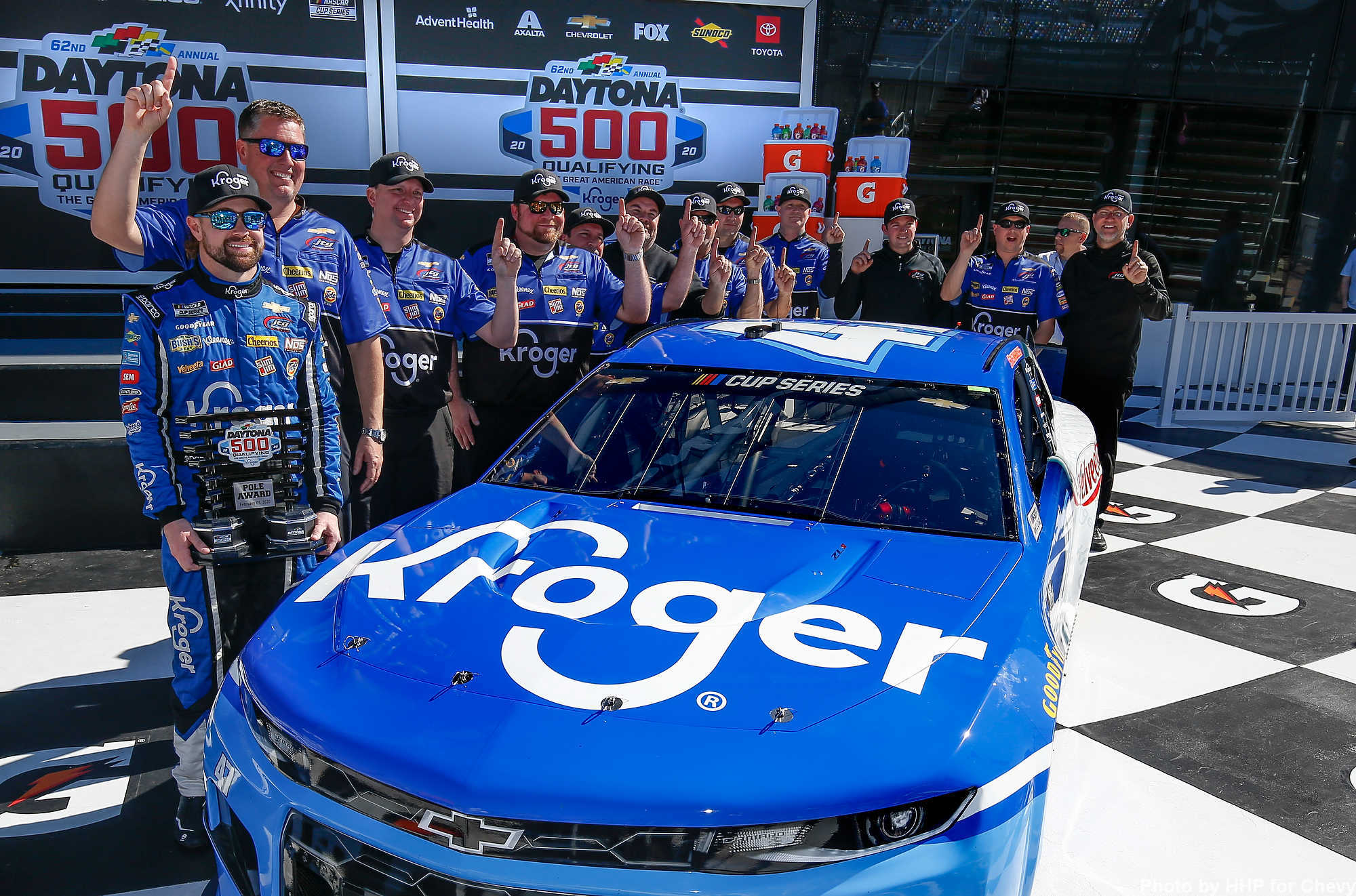 New car, new team, Ricky Stenhouse Jr. wins pole
For the last five years, the story of Daytona 500 pole day has been Hendrick Motorsports.
That changed on Sunday – sort of – as Ricky Stenhouse, Jr., in his first outing for JTG Daugherty Racing, put the No. 47 Chevrolet on the pole for next weekend's running of the "Great American Race" at Daytona International Speedway.
The pole came in a car powered by a Hendrick Motorsports engine.
Stenhouse, Jr. turned a lap 194.582 mph (46.253 seconds) to claim his first career pole in the 500. His move to the No. 47 came after an ouster from Roush-Fenway Racing, who chose to exercise a contract extension with Chris Buescher for 2020.
Buescher, ironically, was pulled from the No. 47, opening the door for Stenhouse, Jr.
[adinserter name="GOOGLE AD"]"Yeah, it's huge," said Stenhouse, Jr. "Any time you can start the season off, your first race with an organization, and to see all the work that they've put in; guys at the shop that I didn't even know were working Saturdays and late nights all for the benefit of me to come down here and jump in this car and run fast."
And while the pole snaps the five year streak for Hendrick Motorsports drivers, it wasn't a total loss, as they provide engines for the JTG Daugherty team.
"Touring the Hendrick engine shop, they were pumped-up for me to switch over into their horsepower," Stenhouse, Jr. said. "So this goes to a lot of people that work hard behind the scenes for me to come out here and drive. It's a cool way to start Speedweeks."
Add to that Hendrick Motorsports driver Alex Bowman was second quick at 194.363 mph, locking himself into the outside of the front row for the Daytona 500.
"We have a great Valvoline Camaro. I'm really happy with how the new Camaro has been so far," said Bowman. "The front row is still really good. Obviously, we wanted the pole, but just barely missed it there. So, hat's off to the Hendrick engine shop, the fab shop, and all the guys that work on these things all winter. This is really all about them. As a driver, you can really only screw it up. So, you can't make it really go any faster. So, I'm proud of all the guys and we've got the best-looking car here with Valvoline on board. It looks awesome, and hopefully we'll be up front in the 500."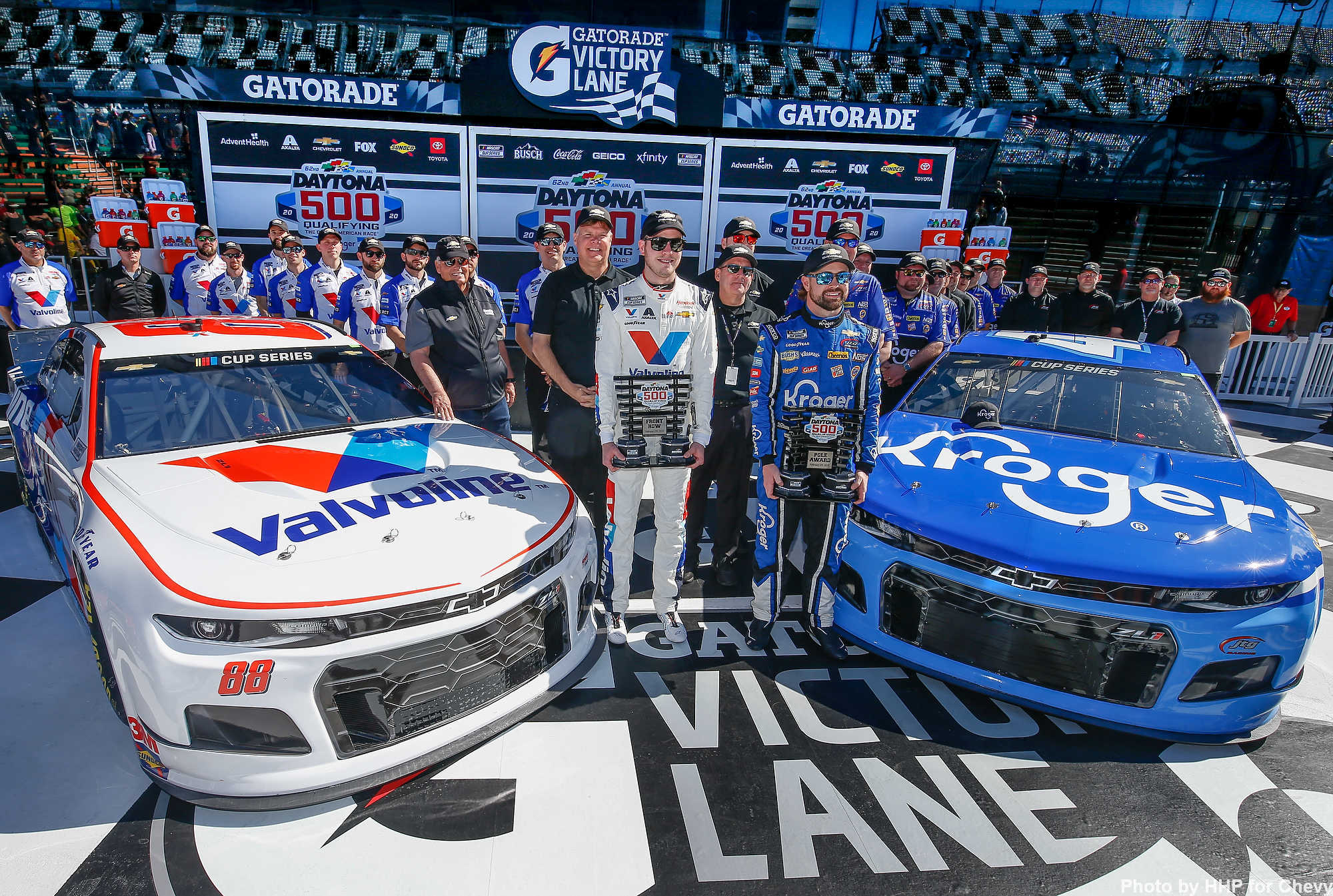 All Hendrick engine front row – Bowman (L) and Stenhouse (R)
Add to that Hendrick Motorsports driver Alex Bowman was second quick at 194.363 mph, locking himself into the outside of the front row for the Daytona 500.
The remainder of the field will be set in Thursday night's qualifying races.
Two-time 500 pole winner Chase Elliott was third fast, with Jimmie Johnson fourth quick as he prepares for his final season on the NASCAR Cup Series tour.
Two-time and defending Daytona 500 champion Denny Hamlin was fifth quick with 2019 series champion Kyle Busch sixth. Aric Almirola was the fastest Ford driver with a seventh place result, followed by defending pole winner William Byron in eighth, Rookie of the Year contender Christopher Bell in ninth and Erik Jones in tenth.
Two non-chartered teams can go into the rest of the week breathing easy, as Justin Haley and Brendan Gaughan locked themselves into next weekends Daytona 500 on speed. Haley timed in 31st quick, while Gaughan was 33rd.
Results
Round 2
| | | | | | | | | |
| --- | --- | --- | --- | --- | --- | --- | --- | --- |
| Pos | Car | Driver | Time | Speed | Lap # | # Laps | -Fastest | -Next |
| 1 | 24 | William Byron | 46.319 | 194.305 | 1 | 1 | 0.000 | 0.000 |
| 2 | 88 | Alex Bowman | 46.355 | 194.154 | 1 | 1 | 0.036 | 0.036 |
| 3 | 48 | Jimmie Johnson | 46.438 | 193.807 | 1 | 1 | 0.119 | 0.083 |
| 4 | 9 | Chase Elliott | 46.444 | 193.782 | 1 | 1 | 0.125 | 0.006 |
| 5 | 8 | Daniel Hemric # | 46.763 | 192.460 | 1 | 1 | 0.444 | 0.319 |
| 6 | 22 | Joey Logano | 46.766 | 192.448 | 1 | 1 | 0.447 | 0.003 |
| 7 | 19 | Martin Truex Jr. | 46.789 | 192.353 | 1 | 1 | 0.470 | 0.023 |
| 8 | 14 | Clint Bowyer | 46.804 | 192.291 | 1 | 1 | 0.485 | 0.015 |
| 9 | 2 | Brad Keselowski | 46.811 | 192.263 | 1 | 1 | 0.492 | 0.007 |
| 10 | 3 | Austin Dillon | 47.018 | 191.416 | 1 | 1 | 0.699 | 0.207 |
| 11 | 21 | Paul Menard | 47.094 | 191.107 | 1 | 1 | 0.775 | 0.076 |
| 12 | 11 | Denny Hamlin | 47.246 | 190.492 | 1 | 1 | 0.927 | 0.152 |
Round 1
| | | | | | | | | |
| --- | --- | --- | --- | --- | --- | --- | --- | --- |
| Pos | Car | Driver | Time | Speed | Lap # | # Laps | -Fastest | -Next |
| 1 | 88 | Alex Bowman | 46.408 | 193.932 | 1 | 1 | 0.000 | 0.000 |
| 2 | 24 | William Byron | 46.432 | 193.832 | 1 | 1 | 0.024 | 0.024 |
| 3 | 9 | Chase Elliott | 46.469 | 193.678 | 1 | 1 | 0.061 | 0.037 |
| 4 | 48 | Jimmie Johnson | 46.649 | 192.930 | 1 | 1 | 0.241 | 0.180 |
| 5 | 22 | Joey Logano | 46.782 | 192.382 | 1 | 1 | 0.374 | 0.133 |
| 6 | 2 | Brad Keselowski | 46.797 | 192.320 | 1 | 1 | 0.389 | 0.015 |
| 7 | 19 | Martin Truex Jr. | 46.803 | 192.295 | 1 | 1 | 0.395 | 0.006 |
| 8 | 14 | Clint Bowyer | 46.857 | 192.074 | 1 | 1 | 0.449 | 0.054 |
| 9 | 8 | Daniel Hemric # | 46.861 | 192.057 | 1 | 1 | 0.453 | 0.004 |
| 10 | 3 | Austin Dillon | 46.938 | 191.742 | 1 | 1 | 0.530 | 0.077 |
| 11 | 11 | Denny Hamlin | 47.009 | 191.453 | 1 | 1 | 0.601 | 0.071 |
| 12 | 21 | Paul Menard | 47.072 | 191.196 | 1 | 1 | 0.664 | 0.063 |
| 13 | 18 | Kyle Busch | 47.080 | 191.164 | 1 | 1 | 0.672 | 0.008 |
| 14 | 20 | Erik Jones | 47.089 | 191.127 | 1 | 1 | 0.681 | 0.009 |
| 15 | 4 | Kevin Harvick | 47.131 | 190.957 | 1 | 1 | 0.723 | 0.042 |
| 16 | 31 | * Tyler Reddick(i) | 47.161 | 190.836 | 1 | 1 | 0.753 | 0.030 |
| 17 | 12 | Ryan Blaney | 47.170 | 190.799 | 1 | 1 | 0.762 | 0.009 |
| 18 | 17 | Ricky Stenhouse Jr. | 47.177 | 190.771 | 1 | 1 | 0.769 | 0.007 |
| 19 | 10 | Aric Almirola | 47.185 | 190.739 | 1 | 1 | 0.777 | 0.008 |
| 20 | 41 | Daniel Suarez | 47.195 | 190.698 | 1 | 1 | 0.787 | 0.010 |
| 21 | 1 | Kurt Busch | 47.222 | 190.589 | 1 | 1 | 0.814 | 0.027 |
| 22 | 37 | Chris Buescher | 47.261 | 190.432 | 1 | 1 | 0.853 | 0.039 |
| 23 | 38 | David Ragan | 47.264 | 190.420 | 1 | 1 | 0.856 | 0.003 |
| 24 | 6 | Ryan Newman | 47.364 | 190.018 | 1 | 1 | 0.956 | 0.100 |
| 25 | 34 | Michael McDowell | 47.374 | 189.978 | 1 | 1 | 0.966 | 0.010 |
| 26 | 27 | * Casey Mears | 47.406 | 189.849 | 1 | 1 | 0.998 | 0.032 |
| 27 | 71 | * Ryan Truex(i) | 47.434 | 189.737 | 1 | 1 | 1.026 | 0.028 |
| 28 | 47 | Ryan Preece # | 47.441 | 189.709 | 1 | 1 | 1.033 | 0.007 |
| 29 | 40 | Jamie McMurray | 47.498 | 189.482 | 1 | 1 | 1.090 | 0.057 |
| 30 | 95 | Matt DiBenedetto | 47.515 | 189.414 | 1 | 1 | 1.107 | 0.017 |
| 31 | 62 | * Brendan | 47.520 | 189.394 | 1 | 1 | 1.112 | 0.005 |
| 32 | 42 | Kyle Larson | 47.565 | 189.215 | 1 | 1 | 1.157 | 0.045 |
| 33 | 43 | Bubba Wallace | 47.571 | 189.191 | 1 | 1 | 1.163 | 0.006 |
| 34 | 13 | Ty Dillon | 47.691 | 188.715 | 1 | 1 | 1.283 | 0.120 |
| 35 | 36 | Matt Tifft # | 47.703 | 188.667 | 1 | 1 | 1.295 | 0.012 |
| 36 | 96 | * Parker Kligerman(i) | 47.820 | 188.206 | 1 | 1 | 1.412 | 0.117 |
| 37 | 15 | Ross Chastain(i) | 47.898 | 187.899 | 1 | 1 | 1.490 | 0.078 |
| 38 | 0 | Landon Cassill | 48.025 | 187.402 | 1 | 1 | 1.617 | 0.127 |
| 39 | 32 | Corey LaJoie | 48.427 | 185.847 | 1 | 1 | 2.019 | 0.402 |
| 40 | 52 | Cody Ware # | 48.983 | 183.737 | 1 | 1 | 2.575 | 0.556 |
| 41 | 51 | BJ McLeod(i) | 49.266 | 182.682 | 1 | 1 | 2.858 | 0.283 |
| 42 | 66 | * Joey Gase(i) | 49.743 | 180.930 | 1 | 1 | 3.335 | 0.477 |