Toyota drivers: NHRA Spring Training Q&A
Antron Brown, AB Motorsports
Matco Tools/Global Electronic Technology Toyota Top Fuel Dragster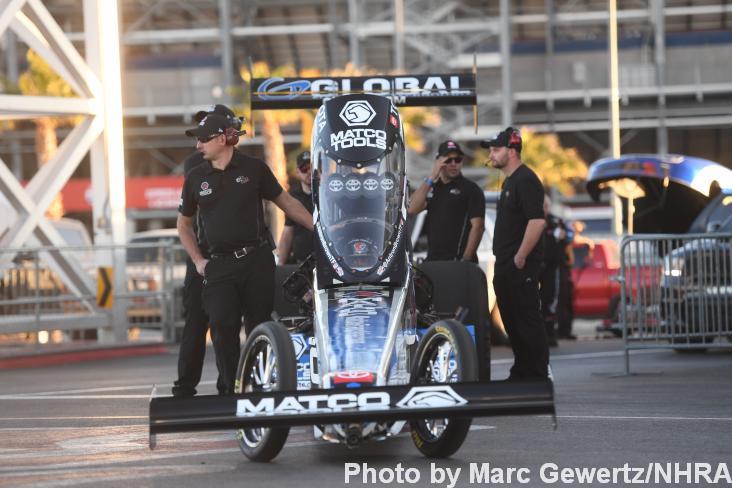 Antron Brown
Notes:
– In addition to his duties behind the wheel, three-time world champion Antron Brown will have a new task in 2020 as he begins the transition to sole ownership of the new AB Motorsports. For the near term, the new team will be under the umbrella of his current team, Don Schumacher Racing, as Brown transitions to owner/driver with the help of long-time team owner and mentor Don Schumacher.
– Brown enters Pomona looking for his first Winternationals title after taking home two victories in the NHRA Finals at Pomona. Former crew chief Brian Corradi will be returning to the team he helped win three world championships, after two years with John Force Racing.
– Brown enters the 2020 season with 50 career Top Fuel wins, just two behind Joe Amato for third all-time. In addition, he recorded 16 Pro Stock Motorcycle victories.
Quotes:
Can you talk about the formation of AB Motorsports?
[adinserter name="GOOGLE AD"]It's another chapter in this racing team and we're all doing it together. They've been very gracious at Don Schumacher Racing for all these years with what Don has established. One thing I've learned from him is that you always need to keep excelling and keep on reaching to climb to the next level. Getting Brian Corradi back was a part of it and a big step in going forward as a team. We're working on owning this whole operation, while continuing as a subsidiary of DSR and being able to buy the parts and pieces from DSR, as well as having them handle the hospitality. We'll still be a family, except we'll be able to make our own decisions going forward, while still having DSR in the background to help us along the way. To have all of this come together, I'm just pinching myself. It's a dream come true. I think we have all of the right people in place, so I'm not going to have to be juggling too much. I'm not going to micromanage. I'm going to let them do what they do and I can focus on driving and keeping our partners happy. Everything else will take care of itself.
How has Spring Training gone?
We've been knocking some of the cobwebs out during Spring Training. It feels really good to have Brian Corradi back and have the whole family back in sync. It feels like a family reunion. Our main focus has been to come out here and have fun and just keep growing every run and learn something. With everything going on with our Matco Tools Global Electronic Technology Toyota dragster, it's amazing unison. We have some great partners who have come on board. We're just ready to get back to racing. The key thing is we've been able to get off the line in every run we're making down the track. We're starting to get consistent and that's the key. Do we have things we need to work on? Absolutely. We just have to keep on working to get better and better. But before you can make it better, you have to get down the track every time. I'm just happy to get back after it. I can't wait to get out to Pomona.
What's your goal for the 2020 season?
Our goal is to compete at a high-level and go after a championship. Winning a championship is always number one on our list. We've learned a lot over the last few years that we can implement into our new package to move forward and be better. It's ok to struggle, but you have to learn from it to move forward. One of the great things we have going forward is that TRD and Toyota will be a crucial and vital part of this. They've helped me establish a lot of things and they've been my road map. To lean on them from both the team standpoint as a partner, but also from the technology standpoint where they step up more and more each and every year has been a blessing. I can't thank them enough. TRD brings a lot of new ideas and parts and pieces, it's like Christmas every time at the race track with them. I've been incredibly fortunate that Toyota and Matco Tools have both been with me all these years, from our start in Top Fuel racing.
What are you looking for at the Winternationals?
We've always done well at Pomona. We qualify and run well there. We've had the car to beat there, yet, we've still never won the Winternationals. We won the NHRA Finals there a couple of times. It would be awesome to start the year off right there. First you've got to qualify, then, we can focus on race day and just going rounds.
Doug Kalitta, Kalitta Motorsports
Mac Tools Toyota Top Fuel Dragster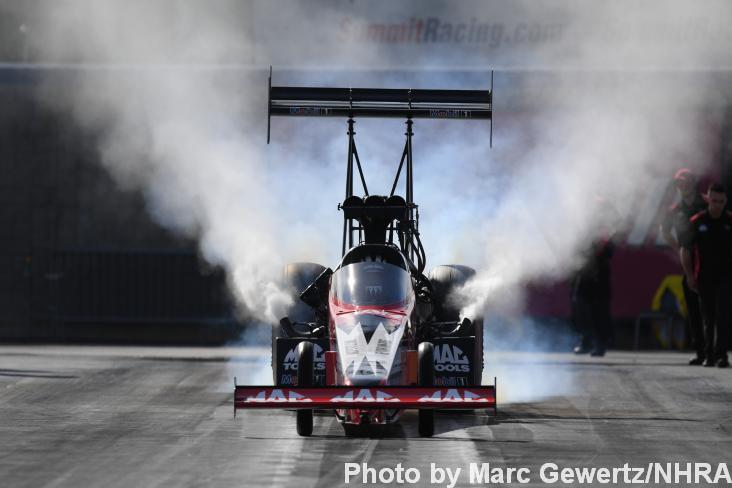 Doug Kalitta
Notes:
– Doug Kalitta will be looking to open the 2020 NHRA campaign with his third consecutive Winternationals title after winning in both 2018 and 2019. Overall, he's been to four consecutive Winternationals finals after earning runner-up honors in 2016 and 2017. Last season, Kalitta swept both Pomona events and will be eyeing his third straight overall Pomona win in February.
– Kalitta fell just three points shy of earning his first Top Fuel title in 2020. He has now finished in the top three in the point standings three times in the last four years. His 47 career Top Fuel victories are good for fifth all-time.
Quotes:
Why do you think you've enjoyed so much success at Pomona?
I love going to Pomona. It's a place that has always been special and it's been very good to us. To me, the cool thing about Pomona is the history of the place. I've seen so many of the greats race there and I love the museum. I hope the fans take some time to visit there. Personally, I grew up watching Connie there over the years and it was just the coolest place to race. Hopefully, we can keep running well there.
What's the key to moving up one spot to win a Top Fuel championship?
We're just hoping to be running up front the whole season. We need to start off strong. We'll try to go back to Pomona and pick up where we left off. We've been testing well here in Spring Training in Vegas. Qualifying is one of the things that we're going to be focusing on this year. Usually on race day, we're consistently good, so qualifying a little bit better will help us be there at the end again this year. The points you gain in qualifying can make a big difference in the point standings. I think the addition of NGK and Mobil 1 should be a big plus as well. We're really looking forward to having them aboard this year. I'm excited to get to Pomona.
If there's one constant in Top Fuel racing, it's that the Mac Tools Toyota always seems to be near the top of the standings, how do you explain that?
I've been very fortunate over the years. I'm really proud of what this Mac Tools Toyota team has accomplished, especially last year. The car was running good throughout the year. I think what benefits us the most is simply that we have the ability to stay consistent. We don't seem to have many long stretches where we struggle and that allows us to enter the Countdown in a good position to challenge for a title. This team is something special and I'm looking forward to the coming season.
How do you think the Top Fuel field shapes up this year?
It's going to be a really strong field again this year. All of the top teams from last year are back. With Shawn moving back to Top Fuel, we're adding another world champion. I think our Toyota teammate Antron Brown is going to be right back in the hunt, especially with Brian Corradi back with them. Plus, you have all the young kids who came up last year like Austin Prock and Jordan Vandergriff. There's never an easy round out there.
Shawn Langdon, Kalitta Motorsports
DHL Toyota Top Fuel Dragster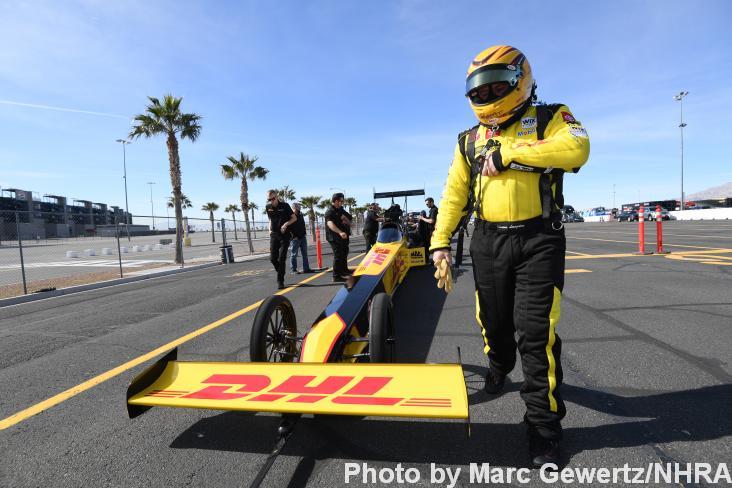 Shawn Langdon
Notes:
– After spending the last two seasons in a Kalitta Motorsports Camry Funny Car, Shawn Langdon will make the transition back to Top Fuel, where he won the 2013 world championship, this season. In recording two Funny Car wins last season, he became the 17th driver in NHRA history to earn a win in both Top Fuel (14) and Funny Car.
– Langdon will be returning to his home track in Pomona for the 60th annual Lucas Oil NHRA Winternationals. Having grown up 20 miles outside of Pomona, Langdon has registered four Top Fuel wins at the track, sweeping both the Winternationals and NHRA Finals in both 2013 and 2015.
Quotes:
How did your return to Top Fuel come about?
It was an opportunity that presented itself with Connie Kalitta wanting to go to three cars. They asked me if I wanted to go back to drive for him again in the dragster and it was absolutely. I raced with him in 2017. We had a great year and ended on a great note with two runner-up finishes and a semi-final in the final three races. So it's good to be back racing with the DHL Toyota team. I'm excited for this year.
Do you have a preference between Top Fuel and Funny Car?
I just want to race. If that means racing a Funny Car…perfect. If that means racing a dragster…perfect. I like racing. To me, it doesn't matter what I race, I just enjoy having an opportunity to compete and compete for wins and a championship.
How important was it to win and be a contender in Funny Car before you returned to Top Fuel?
I've always had the nature that whatever car I get in, I want to be competitive. I don't come out here to race and not win. So whatever I get in, I try to give 100 percent every time. I just try to be a part of a team that's going to be a championship contender and we were able to have two great years in Funny Car and got two wins out of it. It would be nice, maybe one day in the future, to go back and maybe get a championship in Funny Car, but I'm very pleased to be back working with Connie, Kurt Elliott and the whole DHL team.
Were you able to take away anything from Funny Car and apply it back running Top Fuel?
Nothing. A Funny Car is just so different than a dragster. Really the only thing I learned in Funny Car that I can apply to Top Fuel is how to deep stage (laughing).
You've had a lot of success at Pomona, what would another Winternationals win mean to you?
It's exciting to get back there and get the season started. Obviously, Pomona is a home race for me, so it's always neat to go back and race in front of my family and friends at a place where I grew up watching my heroes. It's also the first race of the season, so it's exciting just to get the season going. It's good to have enjoyed the success we've had there, that's what you strive for. Some tracks you go to you seem to find the Winner's Circle and some tracks it seems like you're always looking for early flights out on Sunday. Fortunately, Pomona is one of those tracks for me where I seem to have great success at. Hopefully, we can start out with another win. That would be awesome.
Can you talk about the addition of two new sponsors in Mobile 1 and NGK Spark Plugs?
It's great to bring in some prestigious new partners. NGK and Mobil 1 are new to us on the marketing front, but they are great companies that have played a huge role in our sport. So we're very happy to have them on board and very happy to work with them and showcase their products to the world.
J.R. Todd, Kalitta Motorsports
DHL Toyota Camry Funny Car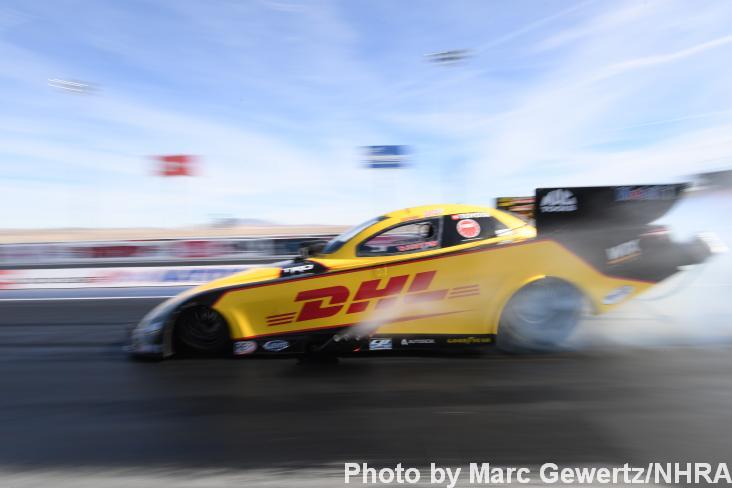 J.R. Todd
Notes:
– J.R. Todd enters the 2020 campaign looking for his second Funny Car world championship in the last three years after winning the title in 2018.
– Todd currently has 18 victories in the two NHRA nitro classes, having won nine races in both Funny Car and Top Fuel. Among his Top Fuel wins was the 2007 Winternationals at Pomona. He also won the NHRA Finals at the track in Funny Car in 2018. A win at the season opener would make him just the second driver in history to win the Winternationals in both Nitro classes, joining Don Prudhomme.
Quotes:
What are you looking for in 2020?
We have the same goal we start every season off with – looking for another shot at the championship like we won with the DHL Toyota in 2018. We didn't have the season we were hoping for last year, but we've regrouped. We have some new crew guys this year and we've added some key associate sponsors on board. Things are looking up and we're hoping on hitting the ground running in Pomona.
Will Kalitta Motorsports move to a one-car Funny Car team this year have any effect on your program?
There are pros and cons of multi-car teams. I think for us, with Toyota and TRD's support and their focus on our DHL Toyota Camry, that's a good thing for us. I don't think it will hinder our performance being a one-car Funny Car team. We have two great dragster teams here at Kalitta Motorsports that we work really well with.
How important is your relationship with TRD and Toyota?
It's great. We have a TRD-support center parked right next to us at every race. The information they provide us, whether it's track conditions or different ideas on things we can try with the body and chassis, is great. I don't think there's any other manufacturer that provides support like that to the other teams out here. I'm really looking forward to this season. We have some things in the works with Toyota and TRD for 2021, so I expect to be testing some new things later this season.
What would a win at the Winternationals mean to you?
With the 60th anniversary of the Winternationals this year, it's a big race where everyone wants to get a win under their belt. I've been fortunate to win the Winternationals in dragsters, so if I could add my name to that list to win in both nitro classes that would be pretty special. You always want to start the season off with good momentum going into the year. It's a long season, but if we can come out of Pomona with a win, it will set the bar high for us.
Can you speak more on the new sponsorship partnerships for 2020 that you mentioned earlier?
It's great because the products they supply to us our exclusive to Kalitta Motorsports. Getting NGK on board is huge. They've been around the sport for a long time and have a great history. Mobil 1 has already put a lot of blood, sweat and tears into making sure this product was right. We did some testing with it last season and they perfected it. It's a great product and exclusive to our team, so I think that could be crucial for us in the performance area. We've seen the benefits of their oil by not tearing up parts with issues we've had in the past. When you look at things like that in the long run, it's going to save our teams money and gives the crew chiefs a bit of advantage where they can stand on the tune-up a little harder because they know the oil is going to hold up to whatever they're giving it. That can make hundredths or thousandths of a second difference at the finish line. Little things like that can mean a lot and go a long way in this sport.