Rolex 24: Halfway Update – Cadillacs run 1-2-3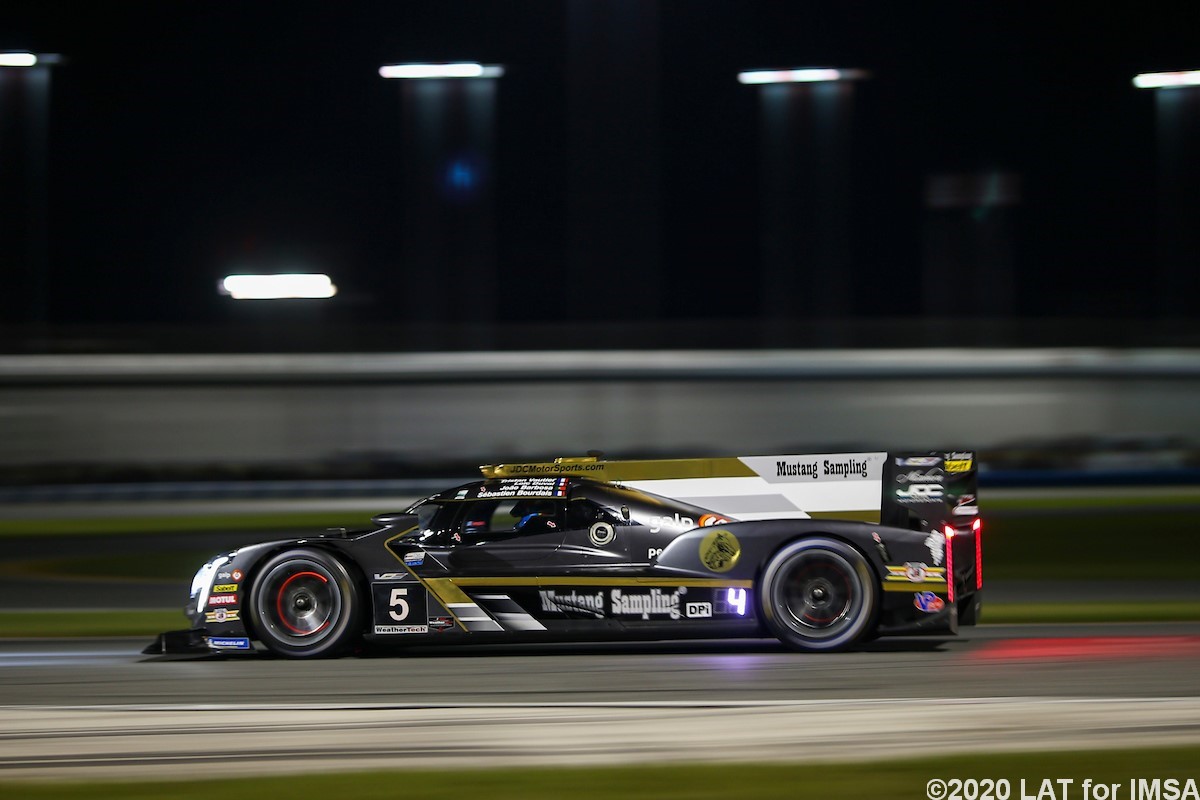 Loic Duval leads at the 12-hour mark
Cadillacs run 1-2-3 at the midpoint of the Rolex 24 at Daytona.
The #5 Cadillac (Loic Duval) has assumed the lead over the #10 Cadillac (Ryan Briscoe) but they swap positions on pitstops and the win is still very much up in the air as the #31 Cadillac lurks close behind.
The #77 and #55 Mazdas are now circulating together in 4th and 5th place still on the lead lap but starting to lose touch with the Cadillacs that are putting the BoP advantage IMSA gave them to good use.
Simon Pagenaud runs 6th in the #6 Penske Acura but the Acuras were neutered too much by IMSA and it is evident they do not have the pace to win. The sister #7 Acura is up from dead last to 12th but they are still 23 laps behind and wasting their time as they have zero chance of winning after the #55 Mazda driven by Tincknell drilled them into the barrier at the Bus Stop chicane around the 4-hour mark.
The LMP2 class was led at 12 hours by PR1/Mathisen Motorsport's Oreca 07 Gibson with Nick Boulle taking the pole-sitting car into the second half of the race.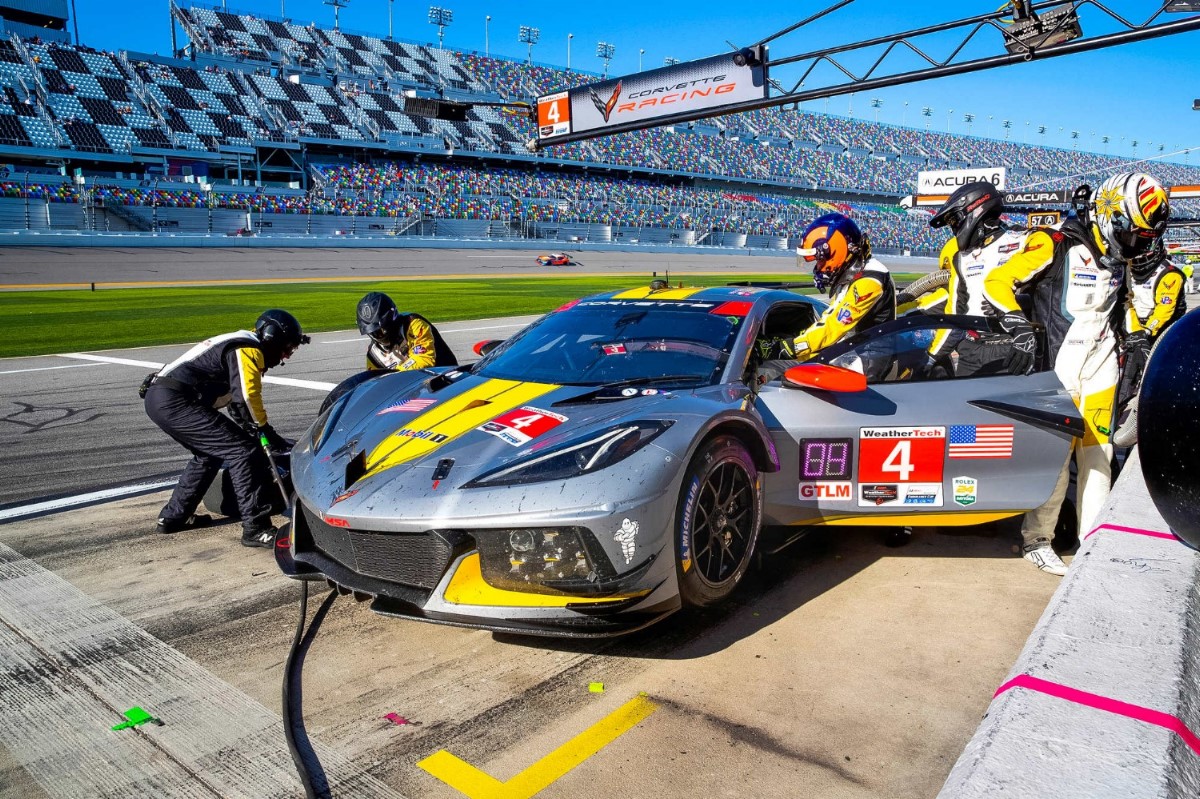 The #4 Corvette retires
In GTLM it is still a tight battle between the #24 BMW (John Edwards) and the #912 Porsche and #911 Porsche while the #62 Risi Ferrari and #3 Corvette are not far behind. The No. 4 Chevrolet Corvette C8.R dropped out of contention from the GT Le Mans class battle with an oil leak in the tenth hour. That usually means they blew a hole through the side of the oil pan, but officially it was an oil leak.
Porsche ran first and second in the opening four hours but the No. 24 BMW M8 GTE of John Edwards, Jesse Krohn, Chaz Mostert and Augusto Farfus provided a stern challenge as the race approached quarter distance.
Defending Rolex 24 winner Farfus put the BMW into the lead by overtaking Porsche's Mathieu Jaminet in the 10th hour.
Risi Competizione's Ferrari 488 GTE Evo picked up the pace after struggling with a power deficit and two punctures early on to the point of mounting a challenge to the BMW.
Select Quotes
[adinserter name="GOOGLE AD"]Renger Van Der Zande, No. 10 Konica Minolta Cadillac DPi-V.R, running second:
"The Konica Minolta Cadillac is running like it is on rails. I have not had a car like this here before. I think it is very promising for us. We got the lead of the race and we also went for the Endurance Cup points so we were leading six-hour mark which is also good."
Juan Piedrahita, No. 85 JDC-Miller Cadillac DPi-V.R, running seventh:
"The JDC-Miller Cadillac is very consistent. We lost a lap on a long pit stop, but I think if we get a caution we will get it right back. The two JDC cars are running really good into the night. I am confident for a good finish come tomorrow afternoon."
Sebastian Bourdais, No. 5 Mustang Sampling Cadillac DPi-V.R, running first:
"We are really struggling with balance as the track temperature has cooled into the night. We have a lot of oversteer and the rear degradation is really high. The car was a lot better during the day when it was warmer. We have set the balance for the end of the race when it is warmer. We have to get through the night in good shape and see what happens."
Mike Conway, No. 31 Whelen Engineering Cadillac DPi-V.R, running third:
"It was a bit tricky my first stint, then my second and third the guys got to work on the pressures and the Whelen Cadillac is good. I was trying to close the gaps to those in front and keep ahead of those behind. I seem to be able to do that. We are solid second or third right now depending on where the strategy plays out. We are letting the car and the race come to us at the moment."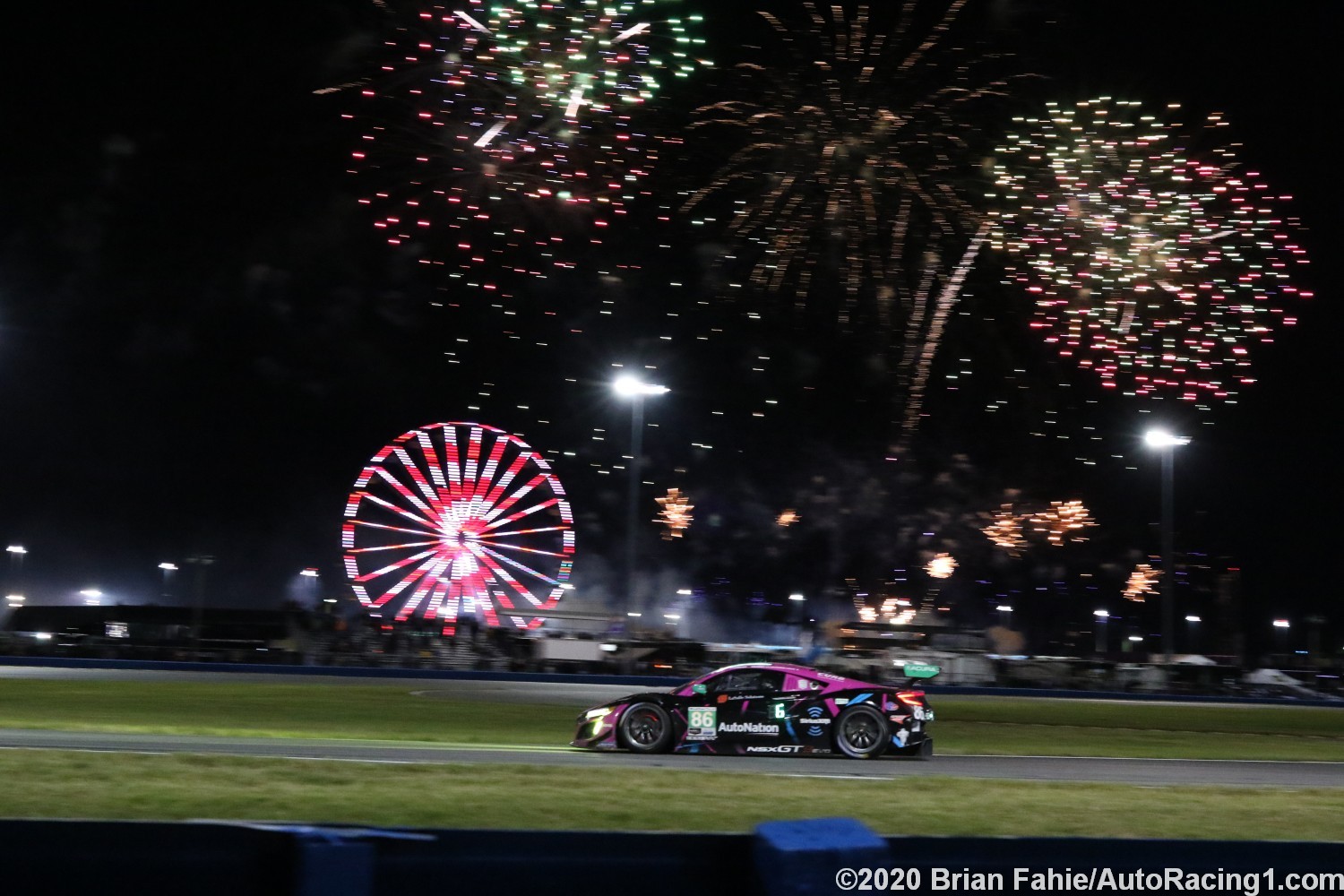 Fireworks mark the halfway point
Brian Fahie/AR1.com
Alessandro Pier Guidi, driver No. 62 Risi Competizione Ferrari 488 GTLM:
"The door came off on the pit stop so the team took a few seconds to put it on again. Then the safety car came out under full course yellow and I was in front of my leader, so I had to get the pass around. The speed was not bad in the night, we lost a few seconds in the pit stop, but still I think everyone is quicker than us. Even the Porsche GTDs are quicker than me in the straight, so I don't know. It is not a fair battle."
James Calado, driver No. 62 Risi Competizione Ferrari 488 GTLM:
"I was in P2 most of the time, a step behind the BMW. They have more power than us which was difficult to overtake, but we're good in the corners. I think even if we did make a move, they would pass us straight back again on the straight, so it's really tough. It shows that we were there or thereabouts and gave them a bit of sticks towards the end. I don't think it's our true position on pace, but we can just see what we can do. I mean, if that was the last stint that would be great, but we know that our car is much better in the cold condition, so the more it heats up the worst it's going to get, but let's see. Fingers crossed."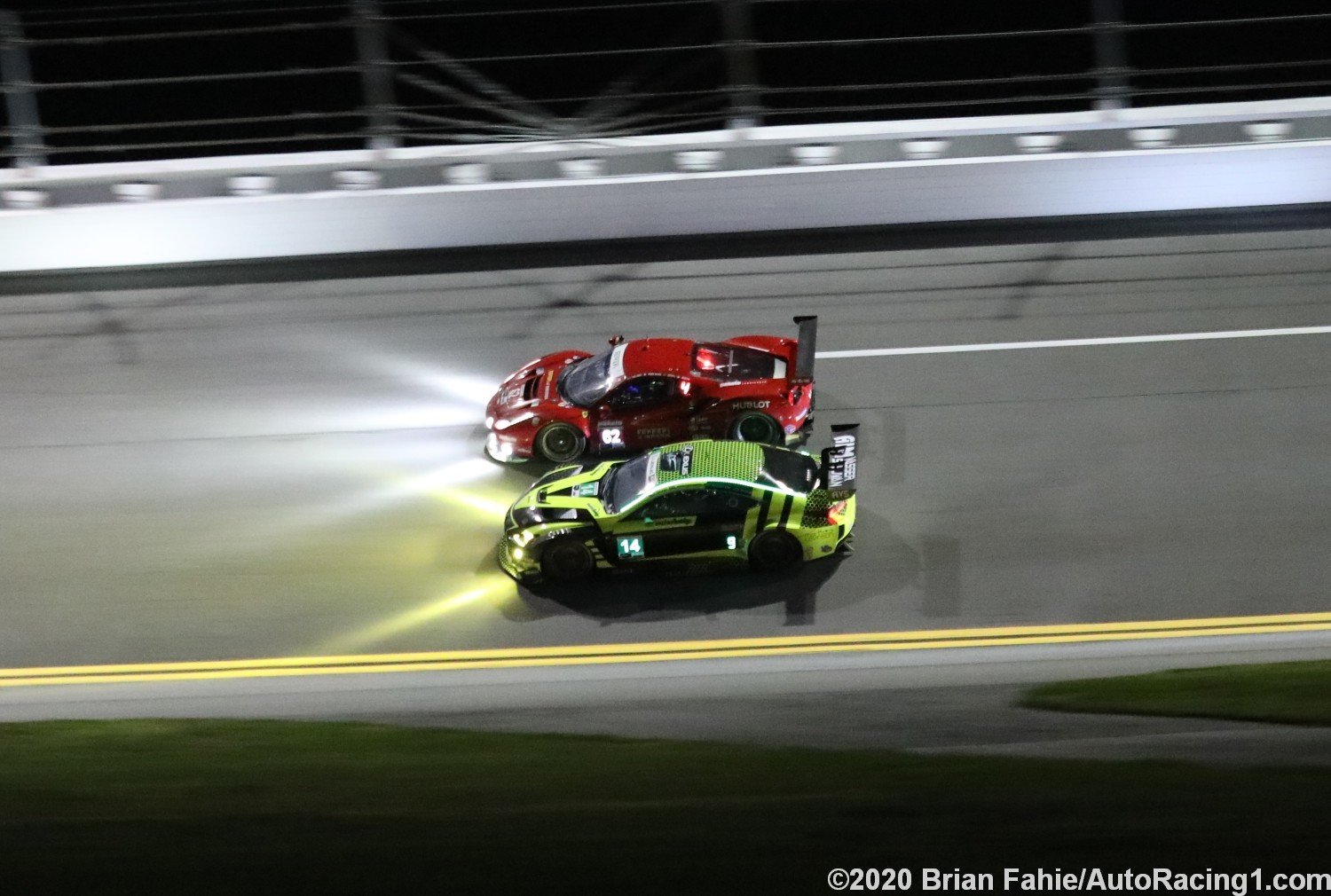 The #62 Risi Ferrari passes the #14 Lexus
Brian Fahie/AR1.com
Jeff Westphal (#62 Ferrari GTD)
"We were able to stretch a set of tires, which was good strategy. It was just the way the cards fell. We knew it was an option. We had to be ready for it. We prepped accordingly. I was able to be fairly consistent. I would have liked to have seen a little more pace out of myself. But, due to the conditions and what I think everybody else was doing, we're right there. We're in the top five, which is good. But, we still have a long way to go. The car is good and I'm confident in my teammates.
"This time of night brings a few different challenges. One challenge is lack of visibility, which is the same as it is just as soon as it goes dark. The later we get [into the night], the more tired everyone gets. We just had the fireworks go off at the end of my third stint, which put firework debris on the track. There was smoke in the brake zone into the Bus Stop, which made it challenging to find the right brake point a couple of times. Other than that, you try to stay away from all of the crazies. You don't want to get caught up in someone else's mess."
Alessandro Balzan (#62 Ferrari GTD)
"We didn't push the car during my stint because we double stinted the tires. So, I did an hour and half on the same tires. This was great because I don't think we'll have to do that anymore. Of course, it was so hard to stay on the track. It was great strategy by WeatherTech Racing and Scuderia Corsa. The car actually handled better than before [in his earlier stint]. Toni [Vilander] looks really fast and we're not even halfway through the race. The car is looking good."
Saturday Notebook
Busch Encouraged by First Laps in Rolex 24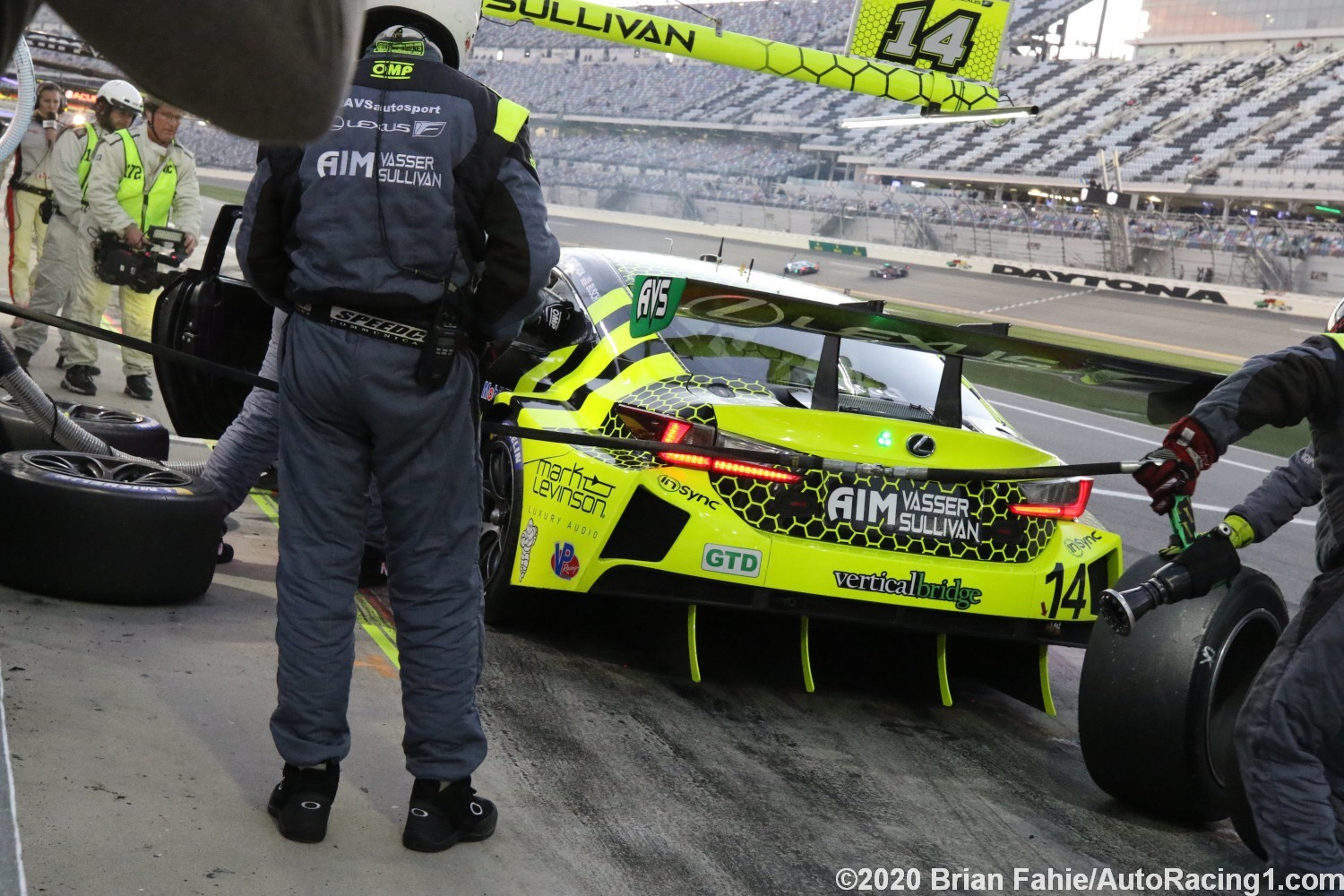 Pitstop for Kyle Busch
Reigning NASCAR Cup Series champion Kyle Busch turned his first race laps in the world-renowned Rolex 24 At Daytona IMSA WeatherTech SportsCar Championship season-opener Saturday evening. And while conditions dictated an abbreviated initial stint, Busch emerged from his car enthusiastic. And optimistic.
His No. 14 AIM Vasser Sullivan Lexus RC F GT3 sat 14th in the 18-car GT Daytona (GTD) class, but after a rough start – the car qualified 16th in class – it had improved its position when Busch pitted following a 43-minute shift. On the lead lap.
"Put me in the car and there's excitement all around,'' Busch said after getting out of the car during a full course caution Saturday.
"I drove all the way back to the lead lap and everything. With all the strategy and stuff and wave-bys here, it's quite different than what we're accustomed to on our [NASCAR] side of things. And to get ourselves back on the lead lap so we could start scrapping again for the lead, that's not bad.''
Busch conceded the traffic – four classes of cars with varying speeds competing simultaneously – was certainly something to get used to. But Busch was smiling and overall pleased with the new experience.
"Certainly interesting with that wave-by and re-strategizing. Obviously, you put Kyle in the race and the excitement seems to pick up. Everybody's welcome," he said with a smile.
Busch was slated to run a double-stint from 2-4 a.m. and then again from 7-9 a.m.
Wayne Taylor Racing, Taylor Brothers Move On at Daytona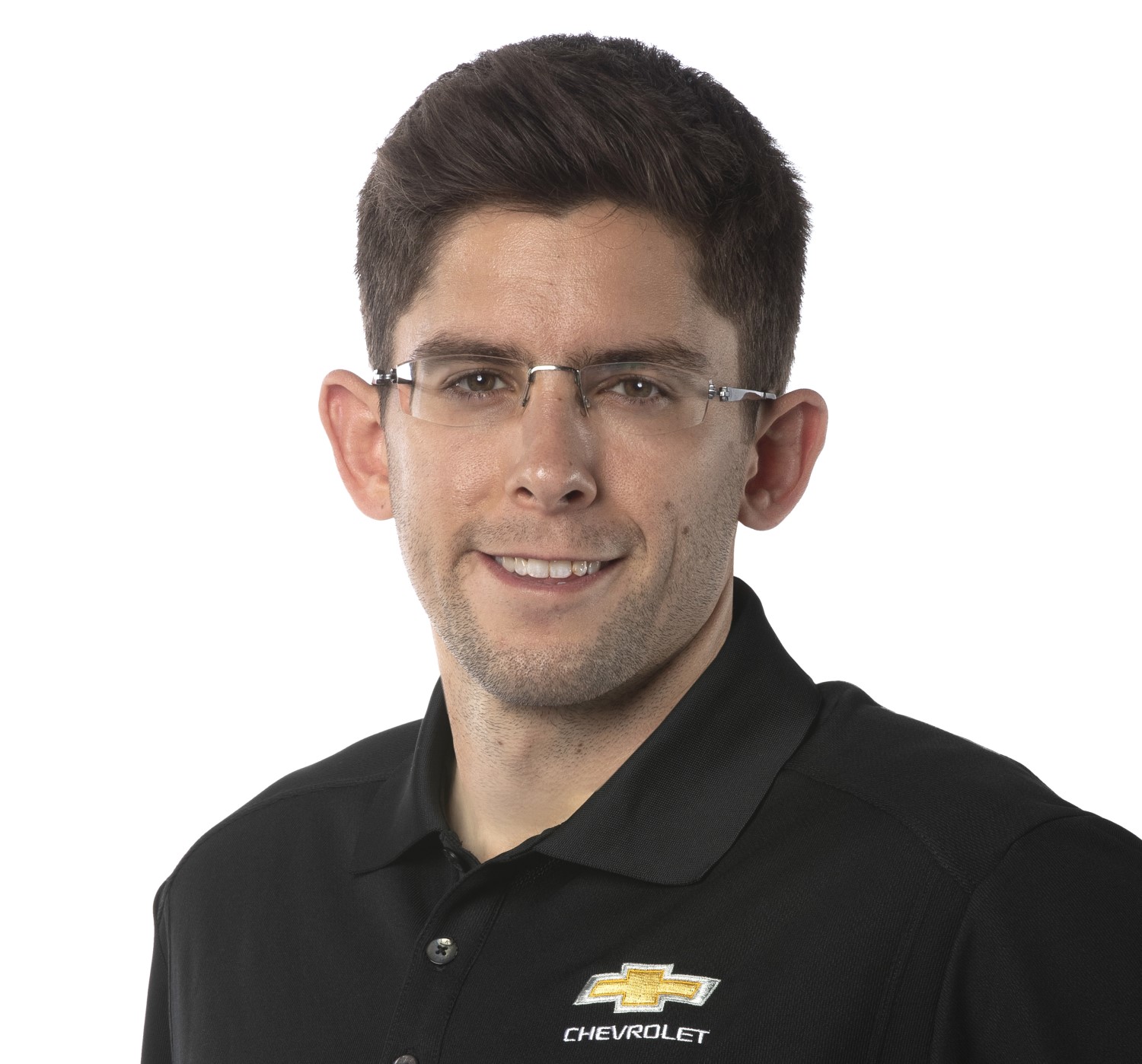 Jordan Taylor
For much of their adult lives, second-generation racers Ricky and Jordan Taylor have competed together and raced for family. Their father, Wayne Taylor, fields a perennial championship favorite team in the WeatherTech Championship Daytona Prototype international (DPi) class and is a two-time Rolex 24 winner as a driver and a two-time winner as a team owner.
And for the last decade at least one of his talented sons has driven his famed No. 10 prototype winning races and championships.
Taylor's older son Ricky, 30, left the family business in 2017 after receiving a wonderful opportunity from Acura Team Penske to drive its prototypes. Jordan, 28, who spent the last seven seasons driving his father's prototype, has moved to the Corvette Racing factory team this season to drive the famed No. 3 Corvette C8.R in the GT Le Mans (GTLM) class.
The brothers assured with warm smiles, all was okay with dad and his team.
"Obviously, it was hard both times one of us left the team,'' Ricky Taylor said. "Everyone thinks when we leave, my dad's going to lose his motivation and just want to support us and it's the end of Wayne Taylor Racing.
"But he's motivated,'' Taylor said of his father. "He's got [Scott] Dixon, [Ryan] Briscoe, [Kamui] Kobayashi and Renger [Van der Zande] this week and he's like all of us, he's a fan. He watches us closely and wants the best for us. It's nice he has the quality team – drivers, engineers that he has because he's still very motivated to win.''
The Taylor family has done plenty of winning together. Ricky and Jordan won 12 races together for their father's team from 2014-17, including the 2017 Rolex 24 and that year's prototype-class championship.
Before Saturday's Rolex 24 green flag flew, the two brothers met up on the grid to wish one another good luck then sought out their father down pit lane to wish him a good race as well.
"It was a hard decision to leave Wayne Taylor Racing – obviously I was there for seven years and we won a lot of races and championships together, so you're leaving a program that's successful and it was my family and I was comfortable there,'' Jordan Taylor said. "My family is close, so it's tough to make the split.
"At the same time, Ricky had gone to Penske, which is a huge opportunity you can't turn down. And when I was offered to go to Corvette, that's an opportunity you can't really turn down either.
"So my dad can be proud of the fact he basically groomed us as drivers through this team and we were hired away by great teams and manufacturers. He's proud of it. Obviously, we're all a little sad we're not together anymore. But I think it's a good thing we're being hired as professionals, and dad doesn't have to look after us.
"It's all been good so far.''
Strong NASCAR Presence at IMSA Opener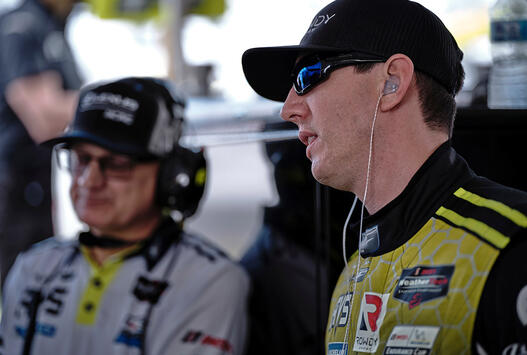 Kyle Busch waits to get back in
From executives at the driver's meeting to drivers on pit road to competitors handing television duty, there was a broad NASCAR presence at the Rolex 24 Saturday morning as teams awaited the green flag.
Four-time NASCAR Cup Series champion Jeff Gordon was pit side checking in with the Wayne Taylor Racing team, with whom he won the 2017 Rolex 24 race. Former NASCAR Cup driver and Xfinity Series champion Brian Vickers was on pit road catching up with friends as was driver David Ragan, who said this was the first Rolex 24 he ever attended and that he would be open to competing in a future race.
Reigning NASCAR Cup Series champion Kyle Busch is entered in the GTD Class No. 14 AIM Vasser Sullivan Acura and former Cup driver A.J. Allmendinger, who is driving the No. 57 Acura NSX for Michael Shank Racing.
NASCAR on NBC's Dale Earnhardt Jr. and Steve Letarte manned the NBC broadcast.
"I'll drive with Junior and maybe we could get Jimmie Johnson or Tony Stewart,'' Gordon told Earnhardt and Letarte on the NBC Sports broadcast, joking about coming back to the Rolex 24 and running the race again with a NASCAR lineup.
"My number one goal when I was here, whether it was testing, whether back at shop doing pit practice or here in the race, don't be the weak link,'' Gordon said of his experience a couple seasons ago.
"Unfortunately, first time I got in the car, I was the weak link.
"I had to restart the car and we were leading under caution. I went into Turn 2 in the horseshoe and hit a guy and I hadn't even been in the car five minutes. Luckily, I made up for that and the rest of my race went really well and I wasn't the weak link.'"
Hour 12 Standings
| | | | | | | | | |
| --- | --- | --- | --- | --- | --- | --- | --- | --- |
| Pos | Class | Pic | Current Driver | No./Make | Laps | Behind | BiC | Stops |
| 1 | DPI | 1 | Loic Duval | #5 CADILLAC DPI | 414 | –.— | –.— | 19 |
| 2 | DPI | 2 | Ryan Briscoe | #10 CADILLAC DPI | 414 | 12.839 | 12.839 | 20 |
| 3 | DPI | 3 | Filipe Albuquerque | #31 CADILLAC DPI | 414 | 42.701 | 42.701 | 21 |
| 4 | DPI | 4 | Olivier Pla | #77 MAZDA DPI | 414 | 58.023 | 58.023 | 19 |
| 5 | DPI | 5 | Ryan Hunter Reay | #55 MAZDA DPI | 414 | 1:02.502 | 1:02.502 | 21 |
| 6 | DPI | 6 | Simon Pagenaud | #6 ACURA DPI | 414 | 1:07.465 | 1:07.465 | 21 |
| 7 | DPI | 7 | Juan Piedrahita | #85 CADILLAC DPI | 412 | 2 LAPS | 2 LAPS | 18 |
| 8 | LMP2 | 1 | Nick Boulle | #52 ORECA LMP2 07 | 404 | 10 LAPS | –.— | 19 |
| 9 | LMP2 | 2 | Colin Braun | #81 ORECA LMP2 07 | 403 | 11 LAPS | 1 LAP | 19 |
| 10 | LMP2 | 3 | Dwight Merriman | #18 ORECA LMP2 07 | 397 | 17 LAPS | 7 LAPS | 18 |
| 11 | LMP2 | 4 | Nicolas Lapierre | #8 ORECA LMP2 07 | 392 | 22 LAPS | 12 LAPS | 19 |
| 12 | DPI | 8 | Helio Castroneves | #7 ACURA DPI | 392 | 22 LAPS | 22 LAPS | 20 |
| 13 | LMP2 | 5 | Cameron Cassels | #38 ORECA LMP2 07 | 391 | 23 LAPS | 13 LAPS | 21 |
| 14 | GTLM | 1 | John Edwards | #24 BMW M8 GTE | 391 | 23 LAPS | –.— | 13 |
| 15 | GTLM | 2 | Laurens Vanthoor | #912 PORSCHE 911 RSR – 19 | 391 | 23 LAPS | 0.584 | 13 |
| 16 | GTLM | 3 | Nick Tandy | #911 PORSCHE 911 RSR – 19 | 391 | 23 LAPS | 2.501 | 13 |
| 17 | GTLM | 4 | Davide Rigon | #62 FERRARI 488 GTE | 391 | 23 LAPS | 12.709 | 14 |
| 18 | GTLM | 5 | Nicky Catsburg | #3 CHEVROLET CORVETTE C8.R | 391 | 23 LAPS | 14.294 | 14 |
| 19 | GTD | 1 | Bryan Sellers | #48 LAMBORGHINI HURACAN GT3 | 380 | 34 LAPS | –.— | 14 |
| 20 | GTD | 2 | Mirko Bortolotti | #88 AUDI R8 LMS GT3 | 380 | 34 LAPS | 6.591 | 14 |
| 21 | GTD | 3 | Toni Vilander | #63 FERRARI 488 GT3 | 380 | 34 LAPS | 21.866 | 14 |
| 22 | GTD | 4 | Andy Lally | #44 LAMBORGHINI HURACAN GT3 | 380 | 34 LAPS | 29.106 | 15 |
| 23 | GTD | 5 | Aaron Telitz | #12 LEXUS RC F GT3 | 380 | 34 LAPS | 31.603 | 14 |
| 24 | GTD | 6 | Shinya Michimi | #86 ACURA NSX GT3 | 380 | 34 LAPS | 54.500 | 16 |
| 25 | GTD | 7 | Kyle Busch | #14 LEXUS RC F GT3 | 380 | 34 LAPS | 1:02.202 | 14 |
| 26 | GTD | 8 | Lars Kern | #9 PORSCHE 911 GT3 R | 380 | 34 LAPS | 1:04.540 | 13 |
| 27 | GTD | 9 | Anthony Imperato | #16 PORSCHE 911 GT3 R | 379 | 35 LAPS | 1 LAP | 16 |
| 28 | GTD | 10 | Robby Foley | #96 BMW M6 GT3 | 379 | 35 LAPS | 1 LAP | 16 |
| 29 | GTD | 11 | Alvaro Parente | #57 ACURA NSX GT3 | 379 | 35 LAPS | 1 LAP | 14 |
| 30 | GTD | 12 | Felipe Fraga | #74 MERCEDES-AMG GT3 | 379 | 35 LAPS | 1 LAP | 15 |
| 31 | GTLM | 6 | Philipp Eng | #25 BMW M8 GTE | 378 | 36 LAPS | 13 LAPS | 15 |
| 32 | GTD | 13 | Sven Muller | #54 PORSCHE 911 GT3 R | 378 | 36 LAPS | 2 LAPS | 16 |
| 33 | GTD | 14 | Eric Lux | #47 LAMBORGHINI HURACAN GT3 | 374 | 40 LAPS | 6 LAPS | 15 |
| 34 | GTD | 15 | Tati Calderon | #19 LAMBORGHINI HURACAN GT3 | 343 | 71 LAPS | 37 LAPS | 13 |
| 35 | GTD | 16 | Albert Costa | #11 LAMBORGHINI HURACAN GT3 | 314 | 100 LAPS | 66 LAPS | 14 |
| 36 | GTLM | 7 | Marcel Fassler | #4 CHEVROLET CORVETTE C8.R | 303 | 111 LAPS | 88 LAPS | 10 |
| 37 | GTD | 17 | Ross Gunn | #98 ASTON MARTIN VANTAGE GT3 | 189 | 225 LAPS | 191 LAPS | 9 |
| 38 | GTD | 18 | Alex Riberas | #23 ASTON MARTIN VANTAGE GT3 | 151 | 263 LAPS | 229 LAPS | 6 |