Xfinity Series At Iowa To Feature New Pit Stop Procedure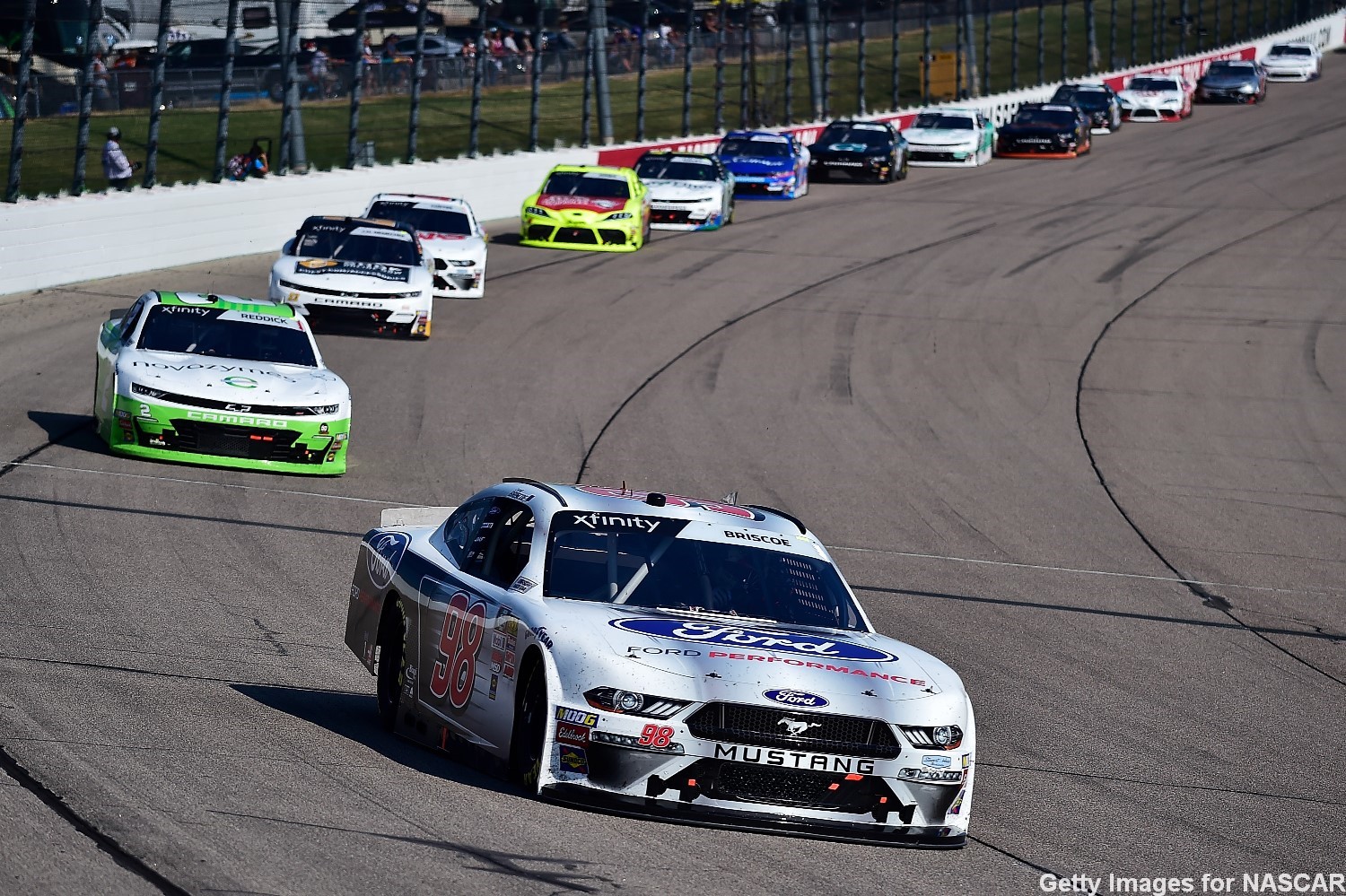 2019 Iowa action – Chase Briscoe leads
This season new strategies will take center stage as
NASCAR
unveils their pit stop changes for trucks and Xfinity series races, including the long-awaited Iowa Speedway Xfinity series happening in June.
These new rules will be applied to select NASCAR Gander RV and Xfinity series races to enhance competition and add the intrigue.
As you continue going through bet-iowa.com to learn more about wagering on Iowa races and other sports, here's what you want to know about NASCAR's new pit stop procedures.
What Are These Changes All About?
As per the new rules package, the racecourse will remain frozen during stage breaks when the cautions leave the venues.
Teams will get the opportunity to pit for fuel and get to change two tires by stopping once. However, teams will have to choose between fueling and pitting to change four tires per stop on road courses.
With the new changes, drivers will need two pit stops to get a full service – fuel and four tires. The team roster will include eight crew members, including the men who go over the wall, and each pit stop must be completed within a specified period.
Besides pit stops happening cautiously, restarts will be based on the order of the cars by the caution time and their pit strategy of choice.
Vehicles that didn't pit will be on the frontline, followed by those who pitted once, and those who pitted twice remain at the far end together with penalty cars and free pass wave-around.
According to JR Motorsports competition director, Ryan Pemberton, the new changes are necessary to move the sport forward and emphasize strategy. That allows different scenarios to be possible, more than what was possible in the past.
Which Races Will Be Affected?
[adinserter name="GOOGLE AD"]According to NASCAR, the changes will take effect in the Xfinity Series races at Road America, mid-Ohio road courses, and the Iowa speedway. The truck series events at the World Wide Technology raceway, the Canadian Tire Motorsports road course and Iowa speedway will also embrace the new changes.
NASCAR Xfinity Series technical manager Eric Peterson said that they're using the smaller race samples in 2020's Gander RV & Outdoor Trucks and Xfinity series to test whether these rules are practical.
Over the last five years, the series has wondered whether these rules can be implemented on a grander scale, receiving inputs from several stakeholders.
However, they chose stand-alone events on the two racing series for logistics purposes while the sanctioning body continues to evaluate the new format.
The rules will be first applied in four Xfinity Series races at the Mid-Ohio SportsCar Course on 30th may, and the two events scheduled at the Iowa speedway from 13th June to 1st August and the Road America stop on 8th August.
This year, gander trucks will use these new rules three times, including 12th June at Iowa, World Wide Technology raceway on 21st August and the Canadian Tire Motorsport Park on 6th September.