C8 Corvette Voted 2020 North American Car Of Year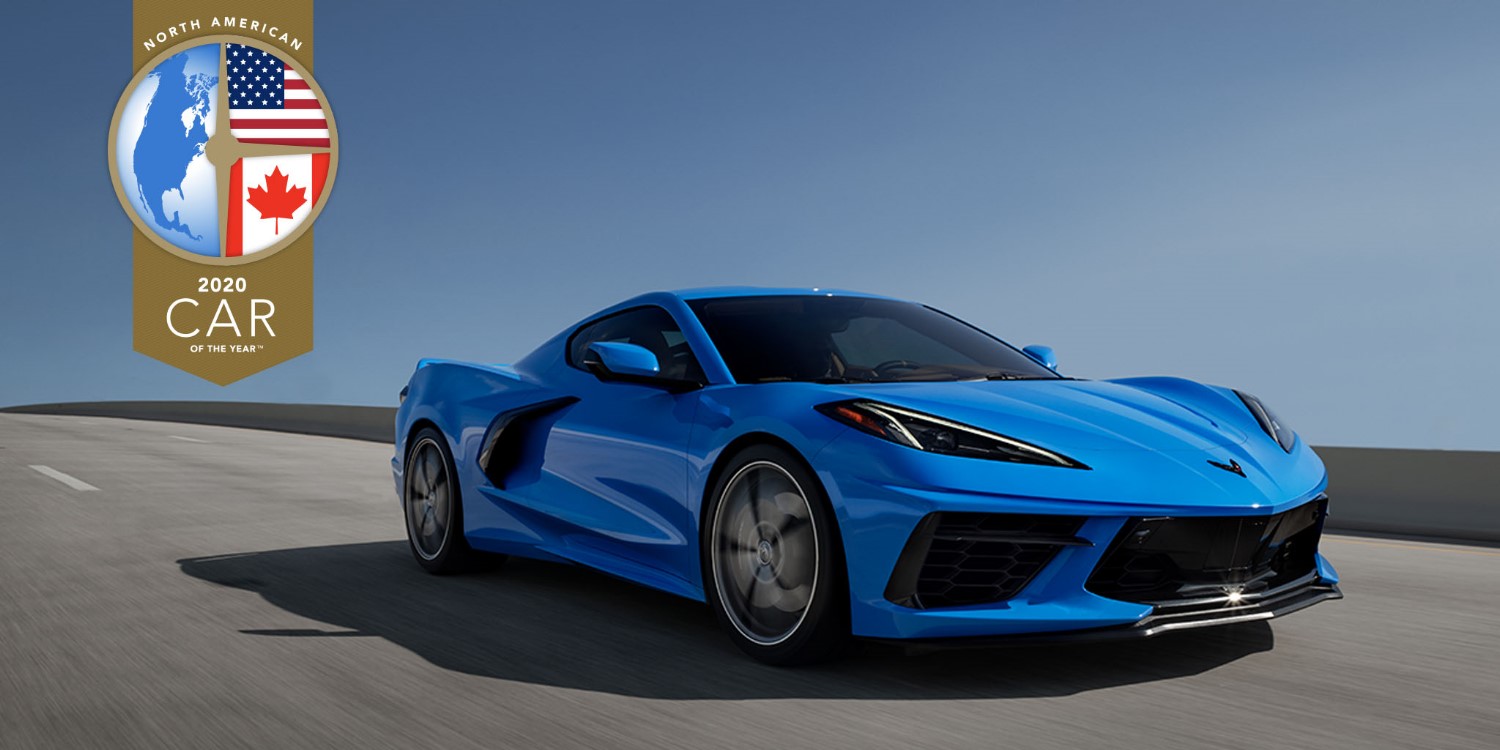 Chevrolet Corvette Stingray
The all-new Chevrolet Corvette Stingray has been selected as the 2020 North American Car of the Year by a 50-member jury of independent journalists. The Stingray was selected not only for its revolutionary mid-engine design, but for its level of refinement and impressive performance.
The Corvette was previously honored with this award in 1998 for the introduction of the fifth generation and again in 2014 for the introduction of the seventh generation. Corvette executive chief engineer Tadge Juechter received the award this morning at a public ceremony held at the TCF Center in Detroit.
"It's humbling to be selected for this award by such an impressive jury of automotive journalists," said Juechter. "Our team poured our hearts and souls into this vehicle, and to see such an overwhelmingly positive reception makes it all worthwhile. We are sure our customers will love the new Corvette as much as these jurors and we can't wait to get them behind the wheel."
[adinserter name="GOOGLE AD"]The North American Car, Utility and Truck of the Year Awards honor excellence in innovation, design, safety, performance, technology, driver satisfaction and value. Founded in 1994 by Christopher Jensen, who also formed the first committee, the NACTOY awards are judged by approximately 50 professional automotive journalists from the United States and Canada who work for independent magazines, television, radio, newspapers and industry websites. After evaluating the field of competitors, jurors vote individually by way of Deloitte to determine finalists and winners in each category.
"The 2020 Corvette represents a new era for the iconic brand," said Lauren Fix, North American Car, Utility and Truck of the Year president. "The excitement from consumers has been overwhelming. From a journalist's perspective, this is one of the best-built GM products that exemplifies what it means to be the North American Car of the Year."
Corvette production will begin in February 2020 at General Motors' Bowling Green Assembly in Kentucky, with customer deliveries taking place shortly thereafter.
Just $60,000
With its new mid-engine configuration and sleek, modern design, the 2020 Chevrolet Corvette Stingray offers unprecedented performance at a starting price of $59,995 (including Destination Freight Charge of $1,095, excluding tax, title, license, dealer fees and optional equipment).
"Most people thought when we moved the Corvette to mid-engine it would no longer be attainable, but we knew we couldn't mess with a winning formula and the 2020 Stingray proves it," said Brian Sweeney, Chevrolet U.S. vice president.
The 1LT will start at $59,995, the 2LT trim package will start at $67,295 and the top-level 3LT trim package on the 2020 Corvette Stingray will start at $71,945 (including DFC, excluding tax, title, license, dealer fees and optional equipment). Specific details on each trim level are covered in the attached graphic.
"We've packed a lot of performance into the Corvette Stingray at this price when you consider an eight-speed dual clutch transmission, Small Block V-8 and engine-mounted dry sump oil system are all standard," said Tadge Juechter, Corvette executive chief engineer.
Interested Chevrolet Corvette Stingray shoppers can view a pricing guide with available options and order codes and preorder their vehicle by visiting the 2020 Corvette reveal page at Chevrolet.com.
A dedicated Chevrolet Corvette Concierge team will provide 2020 Corvette customers with answers about the vehicle discovery, buying and ownership process. The team, which is based at General Motors headquarters in Detroit, can be reached by calling 866-424-3892. Customers can also live chat with a Corvette Concierge online by visiting Chevrolet.com. The team is available from 9 a.m. to 9 p.m. EDT Mondays through Fridays.
The 2020 Chevrolet Corvette Stingray goes into production at GM's Bowling Green Assembly in late 2019.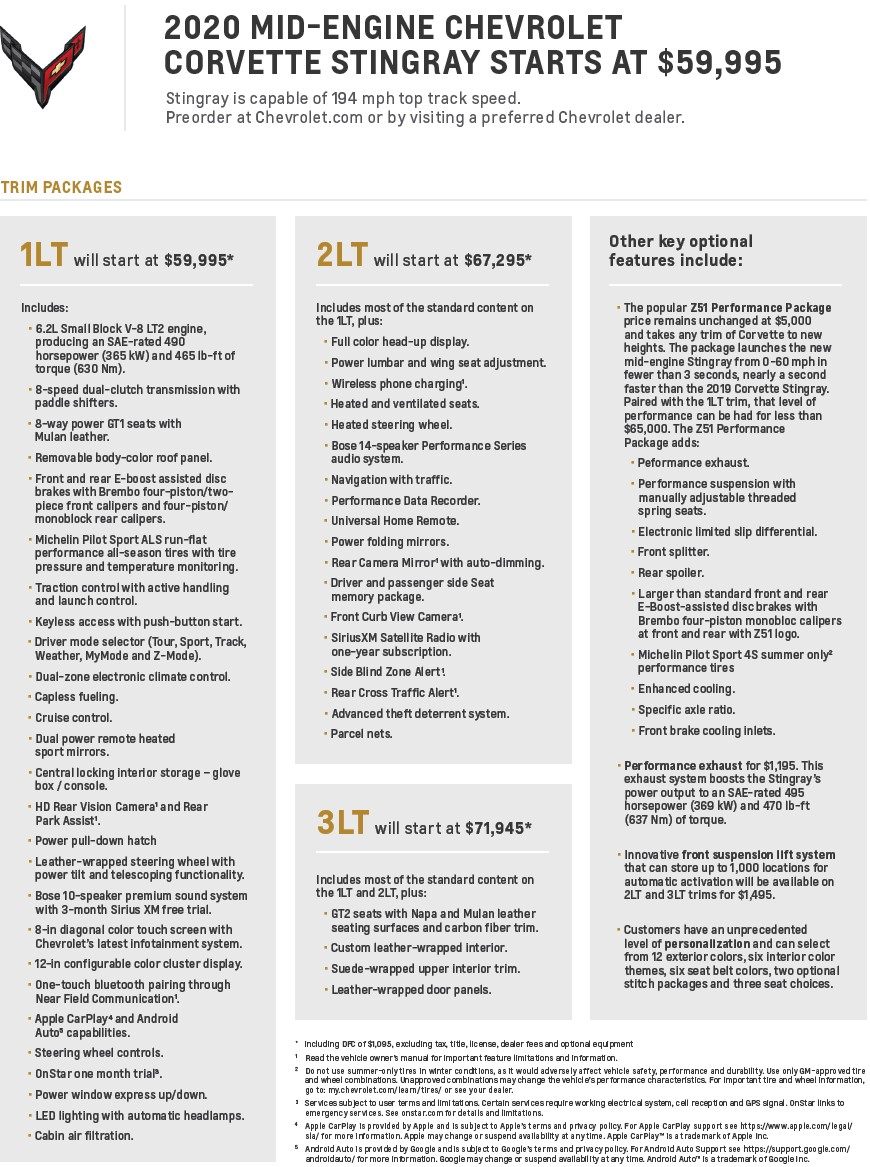 Pricing