Dakar Stage 8: Serradori surprise winner, Alonso 2nd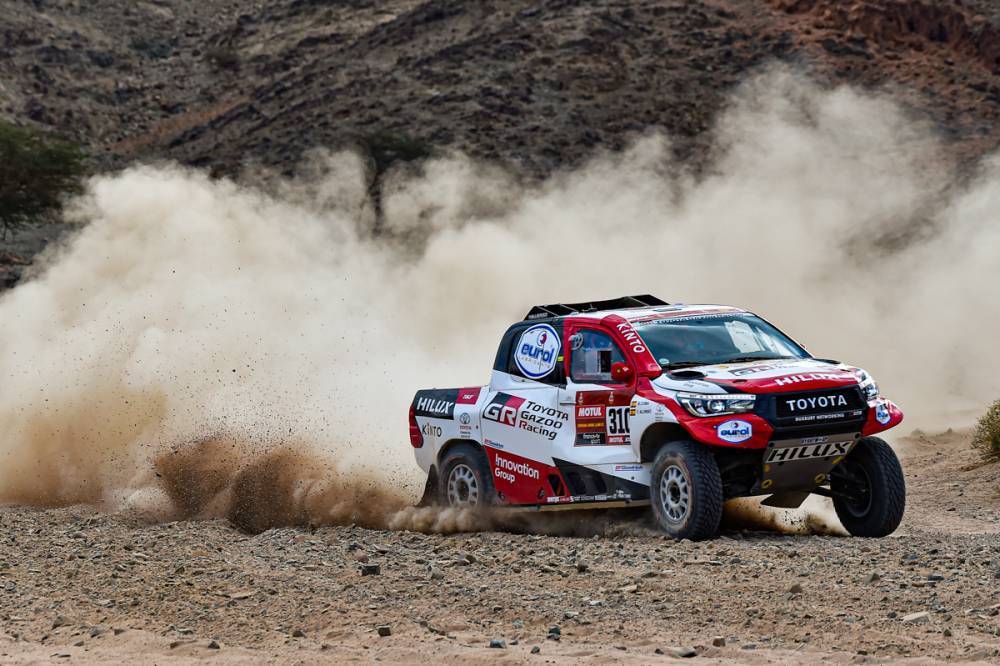 On a fast course, Fernando Alonso was 2nd – his best Stage result to far in the #310 Toyota
The 2020 Dakar Rally continued its relentless journey across Saudi Arabia on Stage 8 of the classic desert race. Leads came and went as competitors were forced to navigate a series of dunes amid spectacular scenery.
It was another pulsating day of action in the car race with the leading trio even closer together after Stage 8. Race leader Carlos Sainz Sr. (ESP) saw his advantage cut to less than seven minutes on the 477-kilometer loop stage around the Wadi Al-Dawasir bivouac.
Although he got stuck in the sand in the first kilometers of yesterday's special, Mathieu Serradori gave a perfect reaction on stage 8 with a genuine demonstration. The former biker took advantage of the tracks made by Carlos Sainz, Nasser Al-Attiyah and Stephane Peterhansel, who lost time navigating, to put in a perfect performance and taste victory 4 minutes ahead of Fernando Alonso.
Mathieu Serradori: "I'm absolutely delighted. It's a wonderful story. Yesterday's stage was very complicated – we made a mistake and paid a heavy price. This morning, we pulled our socks up and left everyone behind us. I'd like to dedicate this victory to Paulo because I'm a former biker. It's not easy to get motivated after a day like that and my co-pilot Fabien was there as well. But there are two fighters in the car and I'm very happy with this result".
32

Stat of the day ðŸ"Š

Mathieu Serradori is the first amateur to win a stage ahead of the pros for 32 years. Some achievement from the Frenchman. 🇫🇷#Dakar2020 pic.twitter.com/O3kMXYwrZW

— DAKAR RALLY (@dakar) January 13, 2020
"We were all together on the stage, in a group of five with Nasser (Al-Attiyah), Stephane (Peterhansel), Yazeed (Al Rajhi) and Bernhard (Ten Brinke)." – Carlos Sainz
Nasser Al-Attiyah (QAT) now has four days left to try and leapfrog Sainz while Stephane Peterhansel (FRA) is only 13 minutes off the lead. Stay tuned to this battle between three offroad heavyweights who already have 18 Dakar wins between them.
"At the beginning it was Carlos (Sainz) opening the road until he got stuck. Then Nasser (Al-Attiyah) got stuck in the dunes and after that I opened the road for more than 200 kilometers. Navigation was so tricky that we all reduced the speed." – Stephane Peterhansel
[adinserter name="GOOGLE AD"]There was a shuffling of the pack overnight for Red Bull Off-Road Team USA. The mentor crew of Cyril Despres (FRA) and Mike Horn (SUI) made the selfless act of giving their engine to team-mate Mitch Guthrie Jr. (USA) when mechanical problems saw the young American retire from Stage 7.
With Despres and Horn out of the race, Guthrie Jr. repaid the faith shown in him by winning today's side-by-side stage. It's Guthrie Jr.'s second stage win of his debut Dakar and the fourth achieved by the OT3 by Overdrive. Guthrie Jr.'s team-mate, Blade Hildebrand (USA), also completed the stage as the Red Bull Off-Road Team USA duo continue in the Dakar Experience class.
"It was a really good day and to have it off the back of yesterday where we had a mechanical feels great. Thankfully, last night Cyril gave me his motor out of his car so I was able to continue. That was an amazing gesture." – Mitch Guthrie Jr.
The death of Paulo Goncalves (POR) during yesterday's Stage 7 between Riyadh and Wadi Al-Dawasir left the entire Dakar, especially the bikers, in shock. Goncalves, a beloved figure of the rally, was immensely respected in the bivouac. After meeting the riders and making a decision together with the entire motorbike family, the organisers decided to cancel Stage 8 for the motorbikes and quads category.
On Stage 9 all five Dakar categories will head east across Saudi Arabia to Haradh. A monster distance of 891 kilometers must be travelled, including a 415-kilometer special stage.
2020 Dakar Rally Car Race Top 15 (Stage 8)
| | | | | |
| --- | --- | --- | --- | --- |
| POS | DRIVER | TEAM | CAR | Time/GAP |
| 1 | Mathieu Serradori | SRT Racing | Century | 3h48m23s |
| 2 | Fernando Alonso | Toyota Gazoo Racing | Toyota | 4m04s |
| 3 | Orlando Terranova | X-Raid Team | Mini/BMW | 6m19s |
| 4 | Giniel de Villiers | Toyota Gazoo Racing | Toyota | 6m29s |
| 5 | Yazeed Al-Rajhi | Overdrive Toyota | Toyota | 7m16s |
| 6 | Jakub Przygonski | Orlen X-Raid Team | Mini/BMW | 9m29s |
| 7 | Bernhard Ten Brinke | Toyota Gazoo Racing | Toyota | 10m19s |
| 8 | Erik van Loon | Overdrive Toyota | Toyota | 12m41s |
| 9 | Stephane Peterhansel | Bahrain JCW X-Raid Team | Mini/BMW | 13m11s |
| 10 | Nani Roma | Borgward Rally Team | Borgward | 14m33s |
| 11 | Nasser Al-Attiyah | Toyota Gazoo Racing | Toyota | 15m55s |
| 12 | Wei Han | Geely Auto Shell Lubricant Team | Hanwei/Geely | 17m05s |
| 13 | Pierre Lachaume | PH-Sport | Peugeot | 18m00s |
| 14 | Carlos Sainz Sr. | Bahrain JCW X-Raid Team | Mini/BMW | 19m15s |
| 15 | Benediktas Vanagas | General Financing Team Pitlane | Toyota | 20m52s |
2020 Dakar Rally Car Race Top 10 after Stage 8
| | | | | |
| --- | --- | --- | --- | --- |
| POS | DRIVER | TEAM | CAR | Time/GAP |
| 1 | Carlos Sainz | Bahrain JCW X-Raid Team | Mini/BMW | 31h56m52s |
| 2 | Nasser Al-Attiyah | Toyota Gazoo Racing | Toyota | 6m40s |
| 3 | Stephane Peterhansel | Bahrain JCW X-Raid Team | Mini/BMW | 13m09s |
| 4 | Yazeed Al-Rajhi | Overdrive Toyota | Toyota | 32m25s |
| 5 | Orlando Terranova | X-Raid Team | Mini/BMW | 43m02s |
| 6 | Giniel de Villiers | Toyota Gazoo Racing | Toyota | 53m12s |
| 7 | Mathieu Serradori | SRT Racing | Century | 1h02m42s |
| 8 | Bernhard Ten Brinke | Toyota Gazoo Racing | Toyota | 1h07m00s |
| 9 | Wei Han | Geely Auto Shell Lubricant Team | Hanwei/Geely | 3h06m20s |
| 10 | Jerome Pelichet | Raidlynx | Optimus/MD | 3h09m47s |
2020 Dakar Rally Bike Race Top 5 (after Stage 8)
1. Ricky Brabec (USA) Honda 28h25m01s
2. Pablo Quintanilla (CHI) Husqvarna +24m48s
3. Jose Ignacio Cornejo (CHI) Honda +27m01s
4. Toby Price (AUT) KTM +28m44s
5. Joan Barreda (ESP) Honda +29m29s
2020 Dakar Rally Truck Top 5 (after Stage 8)
1. Andrey Karginov (RUS) Kamaz 34h31m43s
2. Anton Shibalov (RUS) Kamaz +27m06s
3. Siarhei Viazovich (BLR) Maz +01h05m17s
4. Ales Loprais (CZE) Praga +02h04m27s
5. Martin Macik (CZE) Iveco +02h39m22s
2020 Dakar Rally Side-by-side Race Top 3 (after Stage 8)
1. Casey Currie (USA)/Sean Berriman (USA) Can-Am 39h47m37s
2. Chaleco Lopez/Juan Pablo Latrach Vinagre (CHI) Can-Am +15m40s
3. Sergei Kariakin (RUS)/Anton Vlasiuk (RUS) Can-Am +34m29s
2020 Dakar Rally Quad Race Top 3 (after Stage 8)
1. Ignacio Casale (CHI) Yamaha 36h12m58s
2. Simon Vitse (FRA) Yamaha +36m43s
3. Rafal Sonik (POL) Yamaha +01h23m31s
[adinserter name="GOOGLE AD"]