Sainz Sr. wins his 3rd Dakar Stage, extends lead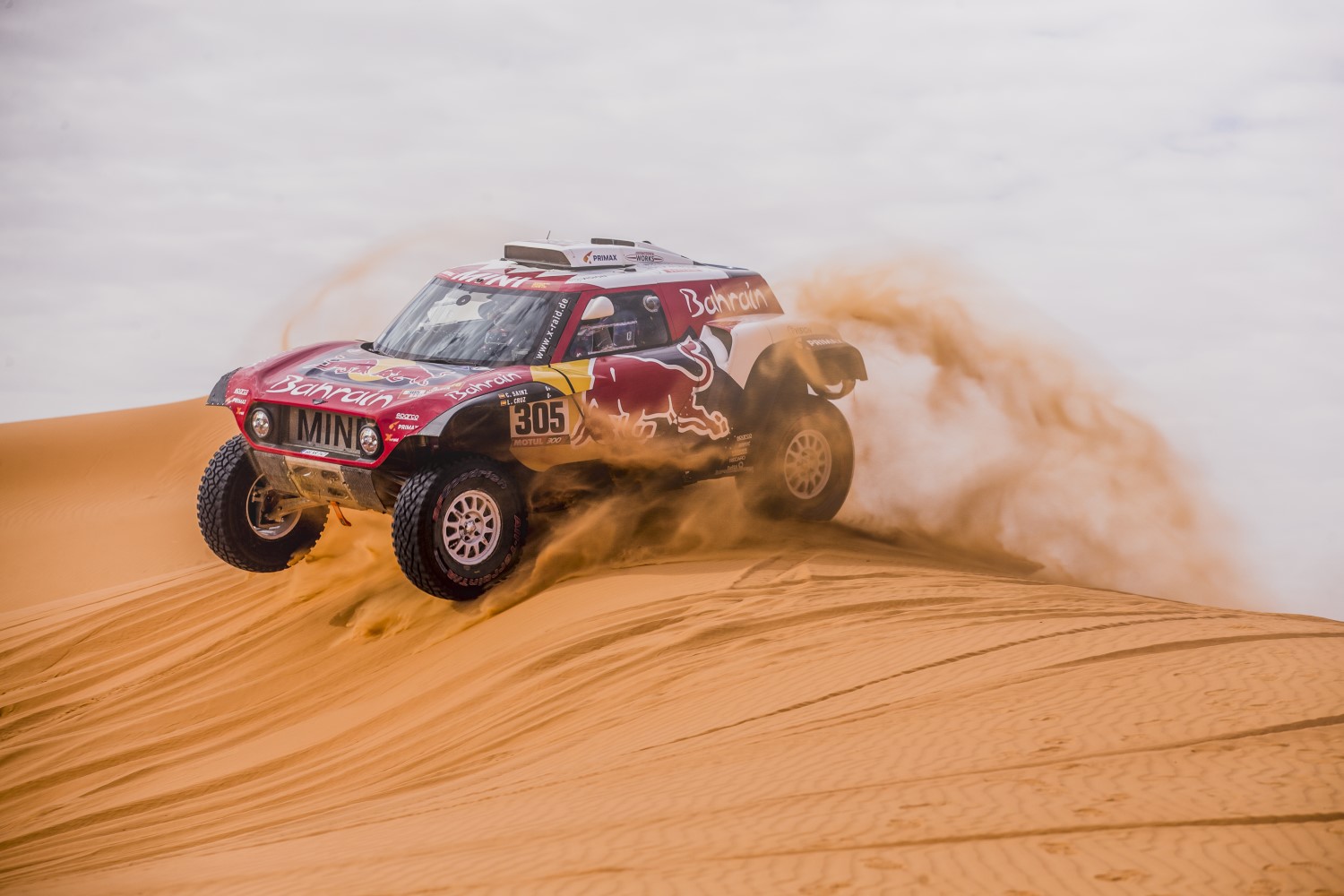 Carlos Sainz Sr. extends lead
Carlos Sainz Sr. has won his third stage of the 2020 Dakar Rally to further extend his advantage at the top of the general classification.
Sainz, chasing his third Dakar win, delivered Mini's sixth stage win from seven so far in this year's event.
Sainz's advantage over reigning champion Nasser Al-Attiyah in the overall standings is now 10 minutes.
Stephane Peterhansel finished just 2m53s slower than Sainz Sr. today, which leaves him nine minutes off Al-Attiyah and 19 off Sainz with five stages left to run.
Two-time Formula 1 champion Fernando Alonso was sixth on the day, finishing less than eight minutes behind Sainz and sits just outside the top-10 in the overall rankings.
Bikes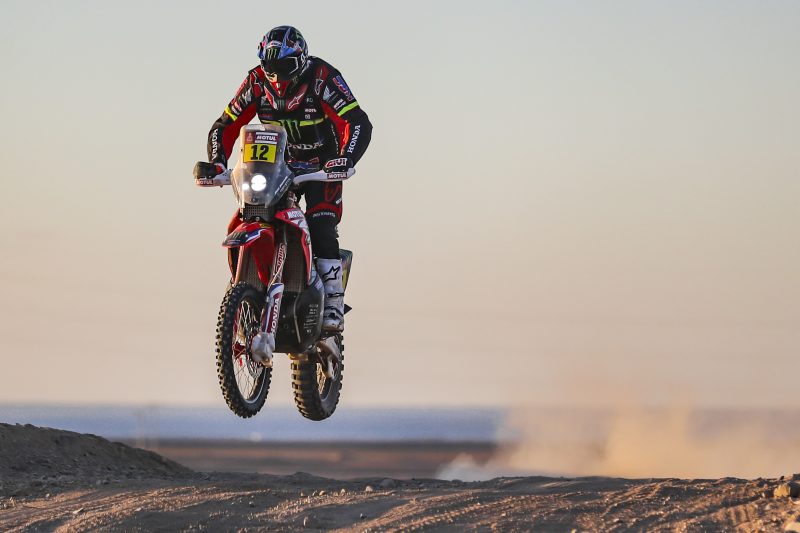 Joan Barreda wins Stage 7
The seventh stage of the Dakar Rally 2020 has concluded in Wadi Al-Dawasir with Kevin Benavides taking the top honors. The entire Monster Energy Honda squad wishes to express its condolences at the loss of Paulo Goncalves, rider with the team from 2013 to 2019.
The very high number of kilometer's on the stage seven agenda meant, for many, a day of open throttle. The second week of racing got underway this morning with riders set to tackle the longest special stage of the entire rally (546 kilometer's against the clock), from the country's great metropolis Riyadh, southbound with destination Wadi Al-Dawasir. The route took in varied terrain types, going from multiple tracks in off-piste plains, requiring maximum concentration, to lengthy stretches of dunes, making up a quarter of the special.
The victory went to Kevin Benavides who headed out today firmly intent on moving on from Friday's bitter pill. The Argentinean rider was in attack mode from the outset in a bid to clinch the stage, a goal which he achieved, coming home with a 1'23 surplus over brother-in-arms Joan Barreda who also rode a storming stage to confirm how his performance continues to improve. The Spaniard has reduced the gap from the adversaries ahead.
Ricky Brabec, winner of stage six, started out intent on minimizing the burden of having to open the track, a task which he carried out effectively, to post fifth on the day without conceding much time to his immediate pursuers on the leader board.
Chilean rider Jose Ignacio Cornejo kept the same steady pace as the opening week which has consented him a place among the overall top five. Today's six place means the rider moves up to third place in the general rankings.
Tomorrow will once again play out on a looping circuit, this time from Wadi Al-Dawasir. The day will include 400 kilometer's of special on a total stage of 700 kilometer's.
Today the rally showed its harshest side. Portuguese rider Paulo Goncalves (5/2/1979) passed away while competing in the stage. Paulo was a rider with the team from 2013 to 2019, who, in addition to accruing various triumphs, was garlanded with the runner-up prize in the 2015 Dakar Rally and was the FIM Cross-Country Rallies world champion in 2013. Monster Energy Honda Team would like to offer its most heartfelt condolences to his children, family and friends. Rest in peace.
Ricky Brabec
"On arriving we heard the news about Paulo. We all know that motorcycling is a dangerous sport, but today is a really sad day for the people of Cross-Country Rallies. Our thoughts are with the family. The race standings don't mean anything anymore. It's secondary. Life goes way beyond sport. Today was so fast! It was crazy. Unfortunately, I started first, so it's a given to lose some time today. Joan caught me at km 170 and then from there we rode together all day. It's pretty nice to have a teammate to ride with every day and help navigate. I think Joan won the stage, but we're another day closer to the finish, so I'm happy. I'm just gonna regroup for tomorrow. It's hard to tell where your time is because we have a 15-minute neutralization and Toby started really far back. The only riders I saw refuelling were, obviously, my teammate Joan and Matthias."
Bikes Stage 7 Top-10
| | | | | |
| --- | --- | --- | --- | --- |
| POS. | NO. | DRIVE-TEAM | MARK-MODEL | BEHIND |
| 1 | 12 | Joan Barreda | Monster Energy Honda Team 2020 | Leader |
| 2 | 2 | Matthias Walkner | Red Bull Ktm Factory Team | 02m 54s |
| 3 | 16 | Luciano Benavides | Red Bull Ktm Factory Team | 03m 25s |
| 4 | 9 | Ricky Brabec | Monster Energy Honda Team 2020 | 03m 29s |
| 5 | 17 | Jose Ignacio Cornejo | Monster Energy Honda Team 2020 | 04m 49s |
| 6 | 7 | Kevin Benavides | Monster Energy Honda Team 2020 | 06m 35s |
| 7 | 5 | Pablo Quintanilla | Rockstar Energy Husqvarna Factory Racing | 07m 21s |
| 8 | 6 | Andrew Short | Rockstar Energy Husqvarna Factory Racing | 07m 39s |
| 9 | 22 | Franco Caimi | Monster Energy Yamaha Rally Team | 08m 36s |
| 10 | 132 | Martin Michek | Moto Racing Group (Mrg) | 13m 06s |
Bikes Overall Standings After Stage 7 (Top-10)
| | | | | |
| --- | --- | --- | --- | --- |
| POS. | NO. | DRIVE-TEAM | MARK-MODEL | BEHIND |
| 1 | 9 | Ricky Brabec | Monster Energy Honda Team 2020 | Leader |
| 2 | 5 | Pablo Quintanilla | Rockstar Energy Husqvarna Factory Racing | 24m 48s |
| 3 | 17 | Jose Ignacio Cornejo | Monster Energy Honda Team 2020 | 27m 01s |
| 4 | 12 | Joan Barreda | Monster Energy Honda Team 2020 | 29m 29s |
| 5 | 2 | Matthias Walkner | Red Bull Ktm Factory Team | 33m 04s |
| 6 | 16 | Luciano Benavides | Red Bull Ktm Factory Team | 38m 58s |
| 7 | 59 | Skyler Howes | Klymciw Racing | 15m 02s |
| 8 | 22 | Franco Caimi | Monster Energy Yamaha Rally Team | 15m 31s |
| 9 | 11 | Adrien Metge | Sherco Tvs Rally Factory | 39m 36s |
| 10 | 6 | Andrew Short | Rockstar Energy Husqvarna Factory Racing | 40m 49s |
Cars Stage 7 Results (Top-10)
| | | | | |
| --- | --- | --- | --- | --- |
| POS. | NO. | DRIVE-TEAM | MARK-MODEL | BEHIND |
| 1 | 305 | Carlos Sainz/ Lucas Cruz | Bahrain Jcw X-Raid Team | Leader |
| 2 | 300 | Nasser Al-Attiyah/ Matthieu Baumel | Toyota Gazoo Racing | 02m 12s |
| 3 | 302 | Stéphane Peterhansel/ Paulo Fiuza | Bahrain Jcw X-Raid Team | 02m 53s |
| 4 | 307 | Bernhard Ten Brinke/ Tom Colsoul | Toyota Gazoo Racing | 02m 58s |
| 5 | 309 | Yazeed Al Rajhi/ Konstantin Zhiltsov | Overdrive Toyota | 07m 36s |
| 6 | 310 | Fernando Alonso/ Marc Coma | Toyota Gazoo Racing | 07m 49s |
| 7 | 304 | Giniel De Villiers/ Alex Haro Bravo | Toyota Gazoo Racing | 10m 19s |
| 8 | 303 | Jakub Przygonski/ Timo Gottschalk | Orlen X-Raid Team | 11m 41s |
| 9 | 311 | Orlando Terranova/ Bernardo Graue | X-Raid Mini Jcw Team | 12m 04s |
| 10 | 324 | Yasir Seaidan/ Kuzmich Alexy | Race World Team | 13m 32s |
Cars Overall Standings (Top-10)
| | | | | |
| --- | --- | --- | --- | --- |
| POS. | NO. | DRIVE-TEAM | MARK-MODEL | BEHIND |
| 1 | 305 | Carlos Sainz/ Lucas Cruz | Bahrain Jcw X-Raid Team | Leader |
| 2 | 300 | Nasser Al-Attiyah/ Matthieu Baumel | Toyota Gazoo Racing | 10m 00s |
| 3 | 302 | Stéphane Peterhansel/ Paulo Fiuza | Bahrain Jcw X-Raid Team | 19m 13s |
| 4 | 309 | Yazeed Al Rajhi/ Konstantin Zhiltsov | Overdrive Toyota | 44m 24s |
| 5 | 311 | Orlando Terranova/ Bernardo Graue | X-Raid Mini Jcw Team | 55m 58s |
| 6 | 304 | Giniel De Villiers/ Alex Haro Bravo | Toyota Gazoo Racing | 05m 58s |
| 7 | 307 | Bernhard Ten Brinke/ Tom Colsoul | Toyota Gazoo Racing | 15m 56s |
| 8 | 315 | Mathieu Serradori/ Fabian Lurquin | Srt Racing | 21m 57s |
| 9 | 324 | Yasir Seaidan/ Kuzmich Alexy | Race World Team | 13m 43s |
| 10 | 322 | Wei Han/ Min Liao | Geely Auto Shell Lubricant Team | 08m 30s |