Mercedes buries competition in Austrian GP qualifying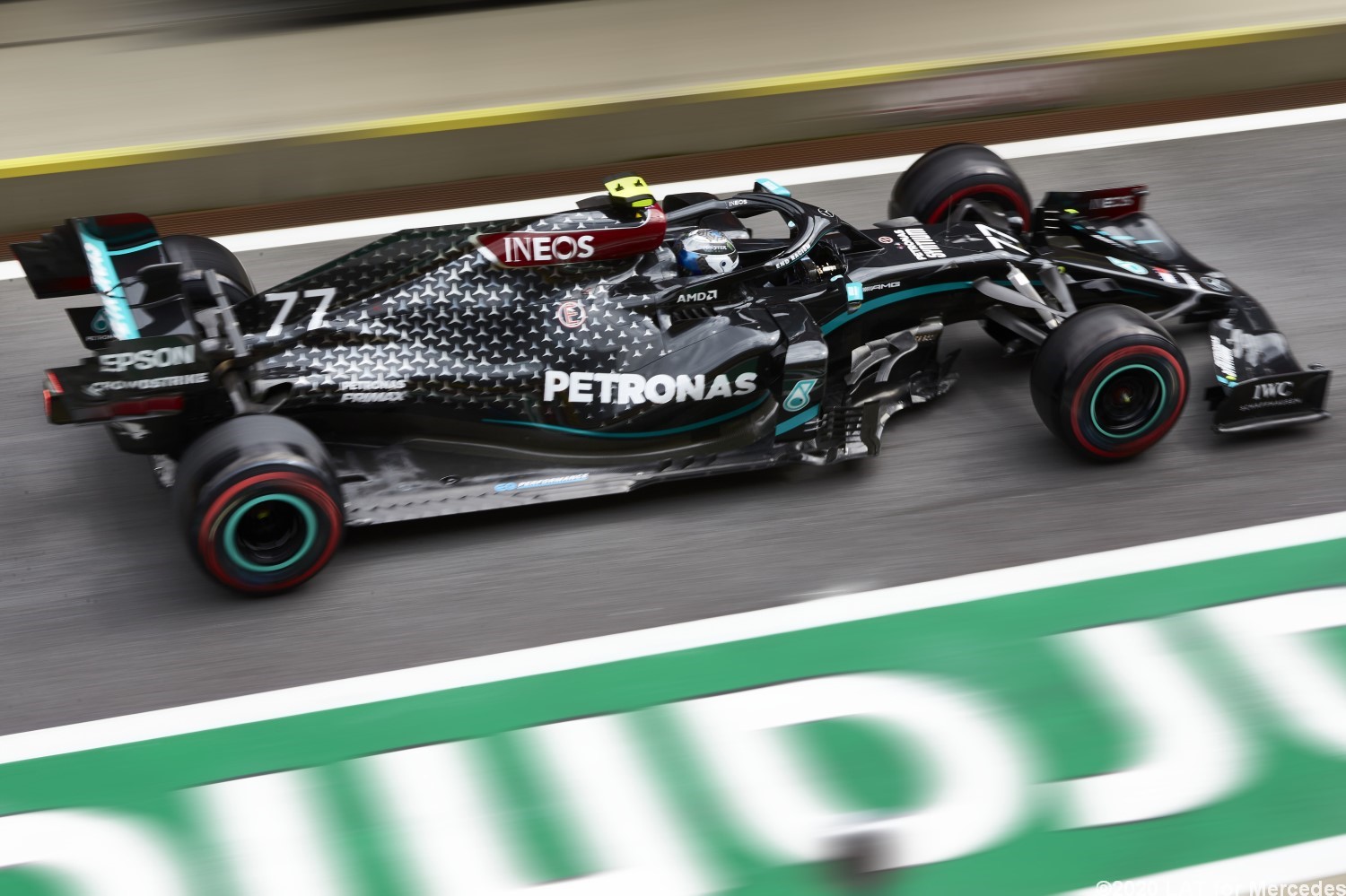 Valtteri Bottas says the Mercedes car is in a league of its own
The two works Mercedes cars were the only ones able to get into the 1m02s range as Valtteri Bottas nipped his teammate Lewis Hamilton by 0.012s to win the pole for the Austrian GP at the Red Bull Ring.
On his last run Bottas went off track and into the gravel so lost any chance of bettering his time.
"It feels really good," Bottas said after qualifying.
"I've missed this feeling you know after the qualifying – the shakes, it's something special when you push the car to the limit and obviously we've been preparing for this for a long time – it feels so good, I can't say much more than that.
"And our team has done an amazing job. We seem to be in our own league."
After scoring the 12th career pole position of his F1 career and making the perfect start to the new season, the Finn also praised the "very impressive" progress Mercedes has made over the winter.
[adinserter name="GOOGLE AD"]"It's very impressive to see," he explained. "It's only the first qualifying season but I am so impressed so thanks everyone in the team, all the factories, it's truly an amazing car to drive.
"Obviously a good result today but tomorrow is what matters."
Last year's winner at this event, Max Verstappen was third 0.538s back.
Lando Norris was 4th for McLaren while Alex Albon rounded out the top-5 in the 2nd Red Bull.
Sergio Perez in the pink Mercedes was 6th ahead of Charles Leclerc in the Ferrari, which is a full 1-second off the pace.
Though not quite able to live up to their practice pace, Racing Point are still well placed for a good result with Sergio Perez in sixth and Lance Stroll in ninth, the latter managing only his fifth career Q3 appearance in 63 grands prix.
Carlos Sainz was eighth and Daniel Ricciardo had to settle for tenth in the Renault.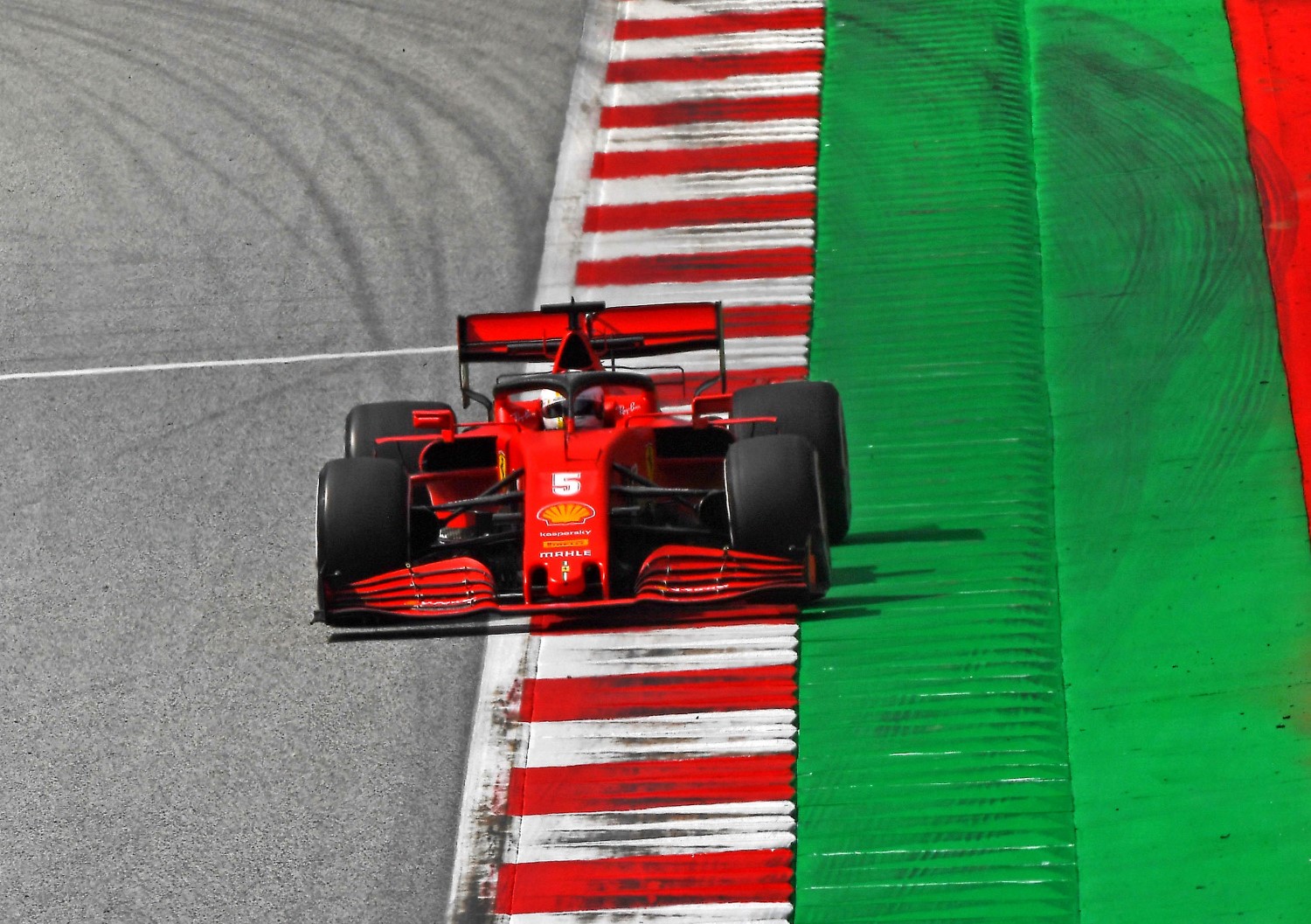 Vettel in the hapless Ferrari could only manage 11th
Sebastian Vettel has called Ferrari's disappointing performance in qualifying "a surprise" after being eliminated in Q2.
After learning he had only placed 10th in Q2, Leclerc told his engineer it was "crazy", while Vettel was also left shocked by Ferrari's struggles.
"Obviously it's a surprise," Vettel said of his qualifying performance.
"We thought we had a little bit more in hand, but it looks like the others were probably running a bit more fuel, a bit more conservative in practice.
"I wasn't quite happy with the car, I was not so happy with the car, quite more oversteer on entry than I would have liked. But we'll see."
"Tomorrow is a different picture," Vettel said.
"I think with the track getting a bit hotter, it was a bit more costly for us today.
"It's a long race. I think in race trim we are always better. I think we will be there to make up some good ground and score some good points."
Select Quotes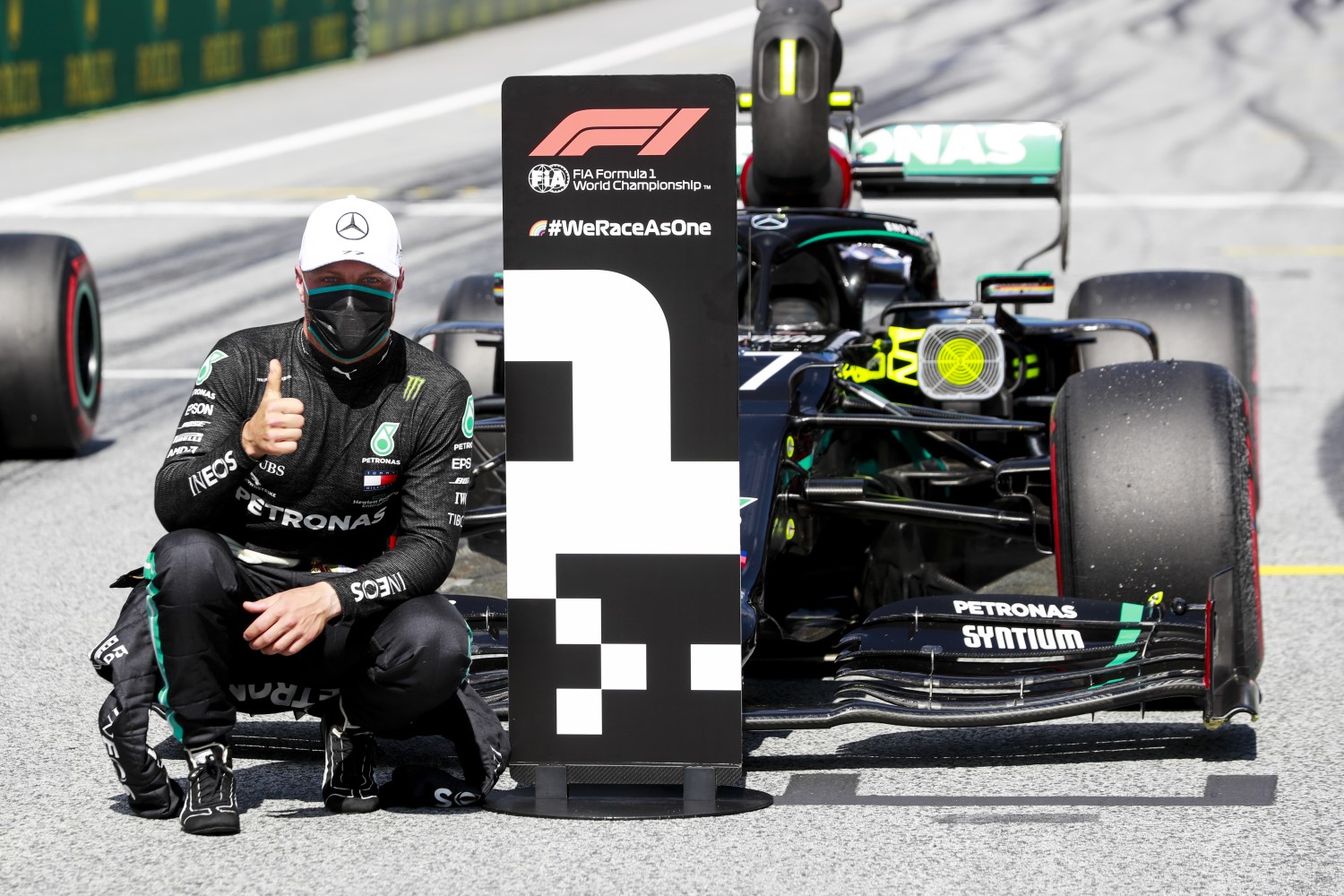 Valtteri Bottas
Valtteri Bottas
This feels really good. I missed this feeling – I was shaking after qualifying. It's something really special to be able to push the car to its limits. We've been preparing for this for such a long time now and you never know where you really stand. But our team did such an amazing job, it's very impressive to see. It's still very early days, this was only the very first qualifying session of the season, but I'm so impressed by what our team has been able to achieve. A big thank you to everyone in the team, both here at the track and back home at the factories – this is a truly amazing car to drive. I'm very happy with the result today, but it's tomorrow that counts, so we need to keep our heads down and keep working hard.
Lewis Hamilton
Great job by Valtteri today and a great start to the season overall for the team. On my last lap in Q3, there was a big puff of dust when I came out in Turn 4 and at first, I didn't know where the car was that had gotten off the track. But then I managed to see that Valtteri was just about to come back on the track and so fortunately it didn't really affect my lap; in the end, he kept his position and so did I. This team shows year on year of what it is capable of; we continue to set new standards. I think it's because we're open-minded, we're current with the times. We're always learning from each other and we're always pushing the boundaries together. We're united as a team, there aren't really any politics within this group, and we push together. I think that's why we've come back strong again this year. Now we need to show that strength again tomorrow in the race.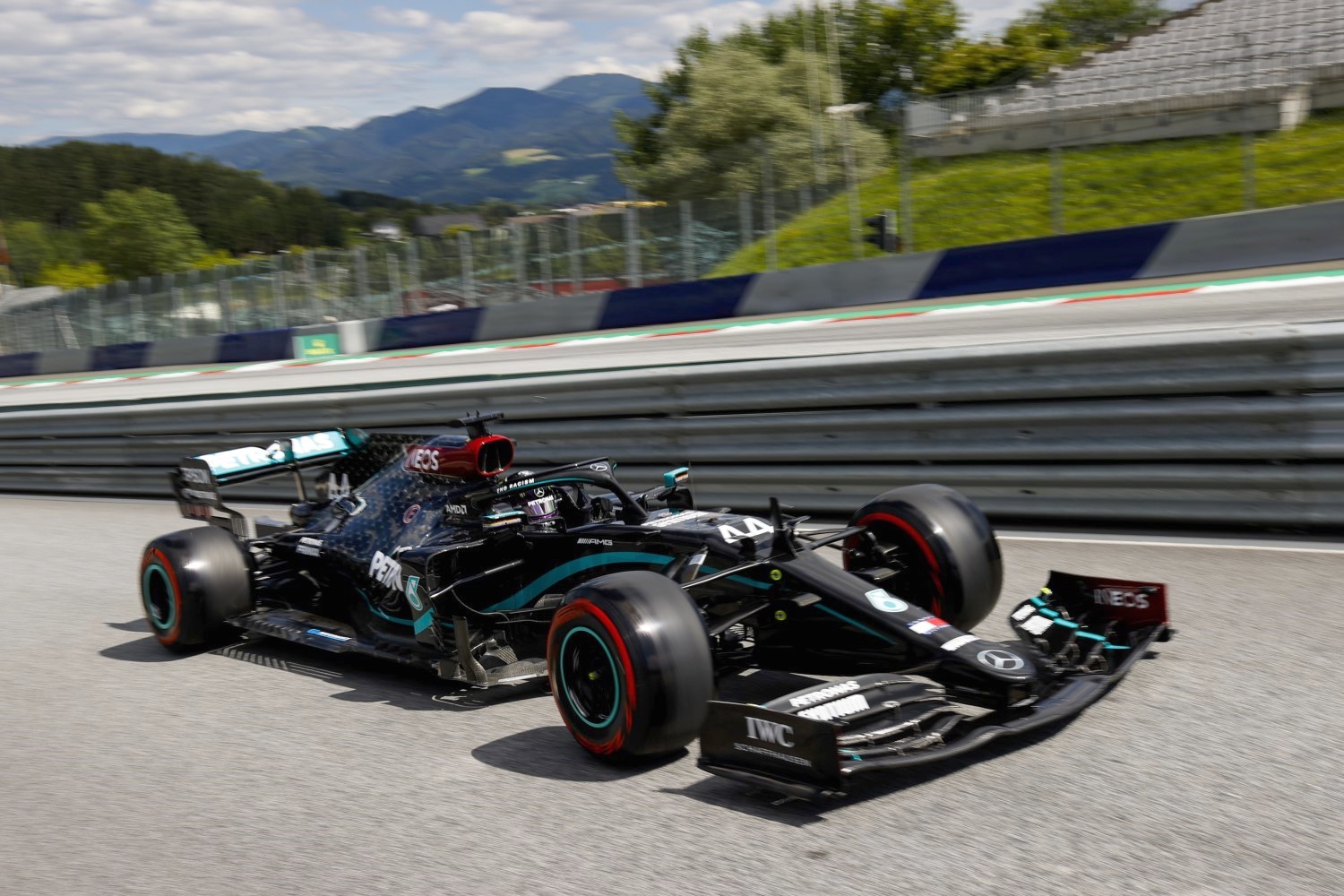 Lewis Hamilton
Toto Wolff
I'm extremely happy with this front-row lockout for the first race of the season. The team and the car – both Power Unit and chassis – worked really well today. Now it's about bringing that result home tomorrow which will be very challenging. It may not look that difficult based on today's single lap results, but Verstappen's offset tire strategy was clever as he will be able to go much longer on the Medium tires in the race. We considered the offset strategy as well; but there's a risk to lose time at the start. We think a one-stop strategy can work here nonetheless, so then the harder tire isn't necessarily an advantage. Given that Verstappen was lacking a little bit of single lap pace, going out in Q2 on the Mediums was the right thing to do. The temperatures are forecasted to be much higher tomorrow which will add to the challenge. We hope for strong reliability tomorrow and that our pace is good enough to be in front. I'm looking forward to the fight.
Andrew Shovlin
A really great result for the whole Mercedes team and it's very satisfying to see that the chassis and Power Unit are working so well on a track that has caused us some headaches in the past. The day hasn't been completely straightforward; we had a pretty good FP3 session but had to pull Valtteri's car apart before qualifying to replace an electrical loom in the gearbox. It's always a bit unsettling when the car is in pieces running up to qualifying, but the mechanics did a great job preparing it and we were ready to run at the start. It's hard to find a decent gap in the first session here in Austria, as there are twenty cars all trying to do the same on a very short lap. The second and third sessions were a bit easier to manage and the pace in the final session was good. This is normally a circuit that compresses the field so it's great to start from the front. It's going to be an interesting race tomorrow. The track and ambient temperatures are much higher than on Friday which will make life harder for the tires. We've also got Max starting on the Medium compounds which will go a bit further than our Softs, but in terms of pace, we've not seen much difference between the tires.
MAX VERSTAPPEN
"I think third on the grid is a good start, of course I would have liked to fight for pole position but that wasn't possible today. On a single lap around this track we have never been the strongest but there are things we can for sure improve moving into qualifying next weekend. Tomorrow is a different day and we have a different strategy starting on the medium tires compared to everyone else around us on the soft. It's going to be warmer as well so hopefully that will also work to our advantage. That doesn't mean that Mercedes are going to be slow, but hopefully it will close the gap a little bit. First we need to have a good start as I don't want to do the same as last year and then we will do everything we can to fight for the win. It's a shame that the fans are not here at our home track as they really help to make a good atmosphere but we'll try to make it an exciting race for everyone watching on TV."
ALEX ALBON
"It feels good to be back in a qualifying session and I enjoyed it, but I'm not overly happy with my result. I struggled a bit at the beginning but by the end I was ok. We just weren't able to maximize it today. On the first run in Q3 I was too far behind the pack and although it's not Monza, it's similar here in that a slipstream is worth a good chunk of time, but there was some time in my driving too. On my second Q3 run we got yellow flags after Bottas went off so that wasn't ideal but P5 on the grid isn't too bad and let's see how our race pace is tomorrow."
CHRISTIAN HORNER, Red Bull Team Principal
"Mercedes gave a dominant performance today, but it was also a positive start for us, with Max qualifying in P3 and Alex in P5. We made a brave strategy decision resulting in Max being the only driver in the top ten to start on the medium tire, which provides us with many strategic options for the race. The temperatures are also due to increase tomorrow which helped us take the win last year so that gives us confidence to take the fight to Mercedes. The entire Team are excited to be back racing and it couldn't be better starting the season at our home track. Let's see what tomorrow brings but it is shaping up to be a great race."
George Russell
Today has exceeded my expectations, I knew we had made a step forward, but I didn't think we would be in this position. Unfortunately, we missed the slipstream that we were aiming for on my previous lap, that cost me about two tenths, but it was definitely a very good effort. We have made a big step forward, and this is the closest we have been on pure pace. The team did a really good job to get the most out of the car so let's see what we can do tomorrow.
Nicholas Latifi
I am pleased with my first qualifying session considering how this morning went. I made a silly mistake in FP3 and I was unable to get the laps in to fully prepare myself for qualifying. But I am pretty happy with the pace, and more so because I know there is some time left in me and some time that we can find with the car. We have to go from there and hopefully we have a clean race tomorrow.
Mario Isola – Pirelli
"Bottas's pole position time set the all-time track record at the Red Bull Ring today, underlining that the cars have evolved while this year's P Zero tire range stays the same as 2019. The most interesting strategic moment from qualifying was Verstappen's decision to start the race on the medium tire, which should allow him to plan a more flexible strategy – with potentially a longer first stint than his rivals. This could be crucial to the race outcome. As expected with a short lap and tightly-matched field, we saw mostly the soft tire used from start to finish of qualifying. Each team needed to be sure to get the most out of their cars, given how close the margins were. But in the race tomorrow, all three compounds should have an important role to play."
Sergio Perez
"I'm happy with sixth on the grid: I matched Albon for fifth, but unfortunately he set the lap before me! It was a good performance by the team – the car has been consistent and is working well, and it was a good lap in Q3. I'm confident for tomorrow because I think our race pace should be strong, and we'll be in the mix to fight for points, but we'll also see how all the other teams stack up. The first lap is always tricky here, but if we can keep it clean and tidy I think we can gain some ground through the first few corners. It's such a buzz to be back racing and let's see what we can do tomorrow."
Lance Stroll
"It was a positive qualifying for the team and both cars in Q3 is a great way to start the season. The team has done a strong job over the winter to develop a competitive car. My Q3 lap was clean, and it was a good shot, but there's always room for improvement to optimise the lap. It's really tight here between all the cars, so a couple of tenths makes a big difference and can cost you as many as five or six places. That's what the fans back home want to see, as well as the drivers. We're in a good position to score points in tomorrow's race and it's going to be an exciting one."
Otmar Szafnauer, Racing Point CEO & Team Principal
"It's great to be trackside again and today's qualifying session was the first proper chance to see just where we sit relative to our competition. After promising form in practice, we knew that getting both cars in Q3 was achievable, so it's satisfying to be lining up in sixth and ninth for tomorrow's race. Checo and Lance were tidy and consistent throughout the session – just what's needed on such a short lap where a few tenths can cost you a handful of positions on the grid. I believe we've also got a competitive race car for tomorrow – based on the data from the long runs we did in second practice. The weather forecast suggests hotter temperatures tomorrow, but I think we've put ourselves in a good position to race for points with both cars."
Qualifying Results
| | | | | | | | |
| --- | --- | --- | --- | --- | --- | --- | --- |
| POS | NO | DRIVER | CAR | Q1 | Q2 | Q3 | LAPS |
| 1 | 77 | Valtteri Bottas | Mercedes | 1:04.111 | 1:03.015 | 1:02.939 | 19 |
| 2 | 44 | Lewis Hamilton | Mercedes | 1:04.198 | 1:03.096 | 1:02.951 | 21 |
| 3 | 33 | Max Verstappen | Red Bull Racing Honda | 1:04.024 | 1:04.000 | 1:03.477 | 23 |
| 4 | 4 | Lando Norris | McLaren Renault | 1:04.606 | 1:03.819 | 1:03.626 | 17 |
| 5 | 23 | Alexander Albon | Red Bull Racing Honda | 1:04.661 | 1:03.746 | 1:03.868 | 18 |
| 6 | 11 | Sergio Perez | Racing Point BWT Mercedes | 1:04.543 | 1:03.860 | 1:03.868 | 19 |
| 7 | 16 | Charles Leclerc | Ferrari | 1:04.500 | 1:04.041 | 1:03.923 | 20 |
| 8 | 55 | Carlos Sainz Jr. | McLaren Renault | 1:04.537 | 1:03.971 | 1:03.971 | 18 |
| 9 | 18 | Lance Stroll | Racing Point BWT Mercedes | 1:04.309 | 1:03.955 | 1:04.029 | 17 |
| 10 | 3 | Daniel Ricciardo | Renault | 1:04.556 | 1:04.023 | 1:04.239 | 15 |
| 11 | 5 | Sebastian Vettel | Ferrari | 1:04.554 | 1:04.206 | – | 13 |
| 12 | 10 | Pierre Gasly | AlphaTauri Honda | 1:04.603 | 1:04.305 | – | 14 |
| 13 | 26 | Daniil Kvyat | AlphaTauri Honda | 1:05.031 | 1:04.431 | – | 14 |
| 14 | 31 | Esteban Ocon | Renault | 1:04.933 | 1:04.643 | – | 12 |
| 15 | 8 | Romain Grosjean | Haas Ferrari | 1:05.094 | 1:04.691 | – | 14 |
| 16 | 20 | Kevin Magnussen | HAAS FERRARI | 1:05.164 | – | – | 8 |
| 17 | 63 | George Russell | WILLIAMS MERCEDES | 1:05.167 | – | – | 10 |
| 18 | 99 | Antonio Giovinazzi | Alfa Romeo Racing Ferrari | 1:05.175 | – | – | 8 |
| 19 | 7 | Kimi Raikkonen | Alfa Romeo Racing Ferrari | 1:05.224 | – | – | 9 |
| 20 | 6 | Nicholas Latifi | Williams Mercedes | 1:05.757 | – | – | 12 |