We drive the Mazda 3 Hatchback AWD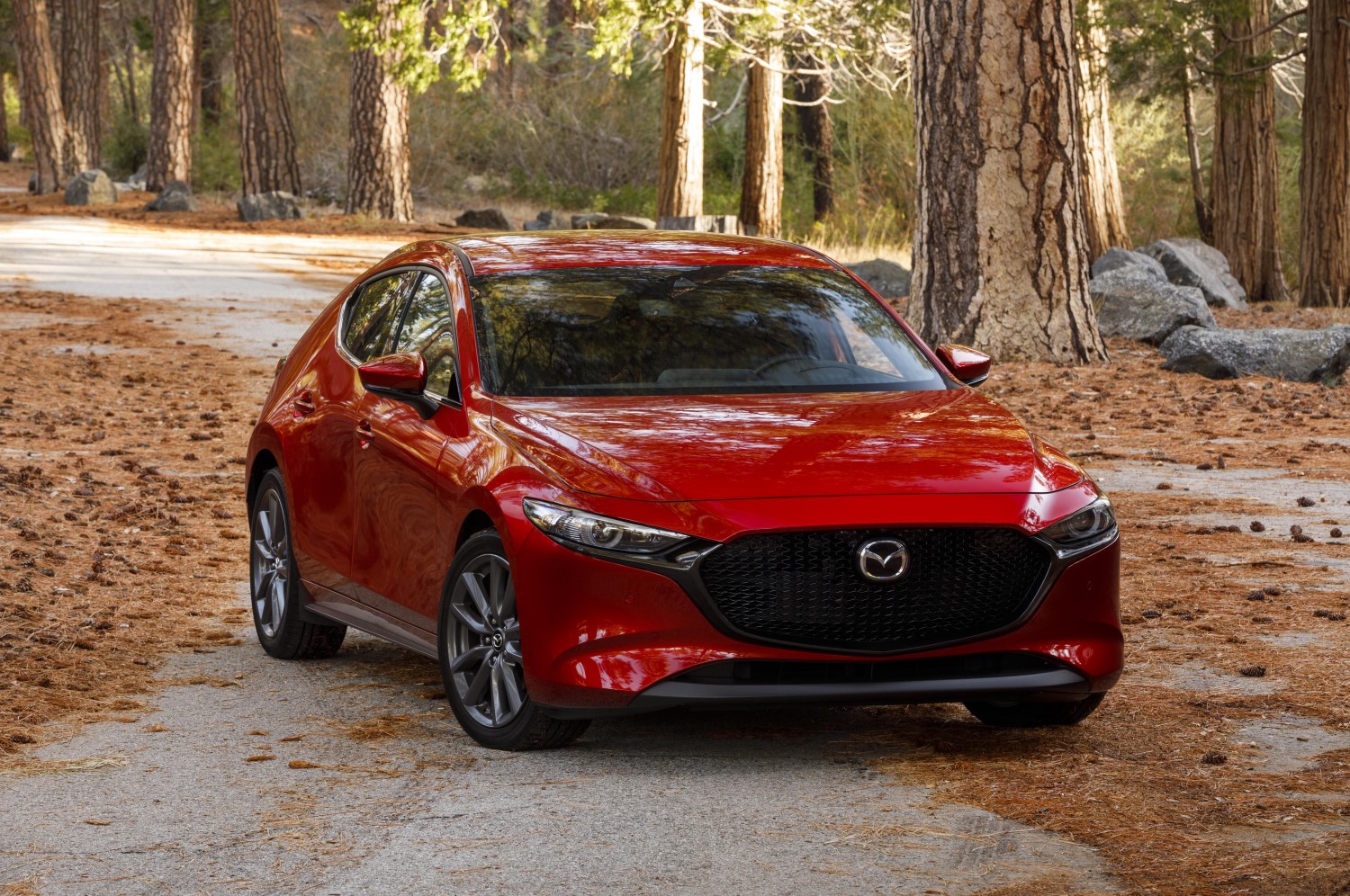 Mazda 3 AWD Hatchback
Debuting in 2003, the Mazda3 has been the brand's best-selling vehicle in the world with over six million units sold. The new Mazda3 made its world premiere at the 2018 Los Angeles Auto Show and was immediately met by widespread appeal. The new 3 follows a new design styling that attempts to embody the essence of Japanese aesthetics.
The Mazda 3 is certainly very attractive and compared to the competition, it looks like a much more expensive car. That trend continues with an interior that looks more like an Audi rather than an economy car.
The center console has been redesigned with the shift knob, new commander control and armrest moved forward, while the cupholders are repositioned to the front and everything is covered in rich materials and feels expensive.
[adinserter name="GOOGLE AD"]The heads-up display is projected on the windshield to help provide more information while minimizing the amount of time the driver's eyes are off the road.
Mazda has also spent a lot of money on acoustics. The upgraded premium driving experience goes beyond just look and feel. There is a vast improvement in the sound quality of the Mazda3 as well. The sense of sophistication starts as soon as you get inside.
Mazda has reduced the unwanted noise and vibration that comes inside by increasing sound insulation and applying a double wall structure in certain areas.
While the bad noise was reduced, there was a push to improve the good ones too such as a new 8 speaker standard audio system and an available 12 speaker Bose premium system.
The speakers were moved to strategic locations for best sound quality. For example, the woofers are usually placed in the doors but Mazda's audio engineers wanted to reduce unwanted sound vibrations, such as items in the door pockets rattling, so they were moved to the front cowl.
Under the hood, the Mazda3 has only one engine choice. The 2.5 liter four cylinder is normally aspirated but uses direct injection and a very high 13:1 compression ratio to extract 186 hp. That is not a lot of power these days and is the only disappointing thing about the Mazda3.
It is a lot of fun to drive, especially when the road gets twisty but it just needs more power. Fortunately, there is a bright side and that is fuel economy, The Mazda3 is rated at 35 mpg on the highway (32 mpg with AWD) and is happy to burn 87 octane regular unleaded fuel.
With a starting price of about $21,000 the Mazda3 is a great value. Our top of the line AWD model was closer to $30,000 but unless you live in a cold climate area, you don't need AWD.
It just adds cost and extra weight. Select the model that fits your budget and you will have a fun and reliable car that feels like you spent twice as much.
Specifications
Mazda 3 Hatchback AWD
VEHICLE TYPE
front-engine, all-wheel-drive, 5-passenger, 4-door hatchback
PRICE AS TESTED
Bbase price: $29,820
ENGINE TYPE
DOHC 16-valve Atkinson-capable inline-4, aluminum block and head, direct fuel injection
Displacement
152 cu in, 2488 cc
Power
186 hp @ 6000 rpm
Torque
186 lb-ft @ 4000 rpm
TRANSMISSION
6-speed automatic with manual shifting mode
CHASSIS
Suspension (F/R): struts/torsion beam
Brakes (F/R): 11.0-inch discs/10.4-inch discs
Tires: Toyo Proxes A40 215/45R-18 89V M+S
DIMENSIONS
Wheelbase: 107.3 in
Length: 175.6 in
Width: 70.7 in
Height: 56.7 in
Passenger volume: 91 cu ft
Cargo volume: 20 cu ft
Curb weight: 3228 lb
TEST RESULTS
Zero to 60 mph: 7.2 sec
Zero to 100 mph: 19.6 sec
Zero to 120 mph: 32.1 sec
Rolling start, 5–60 mph: 7.7 sec
Top gear, 30–50 mph: 3.7 sec
Top gear, 50–70 mph: 5.1 sec
Standing ¼-mile: 15.6 sec @ 91 mph
Top speed (governor limited): 131 mph
Braking, 70–0 mph: 164 ft
Roadholding, 300-ft-dia skidpad: 0.88 g
EPA FUEL ECONOMYF
Combined/city/highway: 27/24/32 mpg