Five F1 drivers refusing to kneel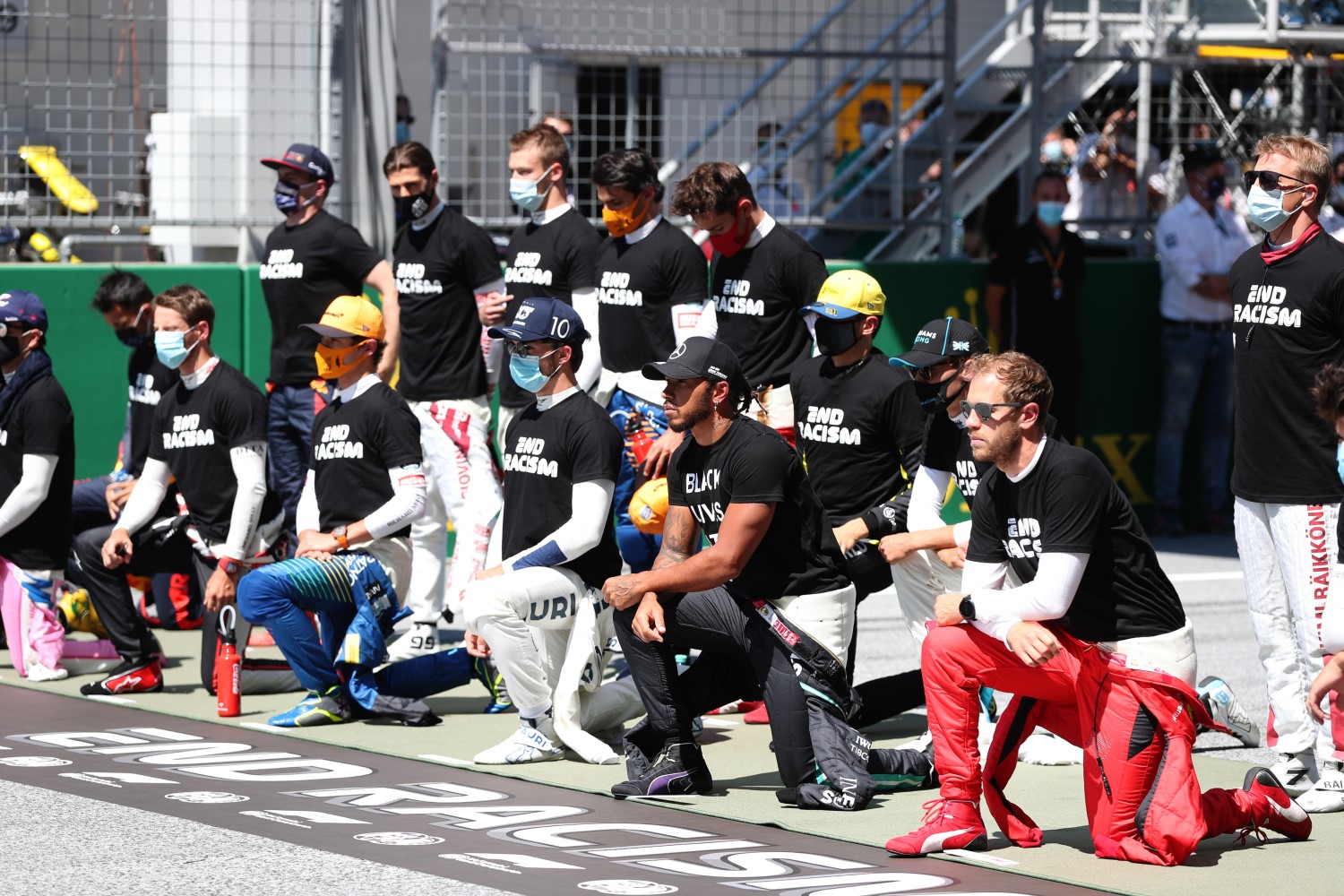 The drivers who took a knee and those that did not
(GMM) There are rumors of growing tension among Formula 1 drivers over Lewis Hamilton's recent political activism.
Having pushed hard over his support for the Black Lives Matter movement recently, the six-time world champion admitted he told his rivals at a meeting in Austria that "silence" on the issue of racism "is generally complicit".
The drivers have all agreed to wear 'End Racism" t-shirts on the grid on Sunday, but sources suggest at least five are refusing to vow to kneel in support of Black Lives Matter.
"Not everyone has decided what to do," admitted McLaren driver Carlos Sainz.
It is believed some drivers are upset with Hamilton's equating of 'silence' on matters of racial politics with a supposed racist element within the paddock.
"Well, we know there's an issue so we don't need an experience like tomorrow to prove that there is an issue," the 35-year-old said when asked about the apparent disagreement over 'taking a knee'.
Haas driver Kevin Magnussen said: "I intend to kneel – not so much because I support the Black Lives Matter organisation, but more because I want to support the worldwide movement against racism and discrimination.
"I hope no special group or organisation takes ownership of it," he added.
———–
Charles Leclerc says he will not be taking a knee ahead of the 2020 Austrian Grand Prix, but remains adamant on pushing for an end to racism.
The Ferrari driver wrote on social media: "I believe that what matters are facts and behaviours in our daily life rather than formal gestures that could be seen as controversial in some countries.
"I will not take the knee but this does not mean at all that I am less committed than others in the fight against racism."
Leclerc starts the Austrian Grand Prix from seventh on the grid, as Ferrari endured a difficult qualifying session with its SF1000, which is down on pace compared to its rivals.
Max Verstappen also revealed he would not take the knee before the commencement of the race.
"I am very committed to equality and the fight against racism," he said. "But I believe everyone has the right to express themself at a time and in a way that suits them. I will not take the knee today but respect and support the personal choices every driver makes."