NHRA weekend results from Indianapolis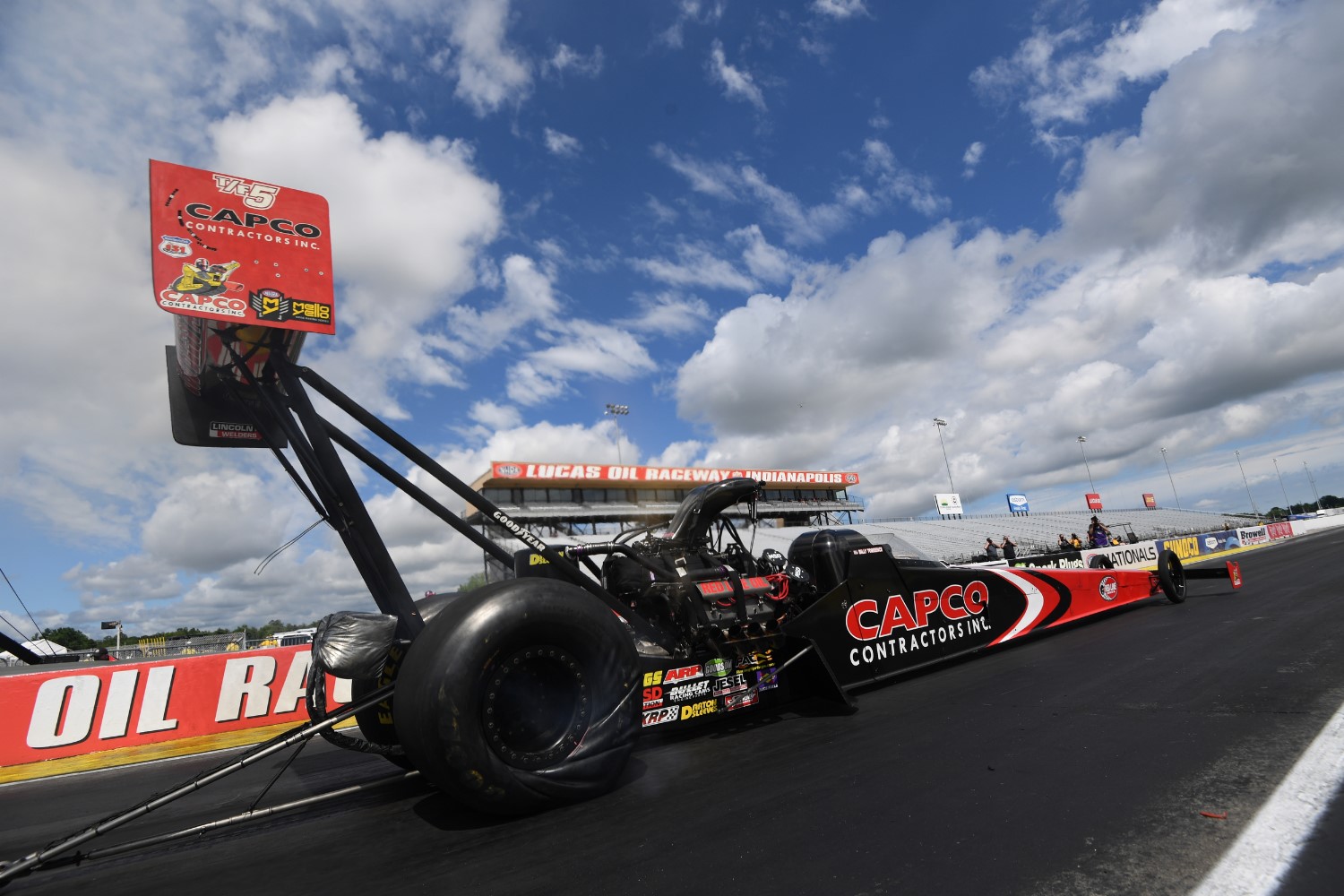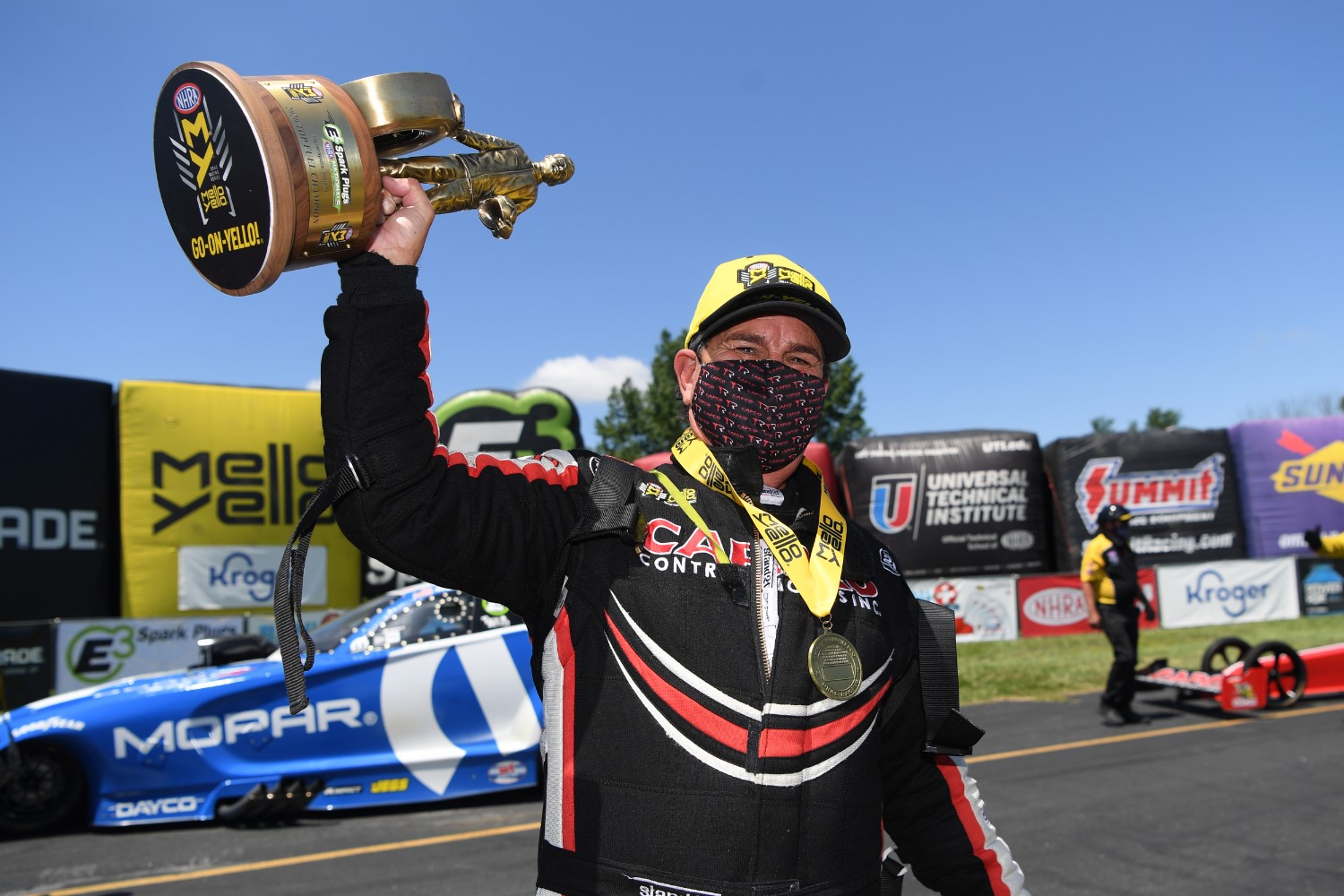 Billy Torrence
Due to the busy nature of his Texas-based construction company, Billy Torrence doesn't compete in all of the NHRA Mello Yello Drag Racing Series events and for that, the rest of the Top Fuel field should be thankful. Torrence, the father of two-time world champ Steve, is now a six-time winner in NHRA's premiere division following a narrow side-by-side win against Doug Kalitta in the final round of the E3 Spark Plugs NHRA Nationals in Indianapolis. Torrence gave up a lead to Kalitta's Mac Tools dragster at the start but rallied to win with a 3.802 to Kalitta's 3.852 effort.
"Well, how about those old Capco boys?" said Torrence, as he hoisted the Wally trophy. "We need to foremost thank the good Lord for being out here as a family and being able to enjoy the freedom to come out here and drag race and God Bless America. Thank you so much."
Torrence, who was a semifinalist in his only other appearance of the season in Phoenix, guided his Capco dragster into the field in the No. 6 spot following a 3.859 run on Saturday afternoon. Sunday's conditions were conducive to quicker elapsed times and the Capco team responded in kind. Steve Torrence led the way with a 3.758 in his round one win against Luigi Novelli and Billy was just a tick behind with a 3.768 in his win against Terry Totten. After Billy took care of business in the quarterfinals against T.J. Zizzo and Steve stopped Shawn Landon, it set up and inevitable father-son battle in the semifinals. The Capco cars have always raced straight-up and this time was no different. After an even start, Steve's car smoked the tires, sending Billy to his eighth career final in just 50 stars as a professional.
Kalitta, the hottest NHRA pro in any class after starting the season with a win and a runner-up, went to the final for the third-straight race thanks to wins against Lex Joon, Leah Pritchett, and Antron Brown, a milestone victory that represented his 700th round win as a pro. Kalitta's 3.803 to 3.813 win against Pritchett was also notable as one of the best races of the day with a margin of victory of just five-thousandths of a second at the finish line. Kalitta, who remains the points leader, is just the second Top Fuel driver to score 700 round wins, joining eight-time world champion Tony Schumacher.
[adinserter name="GOOGLE AD"]

Matt Hagan earns career win No. 34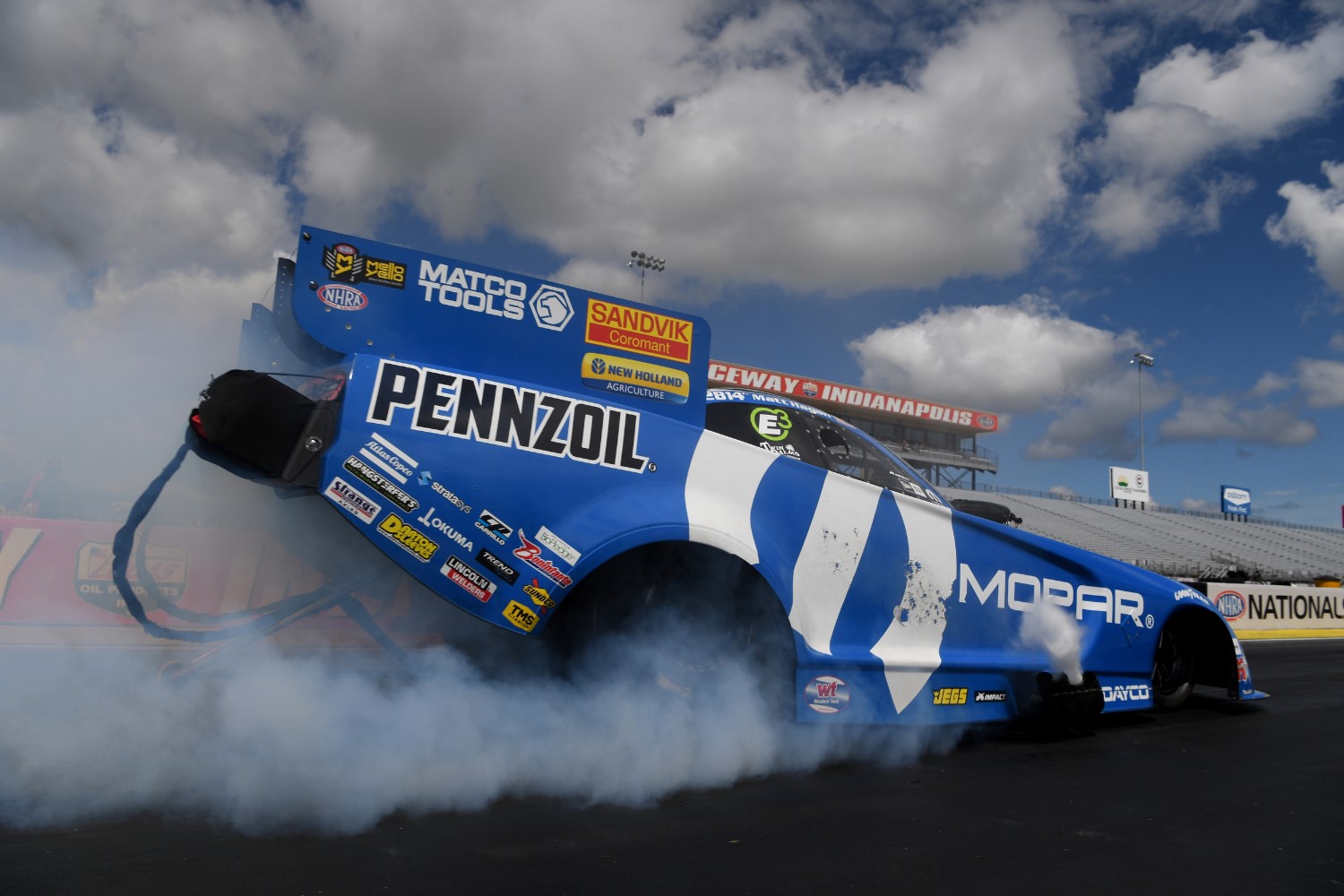 Matt Hagan
Matt Hagan qualified his Mopar Dodge Charger in the top spot at the first two races of the season in Pomona and Phoenix but had little to show for it other than a semifinal loss in Pomona. The two-time champion quickly rectified that by winning his 34th career Funny Car title at the E3 Spark Plugs NHRA Nationals at Indy. Hagan exploded a supercharger well before the finish line in his final round match against teammate Tommy Johnson Jr., but held on for the victory as the Don Schumacher Racing team completed a sweep of the season's first three races.
"I'm all good, I just had some parts come up there and tag me pretty good but I've been kicked by cattle harder than that anyway," said Hagan. "We're so glad to be doing this with NHRA and fans in the stands. Thanks to Mopar, Pennzoil, Sandvik and all the folks that support us. I just can't say enough about NHRA. These guys are my family. My crew chief, Dickie Venables; what an amazing job this weekend."
The final-round explosion notwithstanding, Hagan turned in a masterful performance en route to his first win since last November's Las Vegas race. Entering Sunday's eliminations as the No. 6 qualifier, Hagan stopped Daniel Wilkerson and then survived a close wheel-to-wheel battle against teammate Jack Beckman in the quarterfinals. Hagan drove to a 3.94 to edge Beckman's game 3.96. A 3.95 in the semifinals was enough to get past Tim Wilkerson.
Still riding high after his win in Phoenix nearly five months ago, Johnson was also solid in his John Collins-tuned MD Anderson Cancer Center Dodge. Johnson topped the strong 18-car field with a 3.983 and rolling his 54th career nitro final with wins against teammate Ron Capps, who qualified No. 16. Johnson also got past Blake Alexander, and 2018 champ J.R. Todd. Johnson knocked the tires loose and slowed before half-track in the final, allowing Hagan to get the win even after his engine expired before the finish line.
Line celebrates farewell tour with a victory for the 17th straight season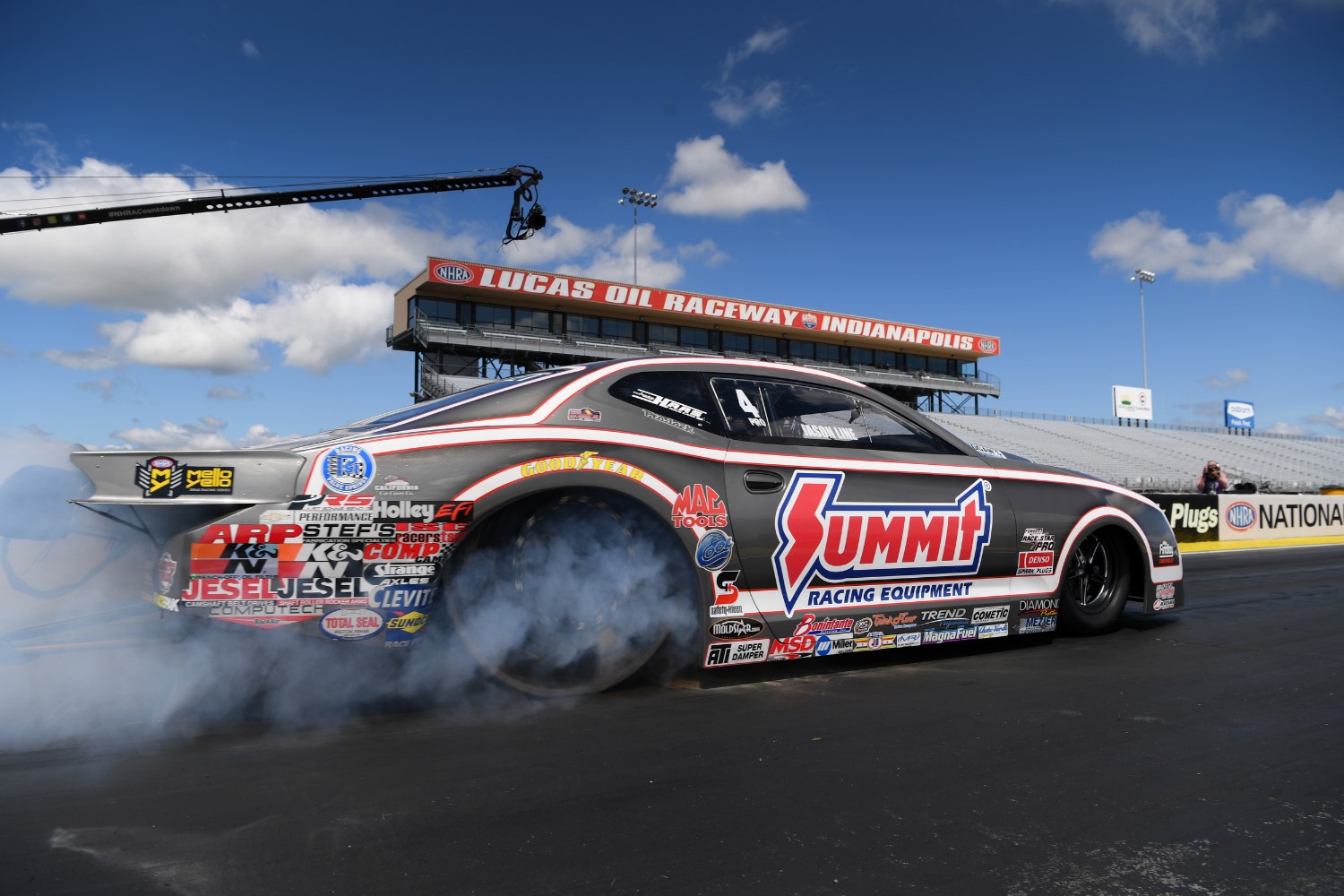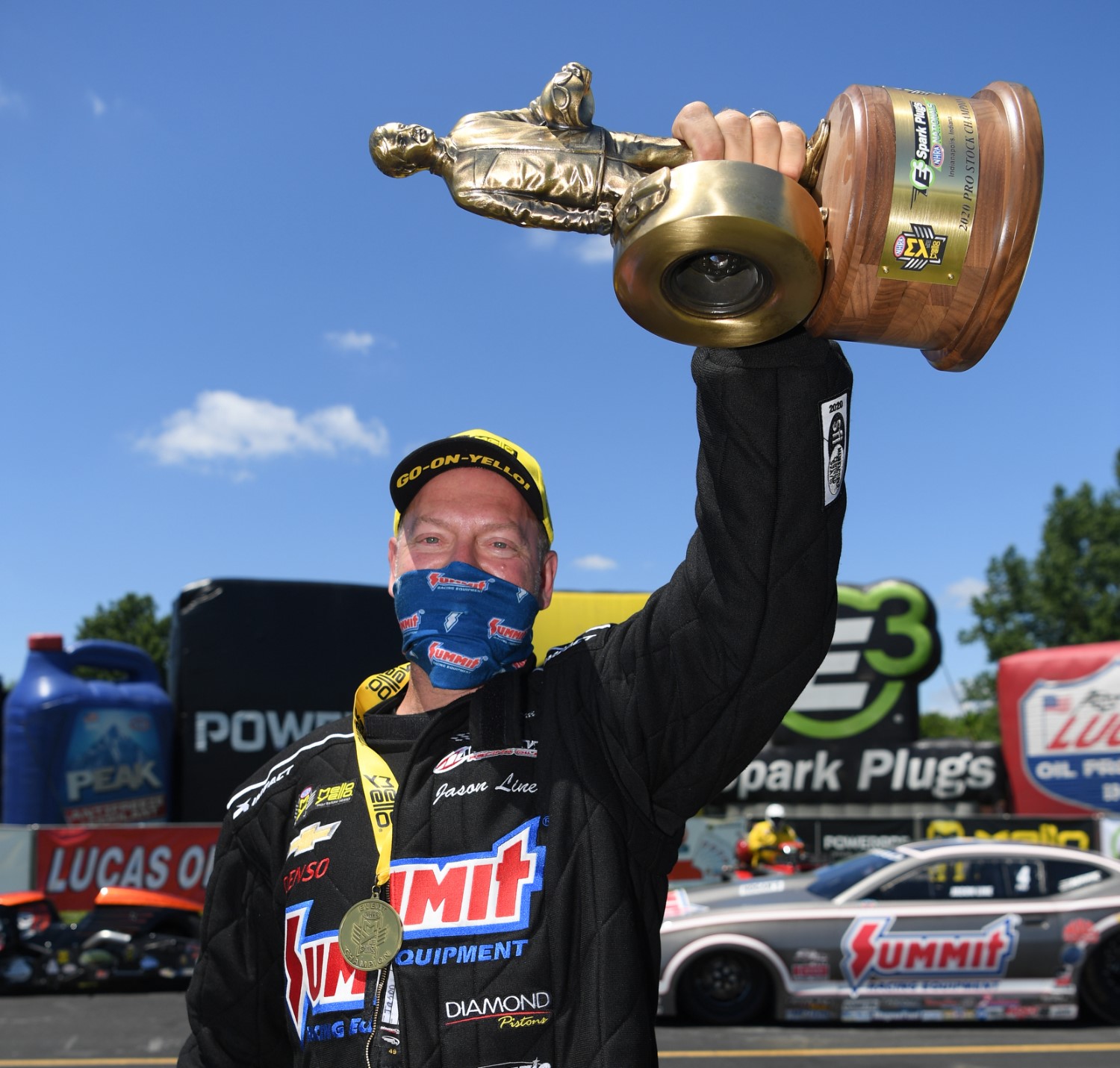 Jason Line
Earlier this year, Jason Line announced plans to retire from driving in the Pro Stock class at the end of the 2020 season and knowing that his swan song is just around the corner, he's determined to make the most of it. After a runner-up at the season opener in Pomona five months ago, Line collected career Pro Stock win No. 51 at the E3 Spark Plugs NHRA Nationals when he stopped longtime rival Jeg Coughlin Jr. in the final round. Line got off the starting line cleanly and drove his Summit Camaro to a 6.647 to top Coughlin's 6.658. Line was appearing in his 104th career Pro Stock final while Coughlin was racing in the final for the 113th time in his career.
"I wish I could see my dad's face right now because he's big into streaks and it was important to him that I win at least one race every year that I'm in Pro Stock and we got it done," said Line. "I want to thank Greg [Anderson]. He worked his tail off this whole time we've been off."
Line was only able to make one run during Saturday's two-shot qualifying round due to a mechanical issue in Q2, but he made his one shot count with a 6.626 that was good enough to secure the top spot in the field for the 56th time. Line was both consistent and quick on race day with runs of 6.61, 6.62 and 6.60 in his wins against Alan Prusiensky, Alex Laughlin, and KB Racing teammate Greg Anderson. By his own admission, Line was not stellar on the starting line until the final round, where he used a competitive .017 light to leave five-thousandths of a second ahead of Coughlin.
Like Line, Coughlin has also announced that 2020 will be his final season as a full-time driver in the Pro Stock class and he's also visited the winner's circle this season with a victory over Line at the Pomona season-opener. Coughlin was the second-quickest qualifier in his Elite powered JEGS Camaro with a 6.635, and drove to Sunday wins against Bruno Massel, Chris McGaha, and Phoenix winner Erica Enders. Coughlin was incredibly consistent on the starting line with four lights between .022 and .029 in eliminations. In the final, he came up just .016-second short of catching Line.