Custer stuns field with first Cup Series win at Kentucky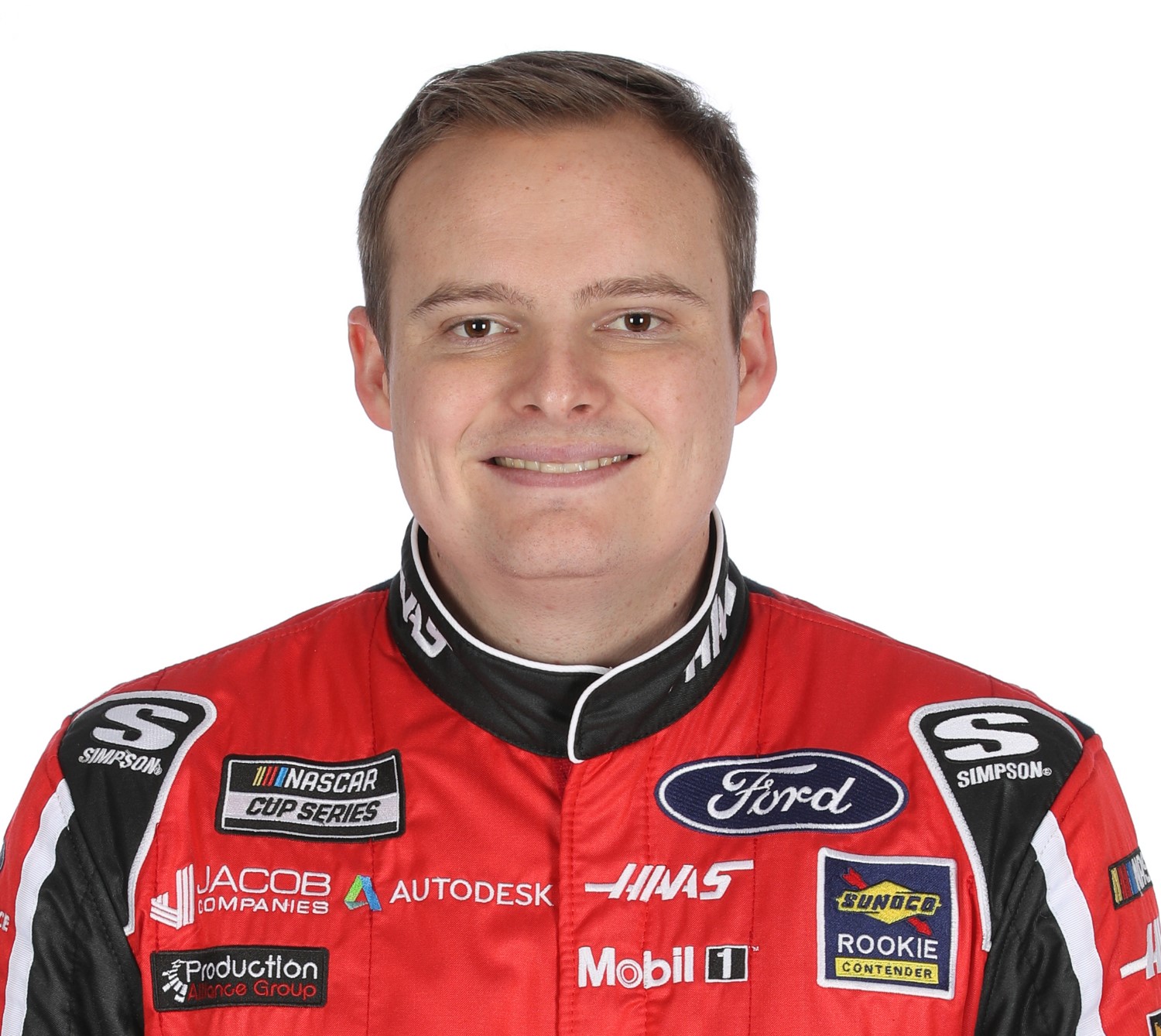 Cole Custer
Sunoco Rookie of the Year contender Cole Custer roared to his first Cup Series victory Sunday afternoon at Kentucky Speedway, emerging from a late-race restart with a bold four-wide move just after the white flag.
Driving the Stewart-Haas Racing No. 41 Ford, Custer led just five of the 267 laps in the Quaker State 400 presented by Walmart. The first-year driver also won at the 1.5-mile Kentucky track in Xfinity Series competition last year.
Martin Truex Jr. wound up second, 0.271 seconds behind at the checkered flag. Matt DiBenedetto netted third place with a tire-smoking Kevin Harvick fourth and Kurt Busch fifth.
Aric Almirola led the most laps – a career-best 128 – and won Stage 1. He faded to an eighth-place result, snapping a streak of five consecutive top-five finishes. Brad Keselowski won Stage 2, leading 34 laps before coming home ninth.
Jimmie Johnson finished 18th in his first race back since he reported a positive COVID-19 test that kept him out of the series' previous race, July 5 at Indianapolis Motor Speedway. Johnson continued after a late brush of the outside retaining wall with his No. 48 Hendrick Motorsports Chevrolet.
[adinserter name="GOOGLE AD"]Even more impressive is these first-year NASCAR Cup Series drivers were able to excel with no practice or qualifying sessions — all precautions NASCAR has instituted since retuning to competition after the COVID-19 break in action.
"It's not easy," Custer said. "You've got to kind of adapt as much as you can. I think we've gotten better and better at that. It's just unbelievable. I didn't think we were coming here and going to win. And now we're gonna be in the All-Star Race.
"It's unbelievable. We had a great car all day, one of the best cars I've ever driven in my life. It was hard to get to the front. Once we got there, we took advantage of it and I just can't thank everybody at the shop."
Although obviously disappointed not to win, Custer's SHR teammate, Harvick, was quick to praise his young teammate.
"We were in position to win, you know," Harvick said. "Made it through Turns 1 and 2, Martin just misjudged on the backstretch and got into us and I had to check up. Next thing I know we were four-wide on the front straightaway and then the 12 (Blaney) hit the drain and went back up race track.
"Just congratulations to Cole Custer. Last week he was a big part of our win (at Indianapolis Motor Speedway). To get to Victory Lane in your rookie year is a big deal. I'm really happy for Gene (Haas) and everyone at (Haas Automation) and especially for Cole. He works really hard."
The Cup Series' next event is the non-points NASCAR All-Star Race, scheduled Wednesday (8:30 p.m. ET, FS1, MRN, SiriusXM). The NASCAR All-Star Open qualifier is set earlier Wednesday (7 p.m. ET, FS1, MRN, SiriusXM) to round out the invitational field. The next points-paying race for the Cup Series is scheduled next Sunday (3 p.m. ET, NBCSN, PRN, SiriusXM) at Texas Motor Speedway.
Race Results
| | | | | | | | |
| --- | --- | --- | --- | --- | --- | --- | --- |
| Fin | Str | No. | Driver | Team | Laps | Status | Led |
| 1 | 29 | 41 | Cole Custer # | HaasTooling.com Ford | 267 | Running | 5 |
| 2 | 9 | 19 | Martin Truex Jr. | Auto Owners Insurance Toyota | 267 | Running | 57 |
| 3 | 10 | 21 | Matt DiBenedetto | Menards/Quaker State Ford | 267 | Running | 1 |
| 4 | 3 | 4 | Kevin Harvick | Hunt Brothers Pizza Ford | 267 | Running | 11 |
| 5 | 7 | 1 | Kurt Busch | Monster Energy Chevrolet | 267 | Running | 0 |
| 6 | 11 | 12 | Ryan Blaney | Advance Auto Parts Ford | 267 | Running | 18 |
| 7 | 34 | 95 | Christopher Bell # | Toyota Toyota | 267 | Running | 0 |
| 8 | 4 | 10 | Aric Almirola | Smithfield Vote For Bacon Ford | 267 | Running | 128 |
| 9 | 6 | 2 | Brad Keselowski | Snap-On Ford | 267 | Running | 34 |
| 10 | 24 | 8 | Tyler Reddick # | Caterpillar Chevrolet | 267 | Running | 0 |
| 11 | 21 | 24 | William Byron | Axalta Chevrolet | 267 | Running | 4 |
| 12 | 12 | 11 | Denny Hamlin | FedEx Freight Toyota | 267 | Running | 0 |
| 13 | 19 | 3 | Austin Dillon | RigUp Chevrolet | 267 | Running | 0 |
| 14 | 15 | 14 | Clint Bowyer | One Cure Ford | 267 | Running | 0 |
| 15 | 2 | 22 | Joey Logano | Shell Pennzoil Ford | 267 | Running | 0 |
| 16 | 33 | 13 | Ty Dillon | GEICO Chevrolet | 267 | Running | 0 |
| 17 | 23 | 6 | Ryan Newman | Acronis Ford | 267 | Running | 0 |
| 18 | 20 | 48 | Jimmie Johnson | Ally Chevrolet | 267 | Running | 0 |
| 19 | 5 | 88 | Alex Bowman | Cincinnati Chevrolet | 267 | Running | 0 |
| 20 | 13 | 17 | Chris Buescher | Fifth Third Bank Ford | 267 | Running | 0 |
| 21 | 1 | 18 | Kyle Busch | M&M's Fudge Brownie Toyota | 267 | Running | 9 |
| 22 | 16 | 20 | Erik Jones | Built In Kentucky Toyota | 267 | Running | 0 |
| 23 | 8 | 9 | Chase Elliott | Kelley Blue Book Chevrolet | 267 | Running | 0 |
| 24 | 30 | 34 | Michael McDowell | Love's Travel Stops Ford | 267 | Running | 0 |
| 25 | 17 | 42 | Matt Kenseth | Clover Chevrolet | 267 | Running | 0 |
| 26 | 37 | 96 | * Daniel Suarez | Toyota Certified Used Vehicles Toyota | 267 | Running | 0 |
| 27 | 18 | 43 | Bubba Wallace | Victory Junction Chevrolet | 265 | Running | 0 |
| 28 | 27 | 32 | Corey LaJoie | Keen Parts Ford | 264 | Running | 0 |
| 29 | 14 | 47 | Ricky Stenhouse Jr. | Kroger Chevrolet | 264 | Running | 0 |
| 30 | 36 | 27 | JJ Yeley(i) | Greenlight Ford | 260 | Running | 0 |
| 31 | 31 | 15 | Brennan Poole # | Spartan Mosquito Chevrolet | 259 | Running | 0 |
| 32 | 26 | 77 | Josh Bilicki(i) | Austin Hatcher Foundation Chevrolet | 257 | Running | 0 |
| 33 | 25 | 53 | Garrett Smithley(i) | Victory Lane Quick Oil Change Chevrolet | 257 | Running | 0 |
| 34 | 35 | 51 | Joey Gase(i) | Donate Life Life Center/Pro Master Ford | 257 | Running | 0 |
| 35 | 28 | 0 | Quin Houff # | Creek Enterprise Inc Chevrolet | 255 | Running | 0 |
| 36 | 22 | 38 | John Hunter Nemechek # | YANMAR Ford | 248 | Accident | 0 |
| 37 | 38 | 66 | * Timmy Hill(i) | RoofClaim.com Toyota | 170 | Electrical | 0 |
| 38 | 32 | 37 | Ryan Preece | Kingsford Chevrolet | 159 | Transmission | 0 |
[adinserter name="GOOGLE AD"]