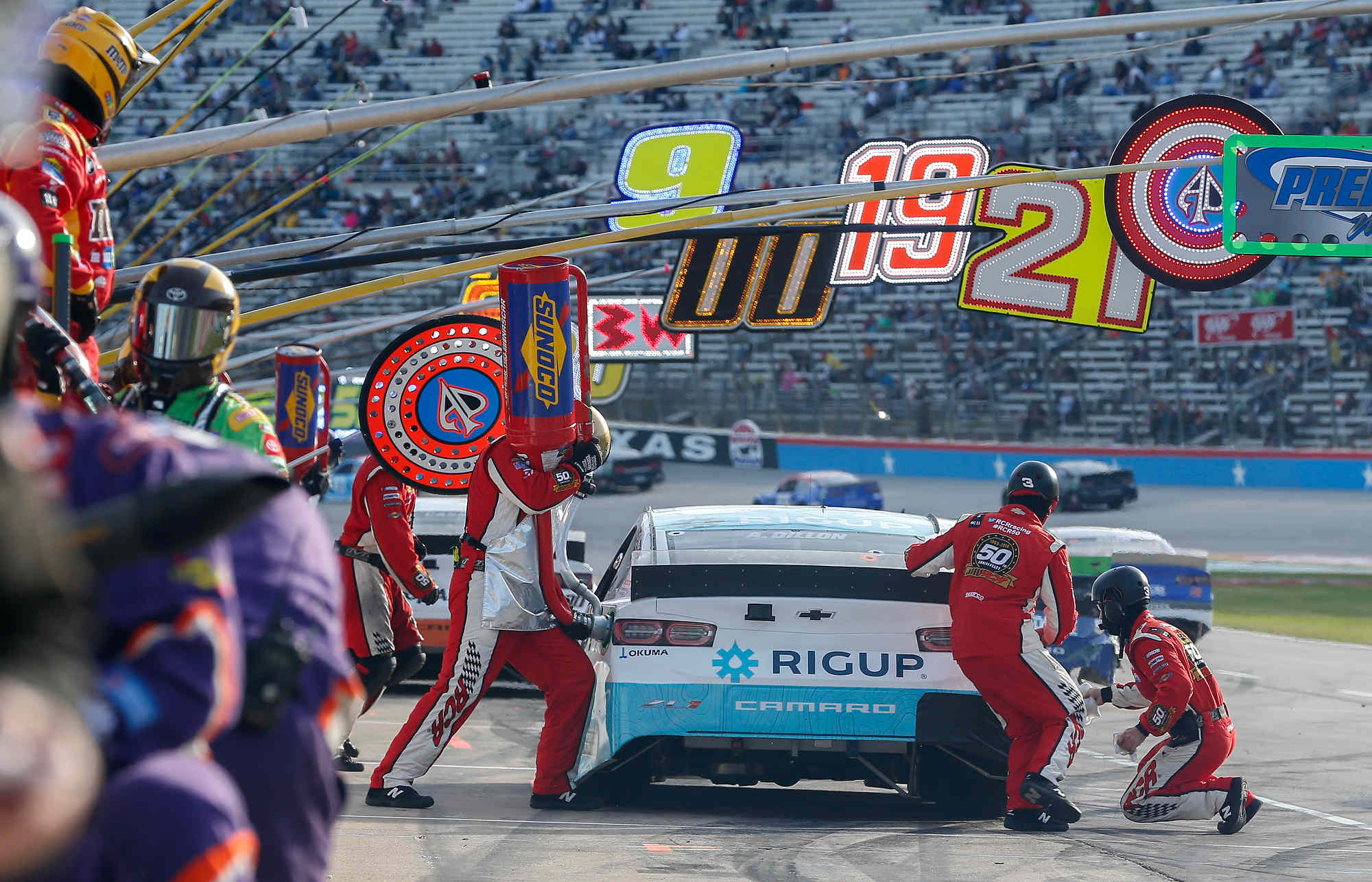 NASCAR will be in action at Bristol Wednesday night and then at Texas Motor Speedway for the weekend
This week we have the NASCAR All-Star race from Bristol mid-week. The All-Star Open and the All-Star race will air live Wednesday night on FS1.
NASCAR then moves to Texas Motor Speedway for the weekend where all three of its major series will be racing – Trucks, Xfinity and Cup – with a 50% capacity crowd in attendance.
For the 2nd weekend in a row IndyCar will race a doubleheader, this time on the 7/8ths-mile Iowa oval on Friday and Saturday night under the lights.
F1 will be in Budapest for the Hungarian GP and MotoGP will be in Jerez, Spain. NBC Sports deal with MotoGP finally starts this weekend after a four-month delay, and it'll air the first two races of the year on both NBC and NBCSN (Both Tape Delayed)
All times Eastern
| | | | |
| --- | --- | --- | --- |
| Saturday, July 18, 2020 | Location | TV Times | Network |
| F1: Hungarian GP Practice 3 | Budapest | 5:55am – 7:00am (Live) | ESPN2 |
| NASCAR Cup: All-Star Race | Bristol | 8:30am – 10:30am | FS1 |
| F1: Hungarian GP Qualifying | Budapest | 8:55am – 10:00am (Live) | ESPN |
| IMSA Qualifying | Sebring | 1:55pm – 3:00pm (Live Stream) | IMSA.tv |
| NASCAR XFINITY: Pre-Race | Ft. Worth, TX | 3:30pm – 4:30pm (Live) | NBC Gold |
| NASCAR XFINITY: My Bariatric Solutions 300 | Ft. Worth, TX | 3:00pm – 5:30pm (Live) | NBCSN |
| IndyCar Twin 250s Race 2 Practice | Iowa | 3:30pm – 10:30pm (Live) | NBCSN |
| ARCA Menards Series | Newton, IA | 5:30pm – 7:30pm (Live) | MavTV |
| IMSA – GP of Sebring | Sebring | 5:30pm – 8:30pm (Live) | NBCSN |
| NASCAR:1997: Daytona 500 | Daytona | 7:00pm – 7:30pm | FS1 |
| Pirelli GT4 America Sprint X | Alton VA | 7:00pm – 9:00pm | CBSSN |
| NASCAR Truck Series: Pre-Race | Ft. Worth, TX | 7:30pm – 8:00pm (Live) | FS1 |
| NASCAR Truck Series: Vankor 350 Race | Ft. Worth, TX | 8:00pm – 10:00pm (Live) | FS1 |
| IndyCar Twin 250s Race 2 | Iowa | 8:30pm – 11:00pm (Live) | NBCSN |
| NHRA Qualifying | Indianapolis | 10:30pm – 11:30pm | FS1 |
| Sunday, July 19, 2020 | Location | TV Times | Network |
| Pirelli GT4 America Sprint X | Alton VA | 12:00am – 2:00am | CBSSN |
| F1: Hungarian GP Race | Budapest | 9:05am – 11:00am (Live) | ESPN |
| NHRA Qualifying | Indianapolis | 11:00am – 12:00pm | FS1 |
| NHRA Drag Race II | Indianapolis | 12:00pm – 3:00pm (Live) | FOX |
| NASCAR Cup: Pre-Race | Ft. Worth, TX | 2:30pm – 3:00pm (Live) | NBCSN |
| MotoGP Race | Jerez, Spain | 3:00pm – 4:30pm | NBC |
| NASCAR Cup: O'Reilly Auto Parts 500 | Ft. Worth, TX | 3:00pm – 7:00pm (Live) | NBCSN |
| NASCAR Cup: Post-Race | Ft. Worth, TX | 7:00pm – 7:30pm (Live) | NBCSN |
| TC America | Alton VA | 5:30pm – 7:00pm | CBSSN |
| F1: Hungarian GP Race | Budapest | 6:30pm – 9:00pm (Replay) | ESPN2 |
| Pirelli GT4 America Sprint | Alton VA | 7:00pm – 8:30pm | CBSSN |
| MotoGP Race | Jerez, Spain | 7:30pm – 9:00pm | NBCSN |
| F1: Hungarian GP Race | Budapest | 9:00pm – 11:30pm (Replay) | ESPN News |
| Pirelli GT4 America Sprint | Alton VA | 11:30pm – 1:00am | CBSSN |