Thursday: Indy 500 Pre-Race Press Conference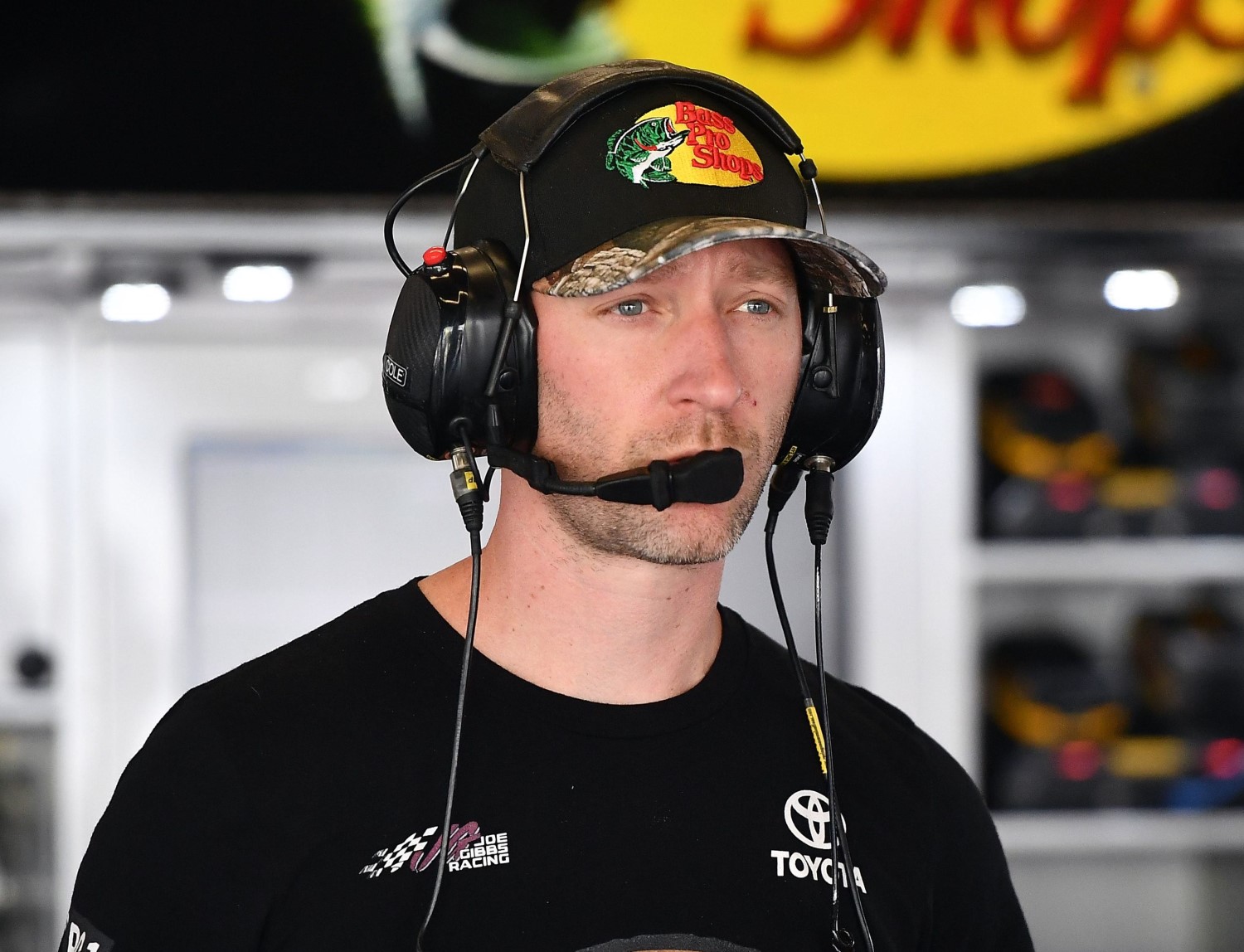 Cole Pearn from his NASCAR days with Martin Truex Jr.
Participants
Conor Daly, Ed Carpenter Racing
Cole Pearn, Ed Carpenter Racing Crew Chief
Graham Rahal, Rahal Letterman Lanigan Racing
Takuma Sato, Rahal Letterman Lanigan Racing
Spencer Pigot, Rahal Letterman Lanigan Racing
Press Conference
THE MODERATOR: Welcome, everybody. On behalf of Team Chevy, we have Conor Daly and Cole Pearn from Ed Carpenter Racing. Conor the driver of the No. 47 U.S. Air Force Chevrolet in the Indy 500. Cole will be his engineer for the race.
Conor, how excited are you for the Indy 500 in your hometown? Secondly, can you talk about being with Ed Carpenter Racing, one of the fastest teams in the Indianapolis Motor Speedway, how excited are you to be with ECR?
CONOR DALY: I used to get this question a lot when I signed the deal. I was very excited then and I'm very excited now still many months later (smiling).
This team is so good at Indy. We know it. Everyone knows it. Just can't wait to get in and get in the car just for the first time, literally to do one lap. Like, when I got in the car at Texas this year, I knew the first lap, This is going to be a good weekend.
I just want to get out there, get some time under my belt, get Cole in the game here and see what happens. It will be a lot of fun. We have a great looking car to do it in with the U.S. Air Force, that No. 47, as well.
THE MODERATOR: Cole, welcome to INDYCAR. I know you had a successful career in NASCAR, then decided to step away from racing. What was so tempting about coming to work the Indy 500 with Ed Carpenter Racing and Conor?
[adinserter name="GOOGLE AD"]COLE PEARN: Obviously Indy 500 is a huge deal, so definitely a bucket list item for sure. To get a chance to do it with a great driver and a great team as well, a team I kind of felt comfortable with, was kind of a perfect opportunity.
Definitely didn't want to go back racing full-time, so to get a chance to do one race, have it be in a competitive situation, is pretty ideal. Yeah, it all worked out.
THE MODERATOR: We'll throw it open to questions from the media.
Q. You're very established in NASCAR, got a good career there. INDYCARS are not the same as stockcars. What are the biggest hurdles for you? What are the things you need to learn to get prepared for this venture?
COLE PEARN: I think just getting more familiar with everything. Obviously when everything's kind of first nature, it comes quicker, you're able to make decisions better and quicker. I think getting more and more comfortable with everything.
Everything seems fine. Again, it's getting more familiar with it all. I think just getting through a couple days will feel a lot more comfortable. Definitely you kind of know where your feet are at that point. I think fortunately enough the Indy schedule is long enough that will hopefully help in that.
Never know weather forecasts and all that. Like Conor said, just looking forward to get on track, kind of get in the motion of it all.
Q. Is the language or terminology different? Things that are the same or different?
COLE PEARN: Yeah, I mean, honestly, a lot of things are super similar. Obviously the values that you're looking at are way different, way more downforce, a lot lighter car, all those things. You're still looking for the same things in terms of handling and all those type of metrics you kind of study are the same. It's just the values are slightly different.
I think, yeah, it's been good. Have had some time to at least prep on that side of things, get more comfortable with it all.
Q. How long have you been in Indy with the team?
COLE PEARN: Two nights. They were nice enough to send me a computer so I've been prepping for a while. That was at least good from that standpoint.
Q. Conor, an Indianapolis 500 guy, Indiana guy, the announcement there's not going to be fans, will that feel weird to you? Make it a different 500?
CONOR DALY: When you think about it, we spend, like, a lot of days at the track when there's no one there because we're out there working, doing whatever. Even practice, there's a few people there obviously. Only one day a year where we have the massive crowd. We so look forward to that.
That is part of the reason why I love the Indy 500 is the crowd, the people, the sheer magnitude of the event. Yeah, I mean, it is very sad. It sucks. It's a terrible situation all across the board no matter what. But we're going to do the best with the situation we've got.
These teams are still working hours on end to prepare these cars for the Indianapolis 500, which is our biggest event, at the greatest racetrack in the world, I think. We're going to give it our best shot. We have a great partner with NBC to give us a great TV broadcast.
We just got to make sure that every single person in the entire universe will be watching the race, that will be awesome.
Q. Will it feel different on race day, take away not having all the pomp and circumstance?
CONOR DALY: Funny, because at Texas this year there were no fans obviously. Was it weird? Yeah. Realistically when you're lining up against all your fellow compadres up there, it's like, All right, I still got to beat all those guys. No matter what, you want to be the best on that day no matter if there's a million people there or no people there.
Racing is so competitive, you could be at the rental go-kart track and you still want to beat everyone. It's the same thing. Obviously it's much larger at the Indianapolis Motor Speedway, but we're going to get out there and want to beat each other. They still, as far as I know, give you a glass of milk and a trophy, your face goes down in history forever. That's what we're going for.
Q. Cole, how many T-shirts did they issue you? Can you wear one on the pit box or do you have to wear a fire suit?
COLE PEARN: I don't know. Maybe you can ask for me (laughter). They gave me four, a bunch of crew shirts. I don't know if I'm going to take those out of the bag yet. We'll see.
Hopefully it goes well and maybe you can get away with that, I don't know.
Q. Is there something that you missed in NASCAR that you feel will be fulfilled doing the Indy 500?
COLE PEARN: Yeah, I think just the competition side of it. Something that NASCAR is lacking or something I missed being away?
Q. Something that you missed being away.
COLE PEARN: Oh, yeah, for sure, just the competition side. Having a chance to line up your competitors and do better than them is definitely the goal.
I think obviously it will be a fully different experience. But racing is still racing, throw a green and checkered. So looking forward to getting to that side of it and getting into the action.
Q. Cole, in the NASCAR world, everybody is so encompassed into it week after week. It's kind of relentless. How much were you able to follow INDYCAR with the drivers, the cars, the teams?
COLE PEARN: Yeah, definitely. I always followed it. I grew up a big fan of INDYCAR, so followed it from that standpoint. Over time grew to meet and know a lot of people that were in the sport. Definitely wanted to stay paying attention to it. It's not like going into something totally foreign. You at least know the players, you know what's going on from that standpoint.
This season, obviously a little bit weird, but I've been able to watch it in more detail, watch races a lot closer than what I've done in the past.
Q. INDYCAR generally has a fairly attractive schedule in terms of number of races, length of schedule. Is it something you would like to be part of full-time?
COLE PEARN: I don't think so at this point. Definitely just focused on this race. Maybe this race, see how it goes. I don't know if a full-time schedule is back in my future any time soon.
Q. How much fun do you have on planning with Conor? A fun-loving guy. Following you on social media, so are you at times. This is going to be a fun experience in addition to being a lot of work.
COLE PEARN: Yeah, my experience with racing, it's way more fun when you do well. Hopefully we'll do well and we'll have a lot more fun.
Q. Cole, we can tell from your tweeting you're watching a lot of these races, NASCAR and INDYCAR. What has been your observation as you step back and watch it from a fan standpoint, observer? What do you see that's good or bad about that sort of experience the people are getting at home?
COLE PEARN: Yeah, it's been eye opening a little bit. I haven't watched a race at home in a long time. I can understand why when I call my dad during the week, he had no idea what actually went on (laughter).
Yeah, I don't know. I think there's so much that goes on behind the scenes, I don't think viewers at home get to see or get exposure to. I think that was a little bit eye opening. I thought there was a little bit more disconnect than what I was kind of expecting.
I don't know. Now I'm getting more used to it so I'm not sure. Yeah, I know one thing, it's nice to be able to follow the race, close your computer, turn the TV off, go do something else. You don't have to go through the cleanup and go home afterwards.
Q. You said you don't want to go back full-time for the foreseeable future. Do you expect you'll be closing the computer and going back to your life forever or would you like to recharge and come back or is it too early to say?
COLE PEARN: Too early to say. Definitely not the A plan. Never say never to anything. Got to have a job and be able to pay for things and stuff like that.
Yeah, who knows. This experience I'm really looking forward to. I think it's fun to be able to go and try something different. I don't know what my view of it will be once it's over. Anxious for the new experience.
Q. Cole, we've done a lot of talking about how different it is for experienced drivers to adapt to the Aeroscreen, for engineers to adapt to the new demands of the Aeroscreen on the tires and that kind of thing, new weight distribution. The rookies are not having to learn anything new. Do you feel the same way as not a rookie engineer, but a rookie INDYCAR engineer? Do you feel like there's less to unlearn and you can just soak up everything that the other engineers at ECR are going to throw your way?
COLE PEARN: Yeah, a little bit. I think with reviewing past notes, you're always relying on last year's data to kind of do your prep work. For me, it's still having to learn what the differences are and understand that. When you're looking at stuff from last year, trying to correlate that to this year, you got to have that. Obviously, the aero changes, the weight distribution changes.
Yeah, I feel like kind of in the same boat with the other guys as far as what they're having to adapt to.
Q. When you signed the deal with Ed, was it a time when you realized how compressed the schedule was going to be and how quickly you were going to have to learn?
COLE PEARN: Yeah, got a little bit more compressed after that. But still it was fine. I mean, I was kind of hoping to go to Mid-Ohio this weekend and at least get to hang out with Conor and the team, stuff like that, view it from that standpoint. That didn't happen.
In a way it's okay. It's been nice to have more time to prep with the singular focus on Indy. Everybody at the shop is kind of focused on that now because they're not worrying about Mid-Ohio. That's been nice. It's in everybody's frame of mind. That I feel is a lot better learning experience, better opportunity for me to get comfortable.
Q. Cole, what was the reaction to Labonte family selling its NASCAR team, the complicated dynamics with being a Joe Gibbs Racing affiliate?
COLE PEARN: Yeah, that sucks obviously to see a team go away for sure. I think it's bad luck on the JGR side. I don't think there's any correlation there. From my standpoint, obviously having gone through it, it sucks.
Yeah, I mean, again, I think it was a business deal on both sides of it. Sucks to see another team go away. I know they were in a tight spot for a long time. I think finally with the pandemic and everything, it just kind of fell apart. Sorry to see that. Know a lot of people there, great people. Hopefully they can all find jobs.
It's going to continue to be a tougher job market in that sport, for sure.
Q. Cole, the genesis of how all this came together. Was Pete working on you for a while and convinced you to come over?
COLE PEARN: No. We talked about it way back maybe that would be something. I think when the schedule all got changed, the guy that was originally doing the third car couldn't do it any more, so they were in a spot where they needed somebody. Yeah, they asked. It was like, Yeah, why not? That's kind of how it came together. It was pretty simple from that standpoint really.
Q. It wasn't Pete's influence so much?
COLE PEARN: Yeah, he called and asked, just said, Would you want to do this? I was like, Yeah, sure. Then we talked to the higher powers, I guess, went from there.
Q. Are you looking forward to bringing some of the culture that you built on the NASCAR side, Furniture Row Racing?
COLE PEARN: Seems very similar. Obviously the shops are a lot smaller, less people, stuff like that. I think it's got a lot of that kind of scene going on. This is a huge race for them, they typically do really well here. Being part of that is going to be good.
It's been great being in the shop, getting to meet all the guys working on the team. Seems like a great group already. Yeah, it's been pretty easy so far. I'm the new guy. Just trying to find my place at this point.
Q. Conor, obviously you have worked with a couple different engineers this year, kind of used to moving around. Does that make working with a different engineer this weekend different from what you've done in the past?
CONOR DALY: I've learned to just try to get along with everyone. I have enjoyed working with a variety of people because everyone has a bit of a different way they like to do things, a bit of a different way that they like to tune the setup. I think I've learned from that, as well.
There are a few things that I know that I like in the car, and there are a few things that a lot of engineers really want to make work because that's what they like. There's a lot of different things I can learn from that.
I'm a very, like, trusting individual. I'm going to be like, Hey, I know that you are a very smart man and have done more school than me probably, have been in this racing world for a long time. Obviously Cole has an incredible amount of experience in the racing world. Was a driver himself, as well. He knows what's going on.
Is there a lot to learn in the INDYCAR world? Absolutely, I think for sure. There is for anyone, for all of us. We're still learning every day, even me. It will be cool to see how that progresses.
But, yeah, I mean, I look forward to getting into something new. This is an exciting time to get into the Indy 500 because it's been a bit of a crazy year. I mean, I just can't wait. It will be cool to see what his type of experience kind of brings to the table.
You're always looking for something else that 32 other people don't have, something small. All you need is something small on race day to help you just do a little bit better of a job than anyone else. You never know, maybe a fresh opinion to the situation might give us that little advantage.
Q. Cole, have you talked to any of the fellow University of Waterloo guys that are in open-wheel right now?
COLE PEARN: I haven't, not yet, no. I'm sure I will. Definitely I had a few people hit me up and stuff like that. Yeah, it will be another thing. There's definitely going to be a lot more Canucks around than there was in past life.
Q. Conor, what is your understanding of NASCAR? Do you feel that will help the communication with Cole? Maybe it's happened already, something you noticed already, or something you maybe anticipate is going to help. Is your understanding of that side of things going to make the conversations between you easier?
CONOR DALY: I mean, I think so. I obviously follow NASCAR really closely. I love NASCAR. I've done one NASCAR race, so I guess a little bit (laughter).
But, yeah, I mean, I think no matter what, you're still going to have a communication that he's going to learn. It comes down to when I come into the pits, I say, Look, the car is understeering one out of five. He has to learn how much that actually means. We have to get used to how that's communicated. That will be different.
A guy like Cole who has had so much success in racing, he knows what the goal is, and that's to be the best we can be. It's just basically going to be an interesting road on how to get there because we're going to be learning a little bit more as we go kind of each session.
Q. We've seen a lot of changes to the 500. At the minute the practice looks pretty much the same. Is it really important that you've managed to keep the practice, get ready with Cole for the race?
CONOR DALY: We always want more practice, I can tell you that. With Indiana weather, you never know. That's the thing we're a little bit nervous about now. Indiana, it can be raining like a hurricane for 10 minutes, then it's sunny for the next hour.
We'll be ready for anything. Even if we have two days in a row of a rainout, we get to Fast Friday, here is more horsepower, your first time ever on the track, let's go. We still got to do that.
I think this team as a group already has such a great handle on this event and how they like to run the cars, that is a great thing to not fall back on but just to have as an asset. All right, they know what they're doing. So that will be really nice.
Q. Conor, you're on Twitter. I don't know if you follow Cole. Do you have a favorite Cole Pearn tweet? Are you aware of his persona on social media?
CONOR DALY: Look, I did not follow Cole, to be honest. I seen Cole retweeted many times. Big Internet guy. As an Internet man myself, I have a passion for Internet humor, content, creation.
I got texts from so many people, messages. It's as if, like, we had hired the alpha of all racing. It's as if Mario Andretti has come to our team and blessed us with his experience and career, some alpha wizard of engineering. That's great. It's going to be a lot of fun to see what happens.
I mean, we're going to get along, I can tell already. That's the best part.
THE MODERATOR: Again, on behalf of Team Chevy we thank all the media for joining us today. We'll thank Cole and Conor for their time today, wrap-up the call.
Rahal Letterman Lanigan Racing
Graham Rahal
Takuma Sato
Spencer Pigot
Press Conferenc
THE MODERATOR: Welcome to today's video news conference with the drivers of Rahal Lanigan Letterman racing. Pleased to be joined by Graham Rahal, driver of the No. 15 United Rentals Honda; Takuma Sato, the driver of the No. 30 Panasonic PeopleReady Honda; and Spencer Pigot from RLL with Citrone/Buhl Autosport, driver of the No. 45 Mi-Jack Embrace Pittsburgh Honda.
Graham, you're sixth in the championship after a pretty good Iowa weekend. How much are you looking forward to the Indianapolis 500?
GRAHAM RAHAL: Certainly ready to go. I feel like we've all been thinking about this, talking about it for a long time now. Our team has been extremely dedicated to our performance at Indy, trying to enhance that.
I thought last year we actually had a really good shot at it in the race. But this year we're focused heavily on making sure that we improve even further and run up front.
I thought Texas was a good sign, obviously other than the issues starting before the race. Our competitiveness there was very good. I feel like all year round so far we've been able to bounce back, even at times like Iowa where we weren't great, we could bounce back and have a great race result.
I'm excited. Obviously try to get this United Rentals car in Victory Lane. We have a special paint scheme for the 500, which will be cool. We're certainly ready to go.
THE MODERATOR: Takuma, you won the Indy 500 in 2017. Coming back to the Indianapolis 500 has to be very special for you.
TAKUMA SATO: Always, yes, whether you won or not. I think for all of us, for the drivers, waiting for the special moment. Obviously this year is very different circumstance, very challenging. We should be really happy and appreciate Indy 500 is still holding. Can't wait to be back in the car.
THE MODERATOR: Spencer, I know it's a new team for you with Citrone/Buhl Autosport. You made your debut at the Indianapolis Motor Speedway earlier in the Indy Grand Prix. How much are looking forward to, especially being on the front row last year, of getting back to the oval at IMS?
SPENCER PIGOT: Yeah, of course, excited to be heading back to Indy. Still going to be the biggest race of the year, the one we're all looking forward to the most. I'm excited to be back with Rahal Lanigan Letterman, like you said, joining with Citrone/Buhl Autosport for the first time.
It's an exciting time for many of us in the team. For me, like you said, qualifying went really well last year, ran up front for a good portion of the race. Looking to have a better run at it this year.
I have two really good and experienced teammates to work with. Just excited to get on track next week and see what we can do.
THE MODERATOR: We'll open up the call to media questions.
Q. Takuma, every year when the entry list comes out, they'll announce there's eight former winners in the race or nine. You're one of those former winners. How does it feel when that list comes out knowing you already won this race? You kind of carry something a little special when you compete in it again as a former winner.
TAKUMA SATO: Yeah, absolutely. I think nice to be on the list, the winning list, for sure. But once get into the weekend, it's nothing really different. It's just a focus. Even you have experience, doesn't really matter for imagination. Compared to unknown territory, I just know how I feel it and how the team will feel it. You just want to repeat it.
I think that's why the multiple winning Indy 500 winner is always just as hungry as the first one. Yeah, I mean, just a number, just a matter of be paper or your racemate talking about former winner. Once get into the weekend, as fresh as your first time. It's really, really excited moment and hungry for another win.
Q. Graham, to not have your name on that list as former winners, that has to be something that has to bother you every year and inspire you even more to go out and win it.
GRAHAM RAHAL: I mean, it does. At the same time I think there's been a lot of great guys that have competed in this sport and never won a single race let alone an Indy 500.
For me, clearly we want to go win it. We've had good opportunities and good shots before. We didn't maximize those. Last year obviously we were collected in a little incident with Sebastien, which looking back you don't fault either of us. We're going for, what, P3 or P4 at the Indy 500? You're going to go for it. 15 laps to go, 20, whatever it was, it's time to go. We've had good shots before.
I got to say, I feel like our team is operating at a very high level. I feel like the engineering staff is doing a tremendous job. Allen on my car has always done extremely well at Indianapolis. I fully expect us to be very competitive.
Certainly there's not a day that goes by that you don't think about or dream about winning the Indy 500. Clearly winning it this year would be slightly different than maybe other years, but it all means the same. We want to go win the thing, find ourselves in Victory Lane. We're going to try hard to make that happen.
Like I said, does it bother me I haven't won it yet? In a way it does, but in a way it doesn't. If you look at the list of guys that never did with it, it's a hell of a lot longer than the list that did. There's a lot of good guys that are in that list that didn't as well.
I certainly want to get out of that, but my point is it doesn't haunt me necessarily. We just want to go and try to accomplish it.
Q. How much does it hurt to know there won't be any fans there?
GRAHAM RAHAL: It's not great. It's not great. I mean, I think everybody would like fans there. No matter the heat that he's taking, there's nobody wants fans more than Roger Penske. I can assure you that.
Each and every one of us, it would be great to have fans, but obviously there's a lot of pressure coming from a lot of different areas. There's — I'm not even going to get into it.
There's a lot of pressure from a lot of different areas. Unfortunately at some point the decision had to be made.
As I said the other day in my comments, we have to run this race. We have to run this race. I mean, no matter how you look at it, I want fans there as much as anybody. We thrive off of that, we thrive off of that atmosphere. But I can tell you right now there's a lot of teams, trust me, I get the heat for it on social media when I say teams probably wouldn't live without this race. I get all the fans saying, I don't care about the teams. Fine, that's great for you. But for us, we do.
We care about the jobs that it provides, the cottage industries is provides in Indianapolis, everything else it does for our city, the economic impact. We have to have this race. At some point the call needed to be made.
Some people said to delay till October. My personal opinion of that is you can't. What if this doesn't go away? In my opinion, it's not going to. I just don't see this disappearing any time soon. You get till October, you delay further, then it's snowing, the race doesn't happen.
The race doesn't happen, I can guarantee you United Rentals is not happy. I can guarantee you PeopleReady for Takuma, people aren't going to be happy.
We have to have this event, it's really critical for our sport.
SPENCER PIGOT: Yeah, I mean, obviously ideally we'd have fans there. It's going to be different not having people standing outside the garages, Gasoline Alley, cheering for you as you walk out onto the grid. It's going to feel a lot different.
Obviously the decision was made for the greater good of the community. We always have to respect that decision. Looking forward to hopefully seeing all the fans packed in in 2021.
TAKUMA SATO: Yeah, I mean, it's the same, echoing two of my teammates. Basically we are all the same boat, same feeling. We miss the fans.
Under the circumstances there's not much choice. We respect the decision Roger Penske made. We support it. I think to 2021, hopefully everything will be ready, go back to the 250,000 people. Even more probably appreciate it for the over hundred years of history for the first time.
I think that's it. I think still TV audience will be as many as it should be. We all excited. For the drivers' point of view, same. The atmosphere is a bit different. Once get in, the visor down, driving, I think it's nothing really different.
Q. This season obviously has been disjointed with changes and cancellations coming up. Everybody wants the 500 in May, now it's in August. What has your approach been either individually and as an organization, how you go into every week not knowing what might change, how things are changing, and how you move past all that and get ready for the biggest race of the year?
TAKUMA SATO: Well, my particular season was a bit tough. It's not really successful so far, can't say that. We show a couple good speed and opportunity, but just didn't come all together. It was a little pity and a shame.
At the same time you are learning all the time to miss the things that you didn't realize, particularly for compress the schedule is very hard for everyone. Any one little make of the error make significant difference in terms of result.
On one side it's great for much watching maybe fans and excited for the racing. It's completely unpredictable for that. The other side is preparation is extremely important. It is just a challenge. It's very difficult angle. Once you're driving it's the same scenario, but for the preparation, less testing, engineer doesn't have time to analyze all the data, makes it more harder.
Other than that I think approach is the same as usual. I think all the drivers physically, mentally be ready every single weekend as it was for the normal season I believe.
SPENCER PIGOT: For me, obviously it's been a lot of waiting. I was supposed to do my two races in May. Now one was in July and the next is at the end of the August. It's been a little strange being kind of in the car then out of the car, in the car again, with such big gaps in between.
It's given me more time to prepare physically for the conditions that we might face in a few weeks with the heat and also to get to know the team better. I've been able to spend a lot of time in the shop, I've been to some of the races as well to get to know everyone better.
For me it's been a little change, a little bit more waiting around than I would have liked. But there's positives to it as well. Tried to make the most of it. Now we go to Indy feeling really prepared.
GRAHAM RAHAL: I think on my end, I think the hardest part is always just the question marks of what's going to happen. I was so prepared to go to Mid-Ohio this week. I was excited to get home. I didn't see any chance this thing was going to be derailed this late. That's been hard.
The physical fitness side of it, I felt really good at all the races we competed in. At the same time I'm not the guy that wants to sit in the gym each and every single day. It's not just my makeup. That's been hard to stay really committed through this process, not knowing what may come.
At the same time what I'm most proud of I would say is the team. I see it when I go to the shop, the commitment that they put in. For instance, Mid-Ohio got delayed, right? I called the engineers, chief mechanic. The response was, Hey, that's great. Now we can spend a little extra time massaging on the suspension, now we can spend extra time doing this or that for Indy.
I'm proud of that mentality. They've kind of taken it in stride. We move on to the next battle. What can we do? What can we take this sort of time to be better for whatever is going to come? I think that's shown.
The development from the team standpoint has been great. I feel like the preparation, Iowa obviously we struggled with the preparation, most places we've shown up and been competitive. All three of us at Indy Grand Prix were extremely fast. I feel the team has done an excellent job being ready to go. So that's been good.
Clearly there's a lot of questions. There always is going to be.
Q. Having raced the Grand Prix with no fans, you have a little bit of an idea what it feels like. Will that take away from any part of the 500?
GRAHAM RAHAL: Sure, it does. Once you're in the moment and you're locked in, as Takuma said, when I'm racing wheel-to-wheel with Sebastien or anybody else last year, I'm not looking at the grandstands, right? A couple of my buddies play in the NHL. I've been talking to them. I asked them the same, What is it like to play without fans? To be honest, once we start playing, I didn't even think about it. The same for us. That's even in a much closer environment than even Indy.
For me, do we want fans? I mean, you know we do. We all thrive off of that. Hopefully it is us that wins the 500 and drives through the Yard of Bricks. To see nobody, it's going to be a weird feeling, for sure. At the same time we all understand the position that we're in today and what we have to do to keep this thing going forward.
Q. The original schedule certainly with the Aeroscreen, other changes, the original schedule didn't have any ovals before the 500. Now you have Texas under your belt, you have a couple at Iowa. The fact you've been on an oval already this season, how much of an advantage is that getting ready for the 500?
SPENCER PIGOT: For me, I haven't been on an oval yet. For me it will be a new experience. But I will say at the Indy GP, after a lap or two, visually I didn't even notice it. I didn't realize it was there. There was no distortions or anything in my vision. That makes me feel pretty confident going into the Speedway there's not going to be any issue.
At the GP it was quite hot. From what I've heard on the ovals, going a constant high speed, the airflow is quite a lot better. If anything, I think it will be an improved experience from when I drove at the GP.
Q. It's weird how the schedule has changed things, changed perspectives a little bit going into a huge race.
GRAHAM RAHAL: Yes, it's different. It is different. It was nice to get Texas under you're belt I felt like. It was nice to get Iowa under our belt. I was loving that string of races right there. Five races in a couple of weeks was awesome. I really enjoyed that. You get into the rhythm of it. Now I feel like we've kind of lost that rhythm.
Certainly excited to go out there. As Spence said, we're all starting to get used to this Aeroscreen. There's adjustments that are continuing to be made. We're appreciative of INDYCAR for trying from the cooling standpoint.
Yeah, I mean, on the ovals it's not nearly as bad, which is a great sign. I mean, look, we're ready. We're excited and ready to go. It is nice to have an oval before Indy, that's for sure.
As Spence said, too, at the same time, Indy Grand Prix, nobody had run on a road course forever. I think NASCAR is seeing this, too, right? They haven't had practice, qualifying, nothing. You go out there, I mean, figure it out pretty quickly. You remember pretty quickly.
It's been good.
Q. Takuma, your experiences coming to ovals in the U.S., specifically the Indy 500. What was the biggest thing you had to kind of adapt to when you came over in terms of your driving? We know the strategy of the Indy 500 is a key thing. What was the biggest lessons you had to learn and adapt to?
TAKUMA SATO: Right, I think it will be interesting the question because when I come to the U.S. already experienced a lot in Europe, as you know. I was just clean sheet of paper, really to absorb any new challenge. It work.
Talking about road course and street courses, very similar to the European racing. Even, okay, strategy, category was different. But pretty much you're adapting very quickly.
One thing oval was different, of course. Still you took the wheel, same driving style basically, how you respect other people's lines, don't cut other people's line. I think there needs to be more attention, more respectable for the other people. You just don't realize.
That's why I think a young drivers, rookie driver, don't know. For the sudden movement, or cut air, those things you know it after you experienced.
As everybody knows, in oval they said there's two type of drivers: one hit the wall already and one is going to hit the wall (laughter). Whether you're good or not, obviously INDYCAR, it's super competitive, but they will have a crash into the wall, just unavoidable. Has to be ready for that one and just respect for the oval track and the other people.
That's really nice because sometimes you get into almost a reimport to the other racing, other category, other road course, too. You just expect little bit more the space for other peoples. I think eventually making more exciting race.
But I just never forgot the sensation of the speed going to the high-banking oval. People are thinking and putting for the three Gs, four Gs, but we actually pull diagonally because the cars go banking. You have almost the vertical G Force, and 3 G and 3.5 G. That's unbelievable thing.
But, of course, driving to the oval, it's great fun. Oval, talking about short oval like Iowa a couple weeks ago, we are going to the Indianapolis Motor Speedway, it totally different. We feel really, really great sensation. Like you saw a lot of great driver jump in the car. Indianapolis, 500 miles, enough days of practice.
Fernando Alonso came, he immediately adapted after a few runs. He said he didn't know if he had the brain muscle in his right foot. He knew he could go to the flat for that without any traffic. But then he just couldn't. Even him couldn't do it.
That's showing the feeling, sensation, of going to the corner over 230 miles per hour, you have to have a constant with the car and environment. Once you do that, you have a superb feeling.
Once again, nothing really change dramatically, just the respect and the learn the things. Then you pick up the speed. You know how the idea is. Then you have a great racing in any other category, but particularly for the oval.
Q. Graham, you talked about how the guys at the shop are massaging the car. We know you're ready. What about the pit crew guys? Indy has more pit stops than anywhere else. With double points, do you foresee this being more important in a couple Sundays?
GRAHAM RAHAL: Pit road is always important. It's the easiest place to gain and lose positions. We know that. The guys know that. I feel like everybody is working extremely hard. We have a good area in our shop for them to be practicing with a car, electric-power car, that moves, gives them some real sensation of what's going on.
I think our guys are extremely committed to improving. I think our guys have been given a lot of heat over time. I think they take that to heart and want to go out there and prove everybody wrong. I feel very confident in what we have, in the guys, the job that they're going to be able to do.
Pit stops are critical. We have seen a lot of mistakes this year. Obviously we've had a couple on our car, which may have cost us a win at Road America race one. That's part of the game. We've all been there. We've all made mistakes. We just have to rebound and be better from it.
I think our guys are committed to doing that.
Q. Spencer, obviously you've got two teammates for the 500 this year. How beneficial is that going to be for you in terms of collecting data and practice before the race?
SPENCER PIGOT: Yeah, it will be great. The more cars you have, the more information you have to look at, the more chances you have to try different things amongst the three cars.
I think Indy GP we all worked really well together. I definitely learned things from Graham and Takuma that helped me there. I assume the same is going to happen at the 500.
It's always great to have two fast and experienced teammates. I think between the three of us, we've all got a great shot of doing well. We've all been competitive here in the past. I'm excited to be a part of the team.
THE MODERATOR: We'll thank Graham, Spencer and Takuma for their time this afternoon.