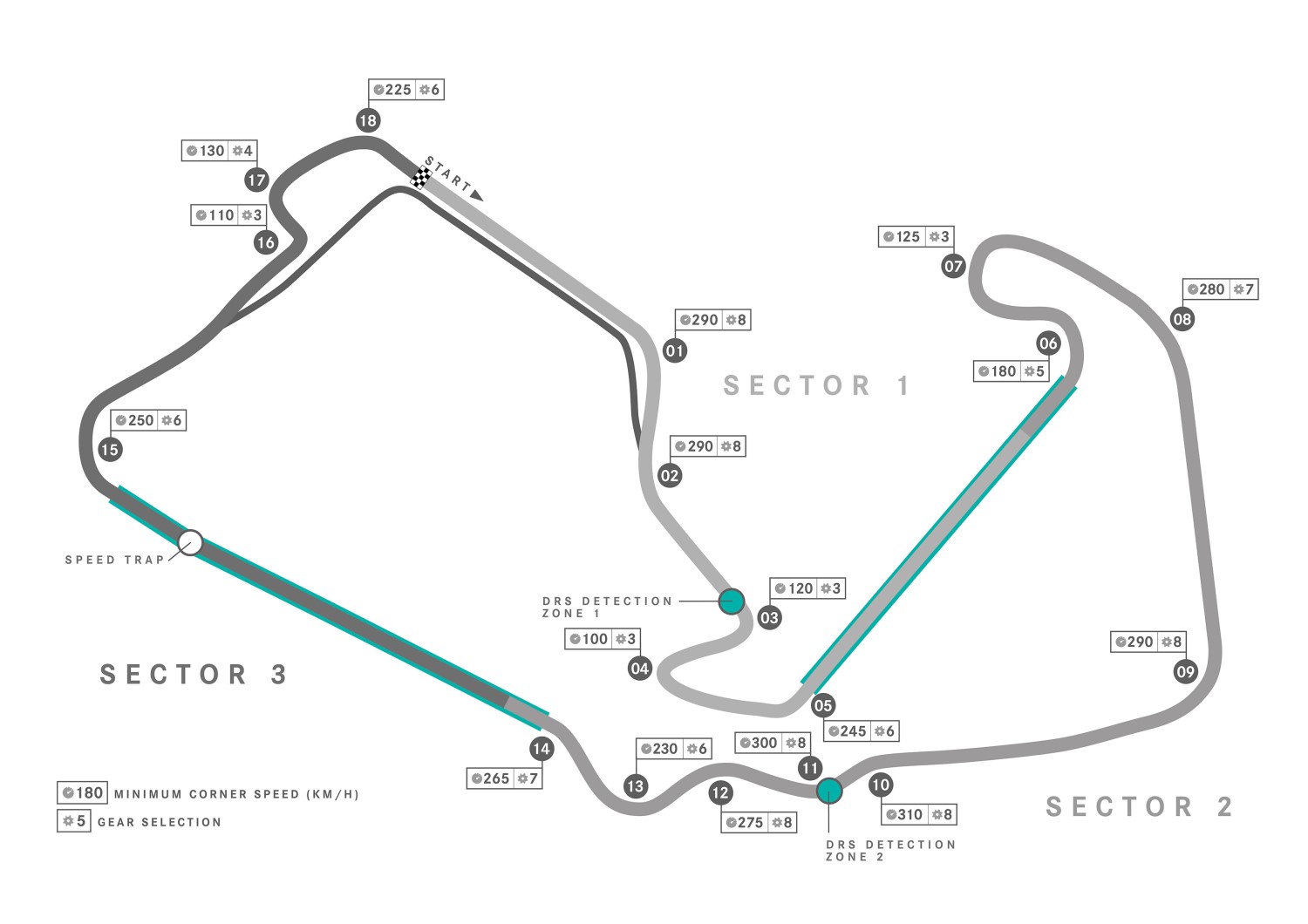 Silverstone
The inaugural Formula 1 World Championship grand prix took place at Silverstone back in 1950 and the circuit will be the host venue for the next two rounds of the 2020 season.
First up is the British Grand Prix, an event that can trace its history back to 1926, and has taken place at legendary venues Brooklands, Aintree, Brands Hatch and, consecutively since 1987, Silverstone. The British Grand Prix is one of just two grands prix to have featured in each season of the Formula One World Championship and the 5.891-kilometer (3.660-mile), 18-turn Silverstone Circuit is located within the heart of the UK's Motorsport Valley.
Seven of Formula One's 10 teams are based within a short drive of Silverstone and for Haas F1 Team it is a brief journey from its European workshop in Banbury.
The circuit is renowned for its iconic fast and fearsome sections, such as Copse, Maggotts and Becketts, and Abbey, putting extreme G-forces and stresses through drivers, cars and tires alike. For that reason tire supplier Pirelli has nominated the C1, C2 and C3 compounds – the hardest trio from its range of five-dry weather tires.
[adinserter name="GOOGLE AD"]The venue brings back happy memories for Haas F1 Team, most memorably in 2018 when Kevin Magnussen and Romain Grosjean locked out row four of the grid. Both drivers have race-winning pedigree at Silverstone, with Magnussen victorious in British Formula 3, while Grosjean was triumphant during his march to the GP2 Series title, both in 2011. The crew heads to Silverstone buoyed by its first top 10 finish of the 2020 campaign after Magnussen rose six places to score a point at the most recent event in Hungary.
It will be the first time in history that the British Grand Prix has taken place as late as August and despite its summer date eyes will still be pointed skywards at the fickle weather systems that can disrupt running, keeping teams and drivers on their toes.
On-track action for Formula One's British Grand Prix will run across three days (July 31 to August 2), with two practice sessions Friday, final practice and qualifying Saturday, and the 52-lap race at 14:10 local time (09:10 EST/14:10 BST) Sunday.
Fact File: British Grand Prix
Drivers experience some of the highest lateral g-forces of the season at Silverstone, with a maximum of 5g experienced through Becketts (Turn 13) and Stowe (Turn 15). Therefore, with the average weight of a human head wearing a helmet being 7kg, the driver's neck is being pulled side-to-side by a force of 35kg through Becketts and Stowe.
Silverstone has the highest mean apex speed (the apex speeds of every corner, divided by the number of corners at the track) in F1. Suzuka comes in a close second in this category.
A lap of Silverstone has an average lateral g-force of 2.8g, which is the highest average lateral g-force of any F1 track – very closely followed by Paul Ricard and Suzuka. This is due to the track's many high-speed corners, which make it a physically-demanding Grand Prix for drivers, as they are experiencing these immense forces several times a lap.
The change of direction and the g-forces that cars and drivers experience through Maggotts, Becketts and Chapel (from Turn 10 to Turn 14) is very impressive: first, there's a 2g left-hander, followed by 5g right, 5g left, 4g right and 3g left. To put this into perspective: A performance road car on decent tires can usually pull just over 1g during cornering.
Silverstone is one of only three tracks in F1 (along with Spa-Francorchamps and Monaco) where engineers refer to corners by name rather than number.
The sequence of corners from Maggotts, Becketts and Chapel are now taken nearly flat-out, with only Turn 13 requiring a small amount of brake pressure due to its tighter turn angle.
Conditions are notoriously windy at Silverstone and the wind direction changes relatively frequently, too. This has a big impact on the car balance and can completely change the car's behavior, forcing drivers to adapt their driving style to suit. Braking points, apex speeds and throttle application can all change due to a shift in wind direction.
The Silverstone Circuit's 5.891 km layout is the third-longest in F1, with only Spa-Francorchamps (7.004 km) and the Baku City Circuit (6.003 km) being longer.
The length of the track also means it has the third-fewest number of race laps, with 52 making up a 306.2 km race distance.
Silverstone's average speed over the course of a lap is one of the highest in F1 at around 220 km/h – very similar figures to Spa-Francorchamps and Monza, but not quite as fast as Suzuka.
There's a 644-metre run from pole position to the first braking zone at Silverstone, the third-longest in F1. The track's layout is unusual, in that it's the only circuit where drivers pass through two corners before hitting the brakes for the first time – for Village (Turn 3).
Drivers spend almost 81% of the lap distance at Silverstone driving at full-throttle, the second-highest percentage in F1.
Silverstone is a home track for the team. Our Brackley factory is only a nine-mile drive away, on average taking less than 15 minutes. Meanwhile Mercedes-AMG High Performance Powertrains' base in Brixworth is just over 20 miles away.
With Silverstone being so local to our factories, we usually do a trackside familiarization program on the Friday of the British Grand Prix. Every team member that doesn't attend a race during the course of the season is given the chance to watch one of the practice sessions from the grandstands and experience Formula One trackside. We also typically host a Summer Family Day on the Saturday of the British Grand Prix, where team members and their families gather to watch Qualifying and enjoy a day out with various activities for all age ranges. Sadly, due to the current restrictions and situation, we aren't able to host these events this year.
Select Quotes
Guenther Steiner – Haas F1 Boss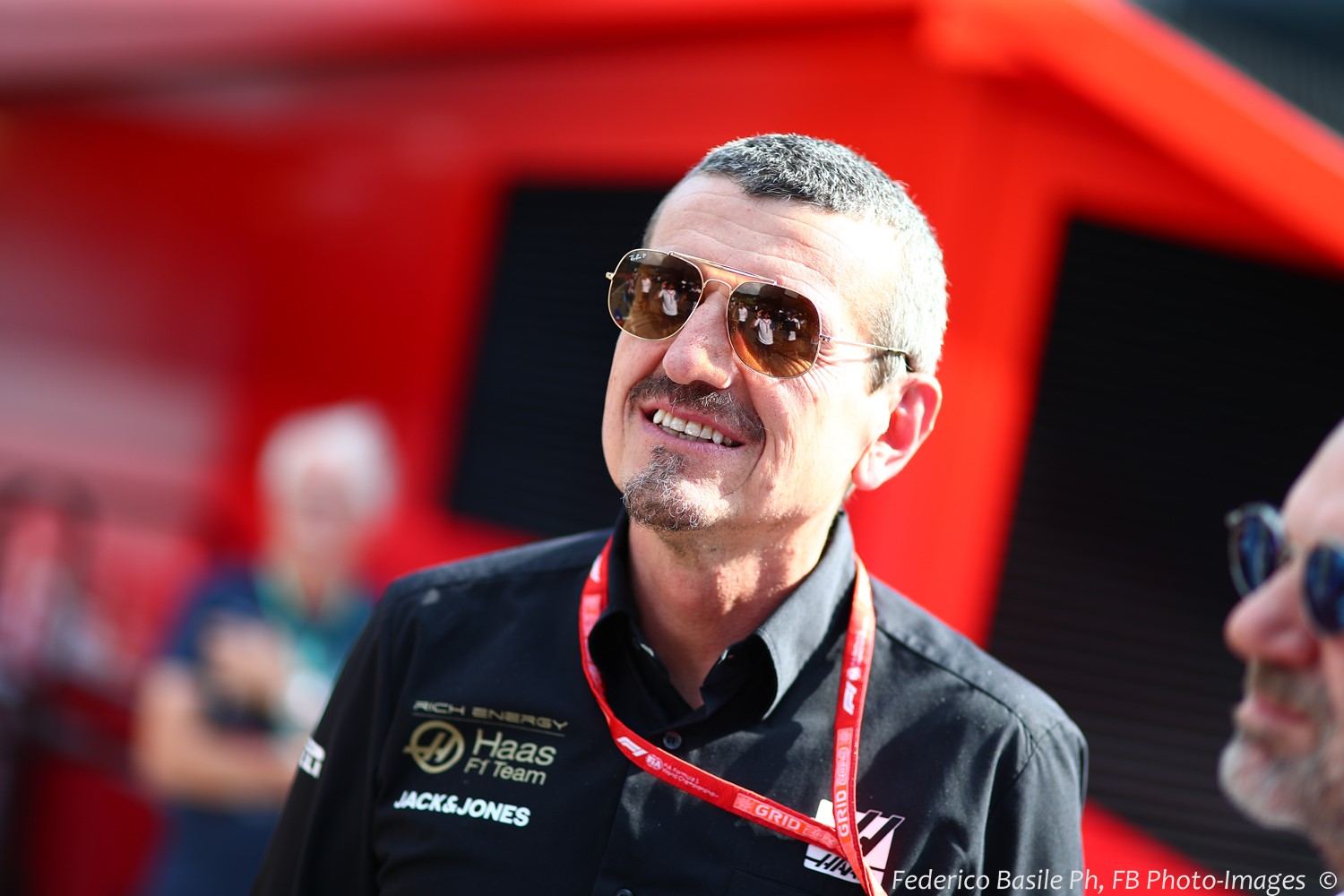 Steiner
The Hungarian Grand Prix proved to be the highlight, in terms of the overall performance of the VF-20, from the opening three races of the 2020 campaign. What made the difference there?
"The Hungarian circuit was a little less power sensitive, therefore in the race we had a fair showing – a decent race pace. Qualifying was not to our liking to be honest; the advantage of the other cars is just too high. Like always though, we try to do our best each session."
"For sure we would do the same thing again. The 10 second penalty was a little bit ambiguous. Unfortunately, we cannot appeal it because it's a time penalty – you're not allowed to appeal those ones. It was never done before, and it looks like if it's never been done before – and there's no clear regulation, you get a penalty. We need to move on from this, but for sure it spiced the race up for everybody. I don't think we should stop doing these things in racing, otherwise accountants can race in Formula One."
Do you adjust the team's approach moving forward for qualifying knowing that so-far it hasn't been an area of strength for the VF-20? Do you feel Q2 should be achievable for both cars on Saturday afternoons?
"I obviously feel we should get in there but unfortunately we don't. We're just lacking the speed in qualifying and that's something we have to live with as we're not planning any big upgrades and there are no engine upgrades. We just need to fight and always try to do a good job, then we can hope we move on."
It feels like we've had a bit of everything across the first three race weekends – notably the one thing that has been consistent is the inconsistency – from variable weather session-to-session, reliability issues, qualifying performance versus race performance etc. Has it been hard to get a true feeling on where things stack up? And now that you've had time to reflect a little, what are you hoping for in terms of how the team develops the VF-20?
"Yes, we've had a lot of inconsistency, but I think we know pretty well where we're at. We're not the fastest midfield car this year and we just need to deal with that one. We're always trying to get the best out of the package. We've not planned any development for this year, so we have to focus on getting the best out of what we've got this season and look to next year to try to do something better for that season. It will not be an easy year but we're here to stay."
What are the ingredients for a successful weekend setting up a car for Silverstone with its long, fast corners and how much of a role does experience, both driver and team, play in working through that set-up plan?
"Silverstone is a very challenging track for the drivers – they can obviously help a lot, like any other track, to be fast. Silverstone, with the high-speed corners, it's for sure a challenge for the drivers, but also for the team. Normally our car was pretty good on high-speed corners, this year I think it's a little bit different. We're just not fast enough on the corners. We just have to try to find the balance between medium-speed downforce and not losing out too much on the high-speed parts of the track."
Toto Wolff – Mercedes Team Boss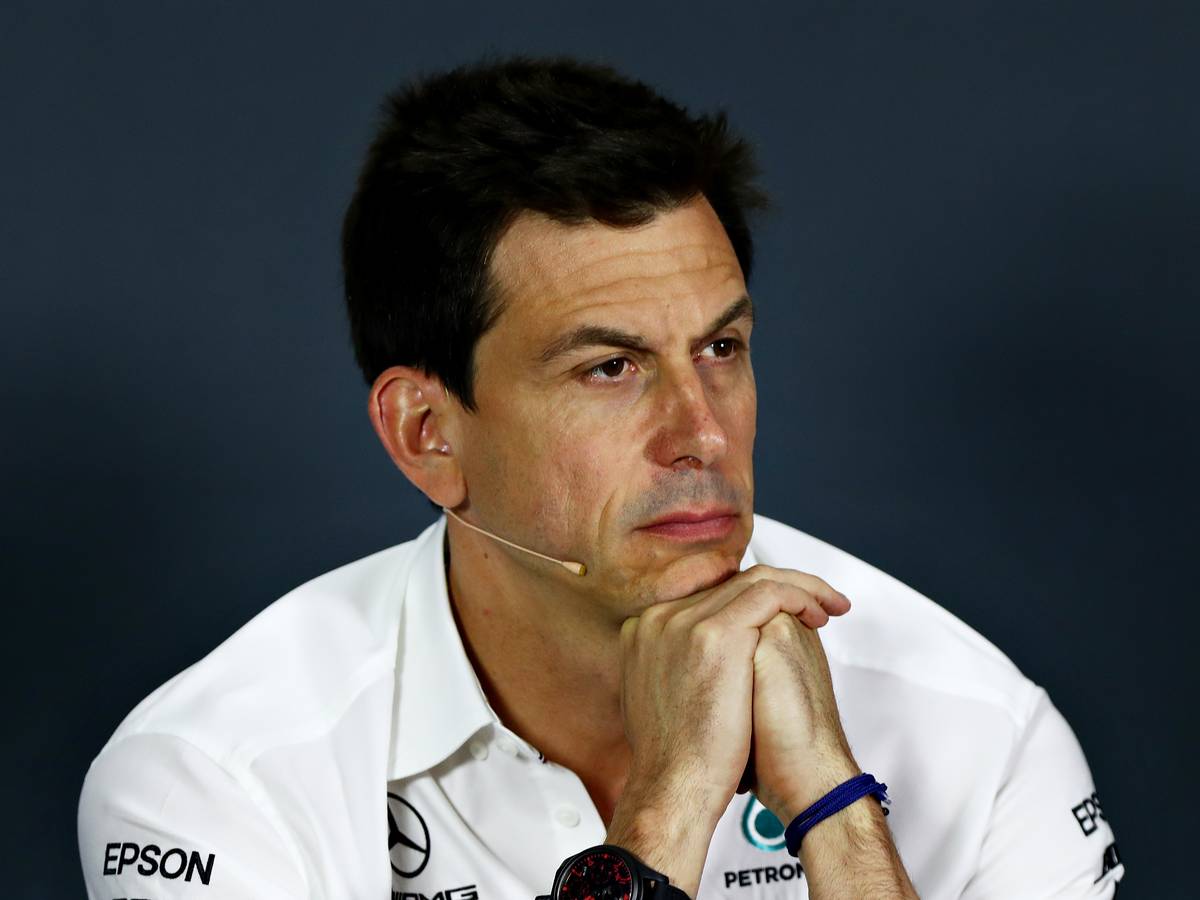 Wolff
We've had a good start to the season: we resolved the issues that troubled us on the first weekend, won three out of three races and scored a good amount of points. But the first three races have also highlighted another crucial factor: the importance of reliability in this shortened season. We're one of only two teams that have finished all races with both cars this year and we know how quickly a DNF can make a lead in the points disappear. It's a good reminder to us all that we have to stay vigilant and that even the smallest mistake can cost us many points.
After a well-deserved weekend off for the race team, we're now starting the second triple-header. We're looking forward to two races in Silverstone, a track which is just down the road from our factories and feels like home to us. We enjoyed very good results at the British Grand Prix in recent years, but we all know Babe Ruth's famous quote: 'Yesterday's home runs don't win today's games'. There's no entitlement to a good result because you had a strong showing in the past, on the contrary: a successful race will always be the result of the hard work of every single team member and we will have to bring our A-game to stay ahead of our competitors.
We consider ourselves very fortunate to go racing in the current situation, but we will also miss our fans in Silverstone. We know that they will be rooting for us from home though, so we're determined to show our gratitude for their support by putting on a great show for them. These are the fastest F1 cars ever built and they have broken the track records at both Spielberg and Budapest. It will be thrilling to see them on the iconic Silverstone circuit, racing through some of the most demanding corners of the season and being stretched to their limits.
Kevin Magnussen – Haas F1 driver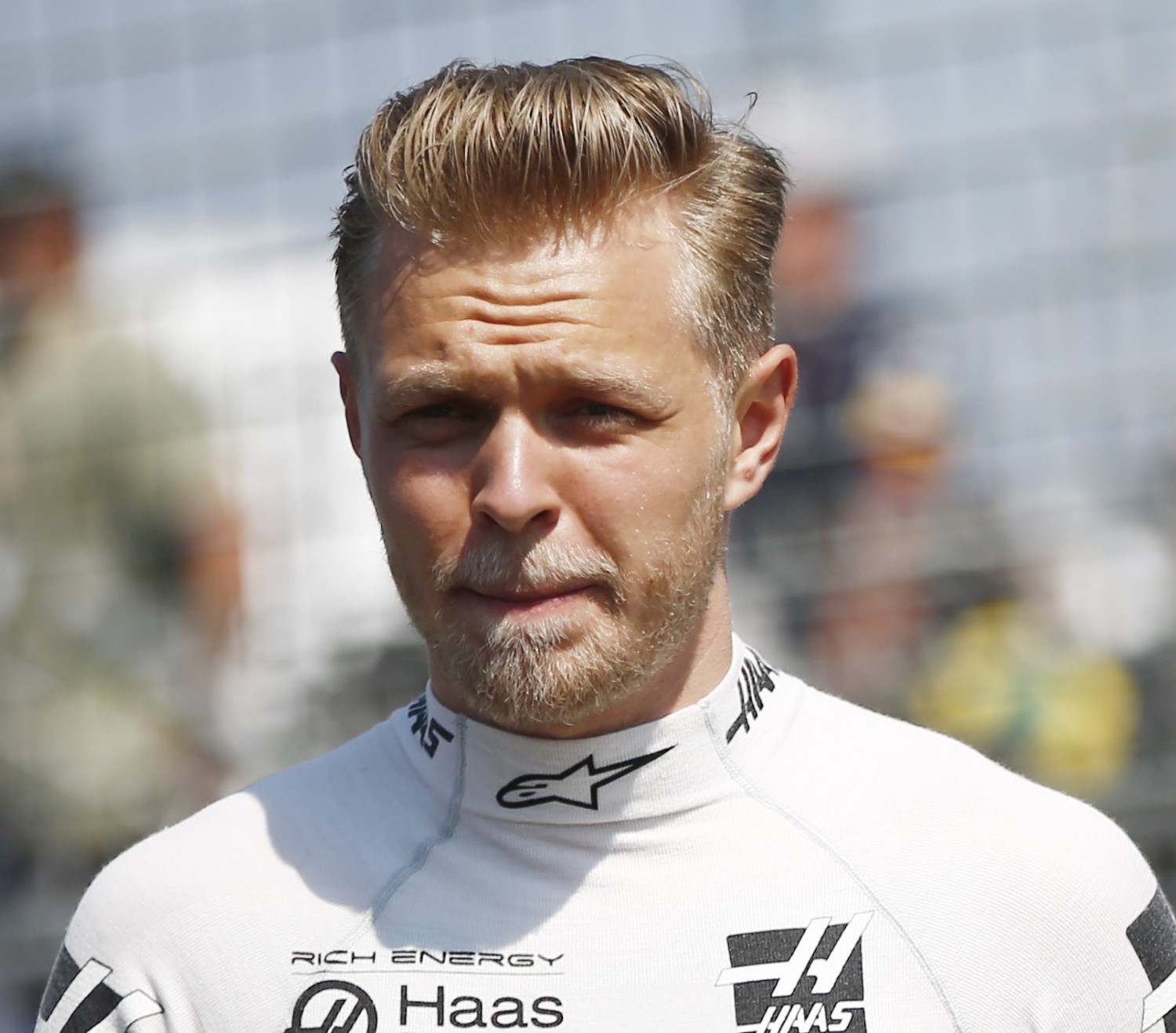 Magnussen
The Hungarian Grand Prix proved to be the highlight, in terms of the overall performance of the VF-20, from the opening three races of the 2020 campaign. What made the difference there?
"I think we understood the car a little bit more, we tried to put it in a better place. I guess the layout of the circuit worked a tiny bit better for the car, so we were a bit more on the pace – matching the pace of others, which was good."
Do you adjust your mindset for qualifying knowing it's an area that so-far hasn't been an area of strength for the VF-20? Do you feel Q2 should be achievable for both cars on Saturday afternoons?
"I think Q2 for both cars is our next target. I don't know if that's achievable in the next few races, but it's definitely where we're aiming to go. We'll work as hard as we can and obviously try to get there without affecting our race pace."
It feels like we've had a bit of everything across the first three race weekends – notably the one thing that has been consistent is the inconsistency – from variable weather session-to-session, reliability issues, qualifying performance versus race performance etc. Has it been hard to get a true feeling on where things stack up? And now that you've had time to reflect a little, what are you hoping for in terms of how the team develops the VF-20?
"I think now this year we start to have an idea as to what the VF-20's like. We're now fighting with Alfa Romeo and Williams just a little bit behind the midfield, so we just have to try to get the car in an even sweeter spot. I think we've done a good job, but we're going to keep pushing and see what comes to us and see what we can improve."
What are the ingredients for a successful weekend setting up a car for Silverstone with its long, fast corners and how much of a role does experience play in working through that set-up plan?
"First of all, with Silverstone you need to see what the weather's going to be like. It's Great Britain, you can have a lot of surprises, but that's the first thing to check. Silverstone completely switches from being a fast circuit to a low speed circuit. Most of the high-speed corners are now either flat out or near flat out, the time you can gain is made into turns three, four, six and seven, and the last chicane – those are the low-speed corners. That's where you want to be performing very well in a modern car."
What are your favorite Silverstone moments, either from your junior career or from competing in the British Grand Prix throughout your Formula One career?
"I've had some good moments at Silverstone, some great wins. The 2012 British Grand Prix was quite good fun. I had contact on the first lap, it took my front wing out, so I was forced to pit. I came back from being last on the first lap to finishing sixth at the checkered flag. I remember overtaking Jenson Button in the McLaren on the outside of Copse, then Lewis Hamilton through Maggotts and Becketts, I was just flying through the field having a lot of fun. That was definitely a good one."
George Russell – Williams F1 driver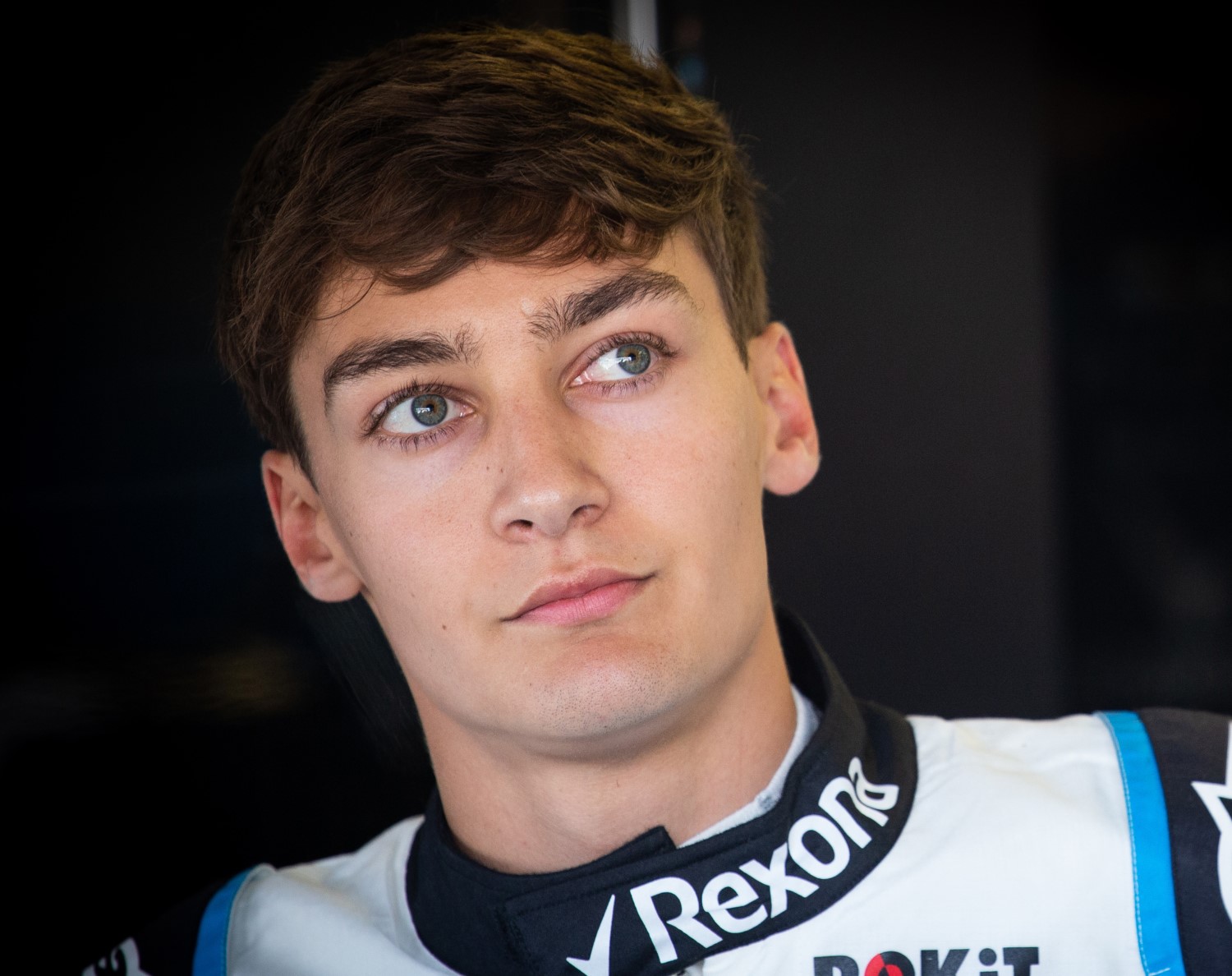 Russell
It is going to be a strange feeling going to Silverstone for my home Grand Prix without any fans. I am incredibly excited to go driving again at one of the best circuits of the year though, as it is always a joy to drive around Silverstone and I will be giving it everything I have got.
It will be nice to have two races in the UK this year; I will be staying on site in a motorhome which will be a nice experience for me and something a bit different to usual. I think our pace won't be quite as strong as we saw in Budapest. In Hungary we well and truly exceeded expectations, and things were working really well for us in qualifying. I expect us to go back to our reality which is probably a more similar pace to what we saw in the first week of Austria. Nevertheless, myself and the team will be giving it all we have got.
>Nicholas Latifi – Williams F1 Driver
I am extremely excited to get back racing and hit the track at Silverstone. It has always been one of my favorite tracks to visit and especially in these Formula One cars it is the perfect combination of super-fast flowing track, high grippy corners and high-performance downforce cars. It is going to be a lot of fun, and I'm really looking forward to getting to try it out. The break we have had from the last triple header to now has been good and given me time to analyze the first few races, where I did well and more importantly where I can improve. I'm looking forward to keeping the momentum going and seeing where we can improve altogether as a team.
Sergio Perez – Racing Point Driver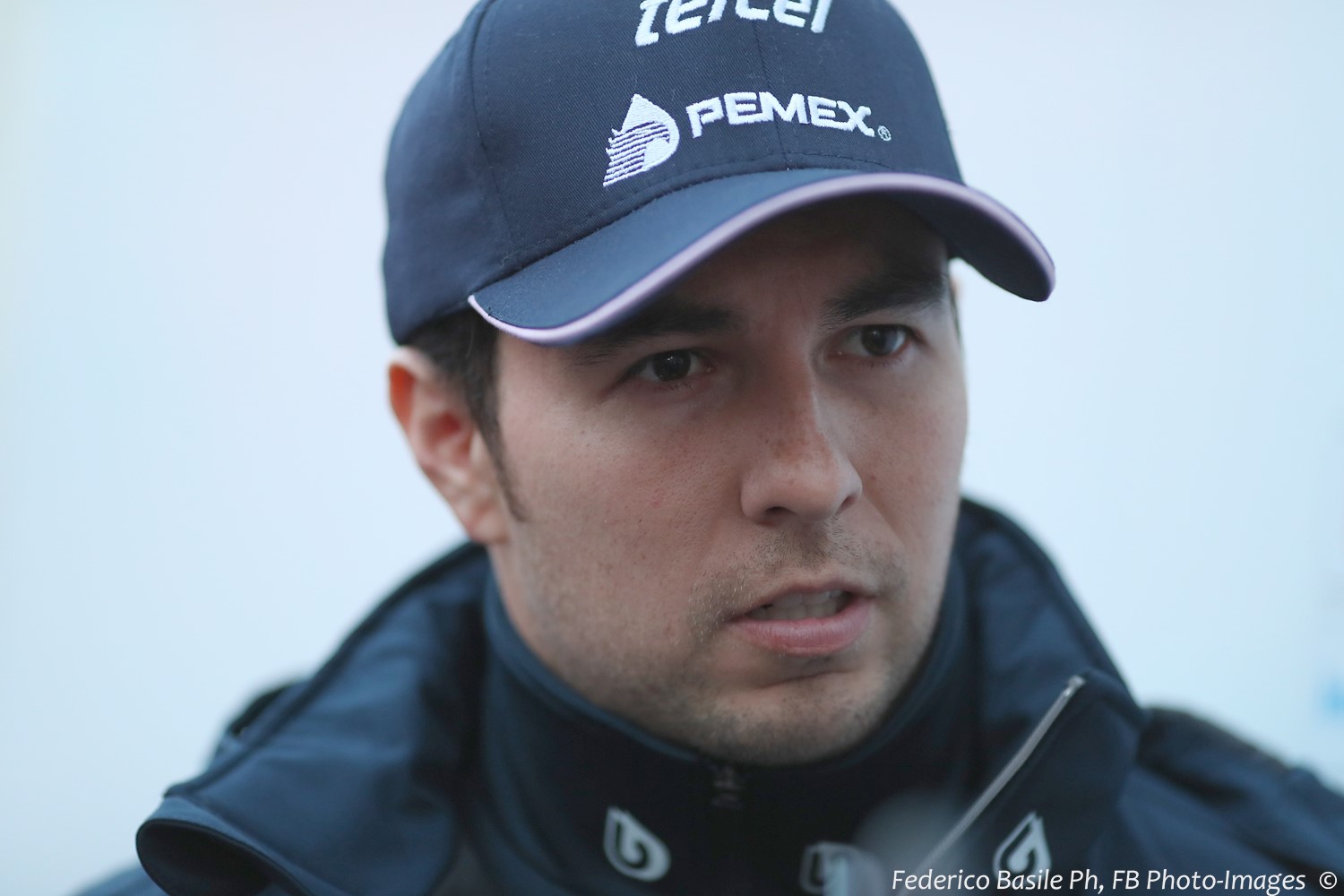 Perez
Q: What's it like racing at the team's home event?
SP: "It always makes me feel proud to race at Silverstone. Knowing I'm driving a car that nearly 500 people helped design and build in a factory just across the road gives me extra motivation to do well as a 'thank you' to everyone in the team. It can be quite an emotional event for all of us."
Q: Will it feel strange to be racing in front of empty grandstands at Silverstone?
SP: "We will definitely miss the fans here. They are some of the most knowledgeable in Formula 1. Some of them even remember when you raced here in the lower categories! We're missing the fans at every race we go to – but the passion of the British fans is really amazing, so it will feel very strange."
Q: The team currently sits P4 in the standings. Is that where you expected to be after three races?
SP: "It's great to be up there fighting at the front again. We had a tough year in 2019 and it shows that all the hard work we did over the winter to put that right was worth it. We've made a good start – but I think even more is possible. We've had some bad luck so far and the best is yet to come."
Lance Stroll – Racing Point Driver
Q: What's the best thing about racing at Silverstone?
LS: "It's great for the race team, because it means they get to stay at home and there's less travel – which is a definite plus considering we've just had a triple header and the new 2020 calendar is pretty full-on! It's also a home race for the whole team, so that gives everyone a boost and an extra drive to do well."
Q: Will you miss having the British fans at the track?
LS: "Definitely. We miss having the fans everywhere we go – but the British fans are so enthusiastic and are real petrolheads. It feels like the heart of Formula 1 at Silverstone and you really feel that every time you race in front of those fans. It's a shame we won't get to experience it this time – but we'll try to put on a good show for those watching at home."
Q: What are your expectations for the weekend?
LS: "It's promising that we've been able to start the first three races on the front foot and show our pace. We've now raced at two very different circuits in Austria and Hungary and we've been strong at both. That gives me confidence for the races ahead and we can target a good number of points here too."
Pierre Gasly AlphaTauri Driver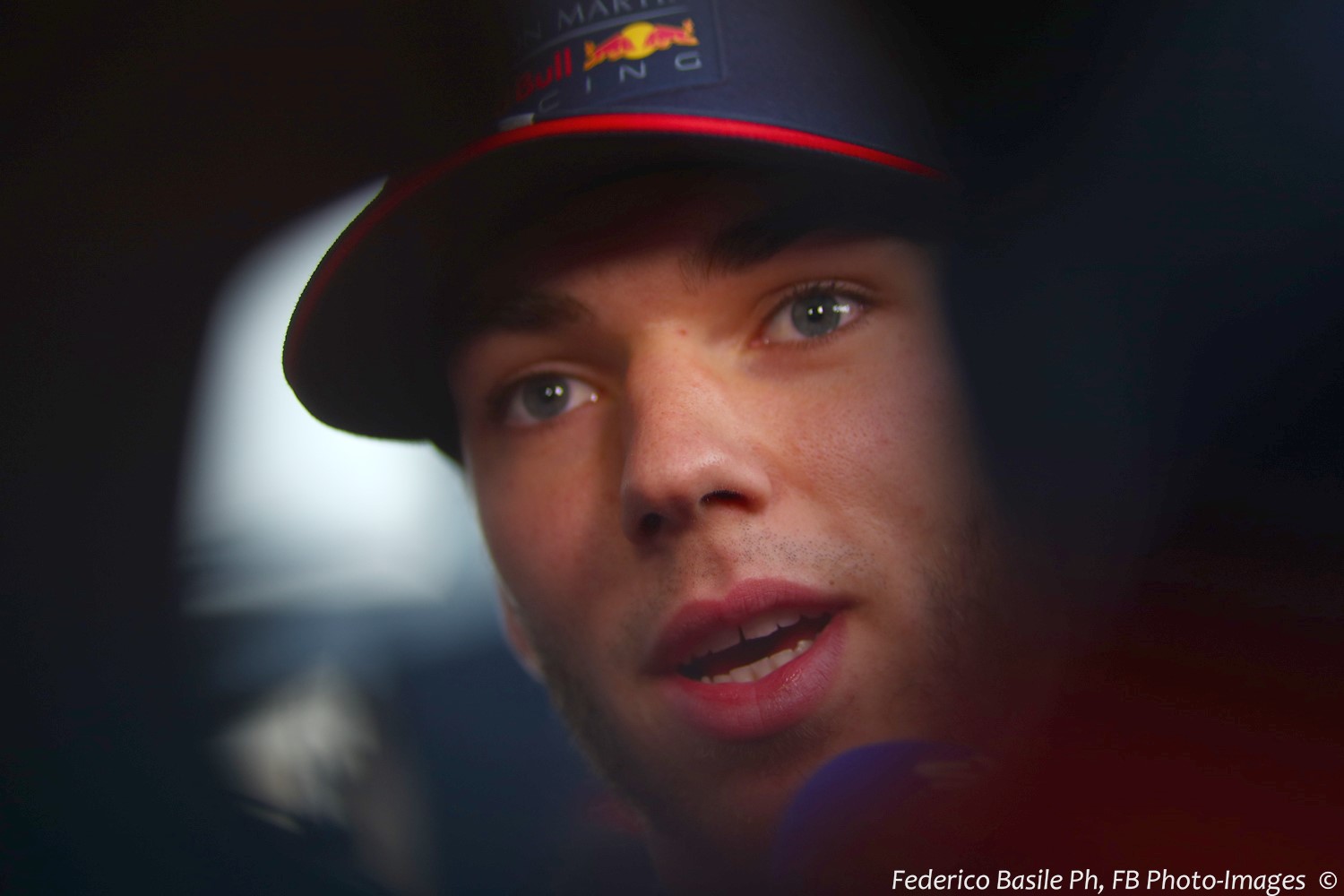 Gasly
"After completing three races, I think we can say we have a car that is honest, although we know there are things that need to be improved, especially in terms of aero. We can find more performance there. The car has no major weaknesses in any particular area. We have to improve two or three things to get a car that is better balanced. The most important thing is to find a bit more downforce. Looking at our performance, we have to consider that, in the mid-field, several teams have made a big step from last year, especially Racing Point and McLaren and right away that has made for a bigger gap between them and us. Williams has clearly made enormous progress and can now be considered as part of the mid-field battle as are Renault. Now it's down to us to close on those in front and hopefully overtake them.
"I have been able to do a day in the simulator in Milton Keynes last week. It was a bit different to usual, with the travel restrictions, so my engineers could not be with me and we did the briefings with a video conference involving the people in Faenza and Bicester. It's not quite the same, but you get used to it!
"Now we come to another triple-header. Having had three races in a row, you do notice a bit of tiredness coming in, but to be fair, I didn't do much running in Hungary so I have nothing to complain about in that respect. However, for the rest of the team, the mechanics and engineers, it's a different matter as the pace is very busy and the necessary restrictions on the way we work adds to the difficulty. It's not easy for them doing a lot of triple headers and it's intense for everyone in the paddock.
"Silverstone is one of the best tracks of the season. It has a lot of fast corners and you get into a rhythm through sections like Maggots and Becketts, which is one of the nicest of the year, making it very exciting. With these current cars, it has become a track where engine power is now more important than before, because the first corner is flat, then Copse that used to be the first corner is also flat, as is Maggots, so effectively there are fewer corner. So straight line speed is more important, but it's still great fun to drive. For the second race at Silverstone, we will all be using softer tires which means we have to rethink some aspects of how we tackle the second weekend. On a track where you put a lot of energy through the tires with all the high speed corners it will have an effect in qualifying and also in terms of how much oversteer or understeer you get and over a race distance, tire management will be an important topic.
"Then we go to Spain, where we've already driven this year. It was a long time ago now, but we have the data from winter testing and it will be interesting to see how the cars have evolved since February. The conditions were very different then, very cold and now it will be very hot right in the middle of August, which is not the usual time for the race in Barcelona. It will make things more complicated for the tires compared to the race's usual date in early May, especially when you consider this track is never easy on the tire front."
Daniil Kvyat – AlphaTauri Driver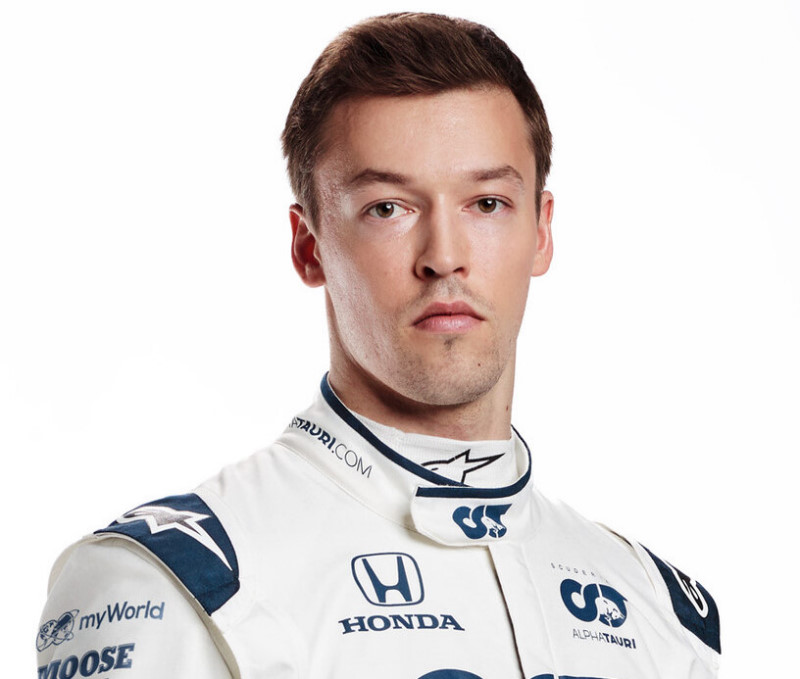 Kvyat
"It's great that Formula 1 has managed to put a calendar together and I was happy to be back racing again in Austria and Hungary. With three races behind us, it's still a bit hard to identify the strengths and weaknesses of our car. We are still working, me and the engineers, to find a solid baseline that we can start from at every race. In general, I was pleased with the race pace, but in quali in Budapest I was less happy with the car. But we think we know why that was and we are planning to try something different at Silverstone this weekend to see if we can improve. I'm pleased with the way Sundays have gone, but if we could start from around tenth on the grid that would make life more straightforward and allow us to have a strong race. We will see if we can squeeze something more out of the single lap.
"The battle in the mid-field seems to be much closer than last year, for example, Racing Point has made a big step forward and they are ahead of us and I think that also applies to McLaren. Those two will make life tough. Since Hungary, I've managed to do a session in the simulator and that was very useful for myself and the team. It had been such a long time since we had been without it. My engineers were with me via video call and it worked fine like that. It seemed unusual at first, but we managed to make it work well.
"We will now have another triple-header and having just done three races in a row, I would say it was fine, even if was quite demanding. It's a lot of racing, so you have to manage your energy levels and be equally fresh for all three races. Of course, it's tougher for the mechanics, but at least with all these races in Europe, the travelling doesn't involve any long flights and you're not dealing with jet lag.
"Now we have two races at Silverstone. It's a very interesting track and it can produce some good racing thanks to the long straights. I enjoy driving it and I hope we can find a good baseline set-up immediately, as that will be the key to a good weekend. To mix things up, we are getting different tire compounds for the second race the following weekend at Silverstone. Having the softer tires is a pretty big change and we will be trying to understand their behavior as quickly as possible in free practice to identify the best way to manage them.
"Then for the third race in this sequence, we head to Barcelona for the sixth race of the season, which is where it would have been on the original calendar, except that it will now be in the middle of August and therefore much hotter than during winter testing and its usual race date in May. It will be enjoyable and interesting to tackle it in different conditions."