Hamilton wins British GP as tire blows on last lap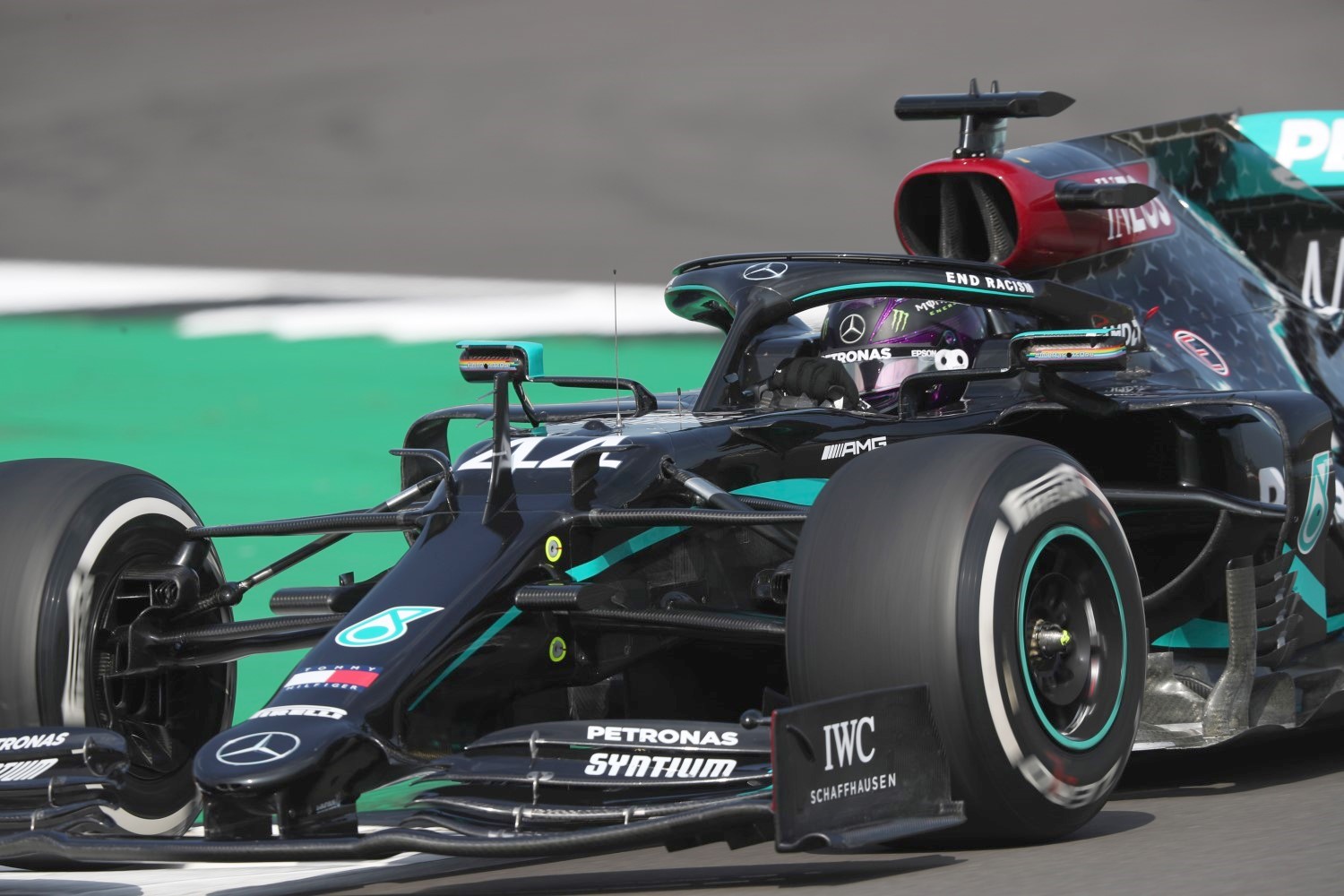 Hamilton holds on to win
The two the Mercedes were cruising to an easy 1-2 but everything changed when first Valtteri Bottas blew a left front with 2 laps to go and then Lewis Hamilton blew his left front on the last lap of the British GP at Silverstone.
Mercedes warned Hamilton not to risk trying to get the fastest lap on the final tour, but as he ran into Luffield for the final time his own left-front gave away and he was forced to limp to the flag with the tire barely still attached to his car.
Max Verstappen could have won the race had he not stopped for red tires to get fast lap with two laps to go. "It's lucky and unlucky," said Verstappen. "The tires didn't look great with ten laps to go, I saw Valtteri got a puncture so I got on the radio and said I'm going to back it out and then Lewis got his puncture. I'm very happy with second.
In the end Hamilton hung on to win over Verstappen by 5-seconds for his 7th British GP win.
"That last lap, up until then everything was smooth, the tires felt great," said Hamilton. "Valtteri was really pushing me, so when I heard that his tire went, I was looking at mine and they seemed fine… I started to back off, I noticed the shape of the tire shift and that was heart in the mouth. Trying to keep the speed up, oh my god I was just praying. I nearly didn't get round the last two corners!"
[adinserter name="GOOGLE AD"]"I was really chill surprisingly, Bono was giving me the information and gaps, in my mind I'm thinking how far is it to the end of the lap. The car – thankfully – turned okay through Maggotts and Becketts. Through Turn 15, 16 the thing wasn't stopping! Oh my god, I've definitely never experienced anything like that on the last lap, my heart nearly stopped," Hamilton continued.
Leclerc who managed his race pace and his tires beautifully to pick up the pieces and grab his second podium of the year in what has been an uncompetitive – relatively speaking – Ferrari.
Daniel Ricciardo and Lando Norris rounded out the top-5.
Three tire punctures, all left front for Bottas, Sainz Jr. and Hamilton in the last few laps. Bottas and Sainz Jr. dropped out of the points but Hamilton's went on the last lap and he just about made it home.
Esteban Ocon came home sixth in the 2nd Renault. Pierre Gasly was seventh for Alpha Tauri, while Alex Albon picked off plenty of cars on the final few laps to come home eighth in a topsy-turvy weekend for the Thai driver.
Lance Stroll and Sebastian Vettel rounded out the points, both out to lunch.
Nico Hulkenberg failed to start after being sidelined by a late power unit issue shortly before going to the grid.
Quotes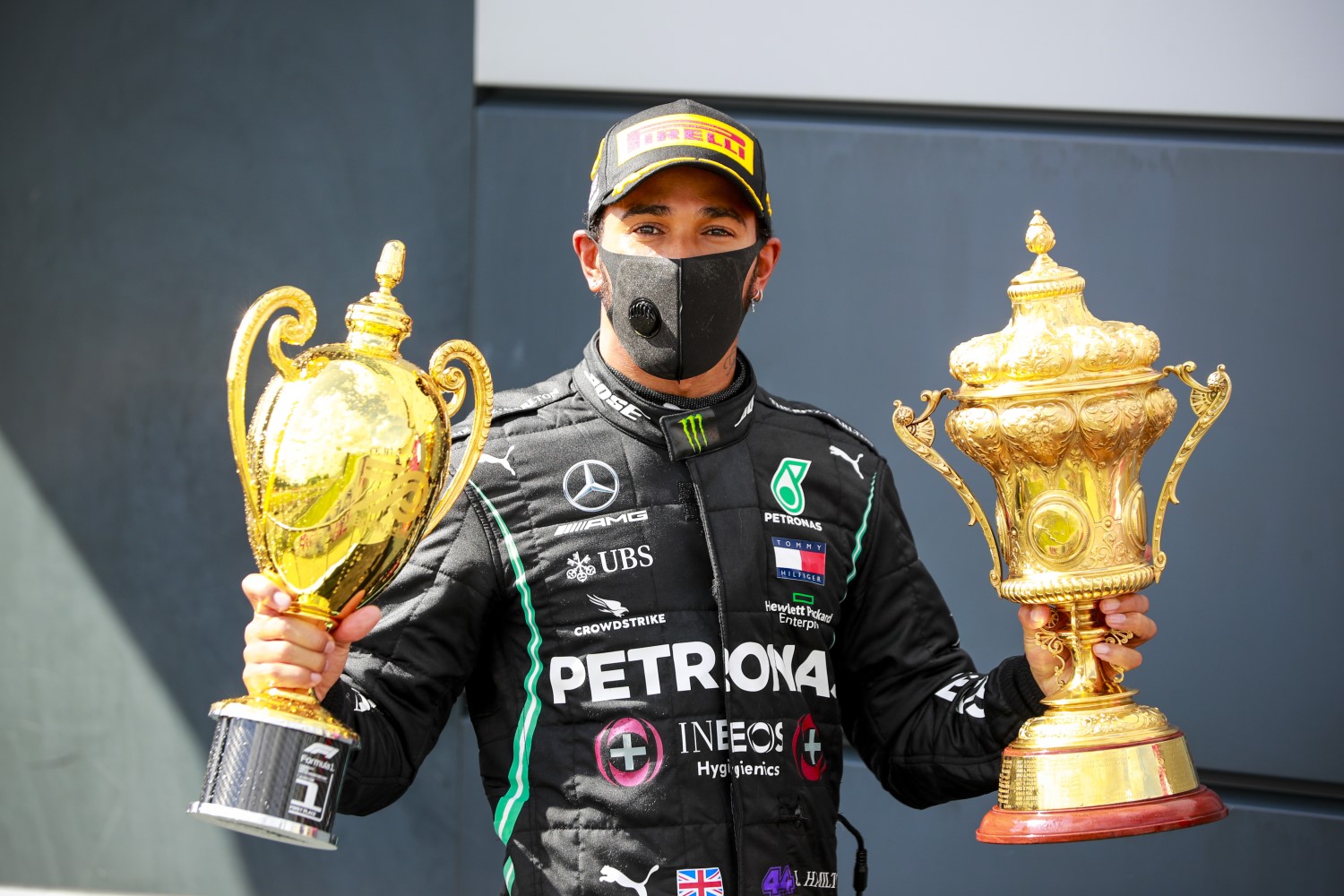 Hamilton collects his hardware
Mercedes AMG Petronas Motorsport
Lewis Hamilton (1st): "I have never experienced anything like that before. That last lap was one of the most challenging laps I have ever had. Up until that point, everything was going relatively smoothly, the tires felt great and I was doing some management. When I heard Valtteri's tire had gone, I looked at mine and everything seemed fine, but I started to back off. Then, it just suddenly deflated down the straight. It was a heart-in-your-mouth feeling and then I was just trying to keep the speed up without damaging the car. Bono was giving me the gaps; I think it was 30 seconds at one stage, but it was coming down quite quickly and I was thinking 'How far is it to the end of the lap?'. But we managed to get the car across the line. That last lap is definitely one to remember, I feel so grateful that I got it back and could secure the win. It was difficult standing up there on the podium without the crowd, but hopefully I did everyone proud who was supporting us from home."
Valtteri Bottas (11th): "It's a really disappointing result for me. I got very unlucky with the puncture; everything was going OK until that point. I was trying to put the pressure on Lewis, but we knew it was going to be a long stint on the Hard tire. Towards the end I was starting to get more and more vibrations on the front left. I didn't see any debris or anything, so I reported the vibrations and started to manage the tires, but then the tire failed suddenly on the start/finish straight and I had to complete a full lap back to the pits which cost me a lot of time. I am sure there will be lots of learnings to take from this weekend, so we'll take those and move onto the next weekend."
Toto Wolff, Team Principal: "In the past, we have had some scrutiny for saying that having a fast car isn't enough to cruise with a 1-2 finish into the sunset. And today showed how cruel motor racing can be. Valtteri lost a valuable second place for his Drivers' Championship and the team lost valuable points in the Constructors' Championship. At the same time, Lewis had enough of a gap to make it over the finish line in first place, but we were lucky that Red Bull pitted towards the end – if they hadn't, what looked like a secure 1-2 finish would have ended up a 2-11. Therefore, we will continue to be skeptical, we know we have a fast car and a powerful engine, but we will not take anything for granted until we've crossed the finish line at each race weekend."
Andrew Shovlin: "It's very frustrating to lose a car in the final laps and Valtteri will be feeling that more than anyone today. The timing couldn't have been worse as he was just braking for Turn 16, so he had to do the whole lap on three wheels dropping him out of the points at the end. With Lewis we were luckier; after Max decided to take a fresh set and go for fastest lap, Lewis had a lead of over thirty seconds when he got the puncture. Thankfully that was just enough for Lewis to hold on to the win. Despite our frustration at the way the race finished, we can be pleased with how we've worked here. The car had great pace in qualifying and the race and we were able to build gaps to the competition quite quickly today. Next week's race will be a different challenge on softer tires and in much hotter temperatures. That may not suit us based on what we've seen in the warmer conditions here and in Austria although we're excited by the technical challenge that it creates and will work hard over the next few days to make sure we remain competitive."
Scuderia Ferrari
Charles Leclerc (3rd): "It was not an easy but beautiful race! I am very satisfied, even though we know we had some luck today. Sometimes it happens and then you have to be ready to take every opportunity. I am happy with how we worked this weekend and very proud of the team. I also liked the way I drove, especially with regards to tire management which was not easy at all. In preparing for this race we opted for a very aggressive downforce, so we had straight-line speeds, even though we struggled a lot when cornering. It was quite difficult to get the tires in the right temperature window, especially after the Safety Car was released, however once we got them to operate correctly the situation became less difficult. I think that at the set-up level we did a good job and in fact the balance found made the car pleasant to drive. I think we managed to extract the maximum potential from the car today. Of course, we don't want to be content with fighting for fourth place for too long but for the moment this is the level of our competitiveness. "
Sebastian Vettel (10th): "Today was a very difficult race for me, because I struggled to fight with the other drivers on the track. Many of those who followed me, in fact, were a little faster than me and managed to outdo me, above all because I had huge problems extracting the grip from the car, although we tried different configurations this weekend. At this moment I can't turn at the pace we need and consequently the feeling with the machine is quite low: every time I try to push I have the feeling of losing the right sensations and this is a problem that we must solve together to the engineers. "
Mattia Binotto, Team Principal: "A two-sided race. The positive one is represented by the podium of Charles who, after yesterday's good qualifying, was perfect today in the race, managing the tires flawlessly. The negative is constituted by the result of Sebastian, who even today was clearly not at ease with the car: we have to analyze the data well and understand the reasons. We had prepared this weekend carefully, focusing on an aerodynamic configuration of the cars with less load: the choice, the result of simulation work and tunnel development, paid off. We also worked a lot on tire management, a crucial factor in this race as seen in the last few laps. Charles was good and, above all, patient in following the instructions of the technicians, saving the tires for the entire race. Today, at least in one car, we have brought out the maximum potential available, clearly still far from the target. Now let's focus on the next weekend, which will take place on this same track: we will have to prepare well and try, as far as possible, to collect even more points today. "
Red Bull Racing
Max Verstappen (2nd): "I know everyone is asking whether we should not have pitted for the soft tire because we could have won but could have, would have, should have. You can always ask these questions with hindsight but I don't regret anything and I believe we made the right decision to pit for fastest lap at the end. We did the right thing and who knows if I would also have got a puncture, you just can't predict these things as it does not happen very often in F1 these days. At the end of the day Mercedes deserved to win as they were faster than us, some people are saying Lewis was lucky but he was actually unlucky to get the puncture in the first place and so was Bottas. I'm happy to finish second as it looked like third was all that was possible and again we have scored good points. I was four or five tenths off Mercedes every lap but a second faster than the cars behind, so it was a pretty lonely race. At one point I went on the radio telling my engineer to remember to stay hydrated. (laughs) Other than that I was just counting sheep! Next week will be slightly different with the tire choice affecting the strategy and although we are realistic about the pace of the Mercedes compared to us we won't stop pushing them like we did today."
Alexander Albon (8th): "Eighth isn't what I want but it's damage limitation after the damage to the car and penalty at the start of the race. I think the incident with Kevin was 50/50, he made a mistake and left a gap so I went for the move. When I realized he didn't see me and he closed the door I tried to get out of the way but we touched. There was a big difference of speed going into the corner and it couldn't be avoided. We had a lot of work to do this weekend but we did the best we could and the race pace was okay fighting back through the field. I'm happy we've got another race here at Silverstone next weekend as I love this track and we can use what we've learned this week and put it into practice."
Christian Horner, Sporting Director: "You could say we were a little unlucky to miss out on the victory today but congratulations to Mercedes who have a very dominant car and it would have been a lucky win. Lewis' luck is with him at the moment but second place and fastest lap for Max is still a very good result for the Team after the gap to Mercedes in qualifying yesterday. Max drove a really mature race, he got everything out of the car and made no mistakes – he was even looking out for his engineers and reminding them to have a drink on the pit wall whilst setting green sectors! Towards the end of the race Max's tires weren't in great shape, so when Bottas had his puncture there was no guarantee Max would have got to the end of the race so it was wise to pit for new rubber. I think we have to be grateful to have benefitted from Valtteri's misfortune and we can be happy with this result. Alex also drove a great race and to recover and finish eighth with some great passes, after contact and the resulting penalty put him at the back of the field. I think his collision with Magnussen was a racing incident – Kevin made a mistake and went wide so Alex committed and they touched but the five second penalty was probably fair. From Hungary to here I think we are making progress as a Team and today shows anything can happen in the race, so we must keep pushing and applying the pressure to those in front."
Renault Sport Formula One Team
Daniel Ricciardo (4th): "It was a crazy race at the end, and it feels really cool to take fourth place. We made a good start, jumped up to sixth and we showed decent pace. At the safety car restart I was close to Carlos [Sainz] but didn't have enough and that allowed Lando [Norris] to have a run on me and I missed out there. That was a bit frustrating, but it came back to us at the end. The race really came alive and that was really good. We had some pace at the end and I was able to get Lando and then Carlos had a problem. I saw Charles [Leclerc] getting closer and maybe with a couple more laps we could have had a podium! We have another chance next week. We were assisted by some chaos, but we were definitely a top six car today and that's pleasing."
Esteban Ocon (6th): "I'm very happy with today's team result. It was very fun out there, lots of overtaking, lots of fun battles and a fantastic result to finish it off. I think today shows how quick our car is in the race. It really felt awesome today and it was a strong performance from the team. It's a credit to everyone at Enstone and Viry for their hard work between Budapest and this race. We had a lot of discussions, and that's really paid off today. It proves that we need to qualify further up to make our life easier on Sunday. We have another opportunity next week for more."
Cyril Abiteboul, Managing Director: "It was a very good result from a team perspective and one of our strongest since our return to Formula 1. It is particularly good here in Silverstone, a temple of the Formula 1 championship and one of the home races for the team. Clearly, there was a bit of help towards the end to gain positions, but that should not take away from the very strong performance that the team has put in throughout the weekend. We had a decent Friday practice and that meant both good preparation for qualifying with both cars in the top ten as well as critical learning about making the Hard tire last in the race. Today, both drivers had a strong opening lap to have track position and then we decided to stop both cars for Hards under the safety car, which the pit crew did an excellent job on. We also had strong reliability and that's so important when we have eventful races like this one. After tracks where the car struggled, Silverstone's layout confirmed the strengths and weaknesses of the car. In particular we must keep working on high-speed corners as that's our weakness compared to direct rivals. We have made progress but we should not lose sight of our direct competitors nor of the competitiveness level of Mercedes in all circumstances."
Haas F1 Team
Romain Grosjean (16th): "It's disappointing, the result, as I drove to the absolute limit from the beginning to the end of the race. The first stint was fun. I found myself up in fifth behind the safety car and I was like 'oh, just like the good old days.' I was happy to stay out, we have to try these things with our car – just like we did in Hungary. I was a bit skeptical for the restart on the tires, but it worked well, and I could keep the pace. I was happy and having fun. I don't think much is going to change for next week, I think the order will stay the same, but obviously there'll be a bit more degradation in the race – so maybe it's a two-stop race, which I'd rather have, a one-stop is a bit boring."
Kevin Magnussen (DNF, Accident): "I'm all good after the accident, just very frustrated. I had made a great start – again, gained a couple of positions. I'd felt that the car was good on the way to the grid and I said to my engineers that the car was working really well. I'm gutted to be out as maybe we could have done something today. We had done everything we could do. We'd qualified as best as we could, then I got a great start – it was a good first lap with the positions gained, we were close to the top 10. It was looking good, I'm very gutted."
Guenther Steiner, Team Principal: "I would say it was an interesting day. As much as the disappointment is high, the positives we take out of it is that the drivers like the car, they like how it drives – we just need to get faster with it. Romain (Grosjean), once he was in the mix, he could almost keep up with the other cars and in some cases, he was faster – so that's a good sign. Unfortunately, on his pit-stop, he couldn't engage the gear and we lost 10 seconds. That took us out of the chance of scoring a point, I'm saying one point – not plural. Kevin (Magnussen) was taken out on lap one, so there's not much more to say on that one. It's our destiny at the moment that we don't have any luck. The good we take away from here is that when we are in the mix in the race, we can be there. We still have to work on qualifying. So, it was an interesting race. We didn't end up with a point, but everyone's doing a good job, working hard, and sooner or later we'll score again."
McLaren F1 Team
Lando Norris (5th): "A decent race. I made a bit of a mistake by pushing too hard on the first lap of the race. I locked-up and lost a position, but the rest of the race was pretty good. I don't think we had the fastest car on track compared to the teams around us. We were suffering a little bit with the tire degradation, having to push more than I wanted for the majority but, apart from that, we were on for a good result. Carlos got unlucky with the puncture. I don't think we could've done a lot more."
Carlos Sainz (13th): "I'm a bit lost for words to be honest – I think the images spoke for themselves. It's a very frustrating end to an otherwise very strong race. I had a great start gaining a couple of positions and solid pace throughout the whole race, managing the tires and the gap to the cars behind. Everything was working well, we were on for a very strong P4 and 12 points, but then the tire failed and I had to box on the last lap. Very disappointing, frustrating and unfortunate. Nothing we could do about it though. I've lost some important points in these first four races, so I really look forward to this run of bad luck turning around. With a shorter championship, losing these points hurts more than normal, but we need to carry on. On the positive side, the car felt good on track and the boys did good pit-stops for the team – that's why I also feel so bad for them. Tomorrow, we'll switch our focus to the second round here at Silverstone next week to try to capitalize on our good pace."
Andreas Seidl, Team Principal: "Right now, I feel sorry for Carlos – he had very bad luck after a strong drive. To lose many good points one lap before the end with a puncture leaves the whole team very disappointed. Nevertheless, this is racing, and this is what happens. Both drivers have again put in good performances, again we had a competitive car and we still scored some important points in the Constructors' Championship with Lando finishing in P5. The crew did great work with three very good pit-stops, and the strategy team made all the right calls in pressured situations when the Safety Car came out. We have completed four races now and both drivers have seen the checkered flag every time, without any reliability issues for either the car or the power unit. Massive thanks to the entire team at the track and back home, and also Renault for all of their hard work and effort. It's a shame to not have our fans, partners and other members of team here for our home race, but we value their incredible support despite being unable to be at the track with us. The entire race team can take a short break now, before coming back to Silverstone later this week to do it all over again."/p>
Racing Point F1 Team
Lance Stroll (9th): "We were able to keep up our run of scoring points in every race this season, but I'm disappointed to only finish in P9 and we need to go away and look into the reasons why. The balance of the car was better today and I expected us to be more competitive, but we slipped back in the race. It wasn't our day today, so now we need to focus on next weekend and make sure we come back stronger and show what the car is capable of. It's a shame Nico couldn't start the race because he's done a good job this weekend."
Nico Hulkenberg (Did not start): "It's a real shame that I couldn't start the race and I feel for the team because they did everything to get me onto the grid. I'm very thankful to everyone for their help. It's been a jump into the deep end this weekend, but I've enjoyed the opportunity to work with the team again. It would have been great to score a good result in the race as a reward for all our hard work."
Otmar Szafnauer, Chief Operating Officer: "A tough afternoon – starting with a power unit or gearbox issue, which meant Nico didn't even make the start of the race. The first indication of a problem was when we tried to fire up the car to go to the grid. There was basically a drivetrain seizure, the cause of which is still being investigated. It's a shame for the entire team after such a huge effort to get Nico in the car. With Lance, we were especially unlucky with the timing of the safety car, which also ruled out any strategic benefit of starting on the medium tires. After that, we were stuck in the train of cars and struggled with our race pace – certainly compared to the long runs we did on Friday. We need to understand where we lost out today so we can be stronger next week."
Alfa Romeo Racing
Antonio Giovinazzi (14th): "It's been quite a difficult race but I think we did the most we could. I had a good start and made up a few places, gained another place with a very good pit-stop by the crew but after the second safety car I struggled with pace – and a five-second penalty meant I lost two more places at the end. We hoped to be a bit more competitive, so we will need to look at the data and improve what we can to make a step forward when we race here again next week."
Kimi Raikkonen (17th): "Not the race we expected, by all means. At the beginning of the race I thought we would have a chance to fight, but after the stops our pace was not enough to keep up with the others. We'll need to see how to improve our performance for next week's race. In the final laps, I had a front wing failure, but that made no difference in the end. I am not sure what happened, we'll need to look into that."
Frederic Vasseur, Team Principal: "It was a disappointing Sunday. We looked good in the opening stages, climbing up to P12, just behind Ocon and Vettel and showing good pace. We were looking on course for a good result until the stops, but in the end we weren't able to make any more progress once we switched to hard tires. With one more race here in Silverstone, we will need to comb through the data and find the best way to improve our performance for next week."
Red Bull AlphaTauri Honda
Pierre Gasly (7th): "It's really fantastic for us to finish P7 today! It was a very strong race and probably one of the best ones from me. We didn't expect such a result today, we knew we could potentially score points, but it was going to be a challenge as the timing of the first safety car didn't play into our hands. I think we were P12 at the time and I had to fight my way through the crowd. It was tough but very enjoyable and I had many great battles with Vettel, Stroll and Giovinazzi. I struggled to get close to Sebastian, but then I had one shot to pass him and I knew I had to try and make it work. It doesn't happen every day that you're able to overtake a Ferrari on the outside, so I really enjoyed that one! I'm feeling good in the car and we know where we need to improve, so hopefully we can take another step forward in the coming weeks."
Daniil Kvyat (DNF, Accident): "I think it was a very strong race despite the fact it was cut short. I had a good start, great pace and made quite a few overtakes, catching up to the cars in front. We were on for a good result today when all of a sudden at Turn 10 I lost the rear of the car. I thought it was my fault, as at first I always tend to blame myself, but after reviewing the video we saw that something happened out of my control, so we will need to check all the data to understand what exactly caused the failure. It's disappointing as we could have scored some good points here today, but I will try again next week."
Franz Tost, Team Principal: "We came to Silverstone with a few new parts and we were quite optimistic. From the very beginning of the weekend, we were able to show a good performance throughout all Free Practice sessions. For whatever reason, we couldn't put everything together in Qualifying, even if Pierre's 11th position on the grid, with a free tire choice, was actually quite fortunate. Pierre had a fantastic race, overtaking many cars and we decided to call him to the pits during the safety car period – unfortunately the one due to Daniil's accident – to put him on base tires, which paid off quite well. His seventh position at the end of the race brought some good points to the team. Daniil started the race from the back in P19, due to a 5-place grid position penalty, but he had a good start and was immediately very competitive, catching up to Pierre in P12. He was actually behind him when he had his accident at Maggotts, which we will need to investigate but it looks like it might be due to a rear puncture. However, the most important thing is that he got out of the car without injuries and he is completely fine. It's a real shame as he was showing great pace and I think he might have also finished in the points. We are now looking forward to next week for the second race in Silverstone."
Jody Egginton, Technical Director: "Today's race has certainly been exciting with the closing stages providing lots of drama. Pierre had a fantastic race making several good passes, managing his pace and tires very well in order to be able to push hard when it really mattered. Dany was also showing some good pace up until lap 12, so although he has not been able to score points today, we are confident he can bounce back next week. Today's performance has further validated the updates we have brought here are delivering, now we will spend the next few days reviewing the data to be able to extract some more from our package next week. The entire team worked fantastically today, and we achieved a result worthy of the hard work put in by everyone here and back in Faenza & Bicester."
Williams Racing
George Russell (12th): "This was the first race where we have been pretty fast, and our Sunday pace matched our Saturday, so that is positive. We have put a lot of effort in to focus on our pace today, so we are going in the right direction. After the Safety Car, the car felt strong. I managed to overtake Kimi (Raikkonen) and I caught Antonio (Giovinazzi). If we can maintain a good qualifying position ahead of the Alfa Romeos and the Haas' there's no reason we can't stay there on merit on a Sunday."
Nicholas Latifi (15th): "I think out of all the first four races so far, this was the race where in duration the car felt the best and the most predictable. The car felt alive and it was really nice to drive. In the first lap I made a mistake and went off and lost the track position, but besides that I had a lot of confidence to push. It was quite an enjoyable race, as it is much nicer when you are in the fight with other cars."
Dave Robson, Senior Race Engineer: "Silverstone delivered another exciting race and whilst the safety cars bunched the field up, we can be reasonably pleased with our pace and the result. We now have a good baseline to use for some further tests next week when we return to Silverstone for the fifth race of the season. Both drivers drove well today and, with the help of the experts in the garage, were able to manage their tires to the end of the race whilst also dealing with the gusty conditions. There is still a lot of opportunity to push the car harder, but we are making good progress and will continue to do so next week. As usual, the pit crew did a great job and the double stop that they were able to complete during the second safety car period helped us gain some valuable track position with both cars."
Results – 70 Laps
| | | | | |
| --- | --- | --- | --- | --- |
| POS | DRIVER | NAT. | TEAM | BEHIND |
| 1 | Lewis Hamilton | GBR | Mercedes AMG Petronas Formula One Team | +0.000s |
| 2 | Max Verstappen | NED | Aston Martin Red Bull Racing | + 5.856 |
| 3 | Charles Leclerc | MON | Scuderia Ferrari Mission Winnow | + 18.574 |
| 4 | Daniel Ricciardo | AUS | Renault F1 Team | + 19.650 |
| 5 | Lando Norris | GBR | McLaren F1 Team | + 22.277 |
| 6 | Esteban Ocon | FRA | Renault F1 Team | + 26.937 |
| 7 | Pierre Gasly | FRA | Scuderia AlphaTauri Honda | + 31.188 |
| 8 | Alexander Albon | THA | Aston Martin Red Bull Racing | + 32.670 |
| 9 | Lance Stroll | CAN | BWT Racing Point F1 Team | + 37.311 |
| 10 | Sebastian Vettel | GER | Scuderia Ferrari Mission Winnow | + 41.857 |
| 11 | Valtteri Bottas | FIN | Mercedes AMG Petronas Formula One Team | + 42.167 |
| 12 | George Russell | GBR | Williams Racing | + 52.004 |
| 13 | Carlos Sainz | ESP | McLaren F1 Team | + 53.370 |
| 14 | Antonio Giovinazzi | ITA | Alfa Romeo Racing Orlen | + 54.205 |
| 15 | Nicholas Latifi | CAN | Williams Racing | + 54.549 |
| 16 | Romain Grosjean | FRA | Haas F1 Team | + 55.050 |
| 17 | Kimi Raikkonen | FIN | Alfa Romeo Racing Orlen | +1 lap |
| DNF | Daniil Kvyat | RUS | Scuderia AlphaTauri Honda | 13 laps |
| DNF | Kevin Magnussen | DEN | Haas F1 Team | 1 lap |
| DNS | Nico Hulkenberg | GER | BWT Racing Point F1 Team | DNS |
[adinserter name="GOOGLE AD"]