Penske Acuras sweep front row at Road America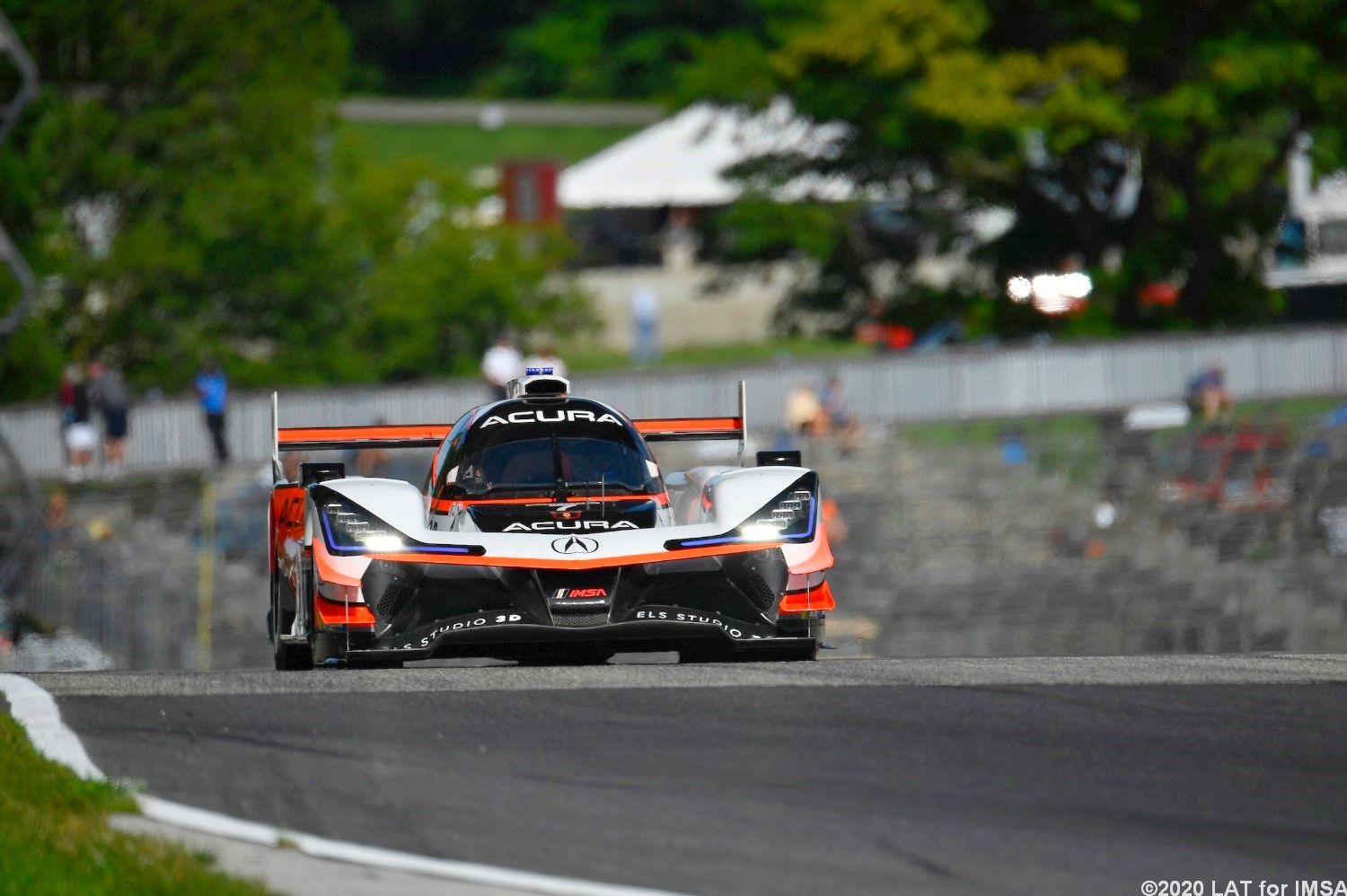 Ricky Taylor
Ricky Taylor has won the pole for Sunday's IMSA Road Race Showcase at Road America in a front row sweep for Acura Team Penske.
Taylor, driving the No. 7 Acura ARX-05, turned a lap of 1m49.061s to beat Dane Cameron in the No. 6 Acura DPi, at 1m49.379s.
It marked Taylor's first pole since WeatherTech Raceway Laguna Seca last year and his 20th pole in series competition.
The pair of Mazda RT24-Ps will start third and fourth, with the No. 55 car of Harry Tincknell beating the sister car No. 77 Mazda of Tristan Nunez.
Nasr had set the fifth quickest time but the lap was deleted due to bringing out a red flag for a spin in his No. 31 Action Express Racing Cadillac DPi-V.R in Turn 3.
Quote
Ricky Taylor (#7 Acura Team Penske ARX-05) pole qualifier, first pole of 2020, 20th career IMSA pole: "It's been a great weekend for Acura Team Penske and it's nice to cement the strength of our ARX-05 prototypes in winning the pole position, and doing it in a 1-2 fashion. Both cars have been really fast this weekend. We kept swapping the top spot on the charts. Road America is a track that fits these cars so well, so we were hoping to come out of the box strong to get our season back on track a bit. We've done that to this point, but we need to continue to execute in the race the way we have so far this weekend."
LMP2 Pole
LMP2 pole honors went to the No. 52 PR1/Mathiasen Motorsports Oreca 07 Gibson of Patrick Kelly, with a lap of 1m54.474s.
Kelly smoked the No. 81 DragonSpeed entry of Henrik Hedman by nearly one-second.
Porsche, Lexus Take GT Class Poles
Laurens Vanthoor emerged as the pole-sitter in GT Le Mans following a highly competitive battle for top honors in the session.
Vanthoor put up a lap time of 2m00.590s in the No. 912 Porsche 911 RSR-19, ending up 0.264 seconds ahead of the No. 3 Chevrolet Corvette C8.R of Jordan Taylor.
It marked Vanthoor's first pole of the season and second for Porsche after Nick Tandy's top qualifying run in the Rolex 24 at Daytona.
The No. 4 Corvette of Oliver Gavin qualified third, ahead of Bruno Spengler in the No. 25 Team RLL BMW M8 GTE, which was one of five cars to have set the fastest lap in the session.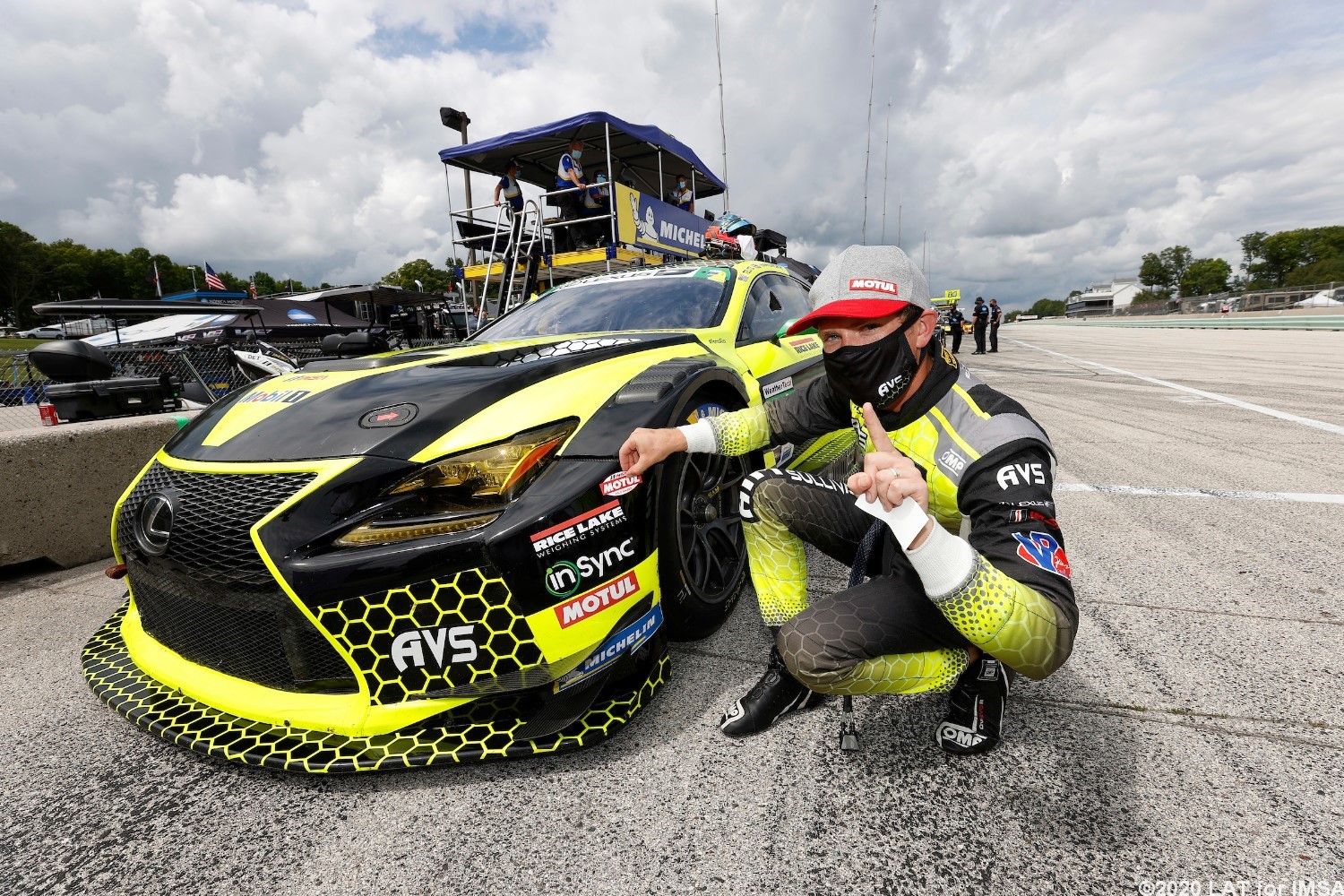 Aaron Telitz
Aaron Telitz claimed his first career WeatherTech Championship pole in a sweep of the front row in GT Daytona for AIM Vasser Sullivan and Lexus.
The Wisconsin native reeled off a 2m06.251s lap in the No. 14 Lexus RC F GT3 to edge out teammate Frankie Montecalvo by 0.787 seconds.
It marked the second consecutive pole for the team.
The IMSA Road Race Showcase gets underway Sunday at 12 p.m. ET with live coverage on NBC and IMSA Radio.
RESULTS
| | | | | | | | | |
| --- | --- | --- | --- | --- | --- | --- | --- | --- |
| Pos | Pic | No.. | Class | Drivers | Team | Car | Time | Behind |
| 1 | 1 | 7 | DPi | H. Castroneves/R. Taylor | ACURA TEAM PENSKE | Acura DPi | 1:49.061 | 0.000 |
| 2 | 2 | 6 | DPi | D. Cameron/J. Montoya | ACURA TEAM PENSKE | Acura DPi | 1:49.379 | +0.318 |
| 3 | 3 | 55 | DPi | J. Bomarito/H. Tincknell | Mazda Motorsports | Mazda DPi | 1:49.607 | +0.546 |
| 4 | 4 | 77 | DPi | O. Jarvis/T. Nunez | Mazda Motorsports | Mazda DPi | 1:50.120 | +1.059 |
| 5 | 5 | 10 | DPi | R. van der Zande/R. Briscoe | Konica Minolta Cadillac DPi-V.R | Cadillac DPi | 1:50.216 | +1.155 |
| 6 | 6 | 5 | DPi | J. Barbosa/S. Bourdais | Mustang Sampling Racing/JDC | Cadillac DPi | 1:50.742 | +1.681 |
| 7 | 7 | 31 | DPi | F. Nasr/P. Derani | Whelen Engineering Racing | Cadillac DPi | 1:51.391 | +2.330 |
| 8 | 8 | 85 | DPi | C. Miller/T. Vautier | JDC-Miller MotorSports | Cadillac DPi | 1:51.681 | +2.620 |
| 9 | 1 | 52 | LMP2 | P. Kelly/S. Trummer | PR1 Mathiasen Motorsports | ORECA LMP2 07 | 1:54.474 | +5.413 |
| 10 | 2 | 81 | LMP2 | H. Hedman/B. Hanley | DragonSpeed USA | ORECA LMP2 07 | 1:55.427 | +6.366 |
| 11 | 3 | 38 | LMP2 | J. French/C. Cassels | Performance Tech Motorsports | ORECA LMP2 07 | 1:56.965 | +7.904 |
| 12 | 4 | 18 | LMP2 | D. Merriman/K. Tilley | Era Motorsport | ORECA LMP2 07 | 1:57.589 | +8.528 |
| 13 | 1 | 912 | GTLM | E. Bamber/L. Vanthoor | Porsche GT Team | Porsche 911 RSR-19 | 2:00.590 | +11.529 |
| 14 | 2 | 3 | GTLM | A. Garcia/J. Taylor | Corvette Racing | Chevrolet Corvette | 2:00.854 | +11.793 |
| 15 | 3 | 4 | GTLM | O. Gavin/T. Milner | Corvette Racing | Chevrolet Corvette | 2:00.904 | +11.843 |
| 16 | 4 | 25 | GTLM | B. Spengler/C. De Phillippi | BMW Team RLL | BMW M8 GTE | 2:01.155 | +12.094 |
| 17 | 5 | 24 | GTLM | J. Krohn/J. Edwards | BMW Team RLL | BMW M8 GTE | 2:01.202 | +12.141 |
| 18 | 6 | 911 | GTLM | N. Tandy/F. Makowiecki | Porsche GT Team | Porsche 911 RSR-19 | 2:01.305 | +12.244 |
| 19 | 1 | 14 | GTD | A. Telitz/J. Hawksworth | AIM VASSER SULLIVAN | Lexus RC F GT3 | 2:06.251 | +17.190 |
| 20 | 2 | 12 | GTD | F. Montecalvo/T. Bell | AIM VASSER SULLIVAN | Lexus RC F GT3 | 2:07.038 | +17.977 |
| 21 | 3 | 76 | GTD | C. Fergus/P. Holton | Compass Racing | McLaren 720S GT3 | 2:07.265 | +18.204 |
| 22 | 4 | 96 | GTD | R. Foley/B. Auberlen | Turner Motorsport | BMW M6 GT3 | 2:07.361 | +18.300 |
| 23 | 5 | 74 | GTD | G. Robinson/L. Aschenbach | Riley Motorsports | Mercedes-AMG GT3 | 2:07.911 | +18.850 |
| 24 | 6 | 63 | GTD | C. MacNeil/T. Vilander | Scuderia Corsa | Ferrari 488 GT3 | 2:07.924 | +18.863 |
| 25 | 7 | 86 | GTD | M. Farnbacher/M. McMurry | Meyer Shank Racing w/Curb-Agaj | Acura NSX GT3 | 2:07.942 | +18.881 |
| 26 | 8 | 57 | GTD | A. Parente/M. Goikhberg | Heinricher Racing w/MSR Curb-Agaj | Acura NSX GT3 | 2:08.118 | +19.057 |
| 27 | 9 | 16 | GTD | R. Hardwick/P. Long | Wright Motorsports | Porsche 911 GT3R | 2:08.269 | +19.208 |
| 28 | 10 | 22 | GTD | T. Bechtolsheimer/M. Miller | Gradient Racing | Acura NSX GT3 | 2:08.520 | +19.459 |
| 29 | 11 | 23 | GTD | I. James/R. De Angelis | Heart Of Racing Team | Aston Martin Vantage | 2:08.540 | +19.479 |
| 30 | 12 | 44 | GTD | J. Potter/A. Lally | GRT Magnus | Lamborghini Huracan | 2:09.822 | +20.761 |