Jones wins Xfinity Series race at Kansas on final lap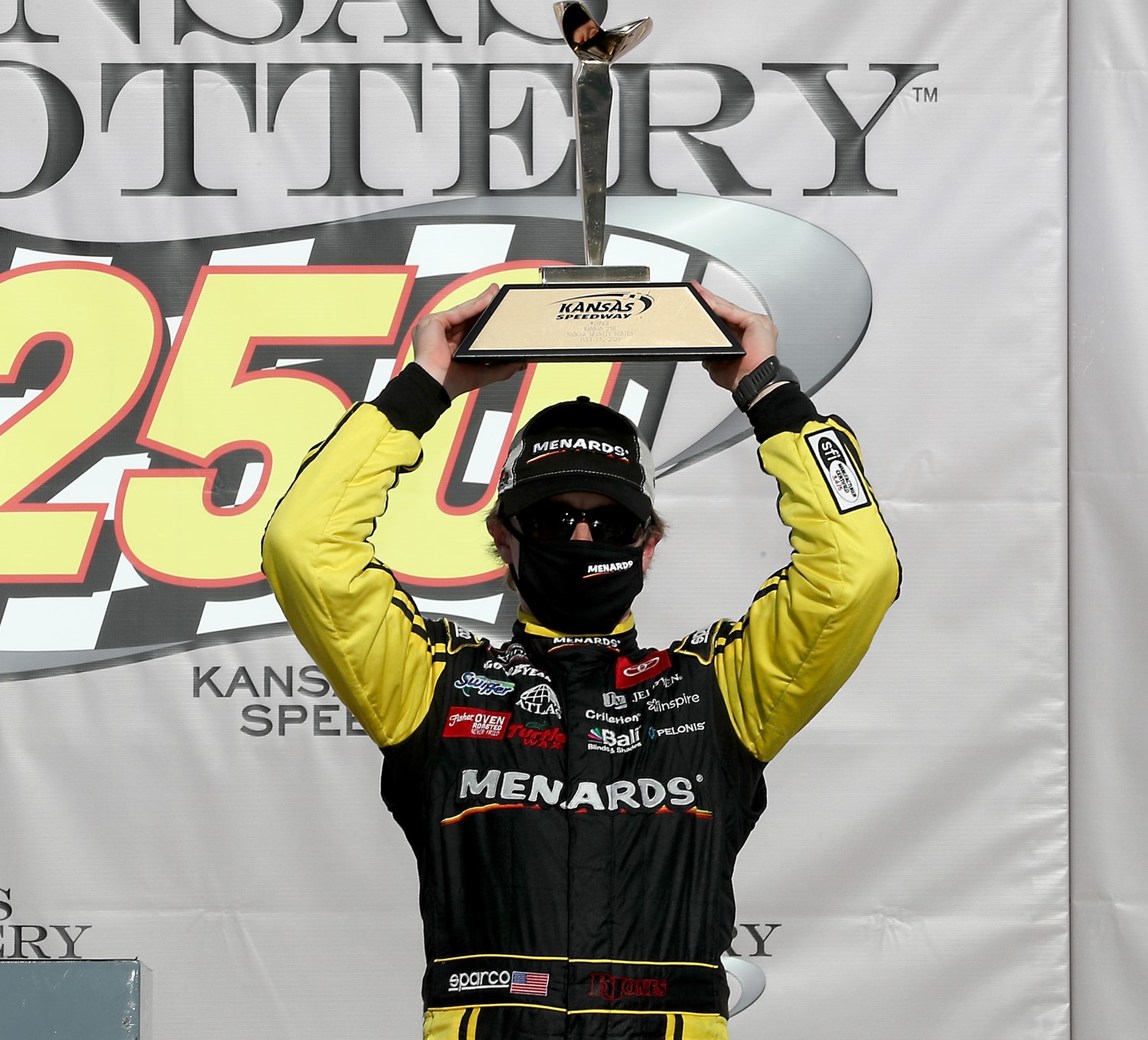 Is that Brandon Jones? Cannot see his face with the mask on
Jamie Squire/Getty Images
Brandon Jones won Saturday night's NASCAR Xfinity Series race at Kansas Speedway, taking the lead on the final lap in overtime to capture the checkered flag. It marked Jones' second straight Kansas win.
The driver of the No. 19 Joe Gibbs Racing Toyota passed and held off a dominant Austin Cindric to win the Kansas Lottery 250. Cindric ultimately finished second by .405 seconds in his No. 22 Team Penske Ford despite leading a race-high 131 of the 175 laps. Jones led twice for 10 total laps.
Cindric was unable to win his fourth straight Xfinity race after scoring wins in both races at Kentucky Speedway and a race in last weekend's event at Texas Motor Speedway.
Harrison Burton came in third, followed by Ryan Sieg and Ross Chastain. Justin Haley, Daniel Hemric, polesitter Michael Annett, Riley Herbst and Justin Allgaier completed the top 10 in order.
Sieg actually took off from the front spot on the final restart — the second in overtime — alongside Cindric. As the white flag waved, Cindric was leading the pack, but Jones had a surge to push him ahead and cross ahead of his competition.
Cindric did win both stages, though, as Stage 1 ended on Lap 40 and Stage 2 concluded on Lap 80.
Results
| | | | | | | | |
| --- | --- | --- | --- | --- | --- | --- | --- |
| Fin | Str | No. | Driver | Team | Laps | Status | Led |
| 1 | 2 | 19 | Brandon Jones | Menards/Swiffer Toyota | 175 | Running | 10 |
| 2 | 4 | 22 | Austin Cindric | XPEL Ford | 175 | Running | 131 |
| 3 | 5 | 20 | Harrison Burton # | DEX Imaging Toyota | 175 | Running | 8 |
| 4 | 16 | 39 | Ryan Sieg | CMRRoofing.com Chevrolet | 175 | Running | 25 |
| 5 | 7 | 10 | Ross Chastain | Dyna-Gro Seed Chevrolet | 175 | Running | 1 |
| 6 | 12 | 11 | Justin Haley | LeafFilter Gutter Protection Chevrolet | 175 | Running | 0 |
| 7 | 9 | 8 | Daniel Hemric | Poppy Bank Chevrolet | 175 | Running | 0 |
| 8 | 1 | 1 | Michael Annett | TMC Chevrolet | 175 | Running | 0 |
| 9 | 8 | 18 | Riley Herbst # | Monster Energy Toyota | 175 | Running | 0 |
| 10 | 11 | 7 | Justin Allgaier | BRANDT Chevrolet | 175 | Running | 0 |
| 11 | 22 | 68 | Brandon Brown | bmsraceteam.com Chevrolet | 175 | Running | 0 |
| 12 | 17 | 51 | Jeremy Clements | Repairables.com Chevrolet | 175 | Running | 0 |
| 13 | 3 | 21 | Kaz Grala | ruedebush.com Chevrolet | 175 | Running | 0 |
| 14 | 6 | 98 | Chase Briscoe | Ford Performance Racing School Ford | 175 | Running | 0 |
| 15 | 10 | 9 | Noah Gragson | Bass Pro Shops/TrueTimber Camo Chevrolet | 174 | Running | 0 |
| 16 | 37 | 26 | Colin Garrett | Rosie Network Toyota | 174 | Running | 0 |
| 17 | 13 | 0 | Jeffrey Earnhardt | Flexfit 110 Chevrolet | 174 | Running | 0 |
| 18 | 28 | 44 | Tommy Joe Martins | AAN Adjusters Chevrolet | 174 | Running | 0 |
| 19 | 21 | 61 | Timmy Hill(i) | ROOFCLAIM.COM Toyota | 174 | Running | 0 |
| 20 | 24 | 92 | Josh Williams | Sleep Well/Verve/Alloy Chevrolet | 174 | Running | 0 |
| 21 | 19 | 90 | Alex Labbe | Larue Industrial Snow Blowers Chevrolet | 174 | Running | 0 |
| 22 | 33 | 93 | Myatt Snider # | The Original Louisiana Hot Sauce Chevrolet | 173 | Running | 0 |
| 23 | 27 | 74 | Bayley Currey(i) | Mutt and Jeff Porkskins Chevrolet | 173 | Running | 0 |
| 24 | 15 | 7 | David Starr | Wilkerson Crane Rental Chevrolet | 173 | Running | 0 |
| 25 | 30 | 15 | Ryan Vargas | Cranio Care Bears/FACES Chevrolet | 173 | Running | 0 |
| 26 | 32 | 5 | Matt Mills | JF Electric Toyota | 171 | Running | 0 |
| 27 | 29 | 52 | Kody Vanderwal # | ADVANCED DAIRY SERVICE Chevrolet | 171 | Running | 0 |
| 28 | 34 | 8 | Joe Graf Jr # | Bucked Up Energy Chevrolet | 171 | Running | 0 |
| 29 | 31 | 13 | Chad Finchum | James Carter Attorney at Law Toyota | 171 | Running | 0 |
| 30 | 36 | 78 | Vinnie Miller | Koolbox Chevrolet | 171 | Running | 0 |
| 31 | 20 | 6 | BJ McLeod | TeamJDMotorsports.com Chevrolet | 171 | Running | 0 |
| 32 | 26 | 99 | Ja Junior Avila | Art General Contractor Toyota | 170 | Running | 0 |
| 33 | 14 | 4 | Jesse Little # | JD Motorsports Chevrolet | 165 | Accident | 0 |
| 34 | 23 | 2 | Brett Moffitt(i) | KNOCKAROUND Chevrolet | 91 | Oil Leak | 0 |
| 35 | 18 | 36 | Dexter Bean | Genteel Coatings Chevrolet | 43 | Power Steer | 0 |
| 36 | 35 | 47 | Kyle Weatherman | #Backtheblue Chevrolet | 33 | Battery | 0 |
| 37 | 25 | 66 | Stephen Leicht | JANIKING Toyota | 26 | Trans | 0 |
[adinserter name="GOOGLE AD"]