Hamlin outruns Keselowski to win in Kansas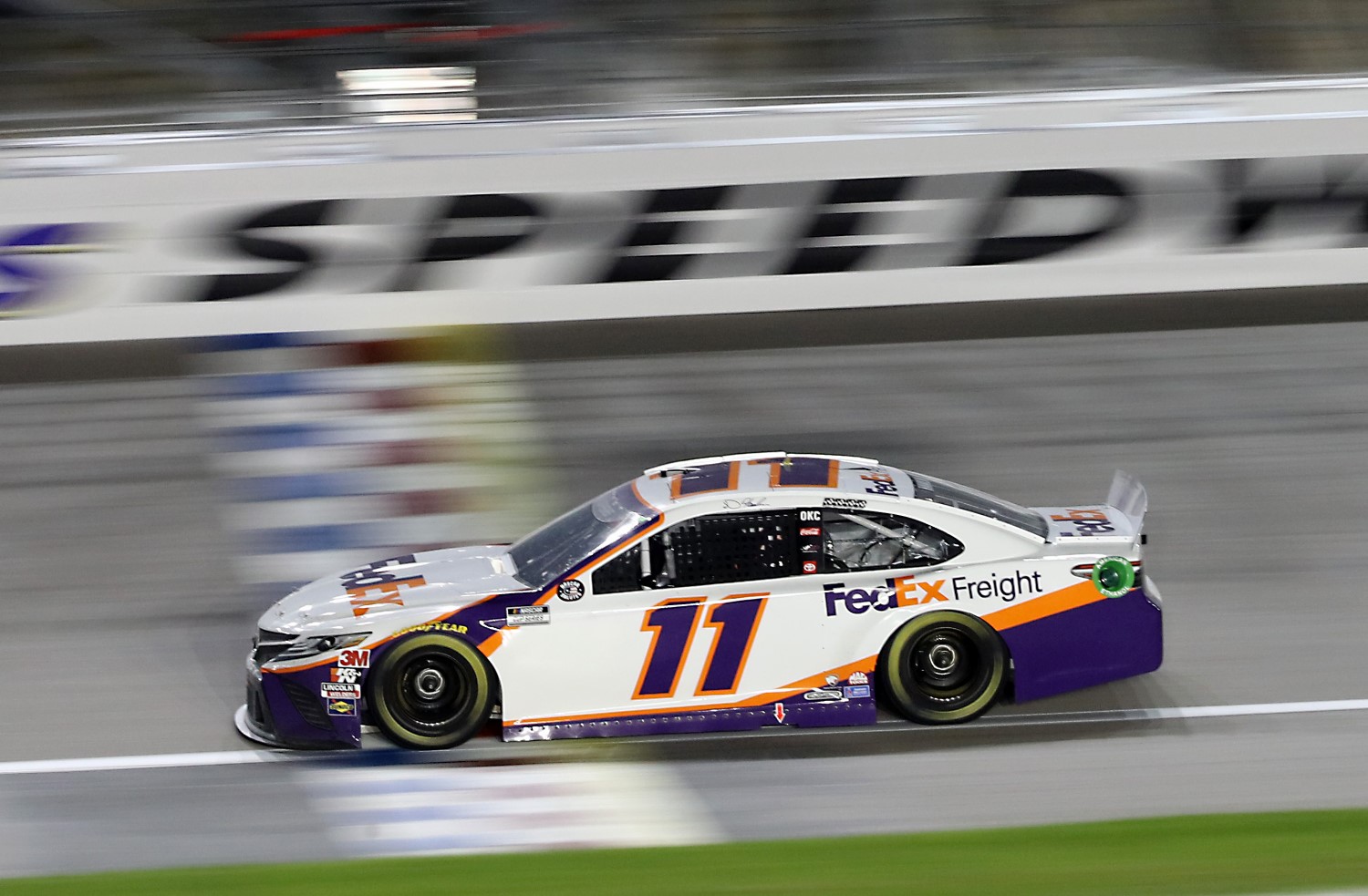 Denny Hamlin gets his 3rd win at Kansas
Jamie Squire/Getty Images
Denny Hamlin should have won at the Brickyard until his Goodyear tire exploded, but made up for it in Kansas Thursday night to win the Super Start Batteries 400 NASCAR Cup race.
Hamlin outdueled the Ford of Brad Keselowski by 1/2-second despite Hamlin taking just 2 new tires on the last stop vs. four for Keselowski.
Hamlin's Joe Gibbs Racing Toyota teammate Martin Truex Jr. was third 0.7 sec back while Kevin Harvick (SHR Ford) and Erik Jones (JGR Toyota) rounded out the top-5.
It was Hamlin's 5th Cup win of 2020 as he and Harvick continue to win the majority of races.
Leading a race-high 57 of the 267 laps it was Hamlin's third triumph at the 1.5-mile Kansas City track was the 42nd of his Cup Series career.
Two multicar crashes (See videos on Hot News) slowed the early portions of Stage 3. On Lap 176, Joey Logano's No. 22 Ford crunched the outside wall in Turn 2, triggering a stack-up with Jimmie Johnson, Austin Dillon and Matt DiBenedetto. The early exit placed Johnson's playoff hopes on thinner ice; he entered the race sitting in the 16th and final spot on the provisional playoff grid.
Just six laps later, another pileup prompted a red flag after Ryan Preece crashed hard into the inside wall. He was unhurt, but his day was done. Ryan Newman, Chris Buescher and Christopher Bell were also involved.
Kyle Busch and Brad Keselowski split the stage wins, with Busch netting his first stage victory of the season. Busch's No. 18 Joe Gibbs Racing Toyota walloped the Turn 4 retaining wall and pitted on Lap 227, but he recovered to finish 11th.
[adinserter name="GOOGLE AD"]

Winner's Quotes

5th win for Hamlin in 2020
Jamie Squire/Getty Images
DENNY HAMLIN, No. 11 FedEx Freight Toyota Camry, Joe Gibbs Racing
Finishing Position: 1st
What were the closing laps like and how did you hold off Brad Keselowski?
"I don't know that we had the best car, we definitely had a top-three car all day. Just went and got it there at the end. I saw the 4 (Kevin Harvick) get loose and usually when you're loose, you're not able to run up high. That was a benefit for us to be able to get that momentum going. The pit crew did an amazing job getting us out there ahead of everyone else that had four tires. Proud of this whole FedEx team. We've had a rough three weeks. We were leading at Indy when we blew a tire and this team is really hitting on all cylinders right now."
What is it like to show up week after week and have a shot to win?
"We can win any given week and that's something that is really hard to come by. This team is good at short tracks, intermediates, superspeedways. Have to thank FedEx, Toyota and the Jordan Brand, Coca-Cola and all of our partners at JGR. They've done a great job at building us fast cars."
What made the difference at the end of the race when you were able to chase down Kevin Harvick and then hold off Brad Keselowski?
"He (Kevin Harvick) got loose there and when you get in clean air, I think it was probably the first time he was in clean air all day. I saw him get loose and I saw kind of blood in the water there, so we just ran him down. Obviously, I thought the 2 (Brad Keselowski) had a really, really fast car and there were a couple others. We just did a great job of getting it right when it really, really mattered. This is how you win them."
What was the evolution of your race day and the strategy calls on pit road?
"We just tried to keep track position at all costs. It was so hard to pass. It seems like this tire, for whatever reason, really has an aero-tightness. We were able to keep our car in clean air. We had to do lefts and then we had to rights. It just helped our cycle and we got an extra set of tires out of it as well for a late-race caution. Proud of this FedEx team. We're really doing a lot of things well and look forward to getting into these Playoffs."
How important is this win to bounce back from the recent disappointing finishes?
"We want to bounce back and it's not like we ran bad by any means. Indy, we were leading the race and blew a tire with six (laps) to go and then Texas, we're going to come out with the lead and had that late-race caution that trapped us a lap down. We're really doing a lot of things well. Kentucky is kind of the only outlier where we really didn't run that well. Looking forward to downloading this and figuring out what we can do to be better."
Results
| | | | | | |
| --- | --- | --- | --- | --- | --- |
| POS | CAR | DRIVER | MANUF | BEHIND | LAPS |
| 1 | 11 | Denny Hamlin | Toyota | — | 267 |
| 2 | 2 | Brad Keselowski | Ford | 0.510 | 267 |
| 3 | 19 | Martin Truex Jr. | Toyota | 0.756 | 267 |
| 4 | 4 | Kevin Harvick | Ford | 3.365 | 267 |
| 5 | 20 | Erik Jones | Toyota | 3.593 | 267 |
| 6 | 10 | Aric Almirola | Ford | 6.937 | 267 |
| 7 | 41 | Cole Custer # | Ford | 7.777 | 267 |
| 8 | 88 | Alex Bowman | Chevy | 9.951 | 267 |
| 9 | 1 | Kurt Busch | Chevy | 10.217 | 267 |
| 10 | 24 | William Byron | Chevy | 10.742 | 267 |
| 11 | 18 | Kyle Busch | Toyota | 10.901 | 267 |
| 12 | 9 | Chase Elliott | Chevy | 11.940 | 267 |
| 13 | 8 | Tyler Reddick # | Chevy | 12.126 | 267 |
| 14 | 14 | Clint Bowyer | Ford | 13.999 | 267 |
| 15 | 13 | Ty Dillon | Chevy | 15.962 | 267 |
| 16 | 34 | Michael McDowell | Ford | 16.350 | 267 |
| 17 | 42 | Matt Kenseth | Chevy | 16.812 | 267 |
| 18 | 96 | * Daniel Suarez | Toyota | 24.262 | 267 |
| 19 | 38 | John Hunter Nemechek # | Ford | -1 Lap | 266 |
| 20 | 12 | Ryan Blaney | Ford | -1 | 266 |
| 21 | 32 | Corey LaJoie | Ford | -1 | 266 |
| 22 | 27 | JJ Yeley(i) | Ford | -2 | 265 |
| 23 | 95 | Christopher Bell # | Toyota | -3 | 264 |
| 24 | 00 | Quin Houff # | Chevy | -7 | 260 |
| 25 | 53 | Josh Bilicki(i) | Chevy | -7 | 260 |
| 26 | 77 | Garrett Smithley(i) | Chevy | -7 | 260 |
| 27 | 3 | Austin Dillon | Chevy | -16 | 251 |
| 28 | 6 | Ryan Newman | Ford | -16 | 251 |
| 29 | 51 | Joey Gase(i) | Ford | -16 | 251 |
| 30 | 15 | Brennan Poole # | Chevy | -48 | 219 |
| 31 | 7 | * Reed Sorenson | Chevy | -51 | 216 |
| 32 | 48 | Jimmie Johnson | Chevy | -67 | 200 |
| 33 | 17 | Chris Buescher | Ford | -85 | 182 |
| 34 | 37 | Ryan Preece | Chevy | -86 | 181 |
| 35 | 22 | Joey Logano | Ford | -91 | 176 |
| 36 | 21 | Matt DiBenedetto | Ford | -92 | 175 |
| 37 | 43 | Bubba Wallace | Chevy | -97 | 170 |
| 38 | 66 | * Timmy Hill(i) | Toyota | -151 | 116 |
| 39 | 78 | * BJ McLeod(i) | Chevy | -201 | 66 |
| 40 | 47 | Ricky Stenhouse Jr. | Chevy | -209 | 58 |
# DENOTES ROOKIE
(i) NOT ELIGIBLE FOR POINTS
(*) REQUIRED TO QUALIFY ON TIME
[adinserter name="GOOGLE AD"]