IndyCar Iowa Twin 250s postscript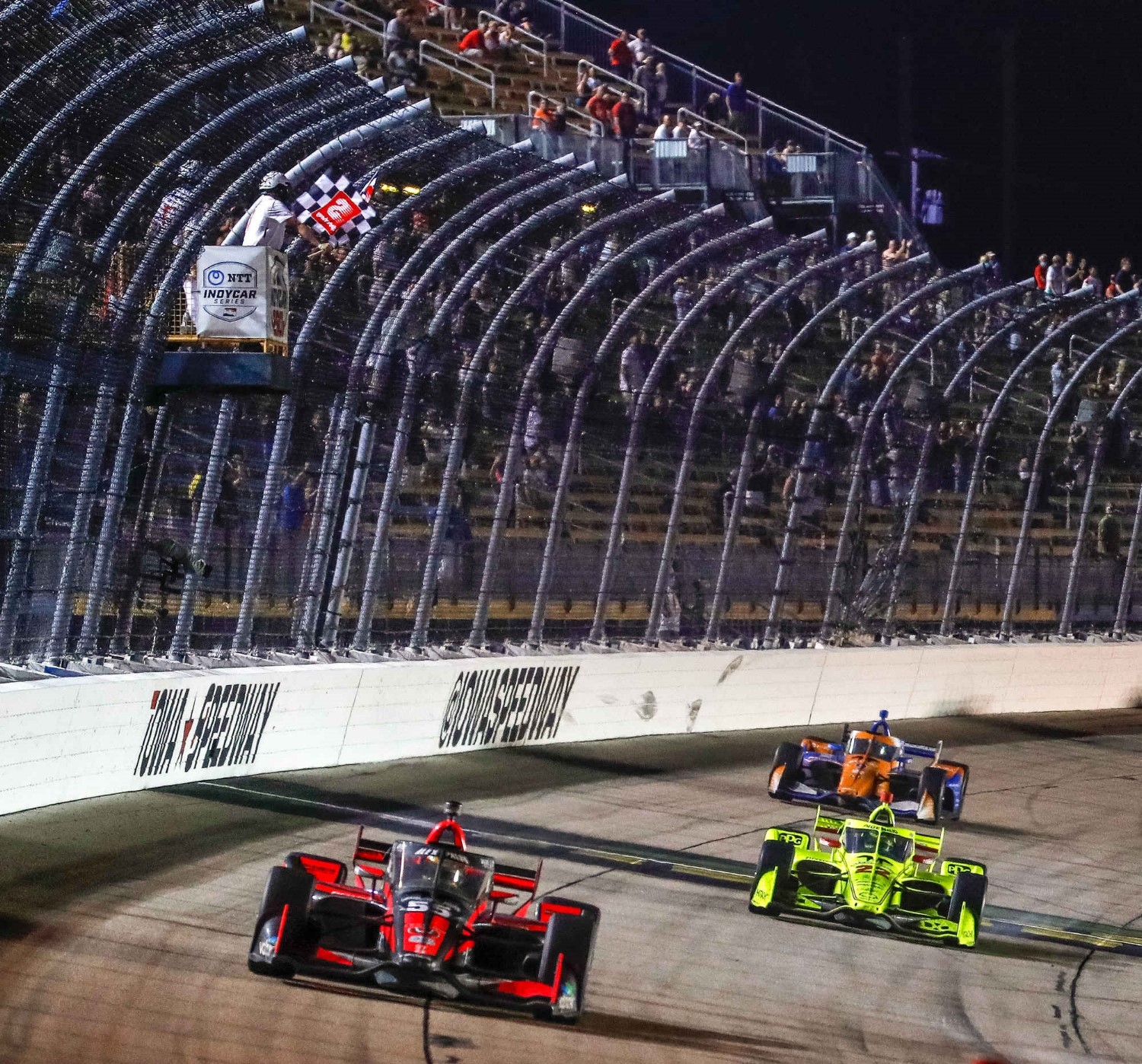 The finish of Race #1 in Iowa
Thumbs up to the NTT INDYCAR Series for two very entertaining shows this past weekend at Iowa Speedway. Friday evening, Simon Pagenaud parlayed excellent driving and a little bit of luck into driving from last starting position to victory. Saturday, Pagenaud's Team Penske teammate Josef Newgarden led 214 of 250 laps from pole en route to his third victory at the racy short oval in America's heartland.
And it is Team Penske, where we will start our Iowa Postscript.
Penske Near Perfect
Between 5 series (NASCAR Cup, NASCAR Xfinity, V8 Supercars, IMSA & IndyCar), Team Penske fielded 11 cars in a total of 6 races this past weekend. The team won 4 of those 7 races, led a combined 608 laps, and scored a total of 8 podium finishes. Austin Cindric (Xfinity) and Scott McLaughlin (V8 SuperCars) joined Pagenaud and Newgarden as race winners. It was the first time Team Penske scored four race wins in a weekend.
Momentarily putting aside the actual on-track results, think about the resources and coordination it takes to run 7 events at 4 different tracks in three states and two hemispheres.
Anyway, I don't mention this because there's any hidden story here. The results this past weekend, and for the last half-century plus, speak for themselves. I mention this because we often don't take the time to appreciate greatness when it is right in front of our noses. We, in the media particularly, love the story of the 'little guy'; the David who will every so often slay Goliath.
[adinserter name="GOOGLE AD"]

Sadly, however, in always looking for the next David, we sometimes miss the accomplishments of Goliath staring us right in the face. Well, here are some stats:
IndyCar victories: 39
Indy 500 wins: 3
IndyCar Series titles: 3
NASCAR Cup victories: 36
NASCAR Cup championships: 1
Daytona 500 wins: 1
V8 Supercars wins: 46
V8 Supercars championships: 2
IMSA wins: 4
IMSA championships: 1
Now, get this: the numbers above are the accomplishments of Team Penske since the start of 2015!
Of course, not everyone at Team Penske was happy this weekend.
Power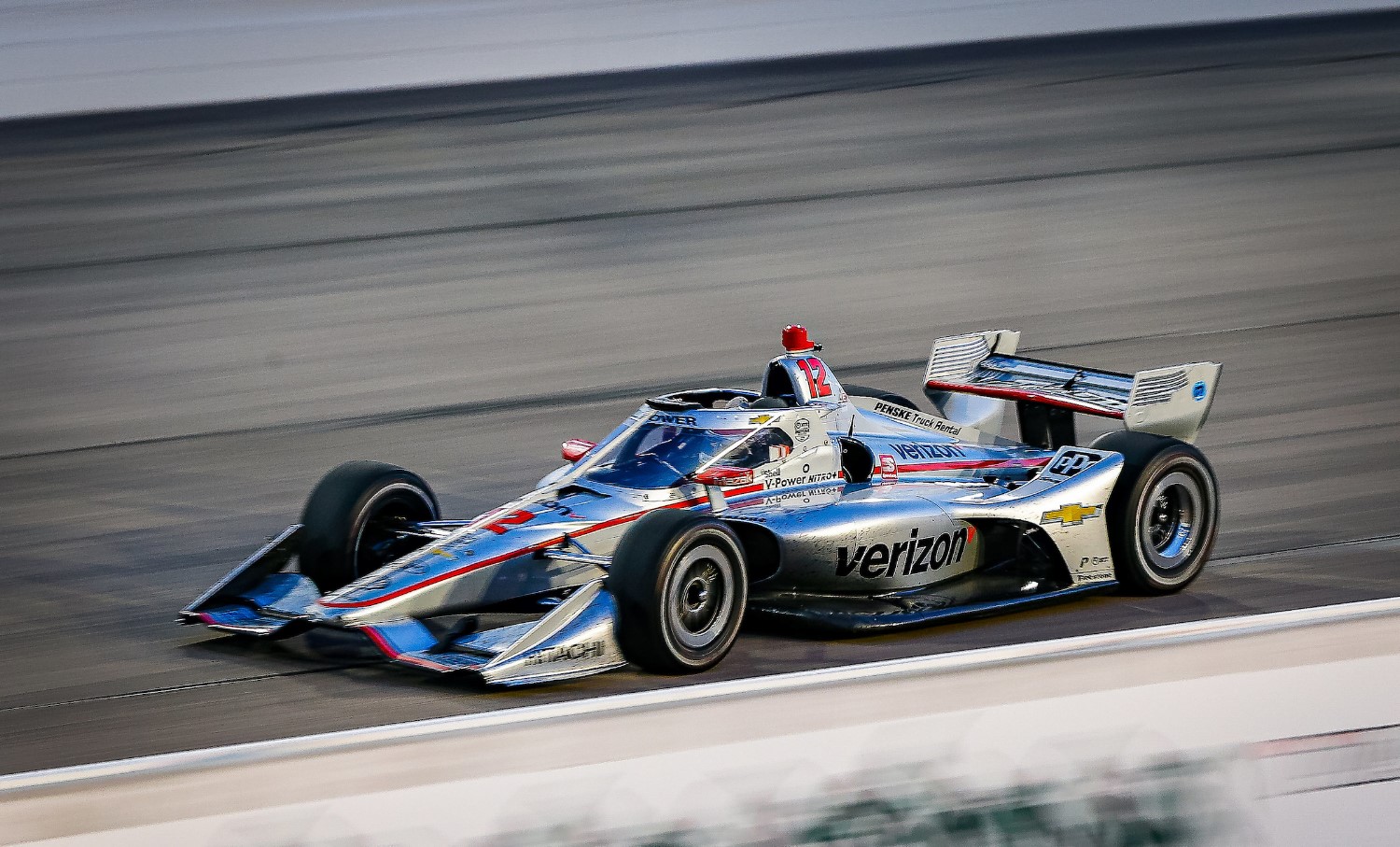 Will Power
Will Power gave a somewhat bizarre interview after finishing second in Saturday's race. The 2014 series champion uttered many of the standard platitudes, thanking Verizon and Chevy, and noting his strong result. But those platitudes were intermingled with some ramblings of wry sarcasm and clear frustration. In particular, Power was frustrated by the fortune of Pagenaud and Scott Dixon who had finished 1-2 the night before after starting far back in the field.
While we can often chalk up salty driver interviews to frustration in the moments following a race, Power doubled down in the post-race presser….
"What's frustrating? It's frustrating when you're so quick and you keep getting screwed by yellows and INDYCAR because the pits close. That is the most frustrating, annoying thing in history. It's such a bad rule. It should be changed. It should have been changed this year, and hasn't."
On the surface, Power's comments can be seen as whiney and somewhat self-incriminating. After all, Dixon and Pagenaud seem to be doing fine with the rules as written and isn't it Power's duty to adjust to said rules? We all know Power – in contrast to the serene Dixon and Pagenaud – can be more on the emotional side. He admitted that he had trouble sleeping after Friday night's race after Pagenaud and Dixon finished 1-2.
In other words, the interview Saturday could be interpreted as a man on the verge of a breakdown, allowing two of his chief rivals to take up space in his head, rent free.
Now, if I was handling his PR, I'd probably advise a more measured approach than bashing the series his boss owns, and admitting to his rivals that they're affecting his sleep schedule. That said, I think another interpretation of Power's comments is that he's well, 100% correct.
If you read this column, you know that I've been calling for the a Virtual Safety Car type measure for IndyCar for years. Too often, a driver is dominating the race, when a mistimed caution comes out and allows drivers who have already pit and are way back in the field to circle to the front, leading to a result not indicative of performance.
Let's be clear that Power has been on the other side of fortune at times (Toronto 2016 being one example). However, Power has also been steadfast and consistent in this position of the pits closing for years, so it's not as if he's being a Johnny Come Lately and whining only when he doesn't get his way. I remember sitting at a table in the Penske hospitality tent in 2015 at Milwaukee. Power wasn't on the record at the time, but I don't think it's unfair for me to characterize the fact he said then almost exactly what he said Saturday night.
So, go ahead and question his ham-fisted tactics of conveying his opinion; question the fact that he could perhaps not give his rivals the thrill of seeing his frustration. But don't for a second question whether this: Will Power was right.
Herta/Veekay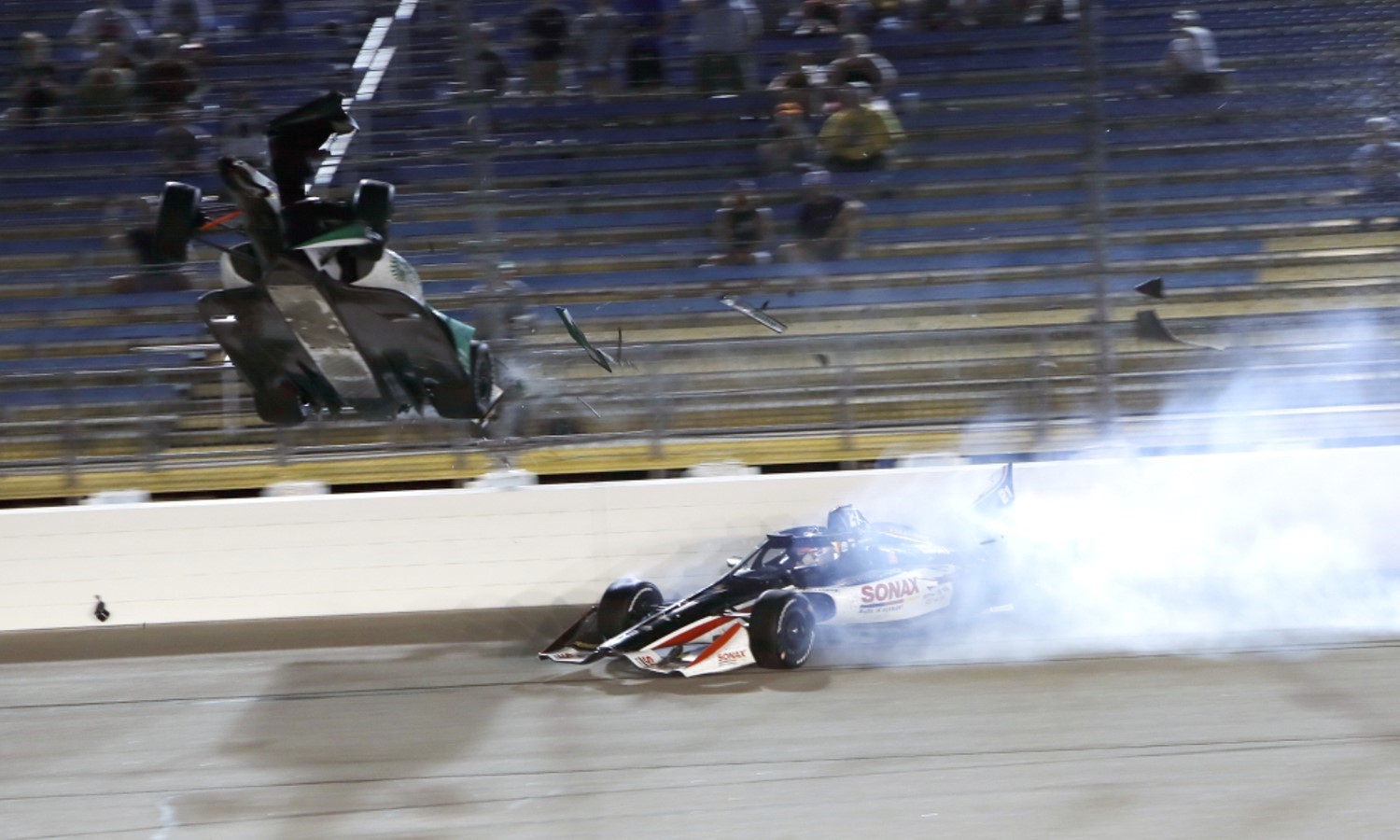 Herta gets air
I preface the following noting that I am not an engineer and have no more access to data than anyone else who watched Friday's race on television. That said, is anyone else concerned about the amount of 'air' Colton Herta got after running over the back of Rinus Veekay at relatively low speed? While I know speed is far from the only factor, the speed differential between Herta and Veekay did not seem all that extreme.
Nevertheless, everyone seemed focused on the windscreen following the accident. And while I applaud the series for the windscreen, and certainly things may have different for Rinus Veekay without it, I saw an IndyCar go airborne at relatively low speed.
That should be a concern.
Iowa
I don't know anything more about the rumors of Iowa Speedway's future being in doubt than what I've read. But having been to most of the venues on the IndyCar calendar, I will state unequivocally that Iowa Speedway is one of my absolute favorites. The locals and track staff are always welcoming, and as we saw this weekend the racing is always very good.
I know it's a tough place to get sponsors to visit and thus not ideal for IndyCar's B2B model. Still, Iowa consistently puts on the best oval racing in the series that is currently lacking in viable short track options. Hopefully, something can be worked out.
Hamilton –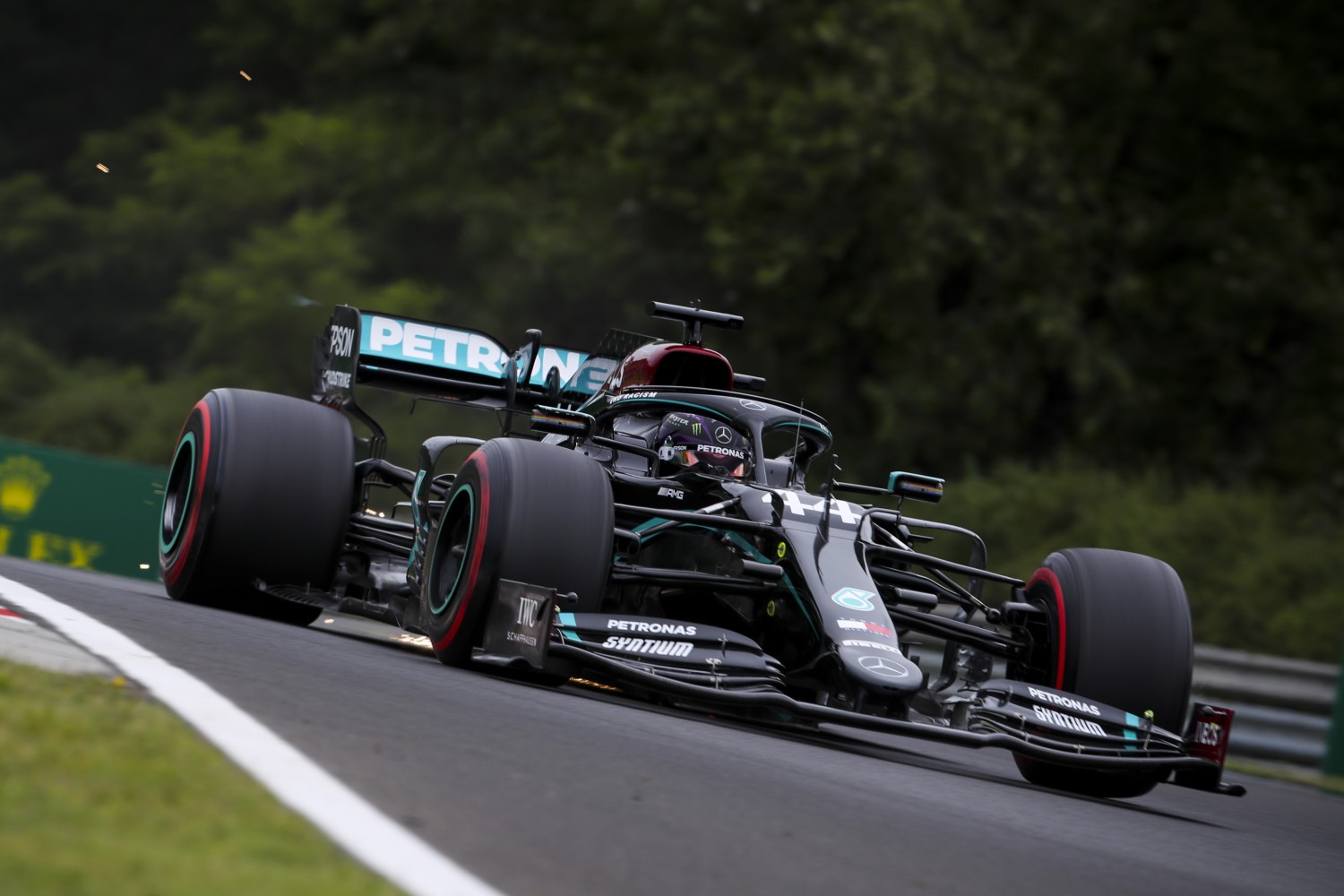 Lewis Hamilton would be well served by sticking to driving, which he does best
I'm going to go far from Iowa in closing to discuss one Lewis Hamilton. You surely know Hamilton dominated Sunday's Hungarian Grand Prix. And you may know Hamilton was upset about the clumsy prerace ceremonies before the race, which he believed did not provide he and other drivers the ability to properly protest racial injustice. Of course, Hamilton and a number of other drivers have knelt before Grand Prix races this season in opposition to racial injustice.
While Hamilton has an inalienable right to express his opinion in a lawful manner, people who watch Formula 1 also have a reasonable expectation of not having whatever his cause du jour is shoved down their throats. In his statement above, he says "F1 and the FIA need to do more," to combat racial injustice.
May I ask, what is it exactly that Lewis Hamilton wants motorsport organizers – not politicians or community activists, but motorsport organizers – to do to combat racial injustice?
If I'm F1 and the FIA, my message to Hamilton would be simple:
"Look dude, one of the world's great automotive brands literally gave up a century worth of branding by changing your car's paint job in the name of your cause. And because we, not you, have built a global television audience of a half-billion people, you have an enormous platform prior to Grand Prix to express your position. But we'll be damned if you think you're going to subject our audience, who tune in to watch motorsport, to prolonged displays every week of your activism."
That's exactly what Bernie Ecclestone, who probably would have never let this thing spiral out of control to begin with, would have done. And because I don't think there is no such thing as appeasing Lewis Hamilton right now, that's exactly what Liberty needs to do.
Brian Carroccio is a senior columnist for AutoRacing1.com. He can be contacted at BrianC@AutoRacing1.com.