Da Costa wins pole for second Berlin FE race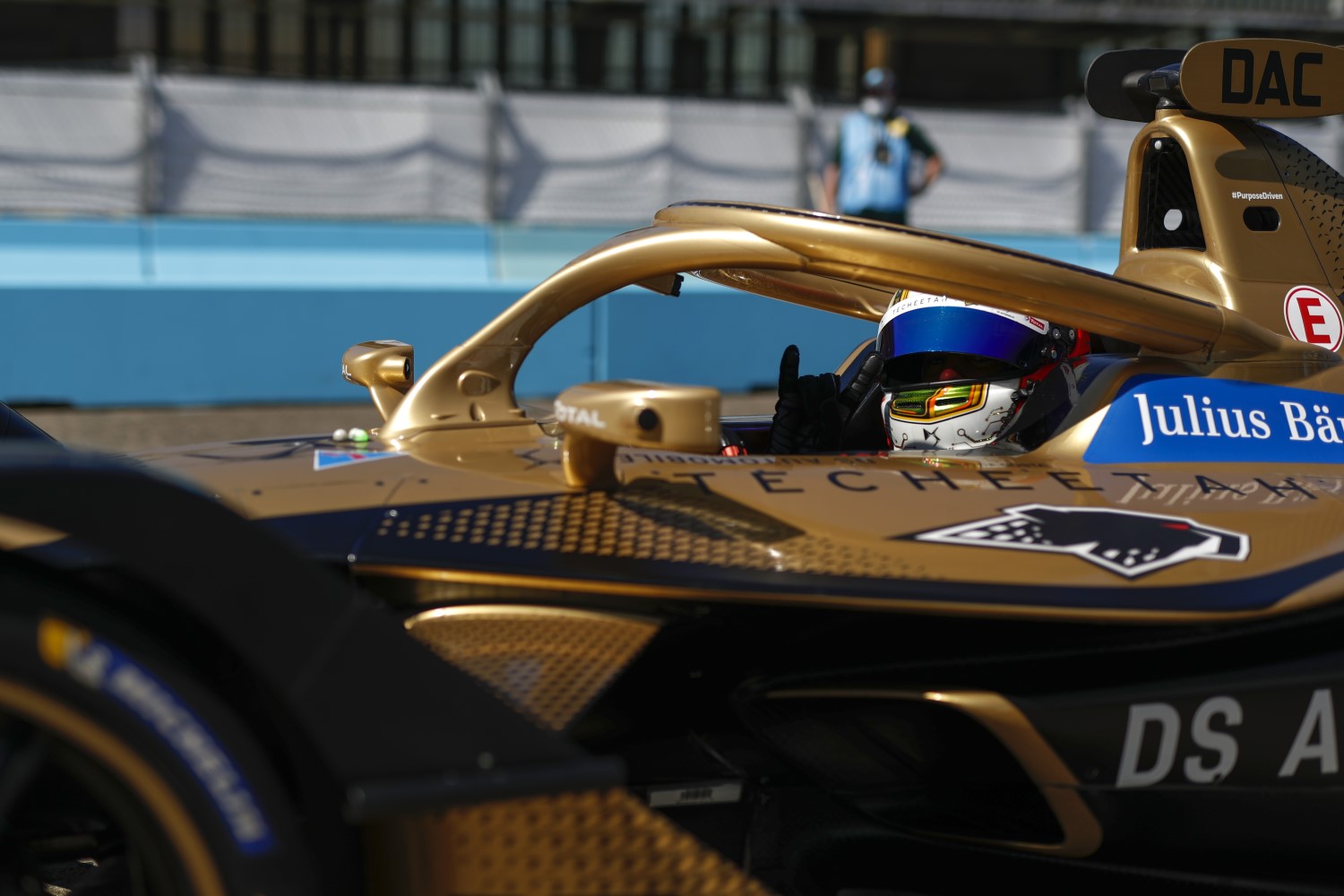 Antonio Felix da Costa
Antonio Felix da Costa came up with the goods in some style once again in qualifying ahead of the Berlin E-Prix presented by CBMM Niobium Round 7, beating Sebastien Buemi to the Julius Baer Pole Position by a margin of 0.4seconds.
The Portuguese driver produced right out of the blocks in qualifying, storming to the top of Group 1 by 0.357 seconds, with Envision Virgin Racing's Sam Bird managing to get closest to an increasingly untouchable-looking DS Techeetah.
Da Costa effectively produced a carbon copy of his composed, and frighteningly quick, benchmark in yesterday's session with another lap in the 1:06.700s.
Nissan e.dams' Sebastien Buemi was adamant the standings' leader wouldn't have it all his own way today, as he fired to the top of the group times.
In Super Pole, though, da Costa had the final say. Once again, he looked at one with his DS Techeetah, chewing chunks of a second out of his rivals over the lap to round almost half-a-second clear on pole. Buemi was the last driver to run and managed second spot.
"It was another nice lap, carrying on from where we left off yesterday," said da Costa. "Everyone's just getting really close now, and we saw that in practice with 15 cars separated by half-a-second.
"I'm just enjoying it and having so much fun. I want to say thanks to everyone involved with this incredible team for putting all this together.
"I'm really excited to race again, and we all want to produce a good show. We race each other hard but there's a lot of respect between us drivers."
Alex Lynn followed with the third fastest time, and was just a tenth shy of Buemi's best effort. The Mahindra Racing new-boy impressed in the early stages of Round 6 and looks like he's growing into his seat yet further.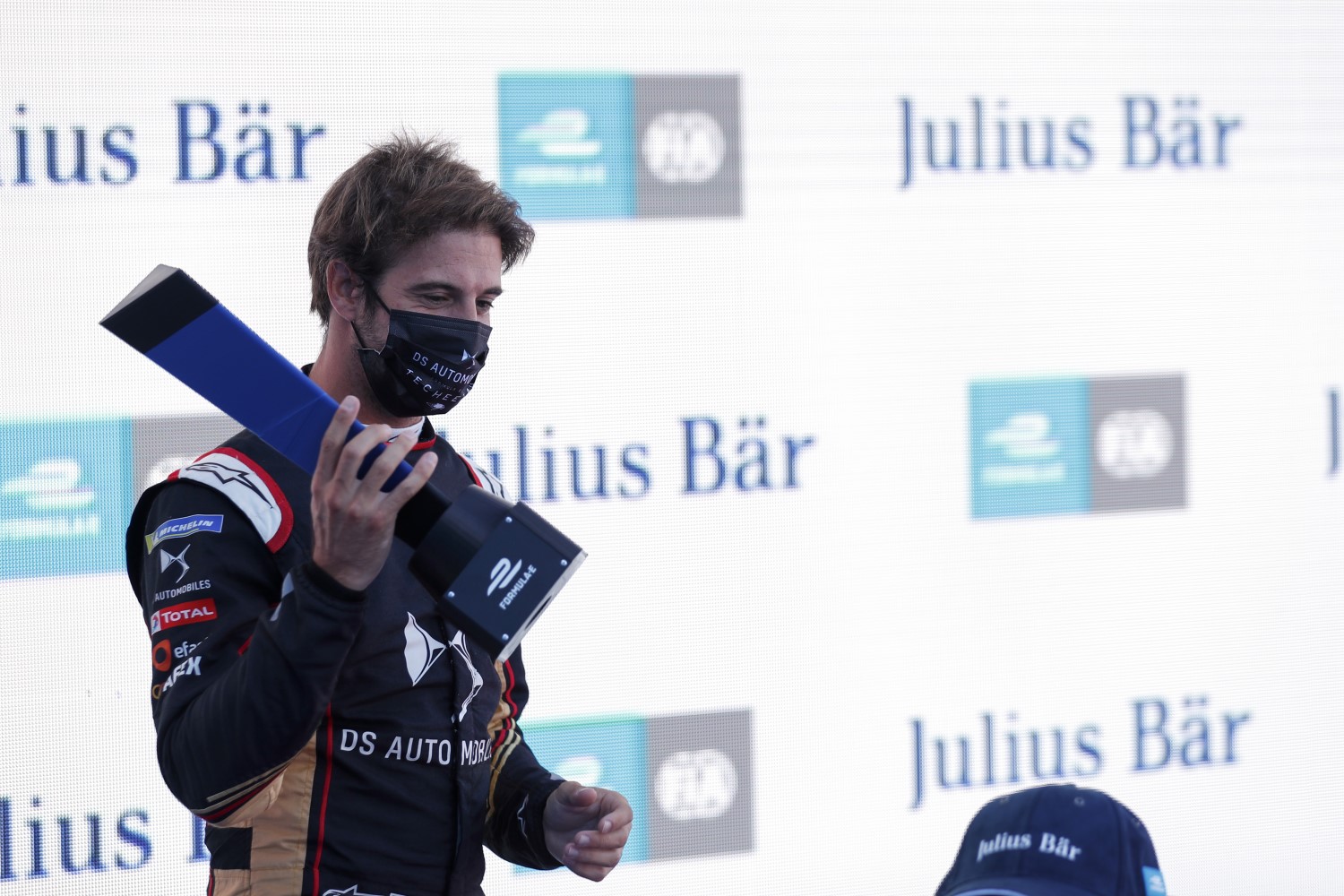 Da Costa collects his pole hardware
Mercedes-Benz EQ's Nyck de Vries produced a typically tidy lap to take fourth spot, whilst a really impressive lap from Robin Frijns (Envision Virgin Racing) saw him seal fifth – well recovered from his Round 6 travails, beating his previous best of sixth this season in Mexico City.
A big lock-up for Lucas di Grassi (Audi Sport ABT Schaeffler) into turn one didn't hamper his first sector too much but his Super Pole effort was a couple of tenths-of-a-second shy of where he needed to be – and some half-a-second down on his morning effort in Practice 3, leaving him sixth.
Those closest to da Costa in the points table, meanwhile, struggled to hook it up – Mitch Evans (Panasonic Jaguar Racing) winding up 17th, Max Guenther (BMW i Andretti Motorsport) 11th, his BMW team-mate Alex Sims 15th and Stoffel Vandoorne (Mercedes-Benz EQ) 13th.
To compound things for the Brit, Sims will drop 20 places down the grid after the team changed his car's battery prior to the session.
Three poles on the spin and 100 points in the bag. Can anyone stop da Costa around the Reverse Berlin Tempelhof Circuit? Tune in to the race from 19:00 local time to find out.
Qualifying Results
| | | | | | |
| --- | --- | --- | --- | --- | --- |
| Pos | No. | First | Last | Team | Time/Behind |
| 1 | #13 | António Félix | Da Costa | DS TECHEETAH | 1:06.442 |
| 2 | #23 | Sébastien | Buemi | NISSAN E.DAMS | + 0.417 |
| 3 | #94 | Alex | Lynn | MAHINDRA RACING | + 0.477 |
| 4 | #17 | Nyck | De Vries | MERCEDES-BENZ EQ | + 0.479 |
| 5 | #4 | Robin | Frijns | ENVISION VIRGIN RACING | + 0.532 |
| 6 | #11 | Lucas | Di Grassi | AUDI SPORT ABT SCHAEFFLER | + 0.850 |
| 7 | #22 | Oliver | Rowland | NISSAN E.DAMS | + 0.239 |
| 8 | #25 | Jean-Éric | Vergne | DS TECHEETAH | + 0.256 |
| 9 | #2 | Sam | Bird | ENVISION VIRGIN RACING | + 0.369 |
| 10 | #48 | Edoardo | Mortara | ROKIT VENTURI RACING | + 0.439 |
| 11 | #28 | Maximilian | Guenther | BMW I ANDRETTI MOTORSPORT | + 0.490 |
| 12 | #36 | André | Lotterer | TAG HEUER PORSCHE | + 0.506 |
| 13 | #5 | Stoffel | Vandoorne | MERCEDES-BENZ EQ | + 0.513 |
| 14 | #64 | Jérôme | D'ambrosio | MAHINDRA RACING | + 0.559 |
| 15 | #27 | Alexander | Sims | BMW I ANDRETTI MOTORSPORT | + 0.589 |
| 16 | #3 | Oliver | Turvey | NIO 333 FE TEAM | + 0.672 |
| 17 | #20 | Mitch | Evans | PANASONIC JAGUAR RACING | + 0.737 |
| 18 | #19 | Felipe | Massa | ROKIT VENTURI RACING | + 0.778 |
| 19 | #7 | Nico | Mueller | GEOX DRAGON | + 0.802 |
| 20 | #18 | Neel | Jani | TAG HEUER PORSCHE | + 0.861 |
| 21 | #6 | Sérgio | Sette Câmara | GEOX DRAGON | + 1.067 |
| 22 | #33 | Daniel | Abt | NIO 333 FE TEAM | + 1.226 |
| 23 | #51 | James | Calado | PANASONIC JAGUAR RACING | + 1.653 |
| 24 | #66 | René | Rast | AUDI SPORT ABT SCHAEFFLER | + 1.685 |