Mario Andretti and Al Unser Jr. Among Featured Guests Thursday on History of the Long Beach Grand Prix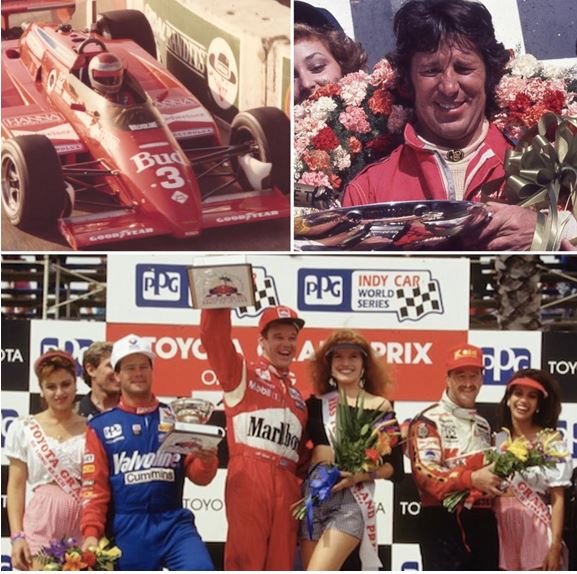 Mario Andretti and Al Unser Jr.
IndyCar Legends Mario Andretti and Al Unser Jr. highlight a full lineup of guests that will take part in a livestream show this Thursday, August 6 at 4 p.m. EDT/1 p.m. PDT to discuss the history of America's greatest street race, the Long Beach Grand Prix.
Andretti and Unser, who combined to win the Long Beach Grand Prix 10 times, are part of a solid lineup of participants that includes race founder Chris Pook, James Hills of MenWhoBlog.com, Mike Satterfield of TheGentlemanRacer.com, The Freaks Kenny Sargent and Crash Gladys and Gordon Kirby, author of the new book Chris Pook & The History of the Long each GP. The show will be moderated by longtime motorsports publicist Kevin Wilkerson.
The Facebook link to watch the show is https://www.facebook.com/menwhoblog/ and it can also be viewed on Twitter at https://twitter.com/MenWhoBlog. Media and all other interested fans and influencers are invited to watch the show and are encouraged to share it on their Facebook pages and re-Tweet live on Twitter.
Kirby's book, published by Racemaker Press, traces the beginnings of both Pook and the Grand Prix, from its rocky start to today. Andretti and Unser, Motorsports Hall of Fame of America (MSHFA) inductees, will discuss their moments and memories and their role in making the race a success and Southern California institution.
When Pook declared his intention to run a Grand Prix race through the streets of Long Beach many people thought he was out of his mind. But with the powerful support of racing legend Dan Gurney and many other enthusiasts, Pook proved his doubters wrong as he built the most successful street race in American motor racing history.
The race spawned extensive redevelopment of the city's coastal downtown area as Pook's crazy idea turned into a model for bringing racing to the people and using the surrounding event to rebuild a flagging community.